10 Best Content Writing Tools to Make Your Life Easier
Last Updated on October 29, 2022 by Abdulfatai A. Olamide
Choosing the Best Content writing tool is an important part of online marketing. A well-written, keyword-rich article can help you attract more visitors to your website, rank higher on search engine results pages, and generate leads and sales. But if you're not a professional writer, creating high-quality content can be difficult. That's where content writing tools come in.
These tools take the drudgery out of creating blog posts, and instead, let you focus on providing valuable information to your audience. There are many different content writing tools available for free or for a small fee
10 Best Content Writing Tools
There are several different tools that you can use to help you write better content. Some of the most popular ones include:
1. Google Docs
Google Docs is a versatile and powerful content writing tool. It offers a word processor for creating documents, a spreadsheet for data analysis, and a presentation builder for creating presentations. Documents can be easily shared with others online, making collaboration easy. The revision history feature ensures that you always have access to past versions of your work. Google Docs also includes a built-in dictionary and thesaurus, making it easy to check your spelling and vocabulary.
Google Docs is a web-based word processing application offered by Google. It allows users to create and share documents online with other users. Documents can be created, edited, and shared in real-time. It includes a built-in spell checker and grammar checker, which can help you catch errors in your writing. This versatile office suite offers a variety of features for word processing, spreadsheet creation, and presentation, making it a great choice for any writer.
2. WordHero AI Content Writer

In a digital age where content is king, the ability to write well is more important than ever. But what if you're not a good writer? Or what if you don't have time to write? That's where WordHero comes in.
WordHero is a content writing tool that uses AI to help you create high-quality content. It analyzes your topic and provides you with relevant data and statistics, as well as suggested keywords and phrases. You can then use this information to create a well-written article that will help you rank higher in search engines.
WordHero also offers a variety of templates and formulas for different types of content, such as blog posts, press releases, and social media posts.
In a world where technology is constantly evolving, it's no surprise that content writing has become an AI-driven process. WordHero is a perfect example of this; by using natural language processing (NLP), the AI bot can help you create high-quality content for your website or blog.
To get started, all you need to do is type in a topic or keyword, and the WordHero AI will generate a list of related topics and keywords. You can then choose from one of the suggested topics, or come up with your own!
Once you've chosen your topic, the AI will help you write an article by providing relevant data and statistics, as well as suggestions for images and videos to include. You can also choose to have the AI write the entire article for you, or simply provide ideas and feedback.
3. AlsoAsked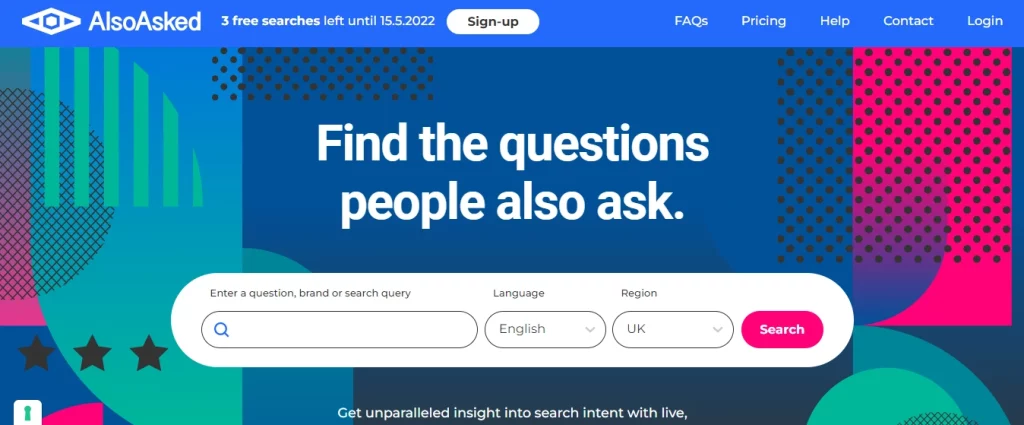 AlsoAsked data gives you the closest related questions to any given user's query, allowing you to improve your content and show search engines that your page is likely the best possible result. Use the AlsoAsked tool to:
– Find the most related questions to your page, and then bring in relevant data to answer them! – Create a very personal user experience that is customized for your audience. – Provide contextual information as a result of your users' queries.
In today's digital age, it's more important than ever for businesses to have a strong online presence. One of the best ways to achieve this is by creating a website with valuable content that will attract visitors and keep them coming back. But once your website is up and running, what do you do next?
One great way to attract traffic and keep your website growing is by using tools integrated with Google's related questions tool. This tool allows you to see the most commonly asked questions about your topic, and then bring in relevant data to answer them. Not only does this help you attract more visitors, but it also helps you better understand what people are looking for when they come to your site.
4. BuzzSumo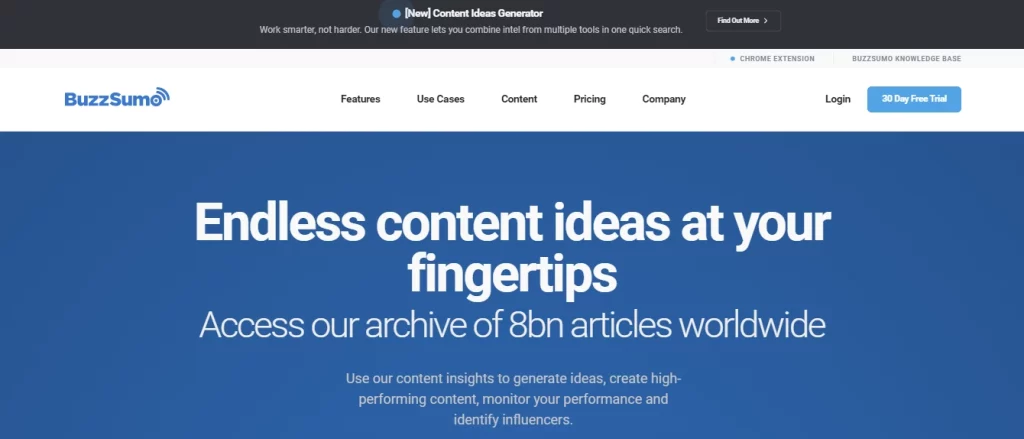 If you're a content marketer, then you know that creating content that people want to read is essential to your success. But how do you know what content is popular? And how can you make sure your content stands out from the competition?
One great tool for content marketers is BuzzSumo. With BuzzSumo, you can see the most popular content on any topic, as well as the most shared content on social media. This can help you determine what topics are most popular with your audience and which topics are being talked about the most online.
BuzzSumo also helps you track your competitors' content. You can see what type of content they're publishing, how popular it is, and how often they're sharing it on social media.
BuzzSumo is a content analysis tool that helps you to measure the reach and engagement of your content. It provides data on the most popular content across social media platforms, including Facebook, Twitter, LinkedIn, and Google+. With BuzzSumo, you can see how well your content is performing and get ideas for new content to write. – This tool allows you to explore content trends across a variety of topics. You can search and analyze the most popular content on various topics, such as travel, health and fitness, technology, business, DIY (Do It Yourself), food, entertainment, parenting, and more. Find out what people are talking about right now and learn how to increase your reach by following this trend.
5. Hemingway App

In the digital age, it seems that there's an app for everything. And if you're a writer looking for help with your prose, the Hemingway App is a handy tool to have. The app, which is available for free on desktop and mobile devices, is designed to help writers make their writing more concise and clear. This app provides you with helpful tips for improving your writing skills.
With a few clicks of a button, you can get feedback on your text's readability, sentence length, and use of adverbs. While the app is designed for writing, it also works as a tool to improve your speaking skills as well.
Do you need Something Better and more Professional? Go for Grammarly
6. Grammarly

Grammarly is a website and app that helps you write better by catching grammar mistakes and suggesting corrections. The app is available for free on the web and as a paid app for iOS and Android.
Grammarly is powered by artificial intelligence and machine learning, which means that it gets smarter the more you use it. The more you use it, the better it gets, which means that your writing will get better and better over time. While Grammarly is designed for writers, it can also help with other writing tasks like blog posts, resumes, and emails.
I've been using Grammarly for a few years now, both as a writer and editor, and I love it! It's caught countless mistakes that I would have missed, saving me from embarrassment and ensuring my writing looks polished. Grammarly is my favorite writing app.
Grammarly for Android, which is available for free on the Google Play Store and iTunes, is an app that works as a writing tool to help you improve your grammar skills.
How do I start using Grammarly? You can start using Grammarly right away by signing up for a free account. After you sign up, you'll be able to use the web version of the site and an app on your phone or tablet.
7. Canva

You need images and can quickly create and share simple yet effective images, charts, and animated graphics to accompany written content. Canva for Android, which is available for free on the Google Play Store, App Store, and Windows, helps you create professional-looking images to accompany your written content.
Canva is a free online design platform that lets you easily create professional designs, from logos to social media posts. You don't need any design experience or software to get started – all you need is an internet connection. Canva has a library of built-in templates and tools, so you can create stunning designs in minutes. Plus, you can share your designs with others for feedback and collaboration.
8. Notion


Notion is the first workspace designed for teams. It's a single platform with a one-stop-shop for all your team's needs: messaging, file sharing, task management, and more.
Connect your teams, projects, and docs in Notion Everyone can add, edit, and share ideas with everyone else. You can even see who has viewed a document or shared an idea. Use Notion to create and share ideas Any member of your team can create a document, add images, and upload files.
You can also attach notes or comments to documents and folders. Work together on a single project Everyone in your team can work on the same project. Create a shared web gallery to show off your work. Create different perspectives on a document for everyone in the team.
Notion can also be used for to-do and checklists.
Write, plan, & get organized in one place, so you can always stay organized. Capture notes quickly and organizes them however you want, no matter where you are.
When you're ready to share the work with your team or the public, just click Publish.
9. HubSpot's Blog Topic Generator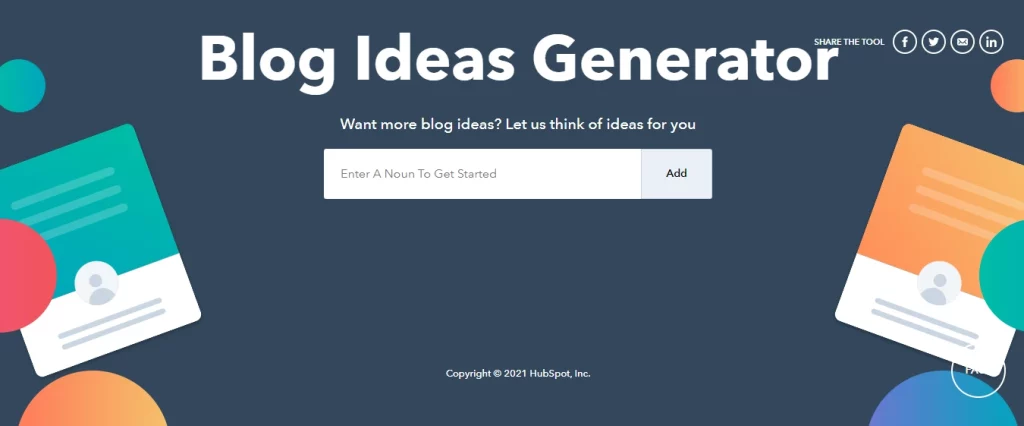 Looking to come up with fresh blog post ideas but feeling a little stumped? HubSpot's Blog Topic Generator can help. This nifty tool takes three pieces of information from you – your industry, a keyword, and a timeframe – and spits out a list of potential blog post topics for you to write about.
The Blog Topic Generator is an easy way to get inspired and come up with new content ideas that are relevant to your audience.
When it comes to content marketing, one of the most important things you can do is come up with fresh ideas for your blog. But sometimes it can be tough to come up with topics that will engage your audience and help you achieve your marketing goals.
That's where HubSpot's Blog Topic Generator comes in. This tool allows you to enter a few keywords and it will give you a list of topic ideas to help get you started. For example, if you enter "social media" and "marketing," HubSpot will give you 5 topic ideas that include "social media marketing strategy," "social media challenges in the workplace," and more.
10. SurferSEO

We know the importance of ranking content high on search engines. The right keywords and backlinks can help get your content in front of more eyes, which can lead to more web traffic and potential customers. But what if there was a way to take your SEO to the next level with the help of artificial intelligence?
SurferSEO is a powerful new tool that uses A.I. to help you rank your content higher on search engines like Google and Yahoo. With its help, you can find the right keywords for your content, identify relevant backlinks, and track your rankings over time.
The more high-quality content you produce, the more likely you are to rank higher on search engine results pages and attract new customers. But creating content can be time-consuming and expensive.
Thanks to advances in artificial intelligence (A.I.), there is. A.I.-based content ranking platforms like SurferSEO can help you determine which keywords are most effective at ranking, so you can focus your efforts on producing more of what works best.
If you're a website owner, then you know the importance of SEO. Not only do you need to find the right break and the right board, but you also need to optimize your website for Google and the other search engines. This artificial intelligence is devoted to helping writers get their content ranked as high as possible in the search engines so that they can get more traffic and more readers.
If you are writing to rank your content on search engines, then you need an SEO writer assistant that tells you the number of keywords you need to use based on your competitors' analysis.
How do I get better at content writing?
There are a few things to keep in mind when it comes to content writing. The first is that good content is engaging and interesting to read. It also needs to be relevant to your target audience. it should be well written and proofread for errors.
Here are a few tips for you:
Develop a writing habit
Set writing goals
Write for yourself, not for others
Use a variety of writing prompts
Edit and revise your work
Get feedback on your writing
How to write content quickly
In today's world, it is important to be able to produce content quickly and efficiently. Whether you are a blogger, a business owner, or just someone who likes to share your thoughts on social media, being able to write well is a valuable skill. Here are a few tips to help you get the most out of your writing time:
Start with a plan. If you have an idea of what you want to say, it will be easier to get started. Break your topic down into smaller chunks and come up with a rough outline before you start typing.
Be concise. Don't try to cram too much information into one paragraph or sentence. Limit your content to one idea per line.
Ask for help. If you are having trouble writing a particular article or blog post, try to find someone who can help you out with the content. This can be a friend, a family member, or even a professional writer.
Keep your sentences and paragraphs short and to the point. You don't want to overwhelm your readers with long sentences or paragraphs. 5. Get a writing partner. If you are having trouble getting your ideas down on paper, try writing with someone else.
Conclusion
Content writing can be a daunting task. But with the right tools, it can be made much easier.
In conclusion, using the best content writing tools can make the process of creating content much easier. Whether you are looking for a tool to help with organization, research, or writing, there is sure to be a tool that fits your needs. So don't be afraid to try out a few different tools until you find the ones that work best for you. And most importantly, have fun with it!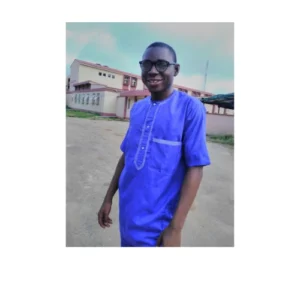 Abdulfatai is a Content Director at Olly-web, where he specializes in Search Engine Marketing (SEM) and Social Media Marketing (SMM). He has over a decade of experience working with businesses to promote their visibility through SEM, SEO, and social media. Abdulfatai believes that great content is the key to success on social media, and his goal is to help businesses grow their following by providing high-quality content that resonates. When it comes to online marketing, Abdulfatai knows how to work hands-on with clients and has a deep understanding of what works best for them.