Last Updated on February 4, 2023 by Abdulfatai A. Olamide
Having a CRM for your coaching business is a great way to help your clients stay in contact with you and your team. It will also allow you to track all of your clients' information, including their birthdays, goals, and contact details. However, there are many different options out there, so you need to do your research to find the right one for your needs.
The Best Free CRM For Coaching Business
1. Best Free CRM For Health Coaching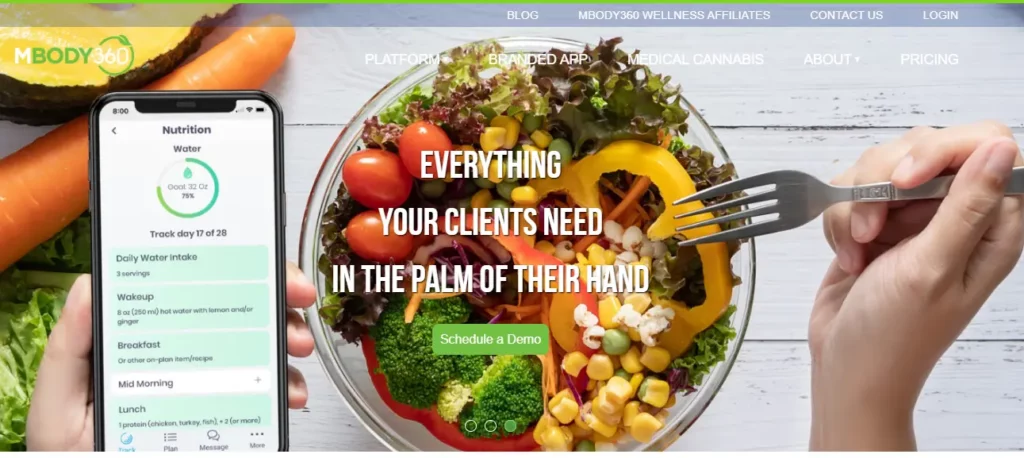 MBody360 is a health coaching software that has all the tools a health practitioner needs to work with clients. The system allows for real-time communication through secure video and chat. It is also cloud-based, which means you can access it from anywhere. MBody360 also allows you to develop personalized health plans for your clients, which can be delivered directly to them.
MBody360 offers four subscription types. Depending on your needs, you can choose between the cheapest plan (free) or the most expensive one (paid). It also has apps for iOS and Android.
MBody360 is an ideal health coaching software that allows you to create your own health plans, track your progress, and monitor metrics. You can also schedule appointments, assign tasks, and manage your clients. The system integrates with Apple Health and Fitbit.
MBODY360 also has an upscale wellness store that features professional-grade products. These products are produced with therapeutically relevant doses and are rooted in clinical science. It also has a curated list of done-for-you meal plans and shopping lists.
MBODY360's Wellness store is a great way to bring multiple specialties together. It's rooted in clinical science, which means the products are of the highest quality.
Coaches who use MBODY360 can also communicate with clients through messaging, chat, and video conferencing. It also has a built-in supplement store, which is perfect for integrative health practitioners.
MBODY360 is a great solution for health coaches, fitness coaches, and nutritionists. It also offers done-for-you meal plans and supplements recommendations, along with secure video and chat. It also offers an intuitive client app, which allows you to schedule appointments and send reminders. You can also track nutrition, sleep, and water intake, as well as supplement recommendations.
2. Best Free CRM For Small Businesses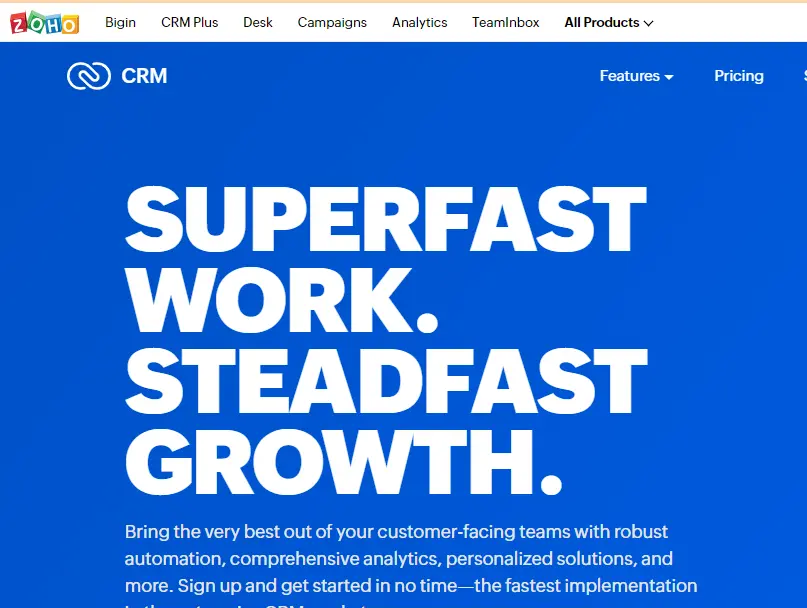 Whether you're a solo coach or part of a team, Zoho CRM is a powerful relationship management tool that helps you manage your contacts and leads. It can be used to streamline your sales process and increase visibility into customer interactions.
With Zoho, you can use automation to create workflow rules, write beautiful emails, and capture and track lead activity. You can also integrate Zoho with other apps and platforms. Its intuitive design makes it easy to use and customize.
Zoho CRM also includes a robust set of email marketing tools, including personalized emails and email marketing templates. It also has a multipurpose digital contact book that makes it easy to organize and store contact information. You can also use Zoho to create documents, files, and attachments.
Zoho CRM is a powerful tool for a small or startup company. Its intuitive design and powerful integrations make it easy to manage data.
Zoho CRM has a free plan for up to three users. It also offers unlimited support. It includes email marketing, a professional analytics board, and a customized dashboard. Depending on the plan, you can also add live chat.
The standard plan costs $14 a month for each user and includes outside integrations. You can also upgrade to a professional plan, which includes unlimited email marketing templates. The Professional Plan also has a customizable field builder. It includes advanced filters, tabbed groups, and additional email marketing insights.
Zoho CRM has a wide variety of tools for small businesses, including an easy-to-use dashboard, a mobile app, and sales management features. It also offers a robust developer platform and access to other business apps.
3. Best Free CRM For All-in-One Solution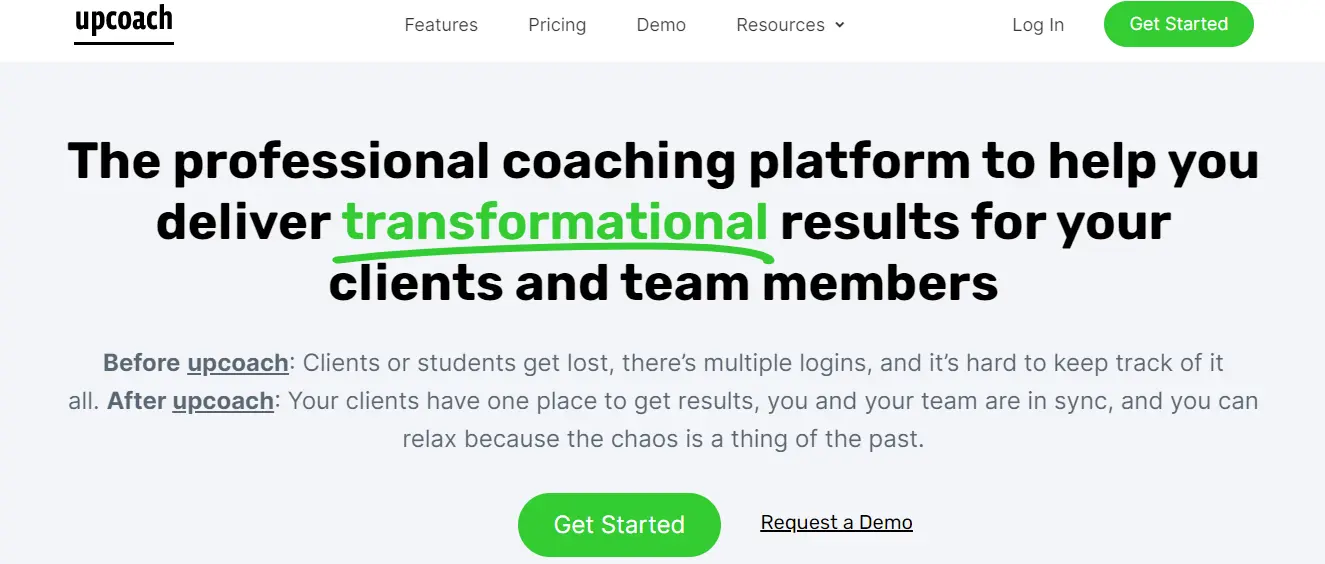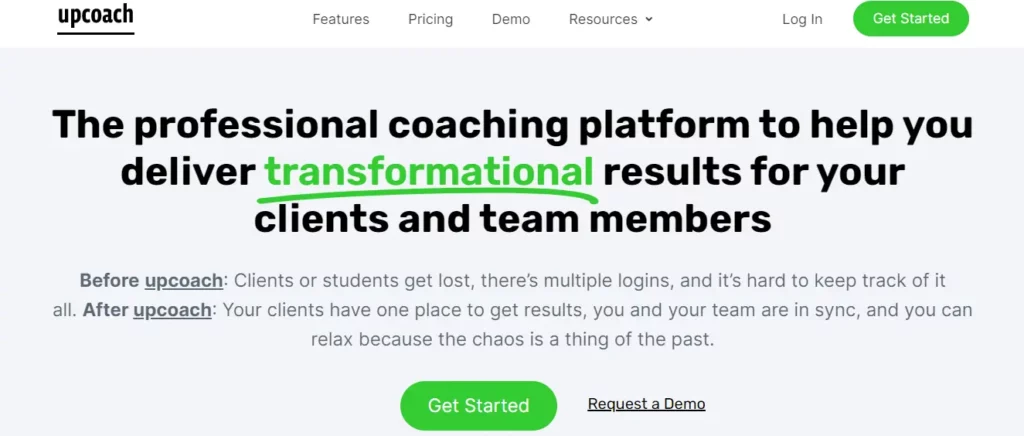 Regardless of whether you're a first-time coach or a seasoned professional, Upcoach CRM has the right tools to make you more efficient. Its all-in-one solution includes the ability to host meetings, create interactive documents, manage client contact information, and automate your CRM. The platform also provides a dashboard that gives you an overview of your business.
Coaches can track clients' progress, create programs, and customize their courses. The platform also features a drag-and-drop Program Editor, which allows you to customize your program's layout and add new sections, programs, and modules. UpCoach is also equipped with Smart Docs, which allow you to create and embed worksheets into your programs.
UpCoach also features a forum that allows you to hold your clients accountable. This platform also provides you with the ability to track your clients' progress, offer help, and build a community of followers. You can also share files with your clients, which is a great feature.
UpCoach's interface is very easy to use. You can create a new client, set up a team, and schedule meetings. You can also create recurring appointments, add Zoom links to calls, and view past meetings.
UpCoach has a number of third-party integrations. You can also integrate your UpCoach account with Zoom and Smart Docs, which allows you to access your files and communicate with clients in real-time.
UpCoach also has an automated email system that sends emails to clients automatically. This feature makes it easier for your clients to book their appointments. You can also set up automated follow-ups, which will remind your clients to complete their tasks. This is a great feature, as emailing homework can take up a lot of time.
4. Best Free CRM For U.I Friendly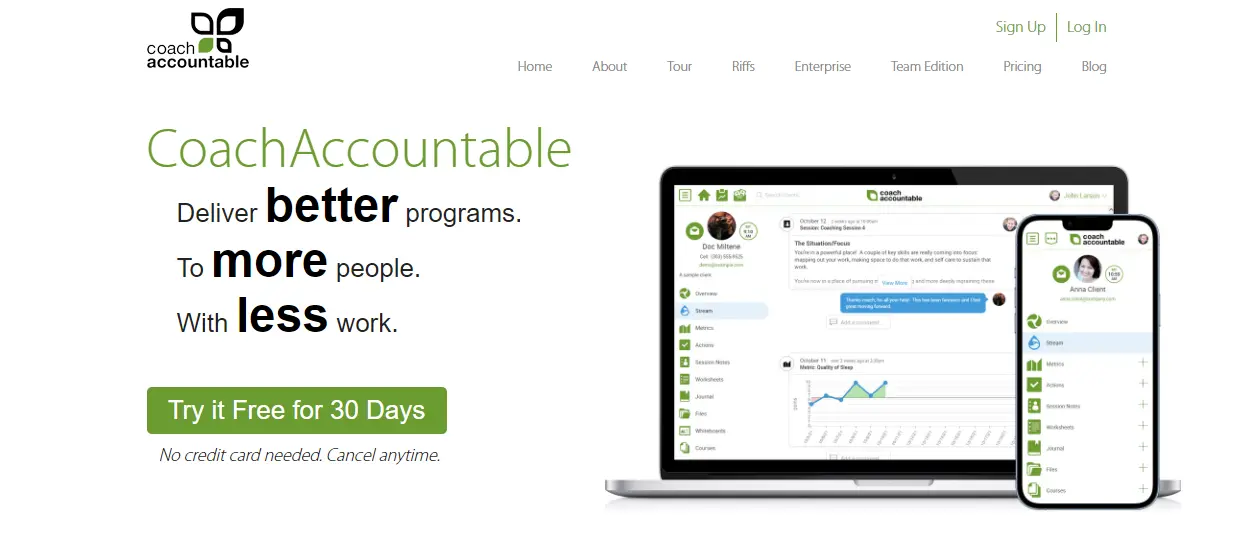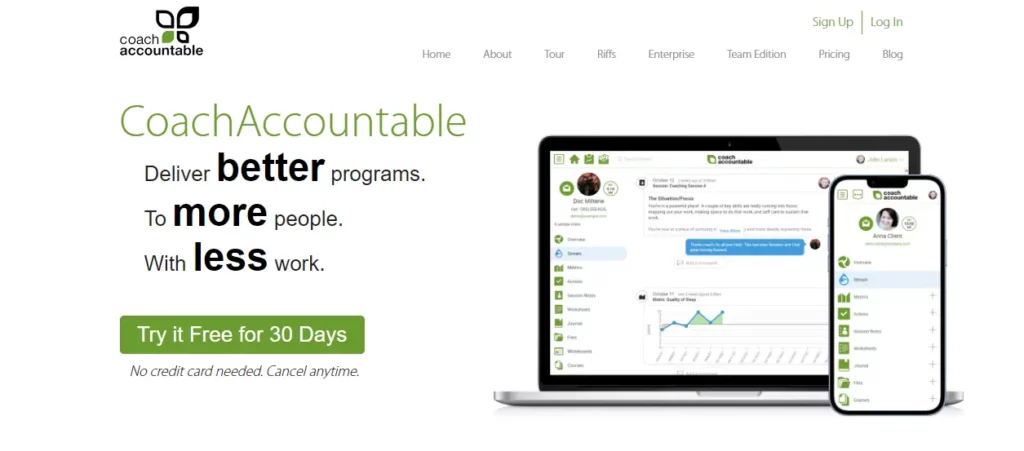 Designed to help coaches of all levels manage their online coaching practices, CoachAccountable offers a variety of features to hold coaches accountable to their clients. CoachAccountable also provides resources to help coaches develop their practices.
CoachAccountable offers an online community where coaches can connect and share resources. The platform also includes tools for facilitating team collaboration. The platform's features can help coaches optimize their daily schedules and get better results.
CoachAccountable offers a free 30-day trial so that users can test the platform before committing to a paid plan. The platform also offers free customizable templates, emails, and journals. The platform can help coaches track client progress, optimize their daily schedules, and keep their practices in top shape online.
Coaches can easily track new clients' programs with CoachesConsole CRM. It also allows professional coaches to track payments, maintain invoices, and monitor their business. The platform also allows professional coaches to create custom coaching packages based on useful data. It also has an online resource library for coaches.
The platform also has an easy-to-use interface. Coaches can create personalized training programs and group coaching programs, advertise their coaching services, and track clients' progress.
Coaches can also set up automatic updates and search filters to streamline their workflows. The platform also integrates with major online platforms to help coaches schedule appointments, accept online payments, and more.
Coaches can also use the platform's AI feature to help drive deals to closure faster. This technology also helps coaches improve their relationships with clients. The platform has a UI-friendly mobile application.
The platform also has a streamlined user interface that makes it easy to book appointments and create packages. The platform also includes automated email marketing and customer tracking.
5. Best Free CRM For Advanced Collaboration Tools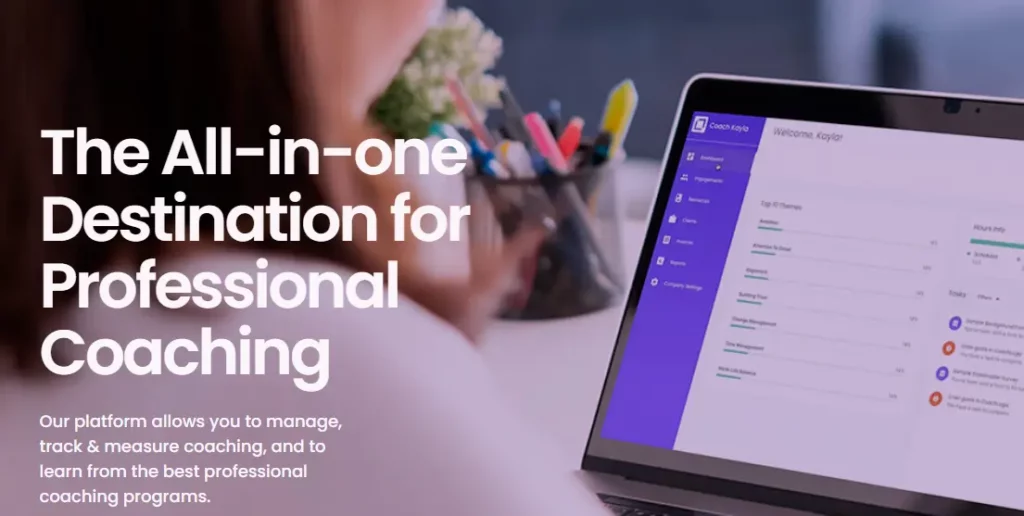 Choosing the right CRM for your coaching business can make a huge difference in your clients' experience. You need to understand what your needs are before you begin searching for software. You should also take into account your budget and the size of your organization.
When you're searching for a CRM for your coaching business, look for software that offers advanced collaboration tools. These tools will enable you to make better decisions. The software will also help you to monitor the progress of your clients.
You'll also want to consider whether the software has a free trial. A free trial will allow you to test out the software's features without having to commit to a monthly subscription.
Satori is a user-friendly CRM software platform that allows you to manage your clients' information in a single platform. You can track your clients' progress, schedule sessions, and invoice clients. It also offers an easy-to-use interface and allows you to collaborate with other coaches. You can also create questionnaires and schedule video conferences. You can also use this software for password-protected file sharing.
Practice Better is a HIPAA-compliant tool that is used by nutrition coaches to handle their books. They can create forms and distribute them to their clients, schedule meetings and video conferences, and more. They also can handle referrals and create invoices.
If you're looking for a CRM that's a little more user-friendly, try out Less Annoying CRM. It offers many of the same features, but at a lower price. It's also easier to use than most of its competitors.
6. Best Free CRM For Big Companies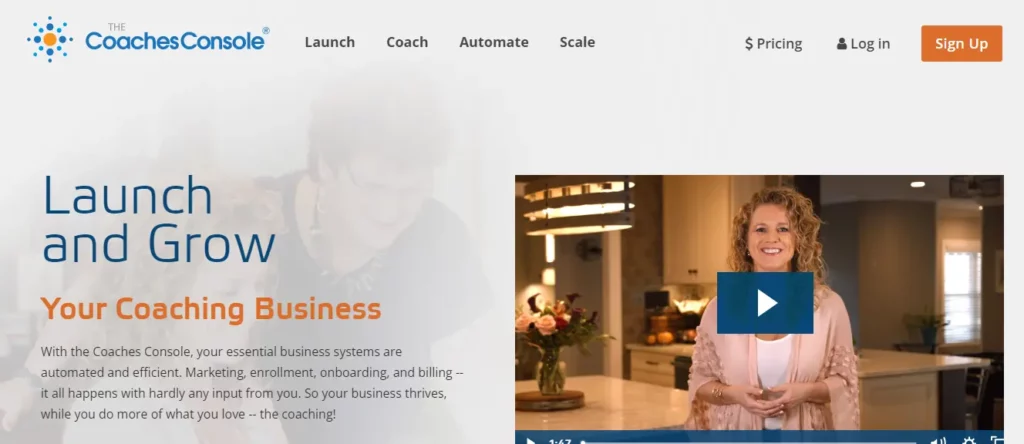 Another CRM software platform is CoachesConsole. It's ideal for big companies, but it's also useful for startups. It's a complete system that includes a client portal, a client dashboard, and a client management tool.
Whether you're starting, looking to ramp up your coaching business, or already established, CoachesConsole has everything you need to run your coaching business more effectively. This coaching software helps you organize your schedule, client stats, billing, marketing, and more. It's the perfect solution for any coach.

Coaches Console is a complete online system that helps you manage your coaching business. It's easy to use, with all the tools you need to organize your business. It's also mobile-ready, which means you can access your coaching business anywhere. Its features include email promotions, newsletters, and automated onboarding messages. You can also manage your current clients, create custom websites, and create a private client portal.

Real coaches created CoachesConsole for real coaches. It offers many tools, including a secure online shopping cart module, virtual assistant support, and an email marketing website. It also offers a variety of other products for coaches, including a library of articles and training videos. Its support is also top-notch. You can get answers to questions via email or participate in live interactive webinars. You can also access a private Facebook group for CoachesConsole members and participate in weekly webinars.
CoachesConsole is available in two different pricing plans.
The Core Console System starts at $147 per month, while the Total Console System costs $247. Both are packed with features and functionalities and come with a 30-day money-back guarantee.
With CoachesConsole, you can create a professional coaching website. You can add pages, lead magnets, and other content to your website. You can create custom pricing pages and set custom billing tiers. The system also allows you to set up billing automation and group sessions.
The billing module also allows you to accept multiple payment methods. Coaches Console also has a private client portal, allowing you to track your clients and their progress. You can also set reminders for appointments.

You can also schedule appointments, track time and other data, and create reports. You can even create personalized plans for clients. You can send emails to your clients and even schedule appointments on the go. You can also share documents with them from your portal. And the software is compatible with most major browsers.

Coaches Console offers a 30-day money-back guarantee so that you can test its features for free. You can also take advantage of its free training videos, live webinars, and educational articles. You can also participate in a free coaching call twice a month with Kate Steinbacher. You can also sign up for live, interactive webinars to learn about coaching tips and strategies.

CoachesConsole also has an integrated calendar, allowing you to track and customize your appointments. It also includes Appointment Types, allowing you to schedule appointments for specific sessions. You can color-code your appointment booking, and it even lets you add appointments to your Google calendar. You can also set reminders for appointments and set multiple reminders for each client.
7. Best Free CRM For Great Analytics and Data Reporting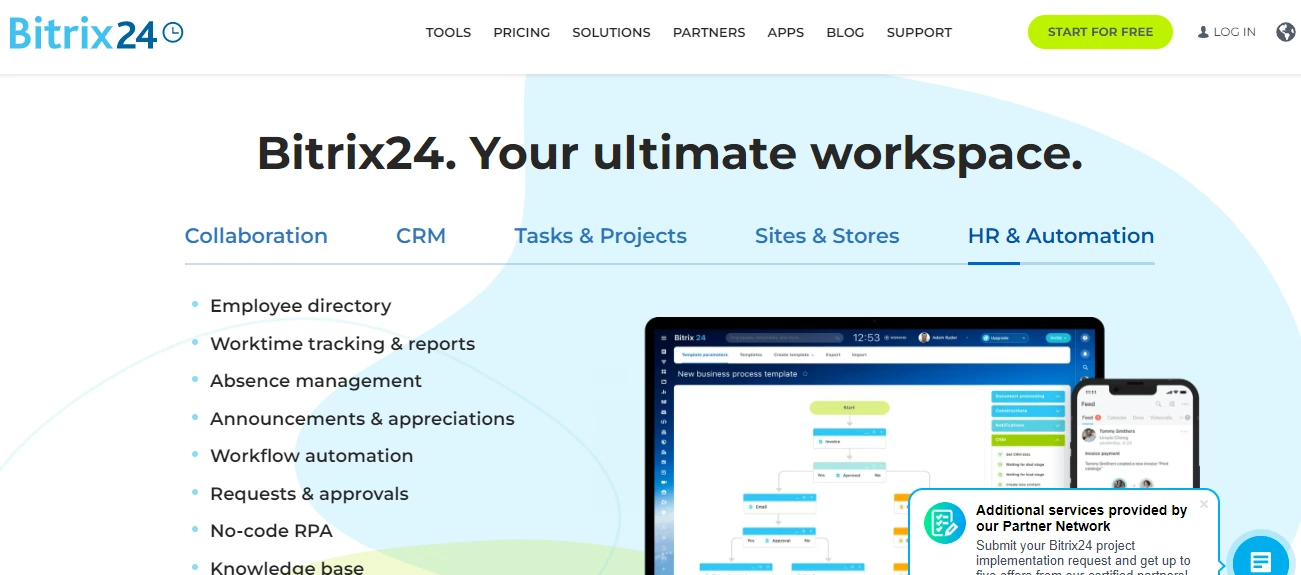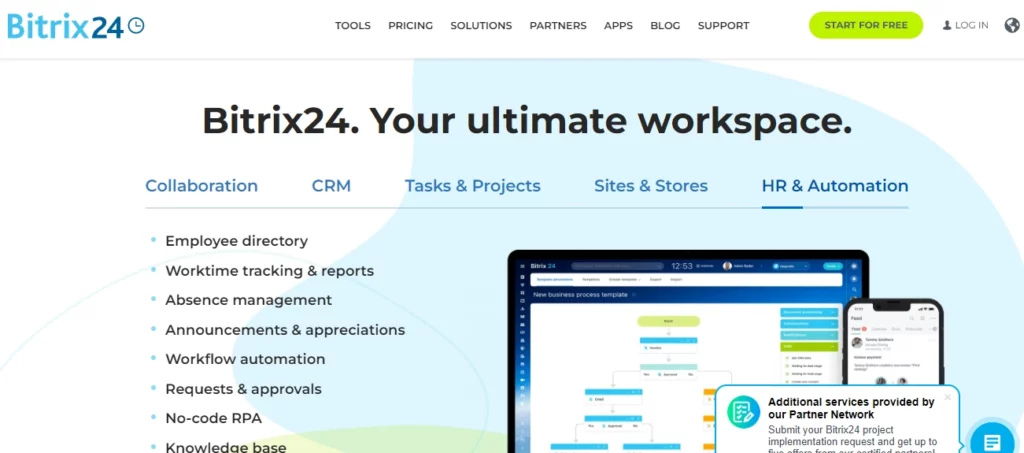 If you are familiar with Bitrix24, you know it is not a conventional customer relationship management system. It's a one-stop shop for conducting business, with features that allow users to work together on any project. However, its feature set, plus its support for an unlimited number of users and contacts on the free plan, makes it particularly potent for this application.
The price of this strength is a great deal of patience. Bitrix24 is an advanced app with many features. To make the most of your investment in this platform, it's best to ease into it. After getting your team set up and cooperating on the platform, you may add contacts and establish a sales pipeline and deals. It's impossible to accomplish everything at once, but you can gain momentum by working on little tasks simultaneously. You and your team may tailor the interface to your needs by rearranging the menus and selecting options to display and hide.
Even on the free plan, Bitrix24's reporting capabilities are extensive. Many other metrics related to worker output and output-related reports can be found in the many different tabs that make up the analytics page. In reporting and analytics, it's remarkable to find so many features in a free plan, given that only a tiny portion of them are shown in the screenshot above.
For this reason, Bitrix24 has a plethora of tools for teamwork. Your company's duties and successes are more easily accessible thanks to the activity stream, which functions like a news feed. You can create a hierarchical structure on the platform and assign team members to different groups. Workgroups can be established to assist staff in focusing on projects. Chat, audio, and video calls can be used to engage with teammates. This is an effective free program with its project management tools, file drive, and website creator.
8. Best Free CRM For Great Numbers of Integrations
HubSpot serves as the central hub of your technology ecosystem. Free CRM users have access to more than 800 native connections, allowing them to link virtually all of their other apps with their CRM. Connecting them via HubSpot's Operations Hub allows for bidirectional data flow, meaning that information can be pulled into HubSpot and pushed out again as necessary.
There is no cap on the number of users or contacts that can use HubSpot's CRM. While "unlimited," each account can only save up to one million contacts owing to technical constraints. Depending on how much lead generation your business does, sorting through all those may take a good decade or two.
Even though the CRM is included in the free plan, the breadth of features available through HubSpot is astounding. All the marketing tools you could need, from email campaigns to landing pages and simple contact forms, are right here. You may use HubSpot's CMS to make and administer your website, the service suite to manage support requests, live chat, and chatbots, and the traffic analytics and SEO tools to examine and enhance your channel performance. You can count on the free plan to last for quite some time. When you're ready to upgrade, you have several options based on your company's nature.
9. Best Free CRM For Lead Generation

Because it takes care of so many mundane activities and frees you up to focus on what you do best—coaching—it is among the best CRM for coaches.
Keap takes care of many tasks, such as lead generation, landing page development, message transmission, payment processing, and data organization. The goal is for coaches to expand their businesses without sacrificing their coaching quality to do so.
Keap removes the burden of managing several customer accounts and taking care of tedious, repetitive duties that you would instead not do.
A free 14-day trial is available to see if Keap is right for you.
10. Best Free CRM For Wellness Professionals

The intuitive design of Practice Better makes it simple for customers and coaches to generate documents with minimal effort.
Maximizing the results of your coaching also aids with session planning, billing, and client accountability. However, it is written with health and wellness coaches in mind so that any coach may learn from it.
You can upload modules and worksheets to your clients' accounts for easy access and collaboration via a mobile app.
The benefits of using this service are:
A method of saving time and effort through which templates of previously-provided guidance to clients can be created and reused
The ability to hold virtual meetings with clients thanks to the availability of video conferencing
The software has included simple scheduling features to make your calendar more productive and reduce administrative time.
Data storage in a safe, remote cloud environment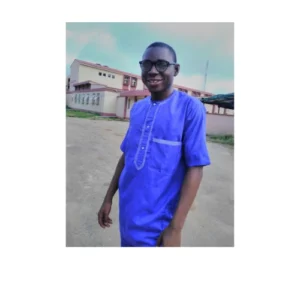 Abdulfatai is a Content Director at Olly-web, where he specializes in Search Engine Marketing (SEM) and Social Media Marketing (SMM). He has over a decade of experience working with businesses to promote their visibility through SEM, SEO, and social media. Abdulfatai believes that great content is the key to success on social media, and his goal is to help businesses grow their following by providing high-quality content that resonates. When it comes to online marketing, Abdulfatai knows how to work hands-on with clients and has a deep understanding of what works best for them.