Last Updated on February 4, 2023 by Abdulfatai A. Olamide
If you have ever wanted a career in marketing, you might be wondering if it is the right choice for you. After all, as a marketer, you will deal with a lot of people, so you need to be a people person. This means that you should have excellent interpersonal skills, be patient and confident, and be a team player. In addition, you should be an effective strategist and creative person.
Is Marketing a Good Major?
Yes, marketing is a good career path. Marketing is an important field that can help businesses grow and thrive. It is a challenging major, but it can be a great career choice with the right skills. There are many different marketing careers out there, so you will be able to find one that fits your interests and skills.
class="wp-block-heading">Before you choose this career path, here are things you need to know
1. Career options
Marketing majors can pursue a variety of career options. Not only can they enjoy excellent earning potential, but they can also acquire skills transferable across industries. Many of these careers are in sales and advertising, but some also involve business or public relations. A student interested in marketing should research career placements and specializations in marketing before choosing a program.
A marketing major may find it challenging to choose a career, but there are many opportunities available. The field of marketing is broad and includes jobs like social media marketer, copywriter, graphic designer, and market research analyst. Regardless of the type of job, it will require creative and analytical skills. Marketing careers also often require the applicant to have a strong sense of branding.
A marketing major will study consumer behavior, public relations, advertising, and communications. They will also learn how to collect data, interpret results, and develop an understanding of media trends. They will also have to learn to be self-motivated, good with people, and flexible planners. It is important for students to be well-rounded to excel in this field. They must be analytical, creative, and have a strong left brain.
While a marketing major may be the best path for you, it is important to keep in mind the cost of a marketing degree and how much time you can dedicate to the program. A marketing major will need to be prepared for a lot of hard work and dedication. Still, once they've earned their degree, the possibilities are endless.
Marketing graduates are often paid well. According to the Bureau of Labor Statistics, an average starting salary for a marketing major is $36,712 per year. However, this salary is subject to change. During the 2022-23 academic year, a marketing graduate can expect to earn $68,242 in their career.
2. Underemployment rate
Marketing majors are among the most sought-after college graduates. This is because the field is in high demand, and the underemployment rate is low. According to the U.S. Bureau of Labor Statistics (BLS), the number of unemployed individuals in the country was nearly 95 million in Q4'19. This figure is the result of several factors, including the low-paying nature of some jobs, shifts in technology, and other factors. The majority of those who are unemployed are in low-paying and low-skilled jobs.
The underemployment rate is another factor that should be considered when deciding on a major. Underemployment is when a person has a degree but does not have a job related to that field. This situation is rare, but it should be kept in mind when choosing a major. The New York Fed reports that the underemployment rate of Marketing majors is 52.1%, which means that more than half of these graduates are working in jobs that do not require a college degree.
3. Cost of degree
The cost of a marketing degree can vary widely. The average cost of a 120-credit undergraduate marketing program is around US$1,734. There are several sources of financial aid that can help students meet the costs of their degree. Scholarships, fellowships, assistantships, and loans are available to help students meet their educational expenses.
Online degrees in marketing are becoming increasingly popular among working adults. They offer a flexible schedule and are typically less expensive than their on-campus counterparts. While some online programs cost over $138,000, others are more affordable, including WGU's online marketing degree. For example, WGU charges $3,575 per six-month term, with most students finishing in three years.
The cost of a marketing degree depends on where you are studying and what you want to specialize in. For example, you can specialize in digital marketing, including pay-per-click advertising, search engine marketing, and SEO. You could also specialize in content marketing or data analytics. You could also become a social media manager. A marketing degree is a stepping stone to a career in these related fields.
A degree in marketing usually takes four years to complete. However, you can complete an accelerated program in as little as two years. Online programs often take less time, and you can complete them from home. The program usually takes about 120 credit hours. In addition to marketing, you may also study public relations, which involves enhancing a company's reputation and promoting its offerings.
An affordable online marketing degree is available from NMSU. The NMSU Bachelor of Business Administration-Marketing program can be completed full-time or part-time and requires 120 credits. In addition to a low cost per credit, an online marketing degree is flexible and will prepare you for graduate school.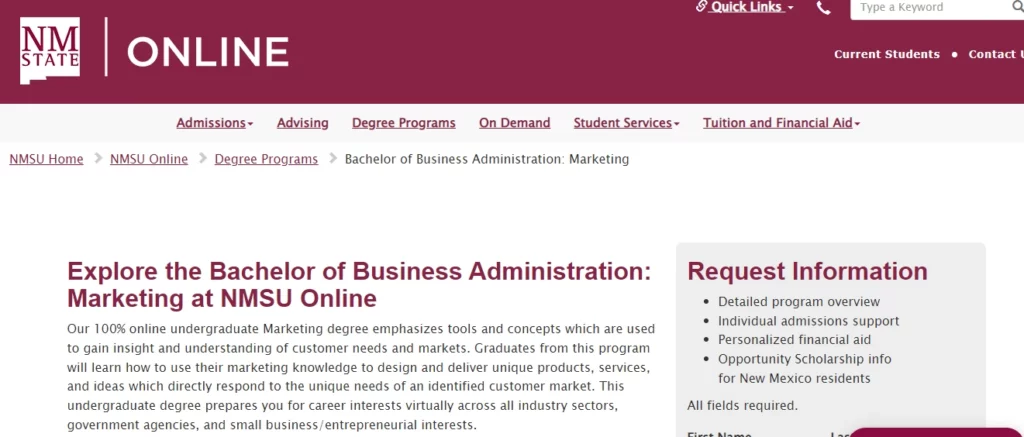 In addition to online degree programs, you may opt for a traditional MBA program, which can cost anywhere from $30k to $90k. Some business schools have special loan programs for students working in public service or the military. Online MBA programs can help you save money on tuition costs regardless of the type of school you choose. However, the cost of an online MBA program can vary greatly between institutions.
4. Career Outlook
The job outlook for marketing majors is relatively good. According to the BLS, there is a high demand for marketers and advertisers in industries developing new products. Organizations trying to gain market share are constantly seeking ways to attract customers. Some of the best job opportunities are in advertising firms, the information technology industry, and the retail trade.
A marketing career requires creativity and communication skills. It also involves staying on top of technological developments, including social media trends and digital innovations. This is an industry for intelligent, extrovert people who love to study consumer behavior and discover new marketing strategies. If you enjoy creative challenges, marketing may be the career for you.
Careers in marketing include advertising, product management, brand management, and customer service. Other opportunities are in logistics/supply chain management, public relations, sales management, and visual merchandising. There are many job opportunities for marketing majors, so finding a career in any field, you're interested in is possible.
A career in marketing is generally well-paid, and there is no shortage of opportunities. Most marketing jobs offer excellent career stability and opportunities for advancement. However, you should remember that it requires creative thinking and creativity to get ahead in a career in this field. So if you're interested in marketing, be prepared to work hard.
Wrap up on choosing a marketing career
A marketing degree is an excellent way to learn about consumer behavior, public relations, advertising, and communications. Students will also have the opportunity to work in a variety of industries. Whether you are interested in starting your own business or pursuing a marketing career, a reputable university degree is a must.
A marketing major offers various skills in high demand, and the career path is wide open for those with the right education and experience. Those pursuing a marketing degree should be prepared to work in various industries, as the field is constantly changing.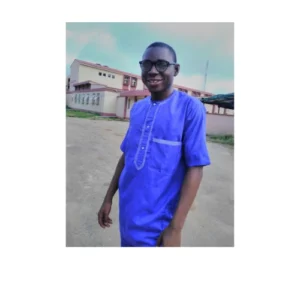 Abdulfatai is a Content Director at Olly-web, where he specializes in Search Engine Marketing (SEM) and Social Media Marketing (SMM). He has over a decade of experience working with businesses to promote their visibility through SEM, SEO, and social media. Abdulfatai believes that great content is the key to success on social media, and his goal is to help businesses grow their following by providing high-quality content that resonates. When it comes to online marketing, Abdulfatai knows how to work hands-on with clients and has a deep understanding of what works best for them.