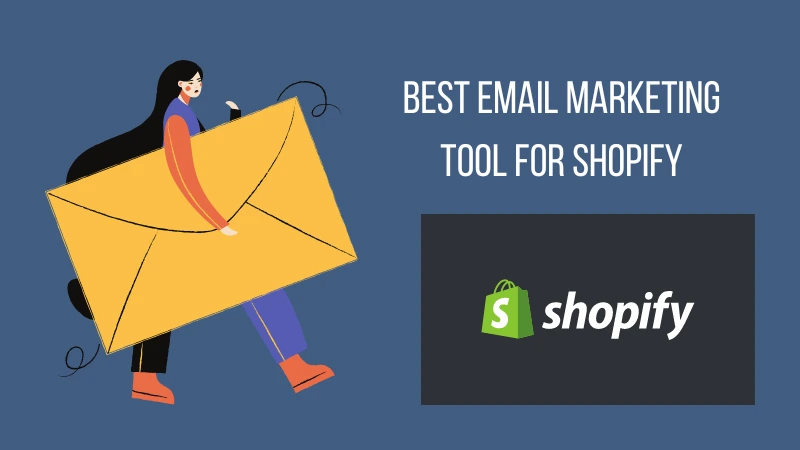 Last Updated on October 30, 2022 by Abdulfatai A. Olamide
The best Shopify email marketing tools will differ depending on the type of business and its specific needs.
To put it simply, Shopify is an online storefront. Small businesses can take advantage of its many email marketing features.
It has a streamlined purchasing procedure, numerous customizable layouts, and a clean design. Shopify has the potential to become a dominant force in the eCommerce market, with over a million active stores using its platform.
But a few factors can make or break a Shopify store's success.
A Facebook advertising platform is also available from Shopify. This facilitates interaction between companies and their prospective customers on social media. Shopify also provides an email marketing program tailored specifically toward helping small businesses find and connect with their ideal customers.
Shopify users are in high demand because of the platform's popularity and the success of email marketing campaigns targeting Shopify stores. Many businesses rely on email marketing to communicate with their customers. Still, there are a variety of tactics that can be employed to maximize its effectiveness.
In email marketing, opt-ins, unsubscribe buttons, lead magnets, and email lists are some of the most frequently used tools.
You can tailor Shopify's robust email system to your specific requirements. In addition, Shopify provides several advertising tools that can assist you in reaching your desired demographic.
What is email marketing, and why should you use it in your business?
What is email marketing?
Direct marketing channels like email marketing allow companies to inform customers about new offers, discounts, and service announcements. Having such a high return on investment makes it essential to the inbound strategy of most companies.
To inform your email list about your product or service, you can use email marketing, a form of direct marketing. It can also be employed to persuade the subscribers on your email list to complete the desired action, such as making a purchase, scheduling a demo, enrolling in a trial, or registering for an event.
Why should you use Email Marketing in your business?
1. Don't lose touch with your followers.
Emails can serve as a valuable tool for customer communication. Whenever it is most practical for them, consumers can check their email. As a result, they may feel like you are thinking of them. The message in this email need only be a friendly "Hi, you're on our mind. People who have subscribed to your email list have shown an interest in receiving communications. Consequently, they will appreciate receiving these emails.
2. People actively use communication via email.
Email has been around for a few years as electronic communication. Email has rapidly replaced many other methods of contact in recent years. In one way or another, we have all been conditioned to respond to an email. Whether it's to act on the email in some manner (via replying, forwarding, clicking on an embedded link, deleting, purchasing, or signing up) or not at all. In most cases, we act upon the email.
Email can encourage people to visit a website, make a phone call, or take other desired actions. Last year, email marketing was responsible for more than 25% of revenue growth.
3. Unlike other forms of marketing, the results of email campaigns are simple to track.
Email marketing software typically lets you monitor responses to your messages. All sorts of metrics can be observed, including but not limited to: open rates, click-through rates, unsubscribe rates, and bounce rates. You can see which of your email campaigns are successful and which ones need improvement or should be scrapped altogether. You can't discount these numbers.
Consider them a vital component of your internet marketing strategy. Studies and polls may give you "ideal" numbers to shoot for, but whether or not they're achievable depends on your specific field and audience. You should send daily emails to your customers if that is what they want and expect from you.
However, your unsubscribe rate will rise if you send more than one email weekly to customers who have indicated they prefer not to receive any. The key to success is understanding your audience and meeting their information needs.
4. Enables precise communication
Let's discuss the role of email marketing in nurturing leads. The key idea is that prospective clients are at various buying stages. Some might be thinking about purchasing, while others might be doing their homework and preparing to make a final decision. Developing buyer personas is a great way to plan out your content strategy.
Companies can improve their email marketing results by dividing their customer base into more manageable subsets and sending promotional emails only to those segments. To progress to the next phase of the purchasing cycle, customers require information that can be provided by pushing the appropriate content. What matters most is how quickly but efficiently you can move these leads through your sales funnel.
5. Save money with email.
Compared to other forms of advertising, email is highly cost-effective. Since this benefit is so substantial, it should be emphasized frequently.
Cheaper than ever, you can send your message to thousands of people for pennies on the dollar. More often than not, the free tier of service provided by email marketing companies is sufficient for those with a modest subscriber base.
Errors in emails can be fixed quickly and at no extra cost. Also, you're effectively forgoing any media acquisition expenses. In using email lists as your private and direct source of communication with customers, you are effectively cutting out the middle man and turning your business into a media company.
Best email marketing for Shopify
1. GetResponse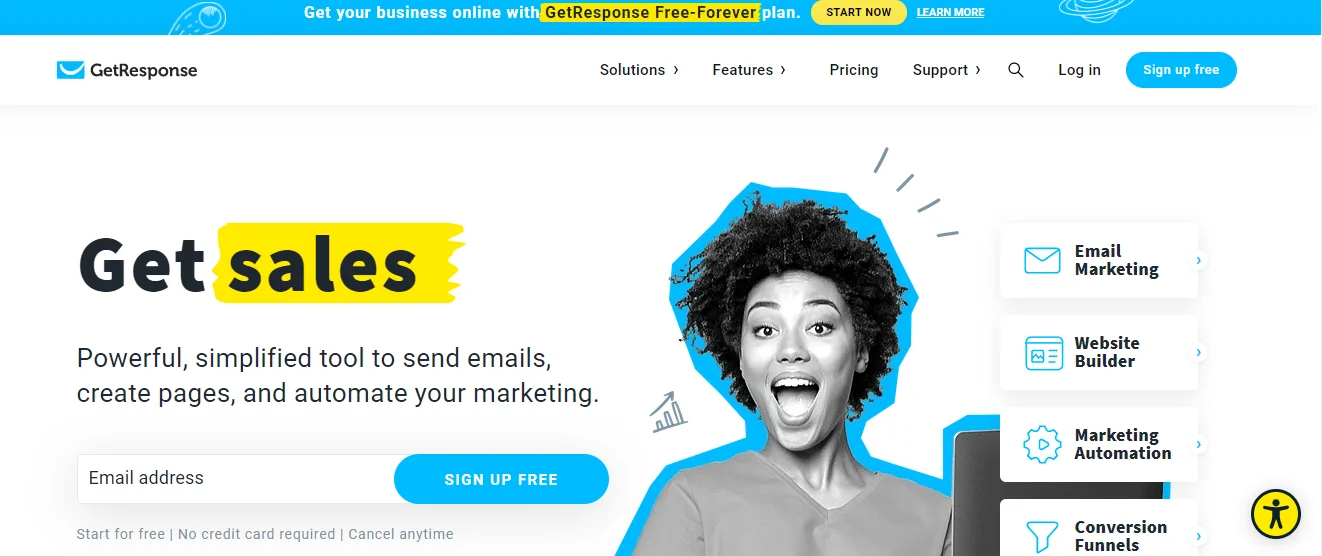 GetResponse is a marketing automation powerhouse that offers more than just email marketing. It accomplishes this by including tools like landing pages, webinars, and a customer relationship management system.
Because of its compatibility with Shopify's Deep Data integration, it's also one of the best email marketing tools for the platform. It allows for synchronized customer, order, and product data and sophisticated segmentation, tagging, and automated campaigns.
With GetResponse, you can quickly and easily create automation for your online shops, such as abandoned cart campaigns, post-purchase emails, and discount offers. In addition, you can automate the addition of suggested products to your emails, which are tailored to individual customers based on their previous purchases.
GetResponse is ideal for bigger businesses because of its robust marketing automation, segmentation tools, and customer relationship management (CRM) capabilities. We also endorse this option if you require additional functions like landing pages and webinars.
Pricing:
Pricing starts at $19/month for up to 1,000 subscribers and unlimited email sends.
Price per month (up to 5,000 subscribers): $54
$79/month for up to 10,000 subscribers and unlimited email
2. Sendinblue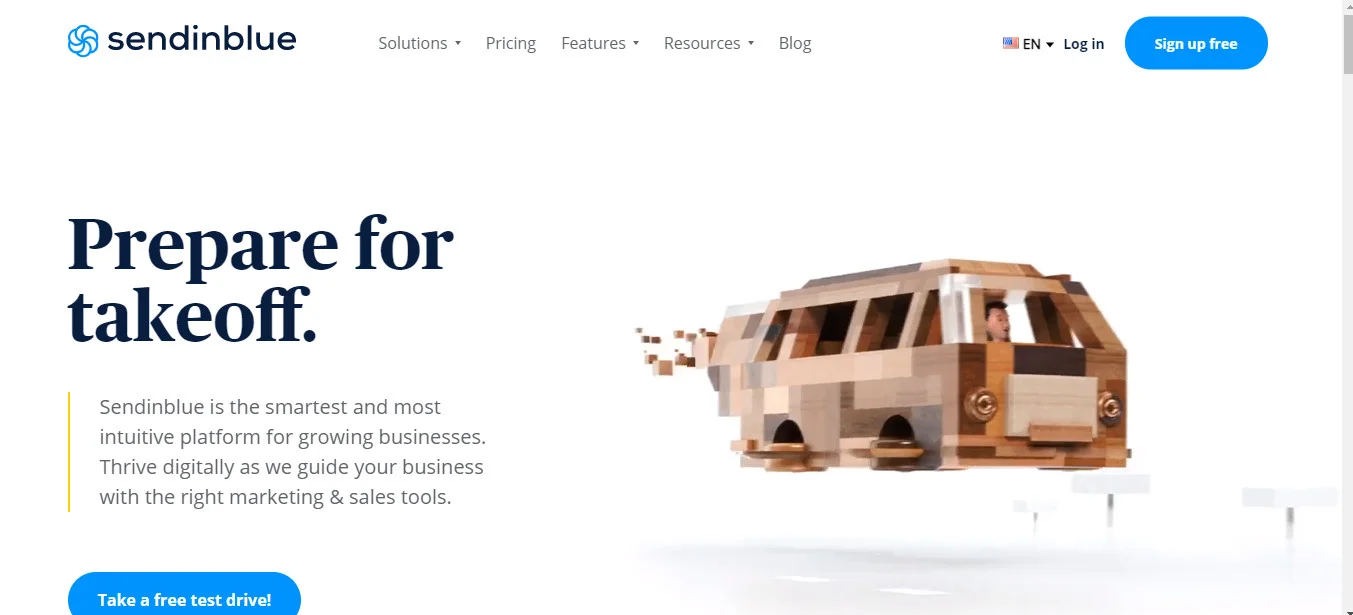 Small and medium-sized businesses can benefit from Sendinblue, an email marketing service. In particular, its robust customer relationship management (CRM) and automation features have made it a popular choice among Shopify merchants looking for a full-featured marketing automation tool.
One of its main selling points is a collection of pre-made layouts for email newsletters. It can be used to create professional-looking publications that readers want to read. Prefabricated automation flows for things like welcome sequences, abandoned cart emails, and more can be activated with a single click.
Sendinblue also provides robust functionality for Shopify stores. Sendinblue can be integrated with your existing customer database and transaction records. You can use that data to create different groups of customers with similar interests and purchase habits.
In addition to the standard methods of confirming orders and shipping, the Shopify app gives you access to additional channels, such as SMS, to get in touch with your customers.
Sendinblue has some excellent e-commerce tools built right in. Suppose a user is an existing customer or not, for instance. In that case, you can show them different content in their email based on that fact alone. Transactional messaging features allow you to send emails and SMS with order summaries, shipping updates, and payment confirmations (via SMTP).
Order data is exported from Shopify to Sendinblue, which can be viewed in the context of each contact record and used to inform the development of custom segments and automation. The drag-and-drop editor also lets you connect your store's products with emails.
Pricing:
Until you hit 9000 emails per month, it's free! (maximum 300 emails daily)
Pricing details: $25/month for up to 10,000 emails
Pricing starts at $35/month for up to 40,000 monthly email sends.
The monthly cost of $49 for up to 60,000 emails
3. ActiveCampaign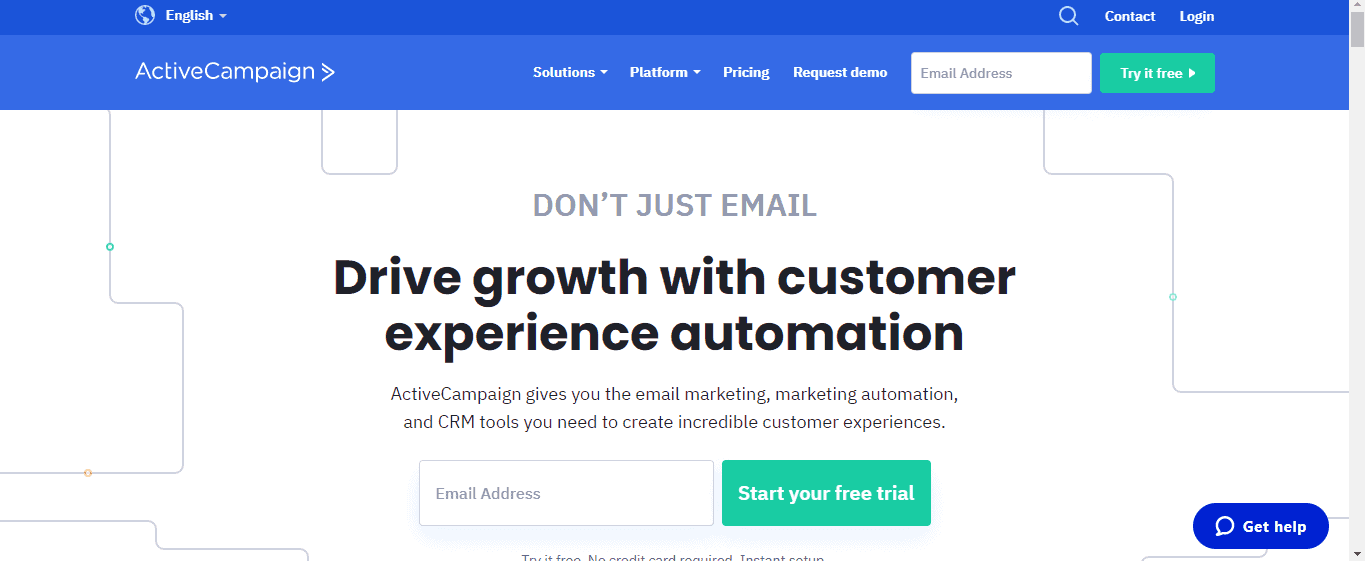 ActiveCampaign, like GetResponse, is well-known in the marketing automation industry. Since it has a "Deep Data Integration" with Shopify, it is now accessible to those who run online stores through that platform.
Online merchants can use Active Campaign's customer relationship management (CRM) tools, including dynamic segments and tagging, conditional email content, and sophisticated automation. Zapier and Revenue Conduit aren't the only two available integration tools.
Over 145,000 companies worldwide have put their trust in ActiveCampaign, making it one of the most widely used email marketing platforms. Whether you're an established company or just getting started, the marketing automation features in ActiveCampaign are like having another staff member.
By connecting ActiveCampaign and Shopify, you'll have instantaneous access to 500+ pre-built automation for launching campaigns like abandoned cart emails and welcome series and creating a landing page in a few minutes. You can connect all your business tools with ActiveCampaign because it has over 850 pre-built integrations.
You can use ActiveCampaign to send sales-driving, personalized emails by connecting them to your Shopify account. Customers' past interactions with your brand can be used in conjunction with one of ActiveCampaign's 125 email templates to create personalized messages.
With this email marketing platform, merchants can take advantage of Google Analytics and Facebook Audiences integrations and SMS marketing tools. With so many options for personalization, it's easy to see why they consistently rank among the best email marketing platforms available today.
ActiveCampaign provides a free 14-day trial period that you can begin using right away. You can move up to the Lite Plan if you find the helpful service.
Pricing:
Prices start at $39/month for up to 1,000 emails.
For $99 a month, you can send up to 5,000 emails.
Up to 10,000 emails per month: $174/month
4. Klaviyo
Since Klaviyo is an e-commerce marketing software, it is a perfect fit for Shopify store owners. In fact, according to the company's website, "Shopify stores make $85 for every dollar they spend on Klaviyo." A good return on investment, though it's unclear how it stacks up against the other tools on this list.
This rise in revenue can be attributed, in no part, to their simple yet effective marketing automation workflows and sophisticated customer segmentation.
One of the few email marketing services tailored to online stores, Klaviyo stands out. Over 50,000 shops use Klaviyo to send customized emails, SMS messages, and sign-up forms, making it the most popular platform in the Shopify ecosystem.
Klaviyo, specializing in e-commerce email, also works with paid social media marketing. By syncing your data in a flash, you can create Lookalike Audiences for your Facebook and Instagram ads and reach a larger, more targeted audience. Users can also access the Klaviyo Community Forum for helpful hints and advice from the Klaviyo team.
Up to 250 contacts, you can use Klaviyo at no cost. With prices ranging from $30 to $150 per month and no long-term commitments, it is undoubtedly one of the most competitive email marketing solutions.
Pricing:
It's cost-free, with up to 250 subscribers and 500 emails per month.
At $30 a month, you can have up to 1,000 subscribers and send as many emails as possible.
Up to 5,000 subscribers and unlimited emailing for $100/month
Unlimited emailing to up to 10,000 subscribers is available for $150 per month.
5. ConvertKit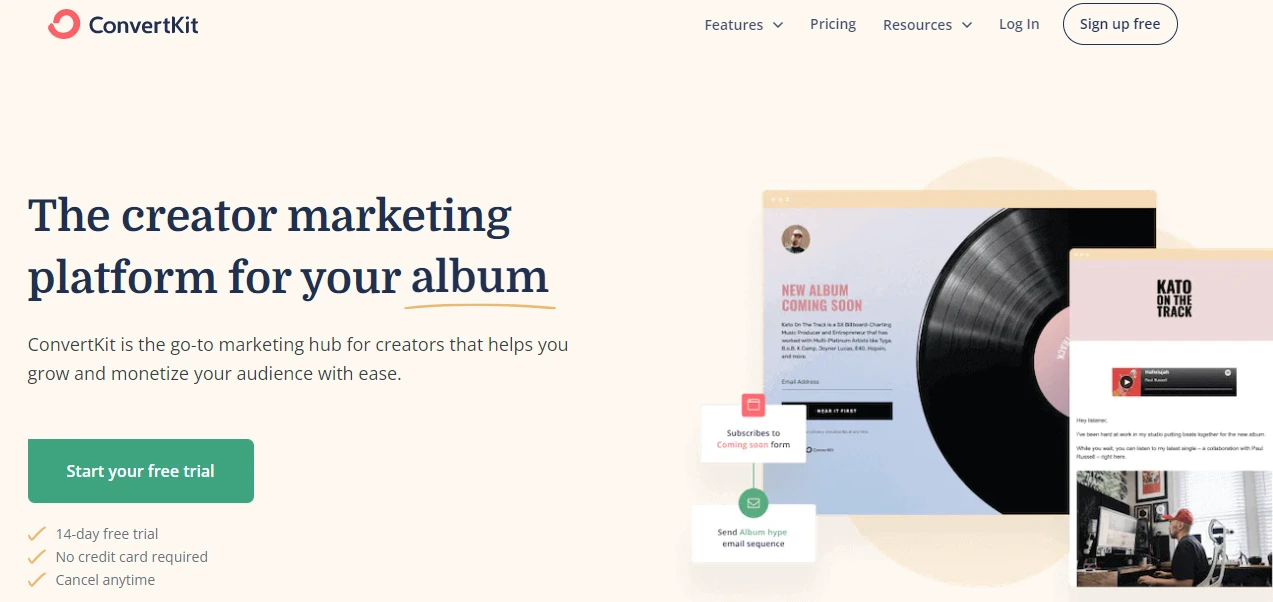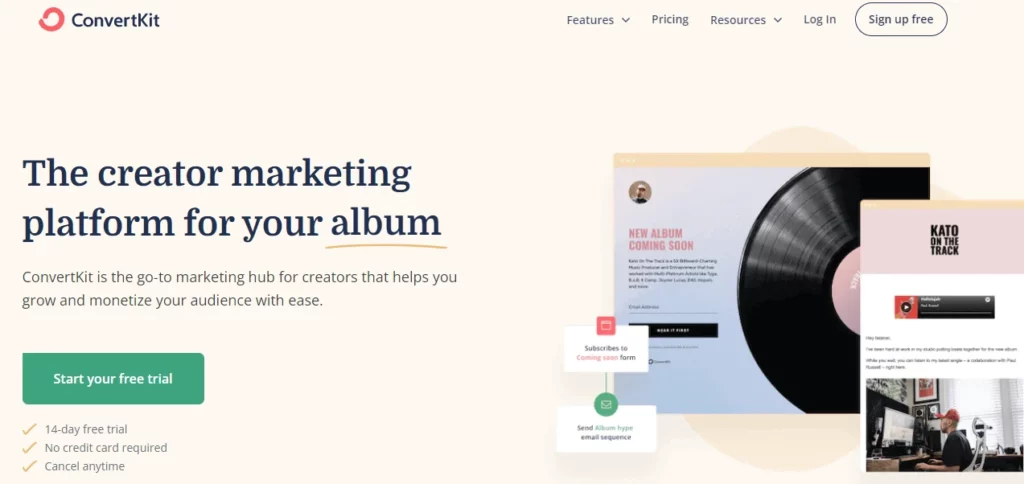 Continued positive feedback from users has made ConvertKit one of the most popular email marketing platforms, especially among artists and those seeking to make a living online. Marketed as the premier resource for creators looking to expand their fan base and start making money from their work. Rising entrepreneurs and web-based business owners are increasingly adopting email marketing.
Coaches, podcasters, authors, and musicians rejoice: ConvertKit makes email marketing a breeze.
ConvertKit is a favorite among bloggers and content creators. Still, it also caters to e-commerce business owners by providing a straightforward integration with Shopify. A landing page editor and a customizable tag management system are two other features.
Pricing:
It costs $29 per month for up to 1,000 contacts.
Start at $79/month for up to 5,000 contacts.
Price per month for up to 10,000 contacts: $119
6. Omnisend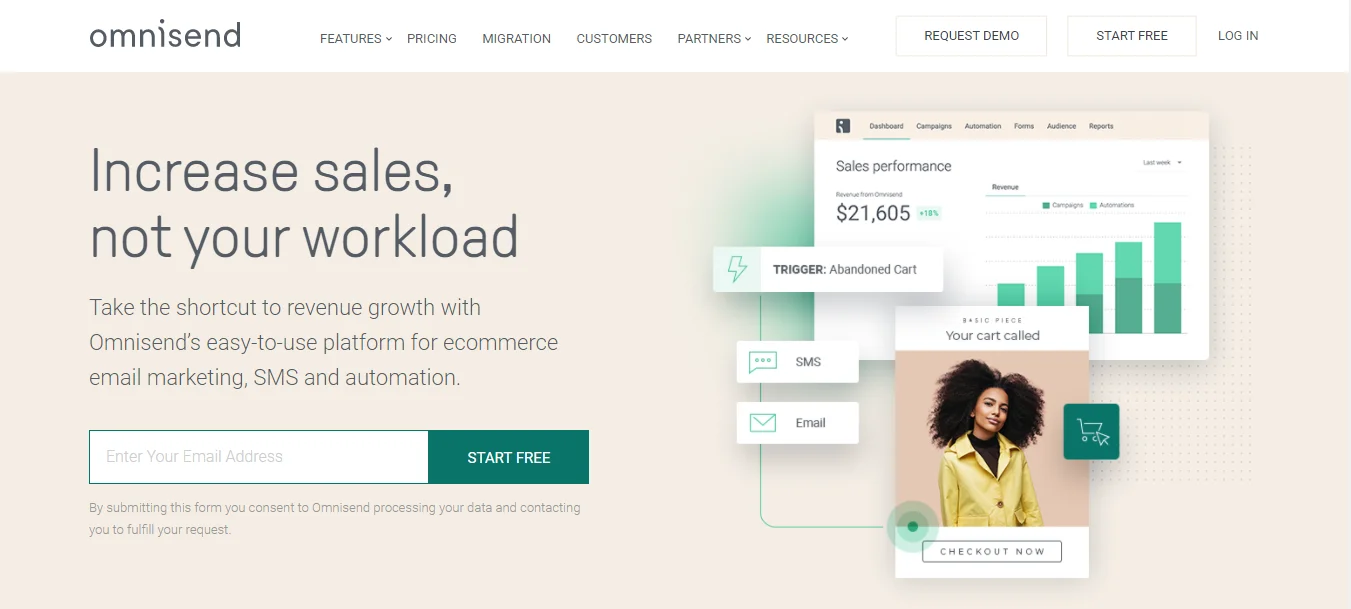 On Shopify, over 50,000 businesses rely on Omnisend, an email marketing automation platform that has received rave reviews. Pre-made automation workflows and a code-free interface make launching complex email marketing initiatives simple.
Omnisend is the best multi-channel provider because of its dedication to online shopping. This excellent app features nifty email incentives like gift boxes and scratch cards and automated workflows tailored to specific points in the customer journey, such as shopping cart abandonment and order confirmations.
In addition to email, Omnisend supports sending text messages, push notifications, and even Facebook and WhatsApp messages.
The Omnisend platform also includes the following:
A dynamic coupon code generator.
An automatic product selector.
A drag-and-drop email builder.
A host of other features.
In addition to the standard SMS and Google/Facebook ad features, you also gain access to push notifications and advanced segmentation for more targeted message delivery.
As a bonus, Omnisend provides in-depth analytics, campaign metrics, and unsubscribe tracking. These allow you to compare your campaign's results to those of similar companies, providing valuable insight into how well your efforts are faring. The analytics of your products and your customers' progress through your various channels are also at your fingertips.
Suppose you like Omnisend after a free 14-day trial. In that case, you can keep the premium features, upgrade, or stick with the primary service (of up to 15,000 emails per month).
Pricing:
Send up to 250 people each month via email for free, with a monthly limit of 500
For only $16 a month, you can have up to 500 subscribers and send out 6,000 emails each month.
Costing only $20 a month for up to 1,000 active subscribers and 12,000 monthly emails
The monthly cost of $65 includes up to 5,000 contactable subscribers and 60,000 emails.
7. Constant Contact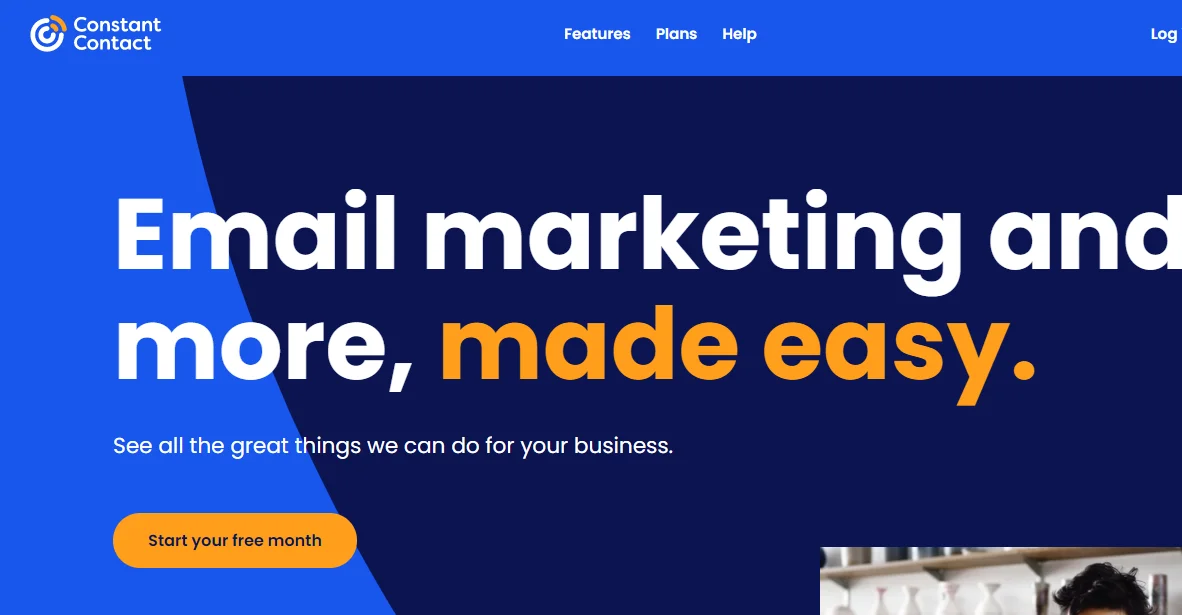 Constant Contact was founded in 1995 and is one of the oldest email marketing companies still in operation today. By now, it has matured into a user-friendly, no-frills platform for improving the effectiveness of email marketing for businesses of all stripes, from online boutiques to personal blogs.
This email marketing platform makes it simple to maintain and expand your mailing list and control template configurations. The service provides more than a gigabyte of space for your files, an email tracking system, and an integrated social media sharing tool.
First-time customers, returning customers, inactive customers, and so on can all be easily separated using Constant Contact's pre-made segments. The email editor includes convenient drag-and-drop blocks for store products and promo codes.
Constant Contact offers a wealth of resources for those just getting started in email marketing, including training videos, webinars, and more. When a business signs up for Constant Contact, they get a free trial for 60 days before paying the $20 monthly fee.
Pricing:
Monthly fee of $9.99 for up to 500 contacts
For every 5,000 customers, the monthly payment is $65.
$10,000 contacts: $95 per month
How to create effective email campaigns
1. Choose an appropriate email distribution list.
You need to send your emails to the right people for them to have the desired effect. Brands with a global reach should limit the promotion of regional offers and events to those interested in them. Demographics, such as age or gender, are another effective means of targeting the right people.
Multiple strategies exist for expanding email subscriber bases:
The first step is to incorporate a sign-up form into your website. Offer something of value in exchange for subscriptions, such as a newsletter, guide, eBook, white paper, or checklist.
Get a sign-up sheet going. Customers of your physical store can sign up for your email list by filling out a sign-up sheet. Make sure they understand what they will get from you in exchange for giving you their information.
If you want more people to sign up for your email list, you should promote the sign-up process on social media. You can encourage them by posting links to your opt-in page or adding a Sign-Up button to your Facebook page.
Avoid using questionable methods to gather email addresses, such as purchasing lists. Not only will this hurt your click-through and conversion rates, but it may also cause some email providers to mark your messages as spam.
2. Prepare an email layout
Even if the information in our email is beneficial and insightful, it may have little effect if its presentation is poor.
To make an exciting email layout, consider the following:
Incorporate your brand's visual identity by including your logo, brand colors, and fonts.
By leaving some blank space around the text and images in your emails, you can give the content more breathing room. This will help your email look more polished and professional and make the content easier to read.
Include images and GIFs to keep your email from looking like a dry letter. One strategy is to use a captivating featured image as the header.
Your emails should be responsive and look great on desktop and mobile. Large images may not display correctly on mobile devices or slow connections, so try to avoid using them.
Create a visual hierarchy in your email layout using alignment, different font sizes, and other visual hierarchy principles.
3. Add personality to your following email's subject line and body.
Your subscribers would appreciate being treated like real people with unique personalities and requirements. And you can do just that with a personalized email.
Personalization is using information about your subscribers to create a more relevant and engaging email for each recipient.
Below are some suggestions for putting your stamp on electronic correspondence:
Use the subscriber's name in the subject line to get their attention.
Subscribers' locations can be used to advertise local events and deals.
Recommend items based on their past purchases.
More people will read and respond to your emails if you take the time to make each one unique. Do you still need convincing? Statistics show that by adding a personal touch to an email, the open rate can increase by 22.28% and the click-through rate by 3.32%.
4. Carry on a conversation
Every day, consumers are inundated with promotional emails, growing weary of brands and automated systems trying too hard to make a sale.
Engaging your subscribers and developing lasting relationships requires treating them like people, not customers.
It would be best if you always aimed to sound conversational and approachable in your email correspondence. Your email will instantly become more personable and engaging if you address your readers as though you know them personally. This will lead to increased interaction and sales for your business.
5. Make sure to follow up
However, there are times when a single email isn't enough. To successfully nurture your subscribers and convert them, you must send a second and possibly even a third email.
This can be used for many email marketing campaigns, from welcome emails to abandoned cart sequences to retargeting campaigns. An example of a successful abandoned cart series that brings back customers is as follows:
Subscribers may have forgotten to finish shopping for some items.
Provide a promotional code they can use to save money when they place their order.
The idea is to get people interested before the shopping cart is permanently deleted from their account.
Automated email sequences can be set up in no time at all with the help of marketing automation. You can program your email sequences, triggers, and delays and let the automation software handle the rest.
There's a thin line between persistently following up and becoming a pain. Send follow-up emails at staggered intervals and not too many at once. Don't risk having your messages marked as spam or being unsubscribed if you don't want to.
6. Email campaign results can be monitored.
You can easily monitor and enhance the success of your email marketing campaigns, which is one of its many advantages.
You can tell if your email marketing efforts are paying off by checking the results in the in-depth analytics and dashboards provided by most email marketing tools.
Here are some of the most important metrics to monitor in all of your email marketing efforts:
• Open rate: This reveals the typical amount of times an email is opened. You can use the percentage of emails opened to evaluate the quality of your email subject lines, sender names, and pre-header copy.
• CTR, or click-through rate, reveals how often readers interacted with your emails by clicking on embedded links or calls to action. The click-through rate is crucial to measure how interested a recipient is in opening an email.
• The Bounce Rate provides the number of recipients who did not open your email. If your email service provider's bounce rate is high, it may indicate that your contact list is stale or that you need to clean up your contact database.
The number of people who opted out of receiving your emails is displayed in the "Unsubscribes" section. Suppose you have many people opt out of receiving your emails. In that case, it could be because the content is irrelevant or because you aren't targeting the right people.
The number of times your messages have been flagged as spam can be viewed in the "Spam complaints" section. This may be because of problems with your email marketing software, poor subject lines, irrelevant or unwanted email content, or spam filters.
Many other metrics, such as click-through rates, mobile, open rates, revenue per email, and the most popular pages and links, can be tracked via email. Your email marketing software will determine the dozens of metrics you can monitor.
Your email marketing metrics should align with your goals to help you focus on the right indicators of success and failure and avoid getting stuck in analysis paralysis.
How to use email marketing in your Shopify business
When using Shopify for email marketing, you can take one of two approaches:
One option is to use an external email marketing platform that works with Shopify. Pricing and availability of extras will vary by service.
The Shopify Email Marketing app is built by Shopify developers and is available to all users. Sending up to 10,000 emails per month is on the house, with additional emails costing $0.001. If you send over 10,000 emails per month, you will be charged $5 per other 5,000 emails.
How to create a successful email campaign on Shopify
Developing a profitable email marketing campaign on Shopify takes some time and thought. Still, it's possible with the right approach. Consider these three guidelines if you're running an email marketing campaign on Shopify.
1. At the outset, you should focus on reaching the people who are most likely to buy your product. As a result, you'll have a better chance of converting leads into customers.
2. Optimize your landing pages to maximize your email's click-through and conversion rates. Landing pages are designed with user-friendly elements like buttons and lists to facilitate the consumer's exploration of your product or service.
3. Consider the possibility of email delivery failures (bounces) before sending any mass emails.
Strategies for using email automation tools
What is Email marketing automation?
In digital marketing, email marketing automation refers to sending predetermined emails to a list of subscribers based on predetermined conditions. This paves the way for instantaneous, customized communication between a business, its contacts, and customers in response to a predetermined action or need.
Automated Email Tactics
1. Choose an automated marketing platform.
Selecting a reliable service upon which to construct your email marketing campaign and employ the most effective methods for doing so is essential. Likewise, it needs to be designed to your potential customers and their wants.
When weighing different platforms, reliability, trustworthiness, and expert maintenance should all play a role. Your emails will end up in the spam folder, with a shallow conversion rate and almost no open rate.
2. Organize your subscribers into distinct groups.
You know that your clientele or readers have different preferences and needs. So, it's unclear why you're forcing everyone to follow the same customer journey. Instead, it would help if you focused on clearly segmenting your subscriber and existing customer base.
After that, you can direct them to various destinations where they will be presented with relevant advertisements, educational content, and more.
Take the case of re-engaging dormant customers as an example. Make a list of customers who haven't made a purchase from you in the last 60 days.
3. Tailor the appeal and message to each individual.
In 2021, daily global email traffic reached an all-time high of 319 billion between businesses and consumers. Yours must, of course, be different from the rest. Not the generic "Dear [First Name]" kind of personalization, either.
Your segments are now significant because they contain data on who bought what, how they registered, and so on. You can fine-tune your email marketing strategy to achieve optimal results with this information.
Adding a personal touch to your message is a surefire way to increase engagement and strengthen your relationship with your subscribers. It's a great way to make your customers feel less like a number and more like a needle in a haystack, which ultimately translates to better customer service.
4. Implement split-testing
Using A/B testing in your automated email marketing strategy is crucial. If you want to test multiple hypotheses at once, you can set up your communications so that two versions of the same message are sent out.
You can begin conducting practical A/B tests immediately by implementing the following ideas:
Try out a few variations on discount subject lines to see which ones perform better with your subscribers.
Compare the performance of the same subject line with and without emojis.
Examine the effectiveness of both generic and personalized subject lines by inserting and removing the subscriber's name. Check to see if addressing them by name yields better results.
Experiment with various subject lines, including both time-sensitive and non-time-sensitive variants.
See which types of email content—offers, products, etc.—get the most clicks and sales.
5. Look at the numbers.
An integral part of serving your current clientele is getting to know them and responding to their needs and concerns.
With Google Analytics, you can do incredible things to learn about your customers' experiences, even before they make a purchase.
You shouldn't assume failure because your first attempt wasn't perfect, but that's no reason to skip steps.
Consider using split testing for your first attempt. As part of a split test, you'll try out several email templates with a subset of your contact list. Then, when the results are in, here are the most critical metrics for lead generation to examine:
Rating of the presentation
Possibility of Opening
The percentage of clicks through to the site
Rate of change
Despite their apparent similarity, each of these is important in its way. Look at the numbers and see what you think. Which sample performed better, and why? Feel satisfied with the outcomes? To what extent do they coincide with your metrics of success? If it doesn't, go back to the drawing board and try again without giving up.
Wrap up on Best email marketing for Shopify in 2023
For Shopify, the best email marketing tools are the ones that facilitate the dispatch of high-quality, attention-grabbing emails. Use these instruments to get to know your customers better, boost your conversion rate, and expand your business. The right resources will allow you to craft efficient email campaigns that propel you forward.
Shopify businesses can choose from various email marketing tools. Still, the one that works best for them will depend on their unique requirements. Finding an email marketing service that fits your needs, your budget, and your brand's values are crucial.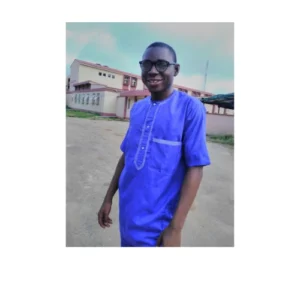 Abdulfatai is a Content Director at Olly-web, where he specializes in Search Engine Marketing (SEM) and Social Media Marketing (SMM). He has over a decade of experience working with businesses to promote their visibility through SEM, SEO, and social media. Abdulfatai believes that great content is the key to success on social media, and his goal is to help businesses grow their following by providing high-quality content that resonates. When it comes to online marketing, Abdulfatai knows how to work hands-on with clients and has a deep understanding of what works best for them.