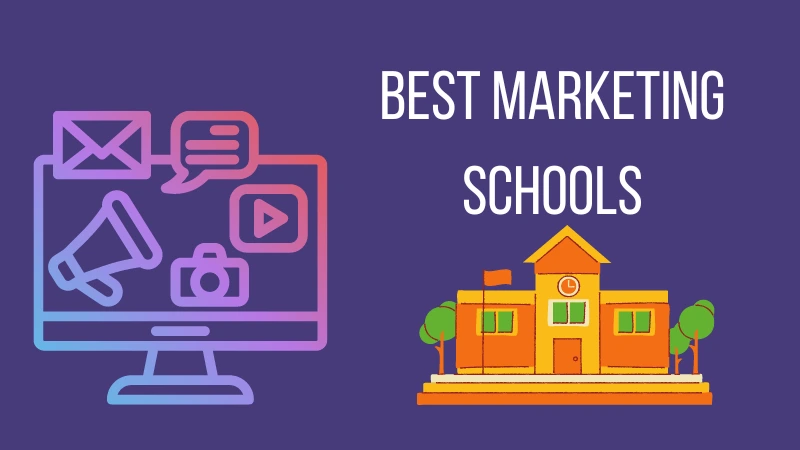 Last Updated on August 5, 2023 by Abdulfatai A. Olamide
Have you ever thought of going to a marketing school and finding it hard to identify the best marketing schools and their cost? We have compiled these digital schools you can learn from and improve your career in marketing.
There is no denying that marketing is one of the most vital fields in the modern economy. And with that freedom comes the obligation to learn how to market oneself and take care of one's own business. But where exactly should you go to find out everything about advertising? Finally, how do you guarantee that your child receives the best education possible?
The most prestigious marketing programs are in global metropolises like New York and London.
Many new educational institutions will crop up in the future to meet the demand for trained professionals in the marketing sector amid rapid technological and societal shifts. Do your homework on each institution so you can make an informed decision that will benefit your future success.
Some of the best universities in the United States and select European countries offer programs leading to degrees in marketing. Enrolling in one of these institutions is a significant first step if you want to get ahead in your chosen field.
In today's digital era, traditional forms of advertising are no longer viable, and companies that want to survive must adapt. Many companies, eager to remain competitive, are looking for educational institutions that provide marketing courses designed to meet their industry's needs. Future-proof marketing programs will likely emphasize digital and social media platforms and online advertising.
What is the best marketing school for you?
The best marketing school for you will differ from person to person and is therefore impossible to recommend in a blanket statement.
Expertise and passions that are uniquely yours. Examining the marketing program's curriculum, location, and available programs are just a few general considerations that may help you make the right decision.
One such field is marketing, which combines creative, right-brained types with logical, left-brained ones. It has the potential to be a highly stimulating and rewarding profession.
A wide variety of marketing programs exist today. What do you think is the optimal option? It's hard to say without knowing more about your situation and objectives. Those interested in learning more about marketing can attend a school that focuses on online strategies or one that emphasizes more traditional methods. Ultimately, it depends on your career goals.
The expansion of information and communication technologies has been a major factor in the increase in demand for marketers. Particularly promising is the projected growth in the need for market analysts. Pursuing a degree in this area and gaining technical training and experience in the quantitative aspects of marketing could lead to a rewarding career in this area.
It's exciting to work in marketing. The possibilities keep expanding as digital and technological developments alter consumer behavior.
Which is better, a private school, a public school, an online school, or a full-time school?
There are numerous educational paths one can take to become proficient in marketing. Because of their character and freedoms, private schools attract a disproportionate number of students.
Even though public schools have a large student body, they are known to have stricter requirements than private schools. Online education is growing in popularity in the wake of the pandemic. However, it still has obstacles that traditional full-time courses do not, such as the lack of reliable Internet in some underserved communities.
There are numerous marketing academies out there. Different institutions focus on various aspects of marketing education, while others provide a more well-rounded education that can lead to multiple marketing careers.
Degree Programs in Marketing That Follow the Industry Standard
Numerous choices are intertwined in deciding which school to attend and which marketing degree to pursue.
Although it would be hard to provide a comprehensive overview of every possible school and course, we will look at some of the most prominent universities and the lessons they offer below.
Below, we'll discuss the tried-and-true path of earning a bachelor's degree. There are also many graduate-level and non-traditional courses, such as those leading to certification. After this section, we will talk about the latest certification options for online universities.
The Best Marketing Schools
Here are the best marketing schools according to editorial pick:
1. Pennsylvania State University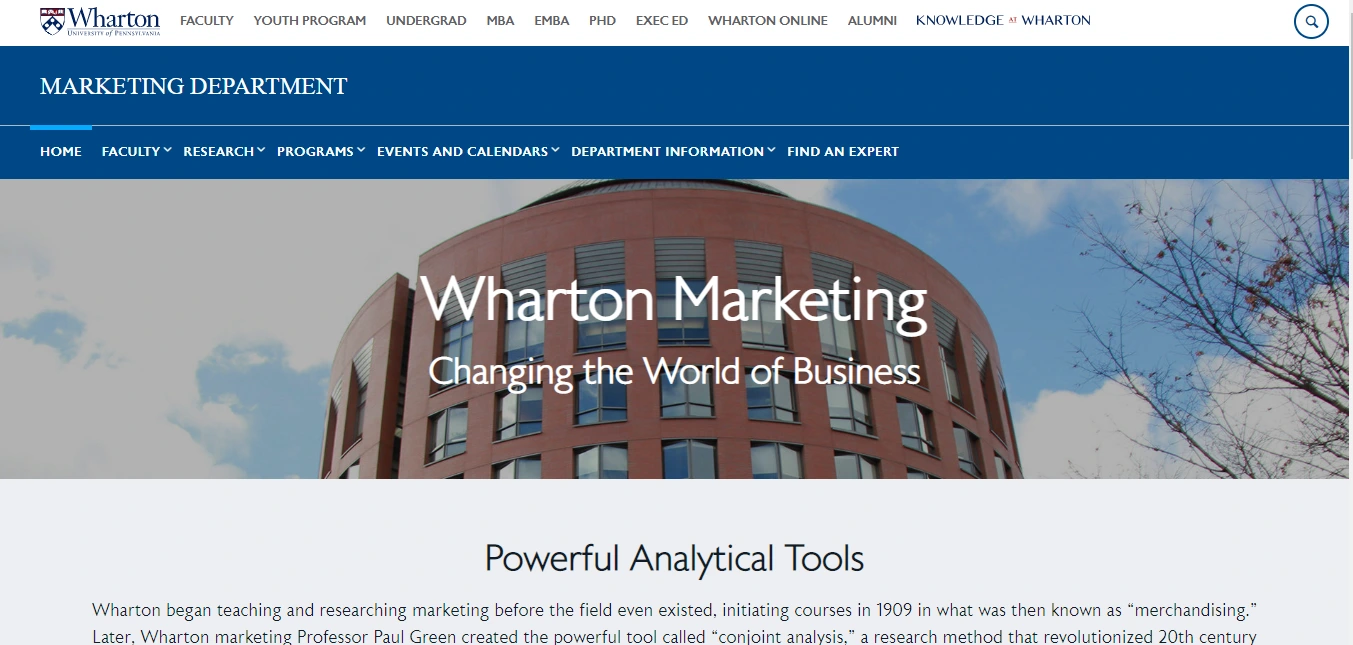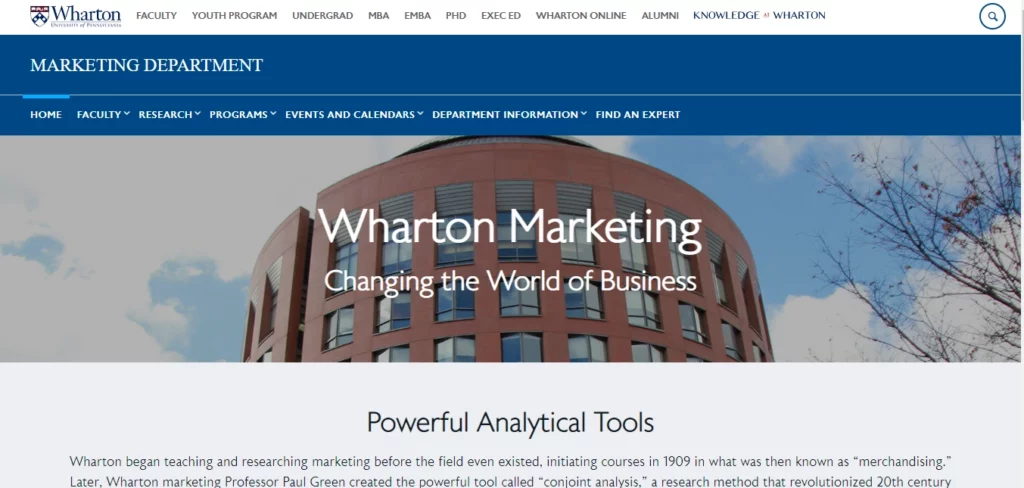 If you want to study marketing at a top university in the United States, look no further than the University of Pennsylvania. Located in the heart of Philadelphia, UPenn is one of the world's largest private, non-profit research universities. Penn is a great institution, evidenced by its Best Colleges ranking of #4 out of 2,241 institutions across the country.
About 144 UPenn students earned a marketing degree in the most recent data year. Graduates with a marketing degree from Penn earn an average of $64,190 more in their first year out of college than other graduates with the same degree.
The University of Pennsylvania will award seventy-two bachelor's degrees in marketing in the 2020-2021 school year. This contributed to the institution's ranking of #96 among all schools offering this particular bachelor's. This is a 21% drop from the previous year when 91 degrees were given.
The University of Pennsylvania awarded master's degrees in marketing to 68 students in 2021. For those seeking a master's degree in marketing, this makes it the 13th most sought-after institution in the United States.
Additionally, in 2021, 4 students graduated with doctoral degrees in marketing, making the university the number two choice for students in this demographic in the United States.
The Bachelor of Science in Marketing program at the University of Pennsylvania's Wharton School is historically grounded and innovative in its approach to the field.
They brag about having more cited and published professors in marketing than any other institution. This Philadelphia-based institution strives to be at the forefront of academic innovation. They claim to have been involved in marketing before it was a recognized discipline. They are credited with pioneering the analytical methods that led to our current state of affairs.
Students can also choose to double major in marketing and communications or marketing and operations in addition to the traditional marketing track.
2. University of Notre Dame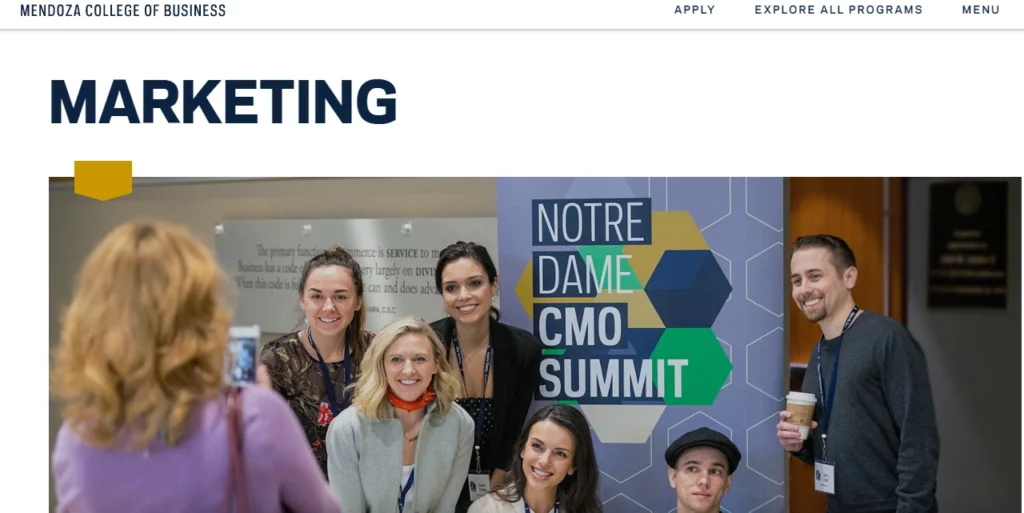 If you're set on earning a marketing degree, it's hard to go better than Notre Dame. Near the city of Notre Dame, Notre Dame is a famously private, non-profit institution of higher education. Notre Dame is a great institution, evidenced by its Best Colleges ranking of #16 out of 2,241 universities.
About seventy-two students graduated from Notre Dame with a marketing major in the most recent school year, for which data is available. Students who graduate from Notre Dame's marketing school earn $12,340 more than their peers in the field within a year of completing their degrees.
The University of Notre Dame will award fifty bachelor's degrees in marketing in the 2020-2021 school year. This contributed to the institution's ranking of #203 among all schools offering this particular bachelor's. This represents a decline of 28 percent from the previous year when 69 diplomas were awarded.
Twenty-two students graduated with master's degrees in marketing from Notre Dame that year. Among those seeking a master's degree in marketing, this ranks it the 40th most sought-after institution.
The Mendoza College of Business at Notre Dame features a marketing concentration emphasizing the "5Cs/STP/4Ps" framework.
The "five Cs," or "Company," "Collaborators," "Customers," "Competitors," and "Climate," are a framework for making strategic marketing decisions. What we call a product's "Segment," "Target," and "Position" (or STP for short) can serve as a valuable basis for marketing initiatives. The final "four Ps" are "Product, Placement, Price, and Promotion."
These marketing basics are regarded as the cornerstone upon which Notre Dame's cutting-edge debates are built. They also detail the importance of ethics in their marketing strategy.
3. The University of Florida
Those interested in a marketing education will find Florida State University an excellent choice. Tallahassee, where Florida State is situated, is a medium-sized city, and the institution's campus is around the same size. Florida State University is ranked 120th out of 2,241 universities in the US by Best Colleges speaks to the institution's quality as a whole.
According to the most recent statistics, Florida State University had approximately 520 marketing majors graduate with this degree. A marketing degree from Florida State University increases a person's annual salary by roughly $3,334.
There will be 520 new marketing bachelors graduates from Florida State University in the 2020-2021 school year. This contributed to the school's ranking as the fourth most popular institution offering this particular bachelor's. Compared to the previous year, 466 diplomas were awarded, an increase of 12%.
If you are interested in pursuing a degree in marketing, you may want to check out UF's Heavener School of Business. The University of Florida, located in Gainesville in the state's north, has a Business Administration program with a concentration in marketing.
Students who choose this path will be able to learn from and collaborate with marketing industry leaders. Research, the science of marketing (including psychology and data), and its application are all given great attention. Moreover, they host the David F. Miller Retail Center, a prestigious institution dedicated to studying retail science and practice.
Online Degree for marketing school
4. The Digital Marketing Certificate Program at CareerFoundry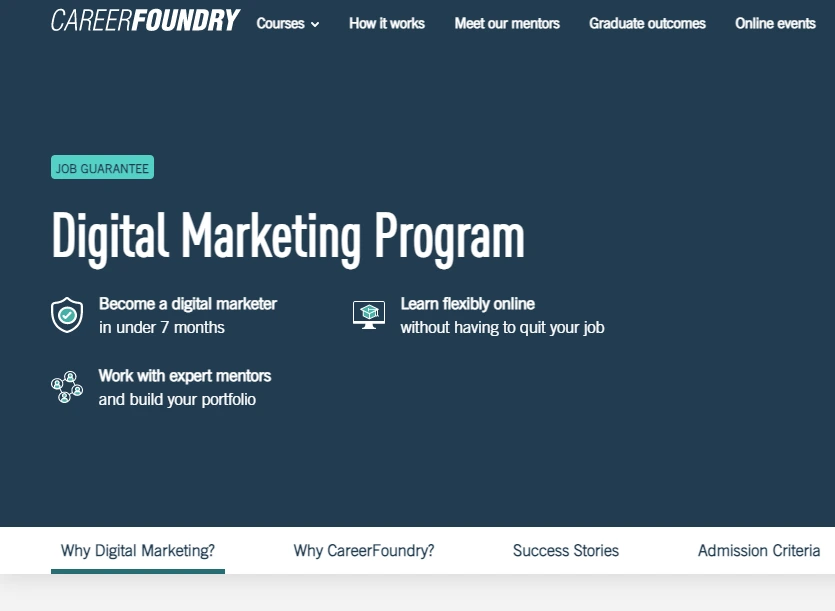 A digital marketing mentor and tutor can help you get started in the industry as you study on your own time and at your own pace.
The skills you'll pick up in CareerFoundry's Digital Marketing course include:
You'll learn the following:
The rudimentary know-how, apparatus, digital resources, and methods necessary to reach digital marketing mastery.
Tips for putting together a stellar digital marketing portfolio
Getting ready for your new career with the help of an expert and a Job Preparation course.
5. Google's Digital Marketing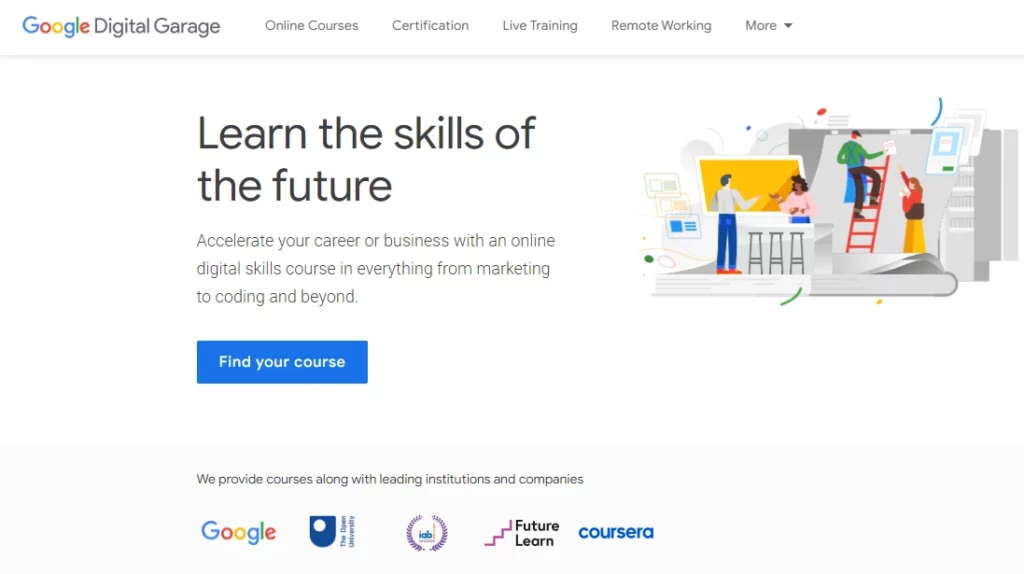 If you want to learn the fundamentals of effective digital marketing, Google's Fundamentals of Digital Marketing is the best resource available. The target audience might be anyone from a business owner eager to improve their marketing strategies to a job seeker curious about the prospects of working in digital marketing in digital marketing.
In Google's Digital Marketing Fundamentals course, you'll learn the following:
Digital marketing fundamentals, including content planning, production, and analysis with appropriate analytics
Establishing, promoting, and evaluating your web presence
To what extent do websites function
The value of an online strategy, research on user actions, and the application of aims
Strategic online marketing, including search engine optimization (SEO) and social media promotion
Online content promotion and retail
6. British Academy of Digital Marketing

Those interested in digital marketing can get a well-rounded education at the British Academy of Digital Marketing, where they can also attend advanced classes to hone their expertise. The Academy is an excellent choice for students looking for a school that has received official accreditation, as it has been granted this status by the Continuing Professional Development (CPD) Standards Office.
Aspects of the following will be covered in the Certificate, Diploma, and Postgraduate Diploma programs offered by the British Academy of Digital Marketing:
The fundamentals of digital advertising, including why and when to employ them
Business Methodologies
Market segmentation, targeting, and positioning
Because of the impact of digital technologies
Marketing strategies based on drawing customers in and interacting with them on social media
A buyer's process
Characterizations of Target Audiences and Products
Marketing using content
7. General Assembly's Digital Marketing Course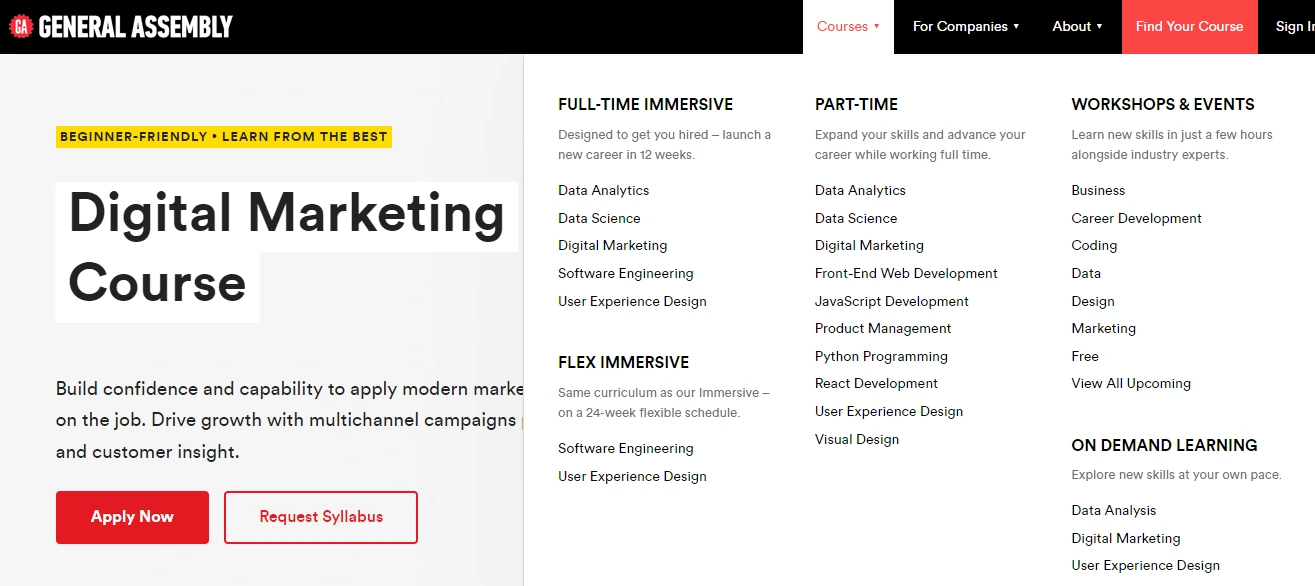 For "enthusiastic learners who are interested in running smart, customer-focused campaigns backed by data," General Assembly's Digital Marketing Course is ideal. Individuals from various fields, including marketing, content production, sales, and product management, have enrolled in the course to improve their skills and expand their knowledge base. Others will be total newcomers to the field interested in digital marketing training to help them break into it.
The GA Marketing Course equips students with the essential digital tools they'll need to implement their marketing ideas, emphasizing practicality and relevance. Here are some of the specific areas that students will learn more about:
Internet and other social networking sites
Search Techniques
Optimizing for conversions
The Google Analytical Tools
Context of online advertising
Promotion based on achieving predetermined goals
The sales process, or funnel
What is the average cost of a marketing degree?
The cost of attending a public university in the United States is the highest in the world. Possible prices could be between $40,000 and $65,000. There is a clear cost saving associated with attending marketing schools online. Traditional marketing education is becoming increasingly outdated, so more and more individuals are turning to online courses that provide real-world examples of effective marketing strategies for firms in the 21st century.
The Google Digital Marketing Academy is free, whereas other online marketing programs can cost as much as $6,900.
When you graduate from a program in digital marketing, what type of accreditation do you receive?
In most cases, students who graduate from an accredited program in digital marketing can add a credential to their resume.
Education Level: Bachelor's
Upon graduating from a digital marketing school with a three- or four-year undergraduate degree in digital marketing, you will be awarded a certificate (or testator) that specifies the school attended, the courses taken, and, in some cases, the grades earned in those courses. Anywhere from First-Class Honors to Third-Class Honors will appear on your degree certificate after graduating from a university in the United Kingdom. These grades can assess your grasp of the topic and your performance during the semester.
The grading system in the United States is somewhat unique. Assignments are graded on a scale from A to F, and students' cumulative grades are averaged to determine their grade point average (or grade point average). If you manage to ace every course you take, your cumulative grade point average will likely approach 4.0 (the maximum possible). A 2.5–3.0 GPA is likely if you fared poorly in specific courses but well in others. Your grade point average will be listed on the final document you get from the school.
Masters Degree
You can expect your name, the name of the course you took, the name of the university you attended, and potentially your final grade to appear on your master's degree certificate in the United Kingdom. Students can obtain a Distinction (scores of 70-100%), a Merit (scores of 60-69%), a Pass (scores of 50-59%), or a Fail (scores of less than 50%). Students who do not pass will likely not be awarded a formal certificate but will be told their grades.
Master's degrees in the United States are graded using the same GPA system as bachelor's degrees. Typically, a certificate will include your name, the name of the course, the school, and a letter grade.
Marketing Advice for the Digital Age
Compared to a certificate program or a four-year university degree, a digital marketing boot camp can quickly get you started in your new job with less hassle. Although many boot camps provide full-time and part-time schedules, not all do. A Bootcamp may last anywhere from a week to a year or more for the most intensive programs.
While some boot camps require students to take charge of their education and devote themselves to self-directed study, others provide a more structured learning environment and curriculum.
Many boot camps have mentors on staff who are experienced in the field, allowing them to provide sound guidance to students as they prepare for their first interviews and job applications.
The number of students enrolled in online degree programs has risen dramatically since 2020. Indeed, the spread of COVID-19 has sped up these tendencies, but online education is not going away despite the waning of the epidemic. There has been an "11% growth in total enrollment for online colleges." In comparison, traditional university enrolment has decreased by 3%, according to information from a worldwide management consulting firm, suggesting that there is a growing demand for online education. In other words, there has been a gradual societal movement toward web-based or virtual learning modes, despite fewer students enrolling in universities.
There is less of a stigma attached to attending school online, but there are still several advantages, such as saving money on room and board and having more flexibility with your schedule. It's no surprise that more and more people are choosing to acquire their degrees online because of the various benefits they provide in terms of time, money, and learning.
Wrap up on Best Marketing Schools in 2023 
Because of their progressive teaching methods, marketing programs at universities are experiencing sustained growth in student enrollment. You can advance your marketing profession with the help of these programs if you have the proper training and credentials.
Top students and companies will remain drawn to marketing programs. Numerous educational institutions provide students with state-of-the-art learning opportunities and resources that prepare them for successful careers in the 21st-century business sector. In other words, these best marketing schools are the only ones you need to consider if you want to acquire a complete education.
However, as highlighted here, you need to be aware of the cost of your choices; now, what is your decision?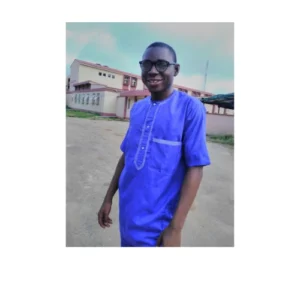 Abdulfatai is a Content Director at Olly-web, where he specializes in Search Engine Marketing (SEM) and Social Media Marketing (SMM). He has over a decade of experience working with businesses to promote their visibility through SEM, SEO, and social media. Abdulfatai believes that great content is the key to success on social media, and his goal is to help businesses grow their following by providing high-quality content that resonates. When it comes to online marketing, Abdulfatai knows how to work hands-on with clients and has a deep understanding of what works best for them.