Last Updated on July 23, 2023 by Abdulfatai A. Olamide
Hey there, fellow art enthusiasts! Are you tired of your creative masterpieces collecting dust in the corner of your room? Well, it's time to brush off those paintbrushes and start turning your passion into cold, hard cash. That's right, we're about to dive into the exciting world of making money from art. Whether you're a budding Picasso or just someone who loves to doodle, this article is your ultimate guide to kickstarting your artistic career and turning your passion into profit. So, grab your favorite sketchbook and let's get ready to unleash your inner entrepreneur!
Finding Your Artistic Passion
So, you're on a quest to find your artistic passion, huh? Well, let me tell you, my friend, it's a journey worth embarking on. Discovering what truly ignites your creative fire can be a game-changer, opening up a whole new world of self-expression and fulfillment. But where do you even begin?
First things first, you gotta explore. Dive headfirst into the vast ocean of artistic mediums and see what floats your boat. Maybe you'll find yourself drawn to the vibrant colors of painting, the rhythmic beats of music, or the raw emotions captured in photography. Don't be afraid to try it all, even if you feel like a fish out of water at first. Remember, Picasso didn't become a master overnight.
Once you've dipped your toes in various artistic waters, it's time to dive deeper. Take the time to reflect on your experiences and pay attention to what truly resonates with you. What makes your heart skip a beat? What makes you lose track of time? That's where your artistic passion lies, my friend. It's that spark that sets your soul on fire and makes you feel alive. Trust your gut and follow your instincts, even if it means going against the current.
Now that you've found your artistic passion, it's time to nurture it. Surround yourself with like-minded individuals who share your love for creativity. Join art communities, take classes, and seek out mentors who can guide you on your artistic journey. Remember, Rome wasn't built in a day, and neither will your artistic skills. Practice, practice, and practice some more. Embrace the ups and downs, the triumphs and failures, because that's all part of the process. And most importantly, never lose sight of why you started this journey in the first place – to express yourself and find joy in the beauty you create.
Developing Your Artistic Skills
So, you wanna level up your artistic skills, huh? Well, you've come to the right place, my friend! Let's dive into the world of creativity and explore how you can take your artistic game to the next level.
First things first, practice makes perfect, my dude. You gotta put in the hours if you wanna see improvement. Set aside some dedicated time each day to work on your craft. Whether it's drawing, painting, or sculpting, the more you do it, the better you'll get. And don't be afraid to experiment and try new things. Push yourself out of your comfort zone and see where your creativity takes you.
Now, let's talk about inspiration. It's like fuel for your artistic fire, man. Surround yourself with things that inspire you. Go to art galleries, check out online art communities, or even just take a walk in nature. You never know when inspiration will strike, so always be open to new experiences. And don't forget to keep a sketchbook handy. You never know when a brilliant idea will pop into your head, and you don't wanna lose it!
Lastly, don't be afraid to seek feedback, my friend. Constructive criticism is like gold for artists. Share your work with others, whether it's your friends, family, or even fellow artists. They can offer a fresh perspective and help you see things you might have missed. And remember, not all feedback will be positive, but that's okay. Use it as a learning opportunity and keep pushing forward.
So, there you have it, my friend. Developing your artistic skills is all about practice, finding inspiration, and embracing feedback. Now go out there and create something amazing!
Exploring Different Art Mediums
So, let's talk about exploring different art mediums, shall we? Now, when it comes to art, there's a whole world of possibilities out there. It's like a buffet of creativity, and you get to pick and choose what you want to try. It's all about finding the medium that speaks to you, that makes your heart sing and your imagination soar.
One of the most popular art mediums is painting. Now, I'm not just talking about your typical canvas and brush kind of painting. Oh no, there's so much more to it than that. You've got watercolors, acrylics, oils, and even spray paint. Each medium has its own unique qualities and techniques, and it's up to you to experiment and find what works best for you. Whether you're into abstract expressionism or hyperrealism, painting is a versatile medium that allows you to express yourself in a myriad of ways.
Now, let's move on to sculpture. This is where you get to work with your hands and create something three-dimensional. You can use clay, wood, metal, or even found objects to bring your vision to life. Sculpture is all about texture, form, and space. It's about shaping and molding, chiseling and carving. It's a tactile experience that allows you to physically engage with your art. Plus, there's something incredibly satisfying about seeing your creation take shape right before your eyes.
And finally, we have photography. Now, I know what you're thinking, "But isn't photography just about taking pictures?" Well, my friend, it's so much more than that. Photography is about capturing a moment, freezing it in time, and telling a story. It's about composition, lighting, and perspective. With photography, you can explore different genres like landscape, portrait, street, or even experimental. And with the advent of digital photography, the possibilities are endless. You can edit and manipulate your images to create a whole new world. So grab your camera and start snapping away!
So there you have it, my friend. Exploring different art mediums is all about finding what resonates with you. Whether it's painting, sculpture, photography, or something entirely different, the key is to experiment, play, and have fun. So go ahead, unleash your creativity, and let your imagination run wild. The art world is waiting for you!
Building Your Art Portfolio
So, you want to build your art portfolio, huh? Well, let me tell you, it's not just about slapping a bunch of random drawings together and calling it a day. Nah, building a killer art portfolio takes time, effort, and a whole lot of creativity. But don't worry, I got your back. I'm gonna break it down for you and give you some tips on how to create a portfolio that will make jaws drop and art directors swoon.
First things first, you gotta have a theme, my friend. Your portfolio should have a cohesive vibe that ties all your pieces together. It's like creating a visual story, ya know? Maybe you're into surrealism, or maybe you're all about urban landscapes. Whatever floats your boat, make sure your theme shines through in every piece you include. This will show off your unique style and make your portfolio stand out from the crowd.
Now, let's talk about variety. Sure, having a theme is important, but you don't want every piece in your portfolio to look like a carbon copy of the last. That's like eating the same flavor of ice cream every day – boring! Mix it up, my friend. Show off your versatility by including different mediums, techniques, and subject matters. Maybe you've got some killer charcoal portraits, but also some mind-blowing digital illustrations. Variety is the spice of life, and it'll keep your portfolio fresh and exciting.
Last but not least, presentation is key. You could have the most amazing artwork in the world, but if it's presented in a sloppy, unprofessional way, it's gonna fall flat. So, take the time to curate your portfolio with care. Consider the order of your pieces – start strong and end strong. Use high-quality images or scans of your artwork, and make sure they're properly cropped and edited. And don't forget to include a brief artist statement or bio to give viewers a glimpse into your creative mind.
So, there you have it, my friend. Building your art portfolio is no easy task, but with a killer theme, a dash of variety, and some top-notch presentation, you'll be well on your way to wowing the art world. Now go forth and create some masterpieces!
Setting Up an Online Art Shop
So, you're thinking about setting up an online art shop? That's awesome! Having your own online platform to showcase and sell your artwork can be a game-changer for artists like you. It opens up a whole new world of opportunities and allows you to reach a wider audience. But where do you start? Let's dive into the process of setting up your very own online art shop.
First things first, you need to choose a platform to host your online shop. There are plenty of options out there, each with its own pros and cons. Some popular choices include Etsy, Shopify, and Big Cartel. Take some time to research and compare these platforms to find the one that best suits your needs. Consider factors like ease of use, pricing, customization options, and the ability to showcase your artwork effectively.
Once you've chosen a platform, it's time to get creative with your shop's design. You want your online art shop to reflect your unique style and aesthetic. Customize the layout, colors, and fonts to create a visually appealing and cohesive brand. Don't forget to optimize your shop for mobile devices too, as many people browse and shop on their smartphones these days.
Now comes the fun part – uploading your artwork! Take high-quality photos or scans of your pieces and make sure they accurately represent the colors and details. Organize your artwork into categories or collections to make it easier for customers to navigate. Write compelling descriptions for each piece, telling the story behind it or highlighting its unique features. And don't forget to set fair and competitive prices for your artwork – you want to attract buyers while also valuing your own talent and effort.
Once your online art shop is up and running, it's important to promote it and drive traffic to your site. Utilize social media platforms like Instagram, Facebook, and Twitter to showcase your artwork and engage with potential customers. Collaborate with other artists or influencers in your niche to expand your reach. Consider running promotions or offering limited-time discounts to entice people to visit your shop. And always remember to provide excellent customer service – respond promptly to inquiries, package your artwork securely, and ship it out in a timely manner.
Setting up an online art shop may seem like a daunting task at first, but with the right platform, a visually appealing design, high-quality artwork, and effective promotion, you'll be well on your way to success. So, go ahead and unleash your creativity, share your passion with the world, and start selling your artwork online. Good luck!
Promoting Your Art on Social Media
So, you've created some amazing art and you want the world to see it. Well, lucky for you, we live in the age of social media where you can easily promote your art and gain a following. But how exactly do you go about doing that? Let me break it down for you.
First things first, you need to choose the right social media platforms to showcase your art. Instagram is a popular choice for visual artists, as it allows you to easily share photos of your work and connect with other artists and art enthusiasts. Facebook is another great option, especially if you want to reach a wider audience and engage in discussions about your art. Twitter can be useful for sharing quick updates and connecting with a more diverse range of people.
Once you've chosen your platforms, it's time to start posting your art. But don't just throw everything up there all at once. Take the time to curate your feed and create a cohesive aesthetic. Think about how your art will look as a whole when someone visits your profile. Use filters, themes, or color schemes to tie everything together. And don't forget to write engaging captions that give insight into your creative process or the story behind each piece.
Now that you're posting regularly, it's important to engage with your audience. Respond to comments, answer questions, and show appreciation for the support you receive. Building a community around your art is crucial for growth. Collaborate with other artists, participate in art challenges or contests, and join art-related groups or communities. The more you interact with others, the more exposure your art will receive.
So there you have it, a brief guide to promoting your art on social media. Remember, it's not just about posting your work, but also about building connections and engaging with your audience. With a little time and effort, you can use social media to showcase your art to the world and gain the recognition you deserve. Good luck!
Networking with Other Artists
Networking with Other Artists: Building Connections and Collaborations in the Creative World
Alright, let's talk about networking with other artists, my friend! In this crazy creative world, it's all about building connections and collaborations. You know what they say, "It's not just what you know, but who you know." And when it comes to art, that couldn't be more true.
So, how do you go about networking with other artists? Well, first things first, you gotta put yourself out there. Attend art events, exhibitions, and workshops. Show up with your portfolio in hand, ready to mingle and make some new connections. Don't be shy, my friend! Strike up conversations, exchange business cards, and let people know what you're all about.
But networking isn't just about collecting a bunch of business cards and adding names to your contact list. It's about building genuine relationships. So, when you meet someone who inspires you or whose work you admire, don't be afraid to reach out and connect on a deeper level. Shoot them an email, invite them for a coffee, or even collaborate on a project together. Remember, the art world is all about collaboration and supporting each other's creative journeys.
Now, let's talk about the power of social media in networking. In this digital age, platforms like Instagram, Twitter, and Facebook can be your best friends. Use them to showcase your work, engage with other artists, and join online communities. Comment on their posts, share their work, and be an active participant in the conversation. You never know who might stumble upon your profile and be blown away by your talent.
So, my friend, don't underestimate the power of networking with other artists. It's not just about expanding your circle, but also about finding inspiration, learning from others, and opening doors to exciting collaborations. So, get out there, make some connections, and let your creativity soar!
Participating in Art Exhibitions and Events
So, let's talk about participating in art exhibitions and events, my friend. This is where the magic happens, where artists come together to showcase their creations and connect with fellow art enthusiasts. It's like a big party, but with a creative twist. Trust me, it's an experience you don't want to miss.
First things first, when you participate in an art exhibition or event, you're putting yourself out there, showing the world what you're made of. It's a chance to share your unique perspective, your creativity, and your passion with others. And let me tell you, there's nothing quite like the feeling of seeing your artwork displayed for all to see. It's a validation of your hard work and talent, and it can be incredibly rewarding.
But it's not just about showing off your art, my friend. It's also about connecting with other artists and art lovers. Art exhibitions and events are like a melting pot of creativity, where you can meet people who share your love for all things artistic. You can exchange ideas, learn from each other, and maybe even collaborate on future projects. It's a chance to build a network of like-minded individuals who can inspire and support you on your artistic journey.
So, whether you're a seasoned artist or just starting out, participating in art exhibitions and events is a must. It's an opportunity to showcase your talent, connect with fellow artists, and immerse yourself in the vibrant world of art. So go ahead, my friend, grab your paintbrush or camera or whatever medium you prefer, and get ready to make your mark on the art scene. The stage is set, and it's time for you to shine.
Collaborating with Brands and Businesses
So, let's talk about collaborating with brands and businesses, my friend. This is all about teaming up with other companies to create something awesome together. It's like a power couple, but for businesses. You know what I mean?
When you collaborate with a brand or business, it's like a match made in heaven. You bring your unique skills and ideas to the table, and they bring theirs. It's a beautiful fusion of creativity and expertise. And the best part? You both get to reap the rewards.
Now, let's get into the nitty-gritty of how this collaboration thing works. First, you need to find the right partner. Look for a brand or business that aligns with your values and goals. You want someone who complements your strengths and can bring something new to the table. It's like finding your business soulmate.
Once you've found your perfect match, it's time to start brainstorming. Get those creative juices flowing, my friend! Think about how you can combine your products or services to create something amazing. Maybe it's a limited edition collaboration or a joint marketing campaign. The possibilities are endless.
But remember, collaboration is a two-way street. You need to be willing to compromise and listen to your partner's ideas. It's all about finding that sweet spot where both parties are happy. And when you do, the results can be mind-blowing. Your collaboration could open up new markets, attract new customers, and take your business to the next level.
So, my friend, don't be afraid to reach out and collaborate with brands and businesses. It's a chance to create something incredible and grow your business in ways you never thought possible. Just remember to find the right partner, get those creative juices flowing, and be open to compromise. Together, you can achieve greatness.
Continuously Learning and Growing as an Artist
So, let's talk about continuously learning and growing as an artist, my friend. This is a topic that's near and dear to my heart because, let's face it, art is all about growth and evolution. As an artist, you never want to stay stagnant or get stuck in a creative rut. You want to keep pushing yourself, exploring new techniques, and expanding your artistic horizons.
One of the best ways to keep growing as an artist is to never stop learning. And I don't just mean taking a few art classes here and there (although that can definitely be helpful). I'm talking about immersing yourself in the world of art, soaking up inspiration from all around you, and constantly seeking out new knowledge and skills. Whether it's through books, online tutorials, workshops, or even just chatting with other artists, there are so many resources out there to help you keep learning and growing.
Another important aspect of growth as an artist is experimentation. Don't be afraid to step out of your comfort zone and try new things. Maybe you've always been a painter, but have you ever tried sculpting? Or maybe you've been focused on realistic portraits, but have you ever dabbled in abstract art? By pushing yourself to try new mediums, styles, and subjects, you'll not only expand your artistic repertoire but also discover new passions and strengths you never knew you had.
Lastly, don't forget the power of reflection and self-critique. It's easy to get caught up in the excitement of creating and forget to take a step back and evaluate your own work. But by regularly analyzing your art, identifying areas for improvement, and setting goals for yourself, you'll be able to track your progress and continue growing as an artist. And remember, growth is a journey, not a destination. So be patient with yourself, embrace the ups and downs, and keep pushing forward. You've got this!
Another post you might find useful is, How To Start Making Money From Affiliate Marketing.
I've also written about How To Start Make Money From A Blog, so feel free to check that out, or bookmark it for later!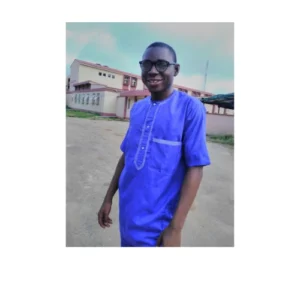 Abdulfatai is a Content Director at Olly-web, where he specializes in Search Engine Marketing (SEM) and Social Media Marketing (SMM). He has over a decade of experience working with businesses to promote their visibility through SEM, SEO, and social media. Abdulfatai believes that great content is the key to success on social media, and his goal is to help businesses grow their following by providing high-quality content that resonates. When it comes to online marketing, Abdulfatai knows how to work hands-on with clients and has a deep understanding of what works best for them.