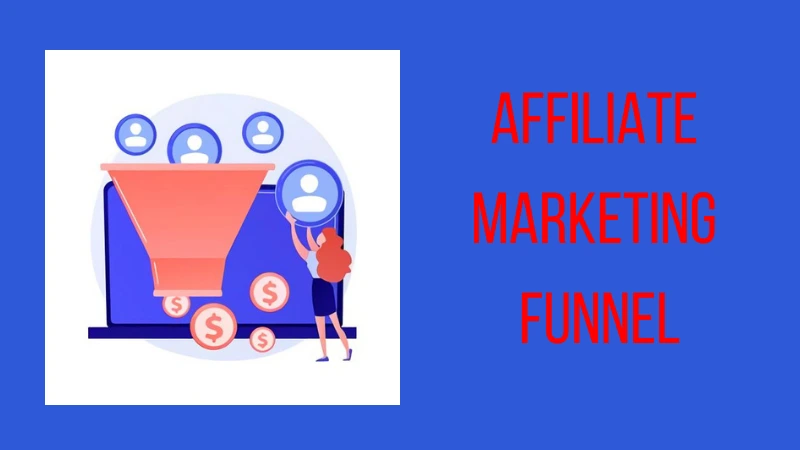 Last Updated on October 29, 2022 by Abdulfatai A. Olamide
How To Build A Sales Funnel For Affiliate Marketing
It can be challenging to guide customers through the sales funnel, but it's an essential part of any online business. It's your job as an affiliate marketer to direct website visitors to the appropriate resources (i.e. the one that will result in a sale).
On the other hand, a convoluted sales process may cause leads to look for a solution elsewhere.
A clear sales funnel is recommended to reduce complexity and convert your visitors into customers. Sales funnel is a marketing strategy that allows you to guide your prospects from one step
to the next so that you can close the deal.
Your company is likely to see an increase in revenue and customer satisfaction if you have a well-thought-out sales funnel.
Are you new to affiliate marketing and want to know how to create the best affiliate marketing funnel to increase your product sales? If that's the case, you should read this article.
Let's start by understanding what affiliate marketing is and how it works.
It's a simple concept. Affiliate marketing is when a company hires a person or group to sell its products on its behalf.
Affiliates are usually Webmasters or influencers who sell their products using the advertiser's ads and charge a commission or referral fee based on their performance. Clicks, conversions, registrations, sales, and other metrics evaluate performance.
However, as simple as it may appear, persuading others to purchase your product is complex. You'll need a solid strategy and planning to promote your product to the right audience and convince them to buy it.
We'll go over the affiliate sales funnel in detail in this blog post. Make sure to read this guide if you want to learn more about generating affiliate sales.
We'll also talk about creating an affiliate marketing funnel that works for your campaign.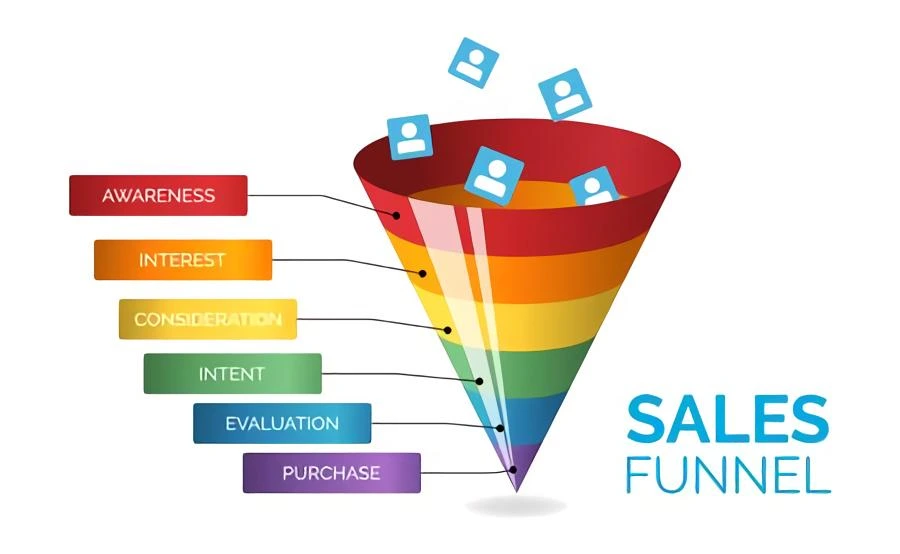 What Is The Meaning Of Sales Funnel
A sales funnel, also known as a purchase funnel, depicts the customer journey from awareness to action.
The funnel, also known as a marketing funnel or revenue funnel, depicts that every sale starts with many potential customers and ends with a much smaller number of people who buy.
The potential journey customers take on making a purchase is referred to as a sales funnel in marketing. A sales funnel has several steps, which are commonly referred to as the top, middle, and bottom of the funnel, but these steps can vary depending on the sales model of a company.
What Is Affiliate Marketing Funnel
Let's look at one type of affiliate marketing strategy: The funnel.
A sales funnel for affiliate products is a pre-planned path that guides customers from lead to customer.
The "buyer's journey" is what the affiliate marketing funnel is based on;
The Buyer's Journey: There are three stages to the buyer's journey, and affiliate marketing funnels are built around them.
• Awareness
Awareness is the first stage of the buyer's journey, when a potential lead recognizes a "problem" they have, something they're missing in their lives due to a lack of a service or product.
The awareness stage can be accomplished through a blog post shared across social media platforms, videos, infographics, etc.
• Consideration
The lead enters the second stage when they begin to consider "solutions" to the problem they encountered in the previous step. The consideration stage is where the affiliate's suggestions and recommendations are helpful.
The goal is to bring the affiliate products to the consumer's attention.
• Decision
The decision stage is the last step in the buyer's journey, and it's where the potential lead becomes a customer.
The type of marketing associated with the service or product, which is where the funnel comes in, can significantly impact the decision to purchase.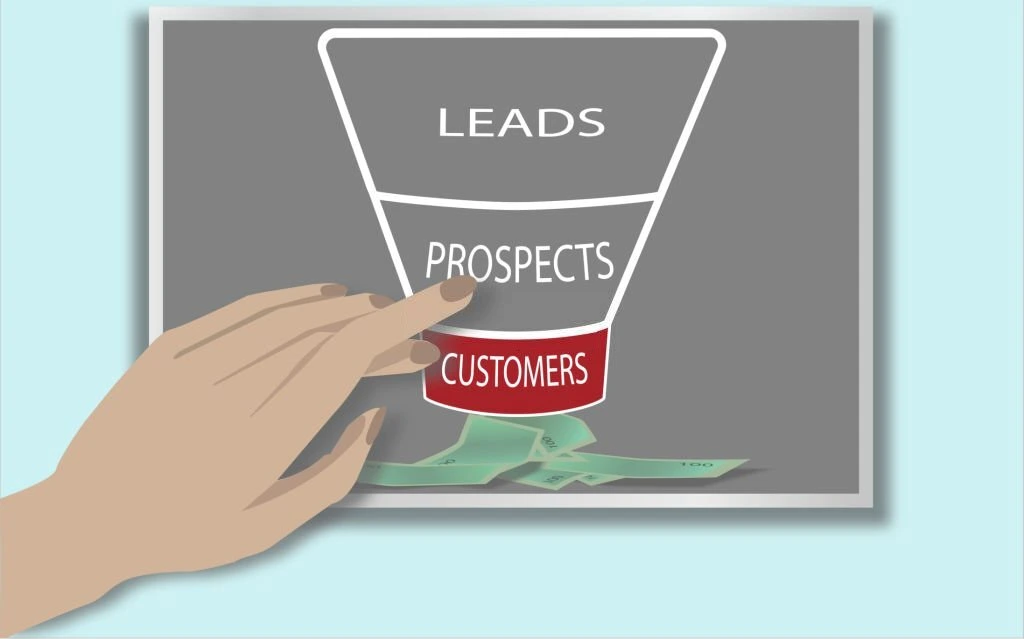 Stages in the Funnel: A marketing sales funnel, like the buyer's journey, has stages that must be carefully considered and tailored to the customer's experience. The following are the steps that make up an effective sales funnel:
• The preliminary stage
It all starts with traffic, which is firmly planted in the awareness stage. It usually entails using SEO-friendly social media posts, paid ads such as influencer reviews, and other social media outreach, such as YouTube.
• The second phase
Stage two is the consideration phase, after our buyer's journey. The objective is to start converting your leads into customers.
It can take the form of free service trials, free samples, or free shipping, among other things.
The goal is to get your prospects on your email list so that you can better guide them through their buying process.
• The final stage
When a prospective lead has been successfully converted to a customer, the affiliate sales funnel's final stage is settled right at the decision stage of the buyer's journey.
It is time to send sales emails to customers who have converted from prospects.
How Do I Create an Affiliate Sales Funnel
You should know how an affiliate sales funnel works at this point.
The following six straightforward steps will assist you in putting your strategy into action.
Step 1: Determine who your target market is.
Concentrate on your efforts to tailor your funnel to a specific market.
Consider the following concerns:
• Do you have any background information on them?
• What are their primary concerns?
• What are their aspirations and hopes for the future?
• What are the primary sources of their annoyances and pain?
The most common blunder made by most markets is to target an audience that is too broad and nebulous.
Step 2: Establish your ultimate objectives.
After they've gone through your funnel, what do you want them to do?
Do you want them to purchase a particular item?
Or do you want them to buy something during the webinar?
The end goal aids in the overall view of the project.
Step 3: Create a route map.
How will you logically and emotionally guide your prospect through the sales funnel?
And, more importantly, how do you ensure you have the best chance of getting them to come your way (in large numbers)?
Your approach must address both their logic and emotional side for your prospects to take action.
Create a flowchart to depict this process, including all the steps and the steps in between.
Consider each arrow between the two boxes as a trackable conversion point.
Step 4: Write down your funnel and make a strategy.
Create a timeline for your plan and divide it into essential steps.
Include marketing collateral, web landing pages that need to be wire-framed and built out, and database work for funnel automation.
Step 5: Construct and test your funnel.
Test the funnel after you've finished the build-out plan and finished the horn to catch any bugs.
Step 6: Start your funnel and monitor your progress.
You'll notice which steps in your funnel require more attention as time goes on.
Never attempt to fix and fine-tune your funnel all at once.
Select one conversion point at a time and make improvements in that order.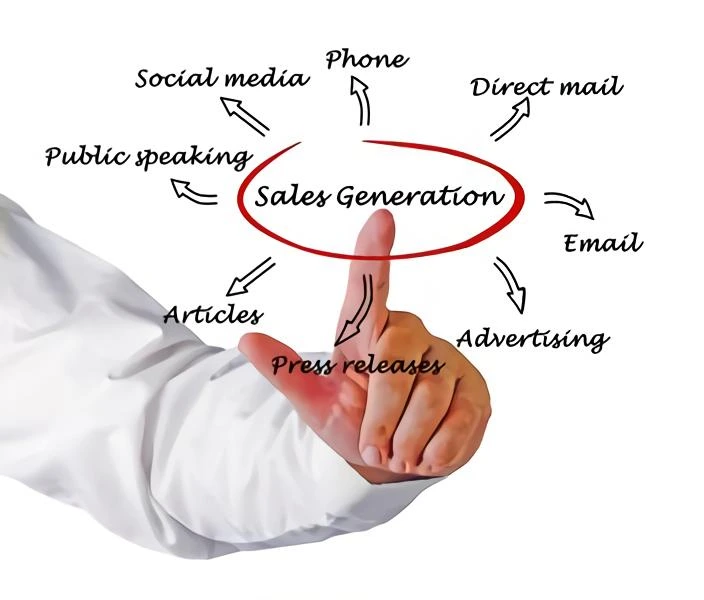 A CASE STUDY
Now that you've learned the fundamentals of sales funnels, it's time to think about how you can implement one on your site. Let's take a closer look at the steps to creating a successful affiliate sales funnel.
Step 1: Make your website as search engine friendly as possible.
Making your target audience aware of your brand is the first step in any effective sales funnel. You can accomplish this by optimizing your website to rank higher in search engine results pages, such as by:
• Conducting keyword research: Knowing what your audience is looking for will help you provide the information they require.
• Using on-page optimization entails creating keyword-rich meta descriptions and developing an internal linking strategy.
Building backlinks to your site is another option you can consider. It can help you climb the SERPs and raise brand awareness.
Step 2: Produce high-quality content that highlights your knowledge.
Easy-to-read, informative, and well-structured content is a sign of high quality. By producing high-quality content, you demonstrate to visitors that you are a subject-matter expert, likely increasing their interest in your company.
You can turn their interest into a specific desire for the services or products you offer once you have their attention.
Here are some pointers on how to produce high-quality content:
• Offer a distinctive viewpoint. To engage with potential leads, you'll need original content. Offering a fresh perspective on old topics and ideas is something you could try.
• Ensure that it is comprehensible. Optimize headlines and structure your copy with bullet points and white space to make your content more reader-friendly.
You should also think about what kind of content you're producing. Tutorials, guides, and checklists are among the most effective tools at this stage.
Step 3: To seal the deal, create a dedicated landing page.
Getting a lead to perform the desired action is the final step in the sales funnel. In this process, a landing page can be beneficial. This type of page has only one goal: to persuade visitors to make a purchase.
It is frequently linked to how you structure your website (for example, in the sidebar, at the end of blog posts, etc.).
The goal of your landing page is to increase trust and credibility for your brand. Furthermore, it must persuade visitors to complete the transaction. You'll want to do the following to make a trust-building landing page for your website:
• Wherever possible, use multimedia: Videos and images can significantly boost click-through rates.
• Make conversions simple: This includes displaying your call to action (CTA) and an easy-to-complete email opt-in.
Your landing page might also benefit from a FAQ section. It will help your prospects learn more about your affiliate product or service, mainly if they arrive at this page early in the sales process.
Can you use Clickfunnels for affiliate marketing?
Starting with email collection is recommended because it is the best practice for building an email list that can be used to follow up or retarget visitors who did not opt in or buy our affiliate product right away.
Although some affiliates never collect email addresses, they create a bridge page to inform visitors about the offer and direct them to the affiliate vendor's website.
Your funnel should only have two pages: a landing page and a thank you/bridge page. A bridge Funnel makes it easier to sell affiliate products.
Making a funnel in Clickfunnels: A step-by-step guide:
• Go to the ClickFunnels dashboard and look for "Click Funnels" in the menu bar. Click "Funnels" and then "Add new."
• You can choose between "Create New Funnel," which allows you to build your custom funnel, and "Start Cookbook," which includes 22 different pre-made funnel templates.
These funnels are simple to create with ClickFunnels, and they're simple to use. Pre-made funnels can be downloaded and transferred to your account directly.
• Landing page – ClickFunnels has made customizing and editing landing pages a breeze. It's simple to use and navigate in their editor. Your Sales Funnel should be a simple opt-in form, and a Call-To-Action (CTA) button should be included on the landing page. A lead magnet, such as a free video, ebook, or pdf, can be used to exchange emails.
• Thank you page – Now that the landing page has been customized, it's time to move on to the thank you page. When visitors opt-in or submit their email address on your opt-in page, this page is displayed. Include your affiliate link on the "thank you page" and direct visitors to the sales page for your affiliate product.
Your funnel will be ready if you choose the ClickFunnels platinum plan, which includes an email marketing tool.
Is Affiliate Marketing Still Profitable?
Given its popularity, there's no doubt that affiliate marketing is worthwhile. The affiliate marketing industry is expected to be worth $8.2 billion by 2022, up from $5.4 billion in 2017. It's also a low-cost or no-cost business opportunity from which you can make a lot of money.
While industry growth is a sign of success, entrepreneurs use Affiliate marketing for various reasons.
Simple to do
Your role is to handle the digital marketing aspect of developing and selling a product. You will not be responsible for the more complex tasks, such as designing, supporting, or fulfilling the offer.
2. Risk-free
You can start making money with an established affiliate product or service with no upfront investment because affiliate programs are free to join. Affiliate marketing can also provide a relatively passive income in commissions, which is the ideal money-making scenario. Though you'll have to put in some effort at first to develop traffic sources, your affiliate links can provide a consistent income.
3. Scaling is straightforward.
Without hiring additional help, affiliate marketing can help you significantly increase your earnings. While your current work continues to generate revenue in the background, you can introduce new products to your existing audience and build campaigns for additional products.
Before you get too excited, consider that successful affiliate marketing relies on trust. While there may be an infinite number of products or services to promote, it's best to focus on those you use or would recommend to others. Even if a product appeals to you or fits into an existing hobby, becoming an effective marketer for that product requires a significant amount of time and effort.
Affiliate marketing is frequently advertised as a low-effort way to supplement your income. It's also true that most affiliate programs are quick and straightforward to join. However, receiving your referral link and access to your dashboard isn't enough to generate the commissions.
Affiliate marketing comes with a lot of risk and initial investments that aren't always monetary. However, the effort spent establishing an audience and marketing items is valuable and comes at a cost. In this sense, it would be misleading to suggest that starting as an associate carries no risk.
Affiliate marketing can be successful, but it requires a significant time and financial investment to become a legitimate business. Before you embark on the affiliate marketing bandwagon, be sure you've done your homework.
Also, don't put all of your eggs in a single basket. Diversifying your revenue streams is a good strategy if you're trying to develop a profitable website. If your affiliate-marketing money dries up, traditional adverts and selling your products can help.
How much does the average affiliate marketer make?
Do you want to know how much money you may make as an affiliate marketer in a month? According to the statistics, affiliate marketers can earn thousands of dollars per month. Some of the most successful affiliate marketers make six figures from their businesses.
The average income of affiliate marketers is shown statistically by these companies below. Affiliate marketing passive income averages $51,217 per year, according to PayScale. Affiliate marketers in the bottom 10% earn $37,000 per year, while the top 10% earn $71,000 per year.
Affiliate marketing income statistics from Glassdoor show even higher potential earnings. Affiliate marketers earn an average of $65,800 per year, ranging from $42,000 to $83,000.
With a revenue forecast of $154,700 per year, ZipRecruiter has the highest affiliate marketing passive income forecast. The average monthly affiliate marketing income, according to ZipRecruiter, is $12,892, with a weekly average of $2,975.
Regardless of the forecast, it's clear that some affiliate marketers are doing exceptionally well.
"How much money can I earn?" is probably the most frequently asked question in affiliate marketing discussions. Choose any new or experienced affiliates' social media group or message board. You'll quickly see many messages from affiliate newbies wondering when their first paycheck will arrive and how much it will cost. Or when they can quit their dreaded 9-5 job and make a living from affiliate marketing. It shouldn't be too difficult to follow in the footsteps of so many people who make great money simply by blogging or having a video channel, right?
On the other hand, affiliate marketing has a high failure rate, with most new affiliates never earning enough to be paid.
So, can you make money with affiliate programs, and how much can you expect to make?
Almost every affiliate marketer fantasizes about earning four or five figures per month. Unfortunately, only about 1% to 5% of affiliate marketers can accomplish this, and success does not come easily. Typically, it takes anywhere from six months to several years before you start making money. Unfortunately, you're much more likely to experience financial losses than solid profits.
You'll have to put in some effort to create your content, choose your affiliate income programs, and promote them. However, if you get it right the first time, you shouldn't have to do much after that, especially if you have some optimized evergreen content.
CONCLUSION
Affiliate marketing is not a get-rich-quick scheme, but you will succeed over time as an affiliate marketer if you are ready to put in the work and consistency. Affiliate marketing is one of the ways to make passive income. You can do this by signing up for affiliate programs that offer recurring commissions.
With this program, you need to make the first sale, and you would be getting paid every month and as long as the customer is still with the company you referred them to.
From this article, we believe you have learned what sales funnel is, how to create your affiliate funnel, and how to earn big as an affiliate marketer.
If you like the article, kindly share it with your friends and drop a comment if there is anything you do not understand or have been doing differently.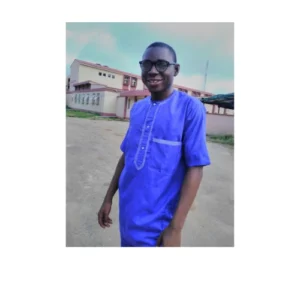 Abdulfatai is a Content Director at Olly-web, where he specializes in Search Engine Marketing (SEM) and Social Media Marketing (SMM). He has over a decade of experience working with businesses to promote their visibility through SEM, SEO, and social media. Abdulfatai believes that great content is the key to success on social media, and his goal is to help businesses grow their following by providing high-quality content that resonates. When it comes to online marketing, Abdulfatai knows how to work hands-on with clients and has a deep understanding of what works best for them.