Last Updated on July 26, 2023 by Abdulfatai A. Olamide
Hey there, fellow gamers! Are you ready to dive into the thrilling world of GTA Online and start raking in some serious cash? Well, you've come to the right place! In this article, we're going to spill the beans on how you can kickstart your money-making journey in this virtual playground. So grab your controller, buckle up, and get ready for a wild ride filled with heists, missions, and a whole lot of moolah! Let's get this party started, shall we?
Setting Up Your GTA Online Account
So, you wanna dive into the wild world of GTA Online, huh? Well, buckle up, my friend, 'cause I'm about to give you the lowdown on setting up your account. Trust me, it's gonna be a hell of a ride!
First things first, you gotta get yourself a copy of Grand Theft Auto V. Now, I know what you're thinking, "But dude, I already have the game!" Well, hold your horses, 'cause GTA Online is a separate entity, my friend. You need to make sure you have a legit copy of the game, whether it's on your PC, Xbox, or PlayStation. Once you've got that sorted, it's time to fire up the game and get ready to roll.
Now, here's where the fun begins. When you launch GTA V, you'll be greeted with a menu that gives you the option to play Story Mode or jump straight into GTA Online. Obviously, we're here for the online shenanigans, so go ahead and select that bad boy. The game will then guide you through a series of setup steps, like creating your character and choosing your starting location. This is where you can let your creativity shine, my friend. Customize your character to look like a total badass or a suave criminal mastermind – it's all up to you!
Once you've got your character all dolled up, it's time to choose your starting location. Now, this decision might not seem like a big deal, but trust me, it can make a world of difference. Each location has its own perks and quirks, so think carefully about what kind of gameplay experience you're after. Do you wanna be in the heart of the city, surrounded by skyscrapers and high-speed chases? Or maybe you prefer the laid-back vibes of the countryside, where you can kick back and enjoy some peaceful criminal activities. Whatever floats your boat, my friend.
So, there you have it – the basics of setting up your GTA Online account. It's a wild ride, full of thrills, spills, and plenty of opportunities to cause some virtual chaos. Just remember to have fun, stay safe out there, and always keep an eye out for those pesky griefers. Now, go on, get out there and start making a name for yourself in the criminal underworld of Los Santos!
Choosing Your Character and Customizing Your Appearance
Alright, so let's talk about choosing your character and customizing your appearance in a game. This is where the fun really begins, my friend! You've got a blank canvas in front of you, and it's time to let your creativity run wild. Whether you're playing a fantasy RPG or a futuristic shooter, this is your chance to make your character truly unique and reflect your own personal style.
First things first, you need to decide on the type of character you want to play. Are you more of a stealthy rogue, a powerful mage, or a fearless warrior? Think about your playstyle and what kind of abilities and skills you want your character to have. Do you prefer sneaking around and taking enemies by surprise, or do you prefer charging into battle head-on? Once you've got that figured out, it's time to move on to the appearance customization.
Now, when it comes to customizing your appearance, the options are endless. You can choose from a wide range of hairstyles, facial features, body types, and even tattoos or scars. Want to rock a mohawk and a full beard? Go for it! Feel like giving your character a badass scar across their eye? You got it! The goal here is to make your character look like a total boss and stand out from the crowd.
But hey, don't forget about the little details too. Maybe you want your character to have a unique accessory, like a necklace or a cool pair of sunglasses. Or perhaps you want to play around with different color schemes and create a character that's vibrant and eye-catching. The choice is yours, my friend. Just remember, this is your chance to bring your imagination to life and create a character that you'll be proud to call your own. So go ahead, have fun with it, and let your creativity shine!
Understanding the InGame Economy and Currency
Alright, let's dive into the fascinating world of the in-game economy and currency! Picture this: you're playing your favorite video game, and you come across a bustling virtual marketplace filled with players buying and selling all sorts of items. This is where the in-game economy comes into play. It's like a mini economy within the game, where players can trade, barter, and accumulate virtual wealth.
In-game currency is the lifeblood of this economy. Just like in the real world, it's the medium of exchange that allows players to buy and sell goods and services. Whether it's gold, coins, credits, or some other form of virtual money, it's what makes the in-game economy tick. You earn this currency by completing quests, defeating enemies, or even by selling items you no longer need.
Now, here's where things get interesting. The in-game economy is not just about buying and selling items. It's a complex system that mirrors real-world economics. Supply and demand play a crucial role in determining the value of items. Rare and powerful items are often more expensive, while common items are cheaper. Just like in the real world, players can also engage in speculation, buying low and selling high to make a profit.
So, why should you care about understanding the in-game economy and currency? Well, it can give you a competitive edge. By understanding the market trends and knowing which items are in high demand, you can make smart decisions about what to buy and sell. You can also use your virtual wealth to enhance your gaming experience, whether it's by purchasing better equipment or unlocking new features. So, next time you're immersed in a virtual world, take a moment to appreciate the intricacies of the in-game economy and currency. It's a fascinating aspect of gaming that adds depth and realism to the experience.
Exploring Different MoneyMaking Opportunities in GTA Online
So, you're looking to make some serious cash in GTA Online, huh? Well, you've come to the right place, my friend! Let's dive into the world of money-making opportunities in this virtual playground.
First things first, you gotta know that there are various ways to stack up those virtual dollars. One popular method is through heists. These bad boys require some serious teamwork, but the payout can be massive. Grab a crew of skilled players, plan your strategy, and execute the perfect heist to walk away with a fat stack of cash. Just make sure you don't mess up, or you'll be left empty-handed and feeling like a real chump.
If you're more of a lone wolf, fear not! There are plenty of other ways to make money in GTA Online. One option is to become a CEO or a VIP. This allows you to run your own criminal empire, complete with lucrative missions and business ventures. From smuggling contraband to running a nightclub, the possibilities are endless. Just be prepared to put in the work and take on some risks, because the criminal life ain't for the faint of heart.
Now, if you're feeling a bit more adventurous, you can always try your luck at the Diamond Casino & Resort. This place is a gambler's paradise, offering a wide range of games to test your luck. From poker to slot machines, there's something for everyone. And hey, if Lady Luck is on your side, you could walk away with a massive jackpot. But remember, the house always has the edge, so don't get too carried away and blow all your hard-earned cash in one go.
So, my friend, whether you're into high-stakes heists, running your own criminal empire, or trying your luck at the casino, GTA Online has got you covered when it comes to money-making opportunities. Just remember to play it smart, take calculated risks, and always keep an eye out for those sweet, sweet virtual dollars. Good luck out there, and may your bank account overflow with virtual riches!
Completing Missions and Heists for Cash Rewards
Alright, so let's talk about completing missions and heists for cash rewards. Now, when it comes to making some serious dough in the world of gaming, missions and heists are where it's at. These are exciting challenges that not only test your skills but also offer lucrative rewards in return. So, buckle up and get ready for some high-stakes action!
First things first, let's dive into missions. These are typically smaller tasks or objectives that you need to complete within a game. They can range from simple fetch quests to more complex missions that require stealth, combat, or puzzle-solving skills. The great thing about missions is that they often come with cash rewards, allowing you to earn some virtual currency that you can use to upgrade your gear, buy new weapons, or even customize your character's appearance.
Now, let's move on to heists. Heists are like the granddaddy of missions. They are elaborate, multi-part missions that usually involve assembling a team of skilled players to pull off a big score. Think of it like planning and executing a major bank robbery, but in the virtual world. Heists require careful coordination, communication, and strategic thinking. The stakes are high, but so are the rewards. Successfully completing a heist can earn you a massive cash payout, making it a thrilling and lucrative endeavor.
So, how do you go about completing missions and heists? Well, it all starts with finding the right opportunities. In most games, missions and heists are usually offered by non-playable characters (NPCs) or through in-game menus. Keep an eye out for any icons or markers that indicate available missions or heists. Once you've found one that catches your interest, accept the challenge and get ready to embark on your adventure.
Once you're in the mission or heist, it's all about teamwork and strategy. If you're playing with others, make sure to communicate effectively and coordinate your actions. Each team member will usually have a specific role or task to fulfill, so it's important to work together seamlessly. Pay attention to the mission objectives, follow any instructions or clues provided, and adapt your approach as needed. Remember, the more efficiently you complete the mission or heist, the higher your chances of earning a generous cash reward.
So, there you have it! Completing missions and heists can be a thrilling and profitable experience in the gaming world. Whether you're flying solo or teaming up with friends, these challenges offer a chance to test your skills, earn some virtual cash, and have a blast along the way. So, grab your controller, put on your game face, and get ready to embark on some epic adventures!
Participating in Races and Competitions for Prize Money
Participating in races and competitions for prize money can be an exhilarating experience that combines the thrill of competition with the potential for financial gain. Whether you're a seasoned athlete or just starting out, these events offer a unique opportunity to test your skills and push yourself to new limits. From marathons and triathlons to gaming tournaments and talent shows, there are countless options to choose from. So, let's dive into the world of competitive events and explore how you can get involved and potentially win some prize money!
First and foremost, it's important to find a race or competition that aligns with your interests and abilities. Are you a long-distance runner? Look for local marathons or half-marathons in your area. Are you a skilled gamer? Check out online gaming tournaments or local LAN parties. By choosing an event that suits your strengths, you'll increase your chances of success and enjoyment.
Once you've identified the event you want to participate in, it's time to start preparing. This may involve training for physical competitions, practicing your skills for gaming tournaments, or refining your talent for talent shows. Dedicate time each day to hone your abilities and improve your performance. Seek guidance from coaches, trainers, or mentors who can provide valuable insights and help you reach your full potential.
On the day of the event, make sure you arrive early to familiarize yourself with the surroundings and get into the right mindset. Take a moment to visualize your success and mentally prepare for the competition ahead. Stay focused and confident, but also remember to have fun and enjoy the experience. Remember, participating in races and competitions is not just about winning prize money, but also about personal growth, building connections, and creating lasting memories.
So, whether you're lacing up your running shoes, grabbing your gaming controller, or preparing to showcase your talent, participating in races and competitions for prize money can be an incredible journey. Embrace the challenge, put in the effort, and who knows, you might just come out on top with a well-deserved cash prize. Good luck and may the thrill of competition propel you towards success!
Investing in Properties and Businesses for Passive Income
Investing in properties and businesses for passive income is like hitting the jackpot, my friend! It's all about making your money work for you while you sit back and relax. Picture this: you buy a property or invest in a business, and then you just watch the cash flow in without lifting a finger. Sounds like a dream, right? Well, it can be a reality if you play your cards right.
Let's start with properties. Real estate is a tried and true investment strategy that has made many people filthy rich. When you invest in properties, you have a couple of options. You can buy residential properties and rent them out to tenants, or you can invest in commercial properties and lease them to businesses. Either way, you're making money while you sleep. And the best part? The value of properties tends to appreciate over time, so you can sell them for a handsome profit down the line.
Now, let's talk about businesses. Investing in a business can be a bit riskier than properties, but the rewards can be astronomical. Imagine owning a piece of a successful company and receiving a share of the profits without having to do any of the day-to-day work. It's like being a silent partner in a thriving venture. Of course, you'll need to do your due diligence and choose the right business to invest in. Look for companies with a solid track record, a strong management team, and a product or service that has staying power. With a little luck and some smart decision-making, you could be raking in the dough in no time.
So, my friend, if you're looking for a way to make some serious cash without breaking a sweat, investing in properties and businesses for passive income is the way to go. Just remember to do your research, diversify your investments, and be patient. Rome wasn't built in a day, and neither will your passive income empire. But with a little time and effort, you could be living the high life while your money does all the heavy lifting.
Engaging in Criminal Activities for Quick Cash
Alright, let's talk about engaging in criminal activities for quick cash. Now, I gotta be real with you, this is not a path you want to go down. I know it might seem tempting, especially when you're in a tough spot financially, but trust me, there are better ways to make money without breaking the law.
First off, let's talk about the risks involved. Engaging in criminal activities can lead to serious consequences. You could end up with a criminal record, which can make it incredibly difficult to find a job or pursue certain opportunities in the future. Not to mention the potential harm you could cause to others or yourself. It's just not worth it, my friend.
Instead of resorting to illegal activities, why not explore legitimate ways to make quick cash? There are plenty of options out there, from part-time jobs to freelance gigs. You could even consider starting your own small business or offering services in your community. The possibilities are endless, and the best part is, you won't have to constantly look over your shoulder or worry about getting caught.
So, let's ditch the idea of engaging in criminal activities for quick cash and focus on finding legal and ethical ways to improve our financial situation. Trust me, it's a much smarter move in the long run. Remember, there's always a way out, and it's never too late to make a positive change.
Utilizing the Stock Market for Profitable Investments
So, you want to know how to make some serious cash by playing the stock market, huh? Well, my friend, you've come to the right place. Let me break it down for you in a way that even your grandma could understand.
First things first, you gotta do your homework. I'm talking about research, my friend. You need to know which companies are worth investing in and which ones are just a bunch of hot air. Look at their financial statements, check out their track record, and see if they have any upcoming projects or partnerships that could boost their stock value. It's like being a detective, but instead of solving crimes, you're solving the mystery of which stocks will make you rich.
Once you've done your research, it's time to make a move. But hold your horses, cowboy! Don't go all in on just one stock. Diversify, my friend. Spread your investments across different industries and companies. That way, if one stock tanks, you won't lose all your hard-earned cash. It's like having a backup plan for your backup plan.
Now, here's where things get a little tricky. Timing is everything in the stock market. You gotta know when to buy and when to sell. It's like playing a game of poker, but instead of bluffing your way to victory, you're using your smarts to make some serious dough. Keep an eye on market trends, listen to the experts, and trust your gut. And remember, my friend, patience is key. Rome wasn't built in a day, and neither will your stock portfolio. So buckle up, do your research, diversify, and play the game smart. And who knows, maybe one day you'll be sipping margaritas on a beach, all thanks to your savvy stock market investments.
Collaborating with Other Players for Cooperative MoneyMaking Activities
So, let's talk about collaborating with other players for cooperative moneymaking activities. Now, when it comes to making that cash, it's always better to have a team by your side. You know what they say, "Teamwork makes the dream work!" And in this case, the dream is all about making that sweet, sweet moolah.
When you team up with other players, you're not just doubling your efforts, you're multiplying them. It's like having a whole crew of experts working together towards a common goal. Each player brings their own unique skills and strengths to the table, creating a powerhouse of talent that can tackle any moneymaking activity.
Imagine this: you and your crew are taking on a big heist in a virtual world. You've got the mastermind who can plan the perfect strategy, the tech whiz who can hack into any system, the smooth talker who can charm their way out of any situation, and the muscle who can handle any physical obstacles. With each player playing their part, you're unstoppable.
But it's not just about the skills, it's also about the camaraderie. When you collaborate with other players, you're building connections and forming friendships. You're creating a community of like-minded individuals who share the same passion for making money. And let's be real, it's always more fun to chase that paper with your friends by your side.
So, whether you're running a virtual business, embarking on a treasure hunt, or taking on a high-stakes mission, remember that collaborating with other players is the key to success. Together, you can conquer any moneymaking activity and have a blast while doing it. So gather your crew, make a plan, and get ready to rake in the dough. It's time to show the world what you're made of!
Another post you might find useful is, How To Start Making Money In Real Estate.
I've also written about How To Start Making Money In Youtube, so feel free to check that out, or bookmark it for later!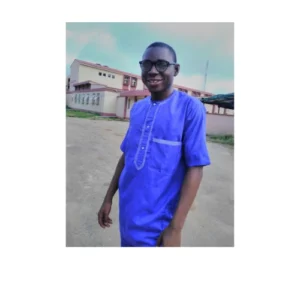 Abdulfatai is a Content Director at Olly-web, where he specializes in Search Engine Marketing (SEM) and Social Media Marketing (SMM). He has over a decade of experience working with businesses to promote their visibility through SEM, SEO, and social media. Abdulfatai believes that great content is the key to success on social media, and his goal is to help businesses grow their following by providing high-quality content that resonates. When it comes to online marketing, Abdulfatai knows how to work hands-on with clients and has a deep understanding of what works best for them.