Last Updated on March 7, 2023 by Abdulfatai A. Olamide
Are you an expert in a particular field and want to share your knowledge with others? Do you have skills you'd like to teach online? Online courses have become increasingly popular as a way to deliver educational content to individuals looking to learn new skills, get certified or accredited or simply to gain knowledge on a topic.
If you're proficient in a topic, creating and selling your courses can be a great way to make a living. In this article, we will delve into how you can sell online courses from your own website without breaking the bank.
class="wp-block-heading">What is The Best Way to Sell Online Courses From Your Own Website?
1. Choose Your Course Topic
The first step in creating and selling online courses is choosing the topic you want to teach. This should be based on your area of expertise or a passion project you feel strongly about. The key to selecting a successful topic is to ensure there is a market for it.
You can do this by researching the topic online and checking out competitors' prices, and checking trending topics people seem to be interested in.
2. Plan Your Course
Once you've chosen your topic, it's time to plan your course. Determine the course structure, the material you'll cover, the target audience, and how the course will be delivered. Will it be a video, audio or text-based course?
Will there be quizzes or assessments? You'll also need to decide on the format of the course, whether it will be a weekly course or on demand.
3. Create Your Course Content
Before you go ahead and create your course content, you need to determine your teaching style. Are you teaching for beginners, intermediate or advanced learners? Do you prefer visual aids such as videos or prefer to deliver written content?
Create content in a way that is easy for learners to follow you.
4. Set Up Your Website
The next step is to set up your website where you will be selling your courses. Choose a reliable hosting provider and design your website to showcase your courses effectively. You can create an e-commerce store, a blog or a separate course page where users can purchase your courses.
One of the best platforms you can use to create a course is Podia
5. Market Your Course
Marketing your course is an essential part of selling your online courses. Use social media platforms and email marketing to increase awareness of your course. Also, offer trial courses or online workshops to hook in potential buyers.
Engage with potential students online through social media, email campaigns, and online communities, and invite them to try your course.
6. Test and Improve Your Course
After setting up your course and selling it, it's time to test and improve the course based on reviews from the users. Use students' feedback to make improvements to your courses if needed. Ensure your course remains up-to-date and relevant to your audience.
A brief overview of Podia and why it's important to review it.
Podia is an all-in-one platform that lets creators sell digital products and online courses with ease. It offers features such as customizable storefronts, a built-in email marketing tool, embedded checkout, and more.
With Podia, creators can focus on crafting their content while the platform handles the technical aspects of selling and delivering it.
In today's world, the ability to sell digital products is becoming increasingly important. The rise of the gig economy and remote work has encouraged many individuals to monetize their skills and knowledge through online courses and digital products.
But with so many platforms to choose from, it can be overwhelming for creators to decide which one to use.
This is where Podia comes in. By offering a user-friendly interface and a range of features, Podia takes away the stress of setting up an online store and selling digital products. It allows creators to concentrate on what they do best: creating great content.
One of the standout features of Podia is its ease of use. Users can set up their storefronts within minutes, and the platform's drag-and-drop editor allows for easy customization. Embedding checkout on a website is a breeze, and transactions are processed securely and efficiently.
Podia's email marketing tool is also a major plus. It allows creators to communicate with their audience and keep them engaged with newsletters and promotional messages. The platform also integrates with popular email marketing tools like Mailchimp and ConvertKit.
Another great feature of Podia is its ability to handle multiple types of digital products. Whether it's eBooks, online courses, or membership subscriptions, Podia can handle it all. It also allows creators to bundle products together for discounts, increasing their sales potential.
One potential drawback of Podia is its pricing. While the platform offers a lot of value for its basic tier, which costs $39/month, it may be expensive for creators who are just starting out. However, the platform's features and ease of use may make it worth the investment in the long run.
Podia Features:
Easy to use interface: Podia's simple and intuitive interface allows users to create and manage their courses, products, and memberships without any technical expertise.
Customizable landing pages: Users can choose from a variety of professionally-designed templates to create visually stunning landing pages that reflect their brand.
Affiliate marketing: Podia allows users to set up affiliate programs and recruit people to promote their products to earn a commission.
Email marketing: Podia offers an email marketing platform that allows users to send newsletters, automated product launches, and drip campaigns to their subscribers.
Live chat support: Podia offers 24/7 live chat support to ensure users have access to help whenever they need it.
User Experience: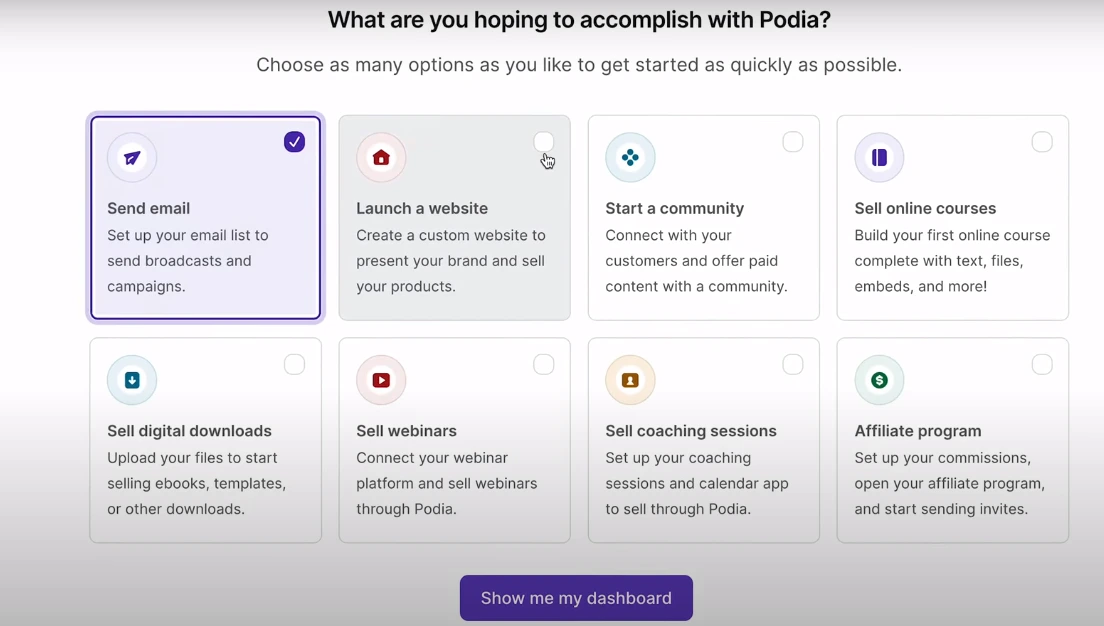 Podia's user experience is a major factor that sets it apart from other content marketing platforms. Its minimalist design and user-friendly interface make it easy for users to navigate and create content. The platform is also optimized for mobile devices, ensuring that users can access their content and make updates on-the-go.
Podia Pricing: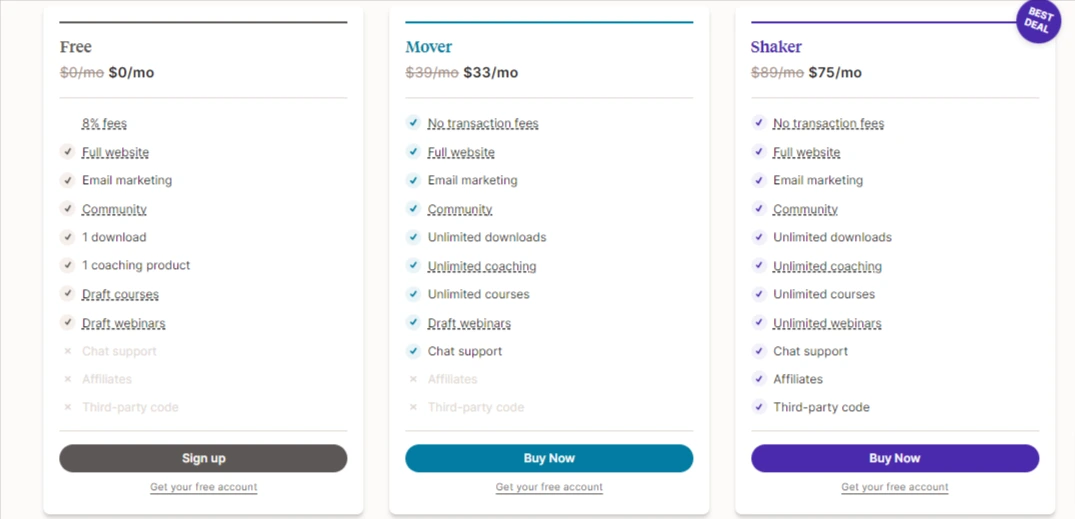 Podia's pricing plans are straightforward and affordable. They offer two plans – Mover and Shaker – both of which have a 14-day free trial.
Mover: $39/month (or $33/M annually) for unlimited courses, products, and members, email marketing, and zero transaction fees.
Shaker: $89/month (or $75/M annually) for all Mover features, plus affiliate marketing, third-party code integration, and custom branding.
What I Like/Dislike About Podia:
As a content marketer, I appreciate the simplicity and flexibility of Podia's platform. I love how I can manage my courses, memberships, and digital products all in one place. However, I do wish there were more customization options for landing pages and checkout pages.
Product Updates:
Podia is constantly improving its platform to better serve its users. Some recent updates include:
Expanded email marketing features, including the ability to schedule email sequences in a visual calendar.
Integrations with popular marketing tools like ConvertKit and Zapier.
Upgraded course editor with new design and formatting options.
How to Sell on Podia and Create an Account
Podia is an excellent platform for creating and selling online courses, digital downloads, and memberships. If you're interested in using Podia, you'll need to create an account first. That being said, let's guide you through the process of creating an account on Podia.
Step 1: Visit Podia's website
The first thing you need to do is visit Podia's website. Click on this link – Podia. This will take you to the homepage of Podia.
Step 2: Click on the "Get Started For Free" button
Once you are on the homepage, you will see the "Get Started For Free" button. Click on it. This will take you to the registration page.
Step 3: Enter Your Details
On the registration page, you will be asked to provide your details. Podia will require your name, email address, and a password. Make sure you create a strong password that contains both letters and numbers.
Step 4: Select Your Plan
After you have filled in your details, it's time to choose a plan that suits you. Podia offers two pricing options: Mover and Shaker. Mover plan costs $39 per month, whereas Shaker plan costs $89 per month. The Shaker plan offers more features than the Mover plan.
Step 5: Set Up Your Account
Once you have selected your plan, you'll be directed to your dashboard. Here, you can set up your account by customizing your profile, adding your logo, and other branding elements.
Step 6: Create Your First Product
After setting up your account, you can start creating your first product. You can create an online course, digital download, or membership. Podia offers a simple interface that makes it easy to create your products. You can add text, videos, images, and other elements to your product.
Step 7: Publish Your Product
Once you have finished creating your product, you can publish it. Podia allows you to preview your product before publishing it. This gives you the opportunity to review your work and make any necessary changes.
Step 8: Promote Your Product
After publishing your product, it's time to promote it. You can promote your product through social media, email, and other marketing channels. Podia has integrated marketing tools that make it easy to promote your products.
Podia vs. Teachable
A comparison of Podia and Teachable, two of the most popular online course platforms.
When it comes to creating and selling online courses, there are a multitude of platforms to choose from. However, two that frequently come up in the conversation are Podia and Teachable.
These platforms offer similar features, but also have their own unique strengths and weaknesses that set them apart. Let's explore the differences between the two and help you decide which is best for your needs.
First, let's take a look at Podia. This platform was founded in 2014 with the mission of providing an all-in-one platform for creators to sell digital products. One of its biggest strengths is its user interface, which is intuitive and easy to use.
Podia also offers a variety of tools for creating and marketing online courses, including the ability to create landing pages, sales pages, and email marketing campaigns.
Another key feature of Podia is its pricing structure. Unlike some other online course platforms, Podia doesn't charge transaction fees for each sale. Instead, users pay a monthly subscription fee that includes all of the platform's features. This can be particularly beneficial for creators who sell a lot of courses and want to keep their costs low.
On the other hand, we have Teachable. Founded in 2013, this platform is also focused on providing a comprehensive solution for course creators. One of Teachable's strengths is its flexibility. With a variety of customizable templates and themes, users can create a truly unique learning experience for their students.
Teachable also offers a powerful set of course creation tools, including support for multimedia content, quizzes, and surveys. In addition, it has robust analytics and reporting features that allow creators to track student progress and engagement.
Like Podia, Teachable charges a monthly subscription fee to access its platform. However, it also charges transaction fees for each sale, which can add up if you're selling a large volume of courses.
So, which platform is best for you? Ultimately, it depends on your specific needs and goals. If you're prioritizing ease of use and cost-effectiveness, Podia is a great choice. However, if you're looking for more flexibility and customization options, Teachable may be the better option.
Moreover, both platforms offer free trials, so it's a good idea to try them out and see which one feels like the right fit. By taking the time to research and evaluate your options, you can choose a platform that will help you create and sell online courses successfully.
Podia Customer Support
A review of Podia's customer support team and how they handle customer queries.
one thing that often gets overlooked is Podia's customer support team. Having reliable, responsive, and knowledgeable customer service is crucial for any business, and Podia understands that. That's why they have a team of dedicated support agents, available 24/7 to assist customers with any issues they may encounter.
So, what exactly can you expect from Podia's customer support team? Let's take a closer look.
Availability
First and foremost, Podia's customer support team is available round the clock, every day of the week. No matter where in the world you are, you can rest assured that there will always be someone on hand to answer your queries.
This level of availability is crucial for entrepreneurs who may be working in different time-zones and need access to support outside of regular working hours.
Knowledge
Podia's support agents are also highly knowledgeable about the platform and its various features. If you encounter a problem or have a question about the platform, they will be able to provide you with detailed and accurate answers.
They are also adept at troubleshooting issues and resolving problems quickly, which is essential when it comes to keeping your business running smoothly.
Responsiveness
One of the biggest frustrations that customers encounter when dealing with support teams is the length of time it takes to receive a response. However, this is not something that you need to worry about with Podia.
Their support team is incredibly responsive and aims to get back to customers within minutes of receiving a query. This commitment to fast response times is a testament to Podia's dedication to its customers.
Friendly and Human
Finally, it's essential to note that Podia's support team is incredibly friendly and approachable. When you reach out to them, you are treated like a human being rather than a number. They understand that dealing with technical issues or business problems can be stressful, which is why they strive to make the customer support experience as pleasant and stress-free as possible.
Final Thoughts: Is Podia Worth It?
Yes, Podia is worth it for creators, entrepreneurs, and businesses looking for an easy-to-use and affordable platform. The platform offers a wide range of tools and features that enable users to create and sell online courses, membership subscriptions, and digital products with ease.
Although Podia has some limitations, its features and pricing are an excellent option for those starting their businesses or looking for an alternative to other expensive e-commerce or digital selling platforms.
FAQs On Selling Online Courses
How much does it cost to build an online course?
The cost of building an online course depends on various factors such as the platform you use, the course format, and how much content you plan to create. Some platforms offer free options while others can cost several thousand dollars. It's important to research and compare options to find what works best for your needs and budget.
What are the challenges of online course creators?
Some of the challenges of online course creators can include creating engaging content, marketing the course effectively, managing technological issues, and keeping up with industry changes. However, with dedication and persistence, these challenges can be overcome.
How can I create online courses and make money?
You can create online courses and make money by identifying a topic that you are knowledgeable and passionate about, researching your target audience and what they are willing to pay for, creating quality content, pricing the course appropriately, and effectively marketing it to your audience.
How do I get people to buy my online courses?
To get people to buy your online courses, you need to have a strong brand presence, know your target audience, create value-packed content, offer compelling incentives, and effectively promote your course through various channels.
How do you attract students to your course?
To attract students to your course, you need to create a clear and compelling value proposition, offer relevant and high-quality content, use engaging visuals and multimedia, use social proof to build credibility, and promote your course through various marketing channels.
How can I get 7 figures to sell online courses?
To get 7 figures to sell online courses, you need to create high-value content, offer comprehensive and relevant courses, differentiate your brand from competitors, and build a strong marketing strategy that promotes your course to a wide audience.
Can I sell a course to Udemy?
Yes, you can sell a course to Udemy by creating a course that meets their course quality standards and following their submission and review process.
Can I sell my course on Udemy for free?
While Udemy does offer free courses, they also have specific requirements and standards for free courses to ensure they deliver value to students. Additionally, Udemy does charge a commission fee for paid courses sold on their platform.
Can I sell my course on YouTube?
While you can use YouTube to promote your course, it is not a primary platform for selling courses. Instead, you can use platforms like Udemy or Teachable to host and sell your course.
How do you sell online courses on social media?
You can sell online courses on social media by creating engaging and informative content, using targeted ads to reach your audience, partnering with influencers or affiliates, and utilizing social proof to build credibility.
Can you sell online courses on Facebook?
Yes, you can sell online courses on Facebook by promoting your course through Facebook ads or organic posts, creating targeted landing pages, and utilizing Facebook groups to build a community around your course.
Does selling courses make money?
Yes, selling courses can make money, but it requires a lot of effort and dedication to create quality courses and promote them effectively.
Is it worth it to sell courses on Udemy?
Selling courses on Udemy can be worth it if you have quality content and promote it effectively. However, you should also consider other platforms and marketing strategies to diversify your revenue streams.
How much should I sell my digital course for?
The price of your digital course can vary depending on the value it offers, the market demand, and the competition. It's important to research pricing strategies and experiment with different price points to find what works best for your course and audience.
How do I sell my course on my blog?
To sell your course on your blog, you can use landing pages to promote your course, create relevant and informative content that showcases your expertise, offer discounts or incentives to incentivize purchases, and use email marketing to follow up with potential customers.
How many followers do you need to start selling?
While having a large following can help with sales, it is not the only factor that contributes to success. It's more important to focus on creating high-quality content, identifying your target audience, and building a strong brand presence.
How can I sell my course without ads?
You can sell your course without ads by utilizing organic marketing strategies such as creating informative blog posts, using social media to build a following, leveraging email marketing, and collaborating with other influencers or affiliates.
Which course is trending now?
Some courses that are currently trending now include courses on digital marketing, e-commerce, personal development, and health and wellness.
Which online course is profitable?
Online courses that can be profitable include those that offer valuable knowledge and skills in high-demand industries such as technology, marketing, and business.
Which course is highly paid?
Courses that are highly paid include those that offer specialized knowledge or skills in lucrative industries such as finance, technology, and medical fields.
What are 3 things you Cannot copyright?
You cannot copyright ideas, common knowledge, or basic facts. However, you can copyright original expressions of these ideas or knowledge.
How do I protect my online classes?
To protect your online classes, you can use secure hosting platforms, enable password protection, implement secure payment methods, clearly state your copyright and usage policies, and use watermarks to deter unauthorized use.
How do I protect my online content?
You can protect your online content by copyrighting your work, regularly monitoring and reporting unauthorized use, using digital watermarks or other forms of online protection, and clearly outlining your copyright and usage policies.
What are the four types of online courses?
The four types of online courses are video-based courses, audio-based courses, text-based courses, and interactive courses.
Are online courses passive income?
Online courses can be a source of passive income as they can continue to generate revenue without active involvement once they are created and promoted effectively.
How much does it cost to copyright a website?
The cost of copyrighting a website can vary depending on the fee structure of the copyright office in your country. In the United States, the fee ranges from $35-$85 for online registration.
How much does it take to copyright a website?
The process of copyrighting a website can take anywhere from several weeks to several months depending on the complexity of your website, your copyright office's processing time, and the completeness of your application.
Can I put copyright symbol on my website without registration?
Yes, you can put a copyright symbol on your website without registration but it is recommended to register your copyright with the relevant authorities for stronger legal protection.
What is the easiest item to sell online?
The easiest items to sell online are typically those with high demand and low competition such as clothing, accessories, health and beauty products, and home goods.
What are the Top 5 selling items online?
The top 5 selling items online are typically electronics, clothing and accessories, health and beauty products, home goods, and books.
Which products have the highest demand in United State?
Some products with high demand in United State include electronics, food and beverages, clothing and textiles, home appliances, and beauty and personal care products.
What type of online courses are in demand?
Online courses that are in high demand include those related to technology, digital marketing, business development, and personal growth and development.
How do I make a course and sell it?
To make a course and sell it, you should first decide on a topic you are knowledgeable and passionate about, research your target audience and competition, create high-quality content, promote the course effectively through various channels, and price the course appropriately.
Which courses are high in demand?
Courses that are high in demand include those related to digital marketing, web design and development, data science, artificial intelligence, and financial management.
What can I sell online as a side hustle?
You can sell various products or services online as a side hustle such as handmade goods, drop-shipped products, freelance services, or online courses.
What products are in demand right now?
Products that are in demand right now include those related to health and wellness, home goods, outdoor and gardening supplies, and personal protective equipment.
What are the top 5 ways to make money online?
The top 5 ways to make money online include affiliate marketing, blogging, e-commerce, freelancing, and creating and selling online courses.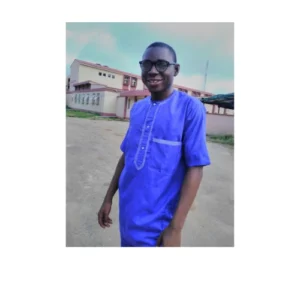 Abdulfatai is a Content Director at Olly-web, where he specializes in Search Engine Marketing (SEM) and Social Media Marketing (SMM). He has over a decade of experience working with businesses to promote their visibility through SEM, SEO, and social media. Abdulfatai believes that great content is the key to success on social media, and his goal is to help businesses grow their following by providing high-quality content that resonates. When it comes to online marketing, Abdulfatai knows how to work hands-on with clients and has a deep understanding of what works best for them.