Last Updated on October 29, 2022 by Abdulfatai A. Olamide
Social media is the undisputed king of the marketing world… There's also an email to consider. It's often referred to as the "forefather" of social media marketing. Don't be fooled; when used appropriately, it's still dependable. Although today's marketers may not be as comfortable with email or consider it a "cool" way of engaging with clients, it has shown to be a reliable method of contact.
As long as you utilize email appropriately, it remains one of the most important and concentrated ways to reach your audience. It's also a financially rewarding venture.
You can use your email marketing tools to strategise and promote your app. Clients may also be told about your white label services or other services that are relevant to their needs.
Here are some of the best email marketing tools to help you strike the mark every time.
Marketing via email HubSpot
HubSpot offers a free email marketing tool with a lot of features that are great for small businesses. You can create professional marketing emails with the simple drag-and-drop email builder that engage and grow your audience. Using the drag-and-drop email builder, you won't have to wait for help from IT or designers.
To create bespoke touch-points for your customers, you can use the HubSpot CRM for free, as well as the free email tool. You may send suitable emails depending on any information you have, such as form submissions and website activity, because HubSpot Email is linked to HubSpot CRM. You can utilize the CRM to include personalized information to your emails, such as first name and company name, to make your contacts feel like they're being addressed personally, all while keeping track of their responses.
There is email activity in the CRM.
With the HubSpot email tool, you can send up to 2,000 emails each month for free, with premium alternatives starting at $50 with Marketing Hub Starter.:
TRY HUBSPOT FOR FREE
2. MailGenius
MailGenius is a free program that scans your emails for potential triggers that could cause your message to be filtered as spam. Run a deliverability test to confirm that your email reaches your recipient's mailbox. Otherwise, it will not be opened.
The tool details everything you can do to avoid landing up in the spam folder, as well as concrete tips and explanations for resolving any concerns you might have.
Even the best email copy and subject line will only get you so far if your letter winds up in spam. Deliverability difficulties can have a big impact on your email marketing campaigns, so be proactive and run a test to make sure you're on the right track.
TRY MailGenius FOR FREE
3. Litmus
Litmus is an email testing and tracking tool with a lot of flexibility. Your emails can be tested on desktop computers as well as popular mobile platforms including Android, Apple, and Windows.
By employing Litmus for render testing, you can ensure that your creative is optimized for every device. You can test over 40 clients and devices, and Litmus can send a test email to an address that you can send to your ESP in one click. Within minutes, you'll be able to see your chosen browsers, ISPs, and devices.
Do you wish to improve the efficiency of your link testing? In minutes, you'll have an overlay of the email with comprehensive results for each link if you run it via a landing page test. The ESP tracking report embeds a tracking pixel in your email, allowing you to see how and where the email was opened, how long it was read, and whether it was forwarded or printed organically.
Pricing:
Litmus offers a free seven-day trial, with the premium version costing $399 per month, the Plus version $149 per month, and the basic version $79 per month.
TRY LITMUS FOR FREE
4. Mail Chimp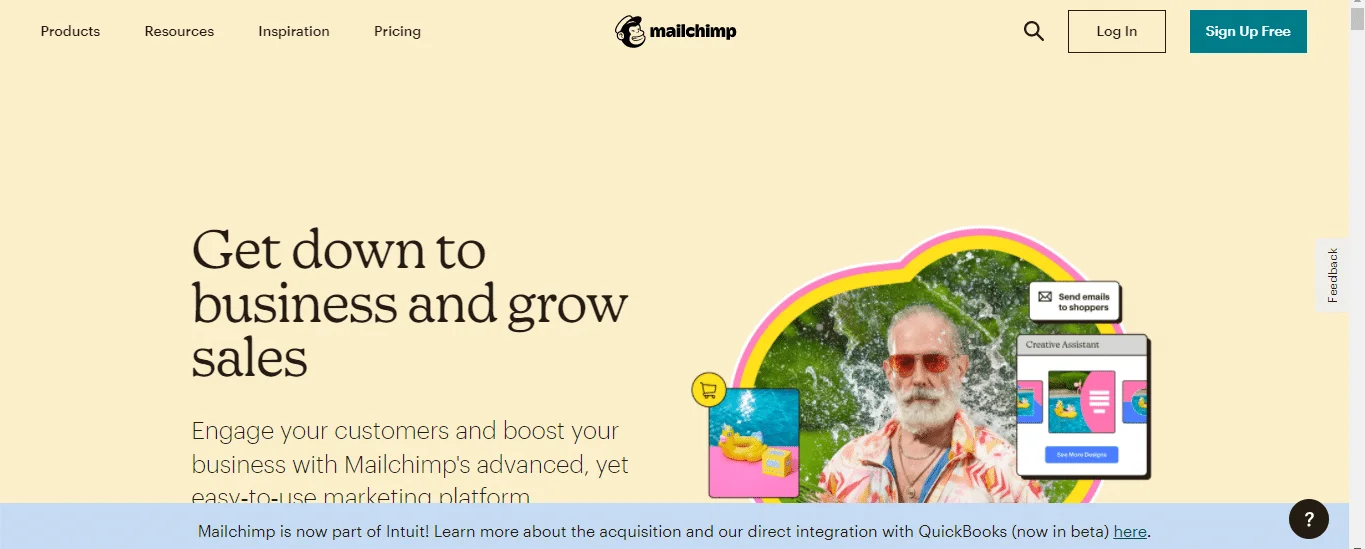 Don't be overwhelmed by Mail Chimp's humorous remarks or links to interesting YouTube videos. It's all business when it comes to gathering data, sending emails, and improving performance.
You can even send out questionnaires to your customers. This is a terrific opportunity for your app's users to vote on which icon is the best.
The dashboard makes it easy to import lists, create and run campaigns, and continue to grow your audience.
While the import is running in the background, you can work on your campaign. The technique is fairly adjustable, so you can choose whether the email is sent to everyone on your list or only a section of it.
By utilizing filters to generate contact subsets, reusing already created segments, or copying and pasting from a recipient email address list, creating a segment is simple. You can observe who has read your emails and which campaign links have received the most clicks using the tracking tools.
The extended tracking option connects your website to Salesforce or Google Analytics. To use "auto-responders," you'll need a premium account. You can use them to automatically trigger certain answers or segment people based on their behaviors. After you've sent out your emails, MailChimp allows you to integrate your social networks so you may post regular updates on Twitter and Facebook.
Pricing:
MailChimp offers a free subscription that allows you to send up to 2000 emails per month to your subscribers. An unlimited account costs $10 per month.
TRY MAILCHIMP FOR FREE
5. Reach Mail
Compare the performance metrics of up to five different email campaigns using Reach Mail's Message Testing feature. This tool also takes into account alternative subject lines or content within each email, allowing you to fine-tune subject line phrasing and evaluate how one email performs against another.
You may also use this functionality to select what percentage of your subscriber list should be used to test the message. After the 'test campaign' is over, the system will generate a snapshot report highlighting open and click rates for each version. Now all you have to do is pick the one that best suits your needs and schedule the rest of your emails.
Reach Mail also lets you choose from hundreds of email themes or have a custom design created for you by one of their designers.
With advanced tracking, you can see who clicked on your links, how many people forwarded your message, and who opted out. After that, you can send a follow-up email to visitors who have clicked on specific links.
Pricing:
Reach Mail is available for a monthly fee ranging from $10 to $70.
TRY REACH MAIL FOR FREE
6. Target Hero (ActiveTrail)

Target Hero has a prominent WYSIWYG (what you see is what you get) editor, picture hosting, HTML and plain text email templates, and a long list of additional features you'd expect from the email marketing tool.
This solution is ideal for businesses who require a wide range of campaign features but do not have access to large subscriber lists.
Account verification is required for Target Hero; sign up and then follow the SMS authentication steps.
Pricing:
With their free package, you receive 1,000 contacts and unlimited emails. For up to 3,000 contacts, the $9.90/month Mini Hero package is necessary. The Hero plan, which costs $19.90, gives you up to 5,000 contacts. The Super Hero bundle costs $39.90 and contains up to 10,000 contacts.
TRY TARGET HERO FOR FREE
7. Drip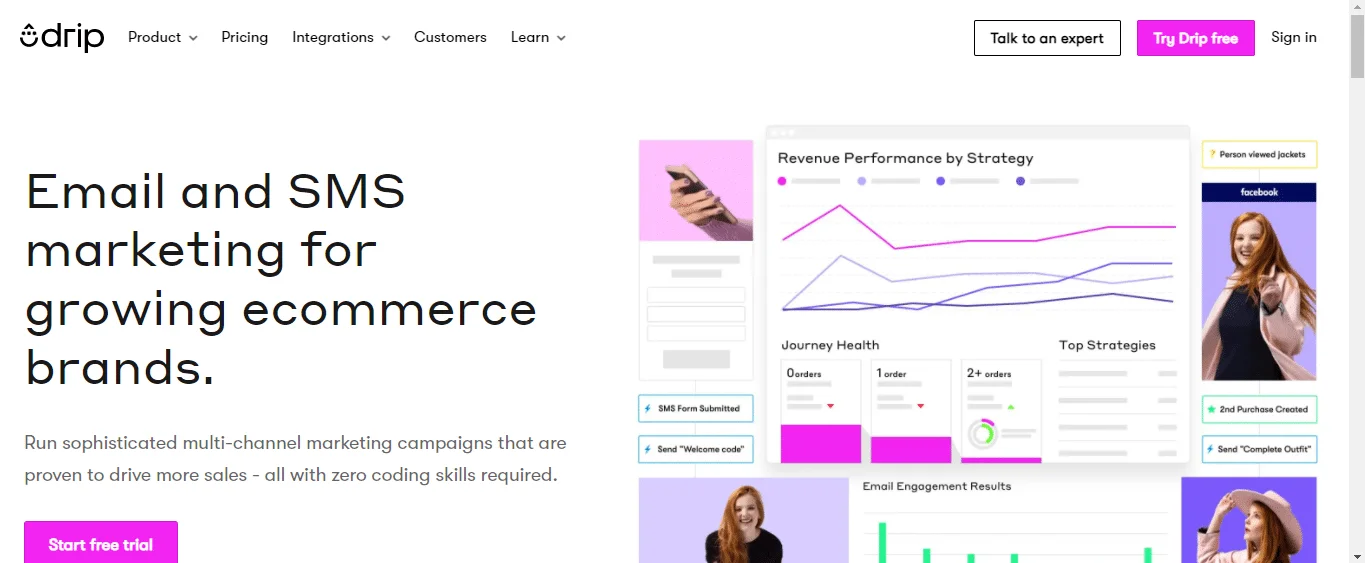 Drip is a versatile email marketing tool with a number of useful features, including message personalization, integration with e-commerce platforms like Shopify, detailed data analytics, and more.
It offers two email-creation tools, one graphic and the other text-based. This enables more visually attractive marketing as well as more targeted and individualized follow-up messages for specific customers.
Emails will always feel relevant to those who receive them since content can be easily changed. There's even a bespoke conversion monitoring tool that provides businesses full control over how an email marketing campaign's performance and efficacy are monitored.
Pricing:
The Drip starter plan is absolutely free and can handle up to 100 customers. The Basic package costs $41 per month for up to 2500 members, the Pro package costs $83 per month for up to 5000 subscribers, and the Enterprise package has a variable cost based on the number of users over this level.
TRY DRIP FOR FREE
8. Mad Mimi
You may simply write professional-looking emails using Mad Mimi's easy WYSIWG editor. Select from 39 social networking buttons, including share, like, favorite, and retweet, and add links to your emails with ease.
You can use the clone tool to copy existing campaigns and make changes to the source document without affecting prior versions of your work, in addition to creating new email marketing campaigns. You don't have to worry about deleting your email campaigns by accident because you can easily undo it. Phew!
You can track how many emails were opened, how many embedded links were visited, how many social media shares were made, and much more with the comprehensive reporting tools. You may also find out which links a certain user clicks on.
Mad Mimi integrates with Google Analytics to provide detailed information and click monitoring. Obtain "forward to friend" reports and export them to Excel if needed. View real-time feedback on your email campaigns depending on your social media activity.
Pricing:
Pricing for a basic account with 500 contacts starts at $10 per month and rises to $42 for a premium account with 10,000 contacts.
TRY MAD MIMI FOR FREE
9. CakeMail
Split A/B testing, for example, may help develop the best mailing list, and Spam Assassin can ensure that your emails don't wind up in spam, so your email campaign is covered by CakeMail's tools. You may also use Google integration to get detailed statistics on how each campaign is performing.
Sending emails is a straightforward process. Simply name your campaign, choose your recipients, compose your email, and schedule its delivery. Choose from twenty fully customizable pre-made layouts or submit your own. The complex editing option will appeal to users who are comfortable with HTML. The editor allows you to add, delete, and rearrange text areas, images, QR codes, social media features, and Google Maps.
Google Analytics is used by the Campaign Analysis Tools to deliver detailed information on your contacts' open, click, bounce, and unsubscribe rates. Create contact lists based on email behaviors and user interests using this information.
Pricing:
The free Starter bundle includes 500 contacts and 500 emails. The cheapest option is $8 per month.
TRY CAKEMAIL FOR FREE
10. Flashissue
One of the most useful email marketing tools for sending out newsletters via email is Flashissue. In a simple interface, email marketing and content curation are merged. By connecting in with Google or Facebook, you may have newsletters sent to your friends in under five minutes.
Regardless of the theme of your newsletter, you can pull content from blog posts or search the web to pull content from a variety of sources—Flashissue instantly summarizes this content for you. You can alter the headline and article descriptions after you've uploaded a certain number of story summaries to the editor to make it more personalized for your readers. This enables for a more personalized email instead of sending out generic news.
After that, you must upload a banner and select the best distribution option for it. You may send your newsletter via Gmail, Facebook, LinkedIn, Twitter, Google+, and a variety of social networks with the free edition.
For $20 to $50 a month, you can get a premium subscription that integrates with Constant Contact and MailChimp to offer you access to a plethora of other features.
Pricing:
The Solo plan is free and includes 25 monthly contacts and unlimited emails, while the group plan is $5 per month and includes 250 contacts.
TRY FLASHISSUE FOR FREE
11. Constant Contact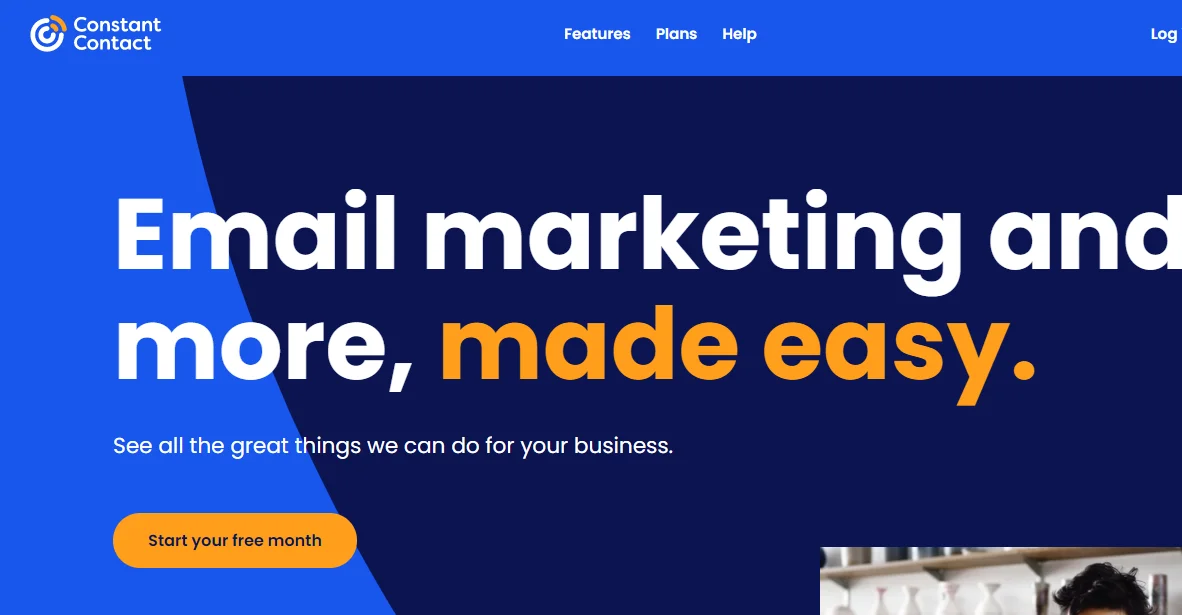 You can choose from hundreds of design templates or make your own, and then add documents, images, polls, survey links, videos, and other items as needed.
Create thorough reports on the number of opt-outs, complaints, bounces, forwards, and click-throughs for your email campaigns using the social-share toolbar and social media buttons–Twitter, LinkedIn, and Facebook–also it's easy to import images and text into the WYSIWYG editor.
Pricing:
There are two plans available: a $20 per month email plan and a $45 per month email plus plan.
TRY CONSTANT CONTACT FOR FREE
12. AWeber
AWeber's autoresponder feature is a terrific method to stay in touch with your customers. You have access to over 150 email templates to make the email design process run as easily as possible.
To boost a number of business tasks, integrate your email marketing account with other internet services. If you're using Salesforce, you can set it up to indicate which customers have signed up for (AWeber) emails and which emails they've got from you automatically.
Your AWeber account can also be linked to the most popular shopping cart software, allowing you to add new customers to your database each time they make a purchase on your website. Go to AWeber Labs and leverage the AWeber API to create your own apps and time-saving features to take your marketing efforts to the next level. When you have this kind of freedom, you can really make the most of client data to improve your marketing efforts.
Pricing:
AWeber offers a monthly bundle for $19 that includes 500 subscribers, unlimited emails, and a 30-day money back guarantee.
TRY AWeber FOR FREE
13. iContact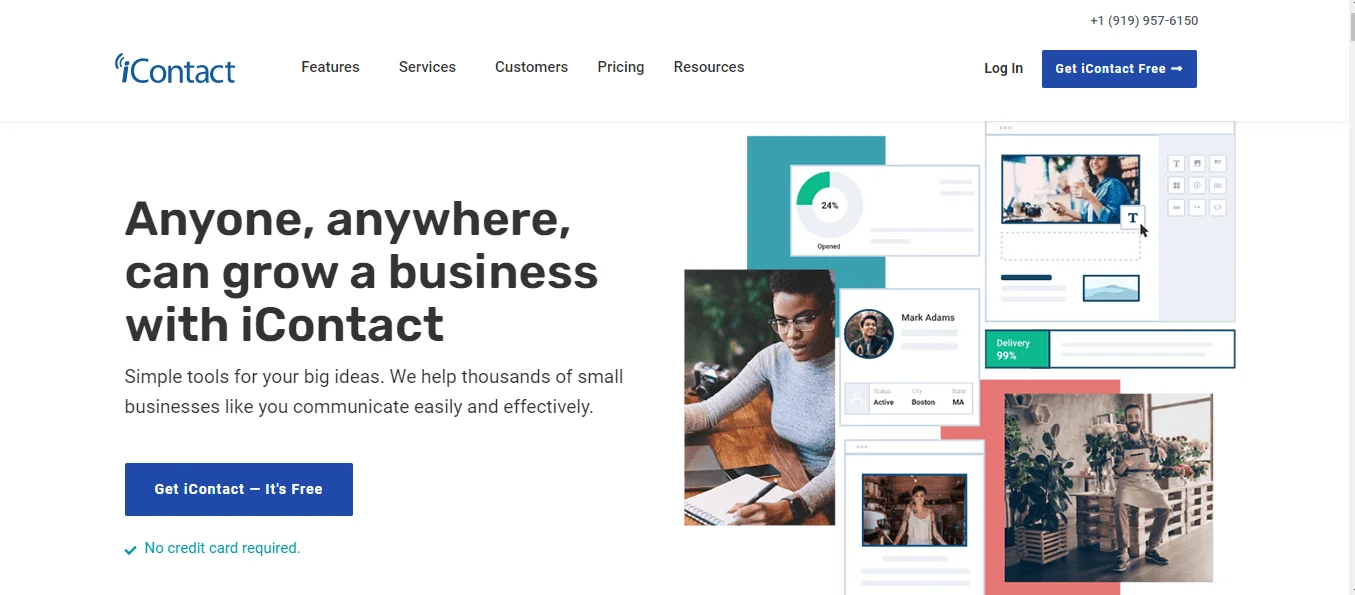 iContact package is simple but complete, with HTML coding options and marketing templates to select from, depending on how involved you want to get with your campaign.
An easy-to-navigate interface greets you, with tabs in the top half of the screen allowing you to create and track email campaigns. After you've chosen a tab, the setup wizard will lead you through the rest of the process.
iContact can help you add a sign-up form to your website so that visitors can become confirmed subscribers once you've established a list of contacts. Do you have a list of subscribers in a CSV or Excel file? With these, you can import your iContact subscriber list.
Create aliases and send emails depending on specific filters to narrow down your target market. iContact is also social media-friendly, with features for Twitter and Facebook.
In reaction to particular occurrences, the autoresponder feature sends out automated messages at predetermined intervals. When someone subscribes to a newsletter, the autoresponder, for example, sends them a welcome message. You might also offer clients email coupons when their birthdays are approaching.
Pricing:
iContact provides small business solutions for $14 to $117 each month.
TRY iContact FOR FREE
14. GetResponse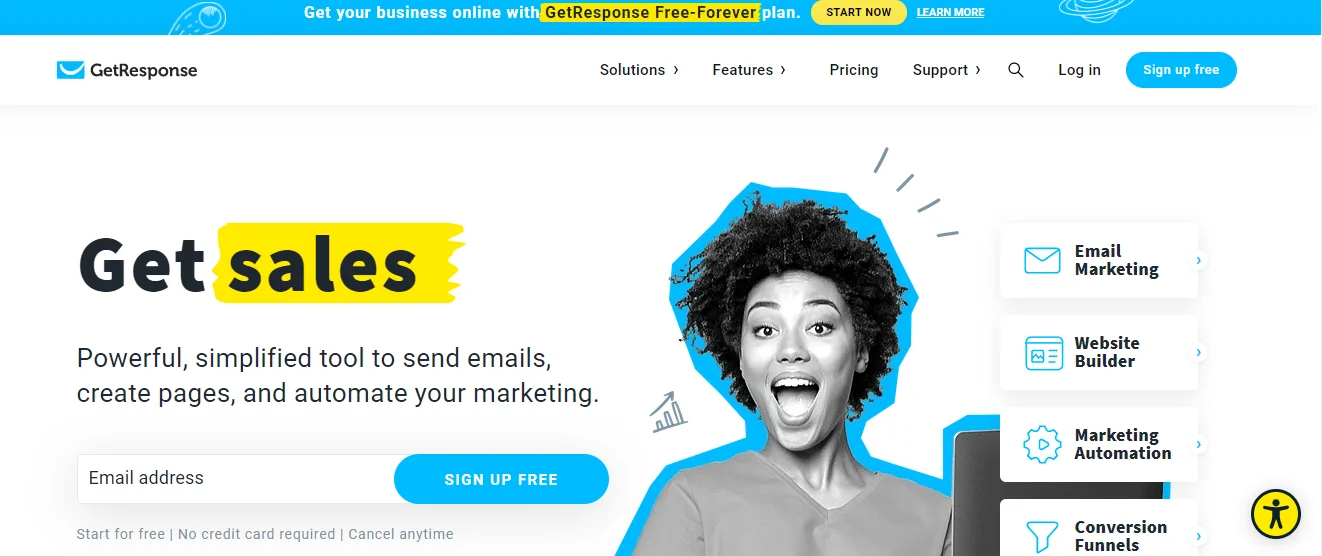 Maintain an organized contact list and create high-quality marketing campaigns.
You may add custom fields to contact lists, as well as copy and search contacts, under the contacts area.
GetResponse keeps track of how many people open, complain about, unsubscribe, or click on links in your emails. You'll also be able to observe how many emails were not sent to their intended recipients for whatever reason. You can also find out why people stopped subscribing to the magazine.
Data is readily described in pie charts and bar graphs. You may see a summary of the results once you've sent out surveys.
Help is accessible in the form of FAQs, webinars, PDFs, video lessons, a glossary, and learning center articles. Email and live chat support are available.
Pricing:
They provide a variety of pricing options based on the number of members; the most basic plan starts at $15 per month for 1,000 users.
TRY GetResponse FOR FREE
15. Zoho
Basic Details, where you choose the campaign's name and email address, Content, and The Audience are the three sections of the campaign procedure at Zoho. The second and third are self-evident.
You can conclude your campaign once you've picked your receivers and other campaign-specific settings. Under the Content section, you'll discover a highly useful WYSIWYG editor for HTML content. You can include photos, drag and drop items, format text, and copy/paste whatever material you want in your email. Do you want this to be the default layout and format for all of your campaigns? If you save to Library, you're safe.
To take advantage of user-defined tags, create user-defined fields. Once you've generated a new field, you can build more sophisticated custom tags. The items and services you offer determine the types of custom fields and tags you develop.
Pricing:
You get 2,000 subscribers and 12,000 emails each month with the free trial plan. The price for the first month is $5.
TRY Zoho FOR FREE
16. ToutApp
In terms of adaptability and capacities, ToutApp has established itself as the Swiss Army Knife of email marketing tools and solutions.
The need for templates in your sales force is always present, and ToutApp excels in this area. You need visibility into what emails were delivered, which ones were opened, and which ones were forwarded, in addition to links clicked, attachments opened, and attached PDF pages that were opened.
With mobile access, you can access all functions from your smartphone. Use scheduling to determine which batch of emails is sent when.
ToutApp features analytics and CRM integration. This ensures maximum transparency, allowing you to monitor the status of your emails at any moment during the process.
The desktop alert and notification feature keeps you informed about who has opened and forwarded your emails, and an email chat tool lets you contact support immediately from the email you're writing. It's simply cool.
Pricing:
They offer a 14-day free trial and a basic monthly subscription starting at $30.
TRY ToutApp FOR FREE
17. LeadPages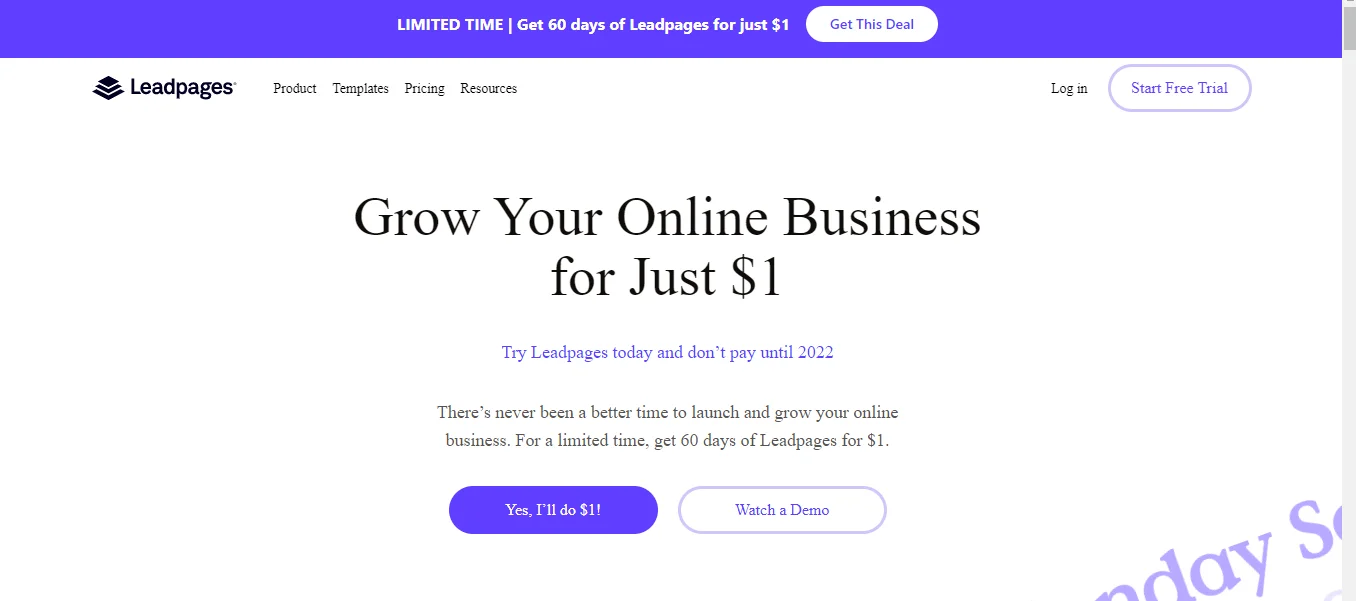 You can simply create excellent landing pages using LeadPages, and the best part is that you don't need to put on your tech-nerd hat.
Create a variety of landing pages for your website that are necessary for a strong online presence but don't require much coding.
When it comes to creating landing pages, the editing template offers a lot of flexibility (50 templates to be exact). Because of the site's easily legible coding, it loads rapidly.
The best email marketing services are connected smoothly. You're just a few clicks away from connecting your landing page to your preferred marketing platform.
Pricing:
They have a number of monthly and annual plans to choose from, with the most basic starting at $25 per month.
TRY Leadpages FOR FREE
18. BenchMark

This program has a wide range of templates for almost any purpose, including newsletters, greeting cards, promotion templates, and prizes. Using the simple visual editing tool, you can add your own HTML and CSS to create a more personalized design. You can use the built-in spam filter to double-check that your template doesn't include any offensive information.
They have an excellent community structure that encourages you to create and vote on your own unique designs. If your design receives the most votes, their development team will look into it and maybe incorporate it into a future update. It just goes to show how much they value their customers' feedback.
Pricing:
The basic package is $9.95 per month for 600 emails and $19.95 for 2500 emails.
TRY BenchMark FOR FREE
19. Keap (Formally Infusionsoft)
Despite the fact that Infusionsoft is expensive to buy, the return on investment will surprise you.
Email marketing offers a 44 percent average return on investment in the United States. People who used it claimed a 300 percent increase in profit and an eightfold increase in income, according to case studies Infusionsoft.
Simply proceed through the purchase and setup process, then the Kickstarter session, and ultimately the setup of automatic marketing campaigns.
You'll be won over immediately by the flowchart-style promotion. Building email campaigns is a lot of fun, and it's a nice feeling to know that all of your customers are being cared for and communicated with in a highly personalized manner at all times while you focus on other things.
Though it's nothing unique, the CRM's lead scoring function stands out. It's still more capable and better than most CRM packages.
Pricing:
The base plan is $199 per month and comes with 2,500 contacts and 12,500 emails.
TRY Keap FOR FREE
20. Campaign Monitor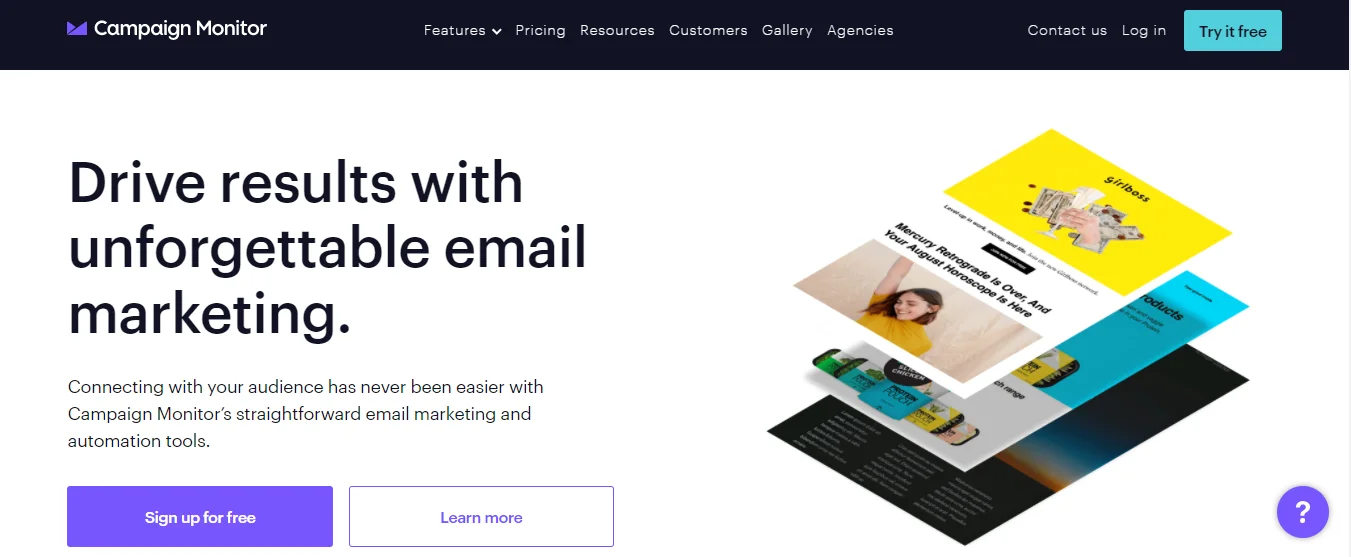 The Template Builder tool ensures that all emails can be read on a mobile device without difficulty, reducing the risk of missed opportunities due to emails that display incorrectly.
Campaign Monitor displays live previews of your email design in popular email clients including Gmail, Hotmail, Yahoo, and others. This allows you to make sure your campaigns look good in all email clients.
Import your own HTML templates with Campaign Monitor tags to ensure that you may alter and personalize content in the future using the integrated template editor. Material can be copied and pasted directly, and Excel, tab-delimited, and CSV files can also be submitted.
Autoresponders are simple to set up, and data segmentation ensures that only the designated recipients receive them.
One of the most important features of Campaign Monitor is its user interface. It's incredibly simple and clutter-free.
Pricing:
They have two packages: a $9 monthly basic package and a $29 monthly limitless subscription.
TRY Campaign Monitor FOR FREE
21. Crystal
Crystal is a communication tool that helps you enhance your emails by showing everyone's individuality. "Personality AI Crystal", a new technology that uses machine learning and artificial intelligence to predict a person's personality based on their online footprint, can help you better understand your audience, boost open and response rates, and boost conversion.
Using Crystal AI email's help, you may observe the most effective writing style, subject line, greeting, and call to action to make each message the most impactful for the receiver. The best part is that you can predict personalities in bulk, allowing you to send hyper-personalized emails to a big group of individuals at once, providing them with the information they need in the style they like, increasing engagement rates. Every campaign is like to having a personal coach.
Pricing:
Crystal's premium tools start at $29 per month.
TRY Crystal FOR FREE
22. Omnisend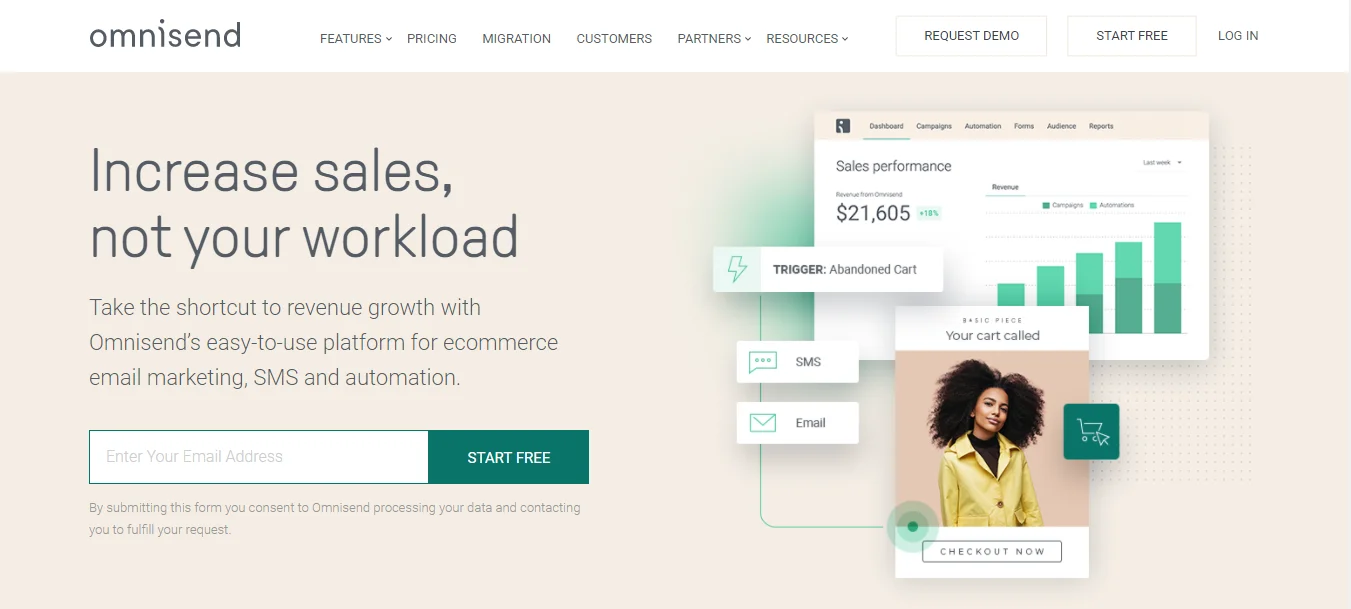 Omnisend is the tool to employ if you want to go beyond ordinary email marketing. This platform allows you to create sophisticated automation workflows in minutes using pre-built configurable templates.
But it's the ability to merge several channels into a single workflow that really sets Omnisend apart from the competitors. Email, SMS, Facebook Messenger, push notifications, WhatsApp, and other channels can help you reach your ideal customer at the right time and on the right channel.
Omnisend also has advanced segmentation capabilities, allowing you to layer targeting rules for a truly personalized message to your customers. This means you can tailor their experience beyond using their first name and truly control the type of message they'll receive at each stage of their journey.
Pricing:
Omnisend offers a free email marketing package with up to 2000 emails sent per day. The Standard package starts at $16 per month and includes automation and more sophisticated capabilities.
TRY Omnisend FOR FREE
23. YesWare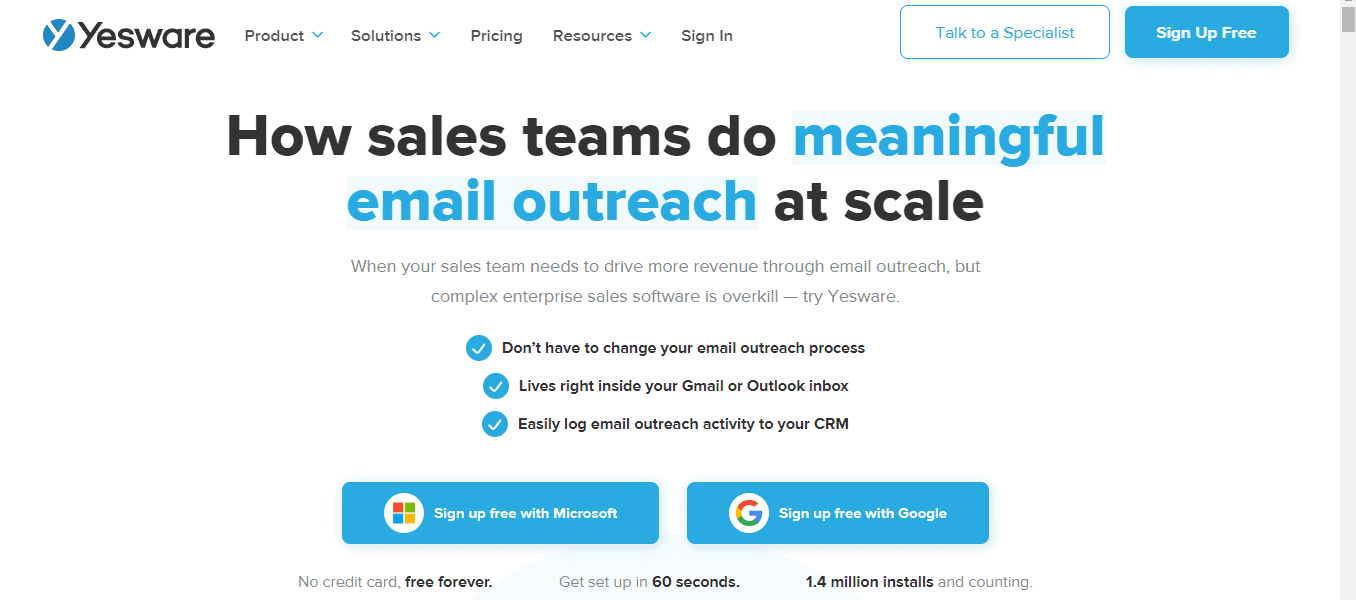 Similar to ToutApp, YesWare is aimed at sales teams who need to send mass customized emails to people while also keeping track of follow ups and activity (opens, clicks, etc).
YesWare excels at campaign and messaging tests on a smaller scale ToutApp. If your sales team needs to run a 20–50 person campaign with customisation and wants to save time, YesWare is a great fit. They'll be able to observe what happened when they pressed the send buttons.
Using YesWare's dashboard, you can see who opened, clicked, forwarded, or replied to the emails you sent out. Furthermore, YesWare provides template-based statistics to assist you in determining what is and is not working.
Similar to ToutApp, YesWare interfaces with most prominent CRM platforms to provide you visibility into what your sales staff is doing without having to go into the system YesWare.
They also feature desktop alerts with a built-in dialer for when a call is required to close the deal after the contract has been opened.
Pricing:
They provide a 30-day Enterprise trial after which they charge $12 per user per month, increasing to $55 per user per month after that.
TRY YesWare FOR FREE
24. ActiveCampaign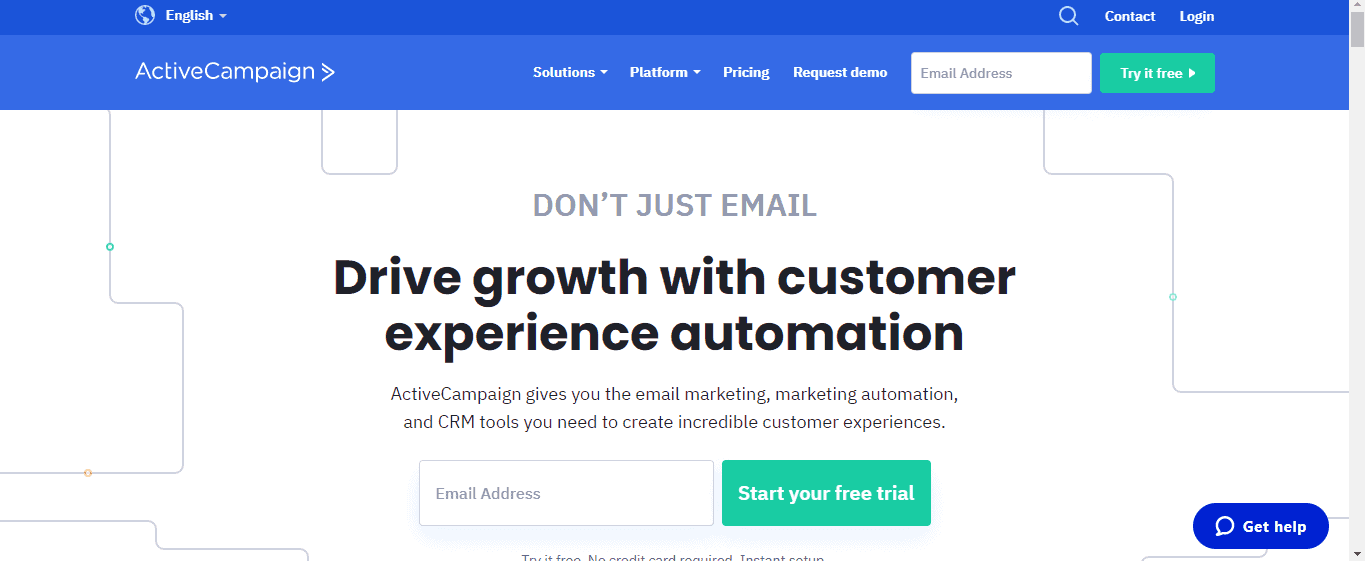 One of the primary alternatives Infusionsoft has been labeled ActiveCampaign. For those who want the complete sales and marketing automation power of Infusionsoft, there is an option that is easier to use and set up ActiveCampaign.
You don't lose much capability despite the lower cost and ease of use compared to Infusionsoft. ActiveCampaign allows you to run highly behaviorally driven marketing and sales campaigns with an easy-to-understand setup for even the least tech-savvy business owners.
ActiveCampaign full-featured edition gives a company an all-in-one solution for CRM, email marketing, deal flow, sales automation, and more. It's a great alternative to Infusionsoft if you want to automate the way you communicate with new and existing customers because it provides one-on-one training and onboarding without the four-figure price tag.
Pricing:
If paid annually, ActiveCampaign costs $7.65 per month, or $149 per month for the entire package.
TRY Active Campaign FOR FREE
25. Voila Norbert
Voila Norbert offers two fantastic services to small businesses: email discovery and email verification. Their email finder, according to ahrefs, is the most accurate email finder available. Whether you're seeking to reach out to influencers, build marketing connections, or identify new hires, Norbert has you covered.
Keep your email list clean to ensure excellent deliverability and a good Sender score. Voila Norber's email verification tool cleans your entire list for you in a couple of minutes.
Pricing:
They're giving away 50 free credits to try out their email finding service. After that, pricing is determined based on a tiered system based on your needs. The cost of confirming emails in bulk is roughly $0.003 per email.
TRY Voila Norbert FOR FREE
26. Sender
With deliverability characteristics, Sender is one of the greatest free email marketing solutions accessible. It helps you to generate attractive newsletters without knowing HTML. Simply choose a template and personalize it with images, videos, and text. You may tailor your newsletters for each recipient to make an even bigger impact.
The powerful analytics function of Sender is one of the key reasons for its inclusion on our list. It allows you to know who has opened and clicked on links in your emails, as well as when they were opened. It even helps you construct precise buyer profiles based on subscriber activities, so you can enhance your email strategy and make more attractive offers.
TRY Sender FOR FREE
27. Sendinblue
Sendinblue is a marketing communication platform that includes email marketing as well as customer relationship management and landing page creation. With over 70 design themes, Sendinblue's email design functions make it simple to create a great-looking email. Furthermore, all of these themes are responsive, and you can preview your finished product to verify that it looks amazing on any device.
After you've developed your email, you can save time and work by automating the process of refining your campaigns and targeting your ideal audiences with tools like A/B testing and segmented recipient lists.
TRY Sendinblue FOR FREE
28. SendPulse
SendPulse supercharges itself as a multi-channel marketing platform, but its most popular feature is email marketing. It comes with a plethora of professionally designed email templates that you can easily customize using a drag-and-drop editor. Then, based on user behavior, event triggers, and other criteria, you can schedule these customised emails to be sent out at the proper time.
The SendPulse subscriber rating tool is a fantastic way to figure out who your most valuable subscribers are. It lets you look at open and click rates, as well as read and unread rates, for each subscriber. You can also use interchangeable text fields to customise your emails based on your name, gender, date of birth, age, and job function.
TRY SendPulse FOR FREE
29. MailerLite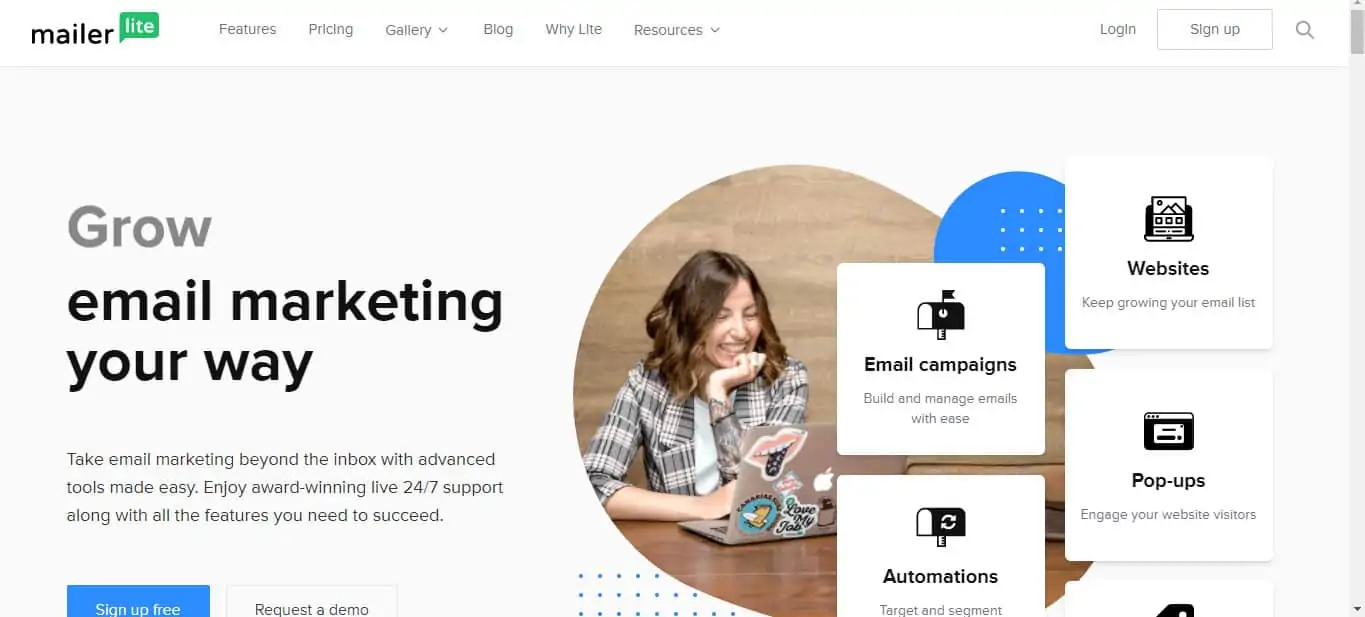 Because of sophisticated features like the landing page builder and pop-up customizer, MailerLite stands out among free email tools on the market. In addition to the necessities like a drag-and-drop email builder, the program features a strong text editor and a built-in photo editor for creating stunning emails.
Customize your email MailerLite
You can create responsive landing pages to go along with the emails you send, increasing your conversion chances. Split testing a few different versions of your email could help you figure out which one gets the most clicks and conversions. MailerLite also provides a comprehensive campaign report that includes crucial metrics such as click rate, unsubscribe rate, open rate, and more.
TRY MailerLite FOR FREE
30. Mailjet
Mailjet provides simple and collaborative solutions to help you create effective email marketing campaigns. Create responsive emails with any of the pre-designed templates to wow any recipient, no matter what device they're on. If you operate in a group, the platform's real-time collaboration function will come in handy. It allows you to collaborate in real time.
This email marketing solution also allows you to create tailored and relevant emails for each recipient by using dynamic content. Your email marketing campaigns will be more effective as a result of this. You can also use the platform in conjunction with your CRM to manage your entire mailing list in one location.
TRY Mailjet FOR FREE
31. Moosend
Moosend is an excellent email marketing tool that lets you automate time-consuming tasks. You can design behavioral email campaigns based on your subscribers' information and/or activity. You may use its smart segmentation feature to send highly customized emails to each recipient, increasing open and click-through rates and improving ROI.
This application creates a detailed campaign performance report that shows you how to optimize your campaigns and get better results. You can even use it to move data between devices in real time by integrating it with some of your favorite apps. It's also one of the few free email marketing services that doesn't send out messages with a logo.
TRY Moosend FOR FREE
32. EmailOctopus
EmailOctopus is a simple email marketing platform based on Amazon's SES infrastructure. While the free plan lacks some of the features of the other free email marketing tools on this list, it does allow you to send out far more emails per month than the majority of them.
You can send emails from any number of different email addresses. As a result, it's great for a small agency or a sole proprietor who represents other companies. It also links with third-party tools such as MailOptin, WordPress, and Zapier, allowing you to transmit client data effortlessly between different platforms.
TRY EmailOctupus FOR FREE
18 Proven Email Marketing Tips And Techniques To Grow Your Business
Conclusion
With the passage of time, marketing channels and trends shift. While some fads come and go quickly, email is one of the few mediums that has remained consistent. In fact, for both B2C and B2B marketers, email remains the most preferred content marketing channel. To nurture their audiences, 87 percent of B2B marketers and 77 percent of B2C marketers use it.
It can even help you boost the effectiveness of your other marketing channels, such as social media. Despite this, email marketers continue to face a slew of challenges in their efforts. The time it takes to compose a professional-looking email from scratch is one of the most significant roadblocks. If marketers don't have the right email marketing tool, they could waste a lot of time creating and sending out emails that don't look great. This reduces productivity while also lowering the return on investment from email marketing.
Many businesses accept this situation because they are unwilling to invest in technology to streamline the process. On the other hand, email marketing tools do not have to be expensive. There are various free email marketing tools available that can help you save time and money.
Even if you don't upgrade to a paid plan, the majority of these free email marketing tools have a lot of useful features. Small businesses and marketers should be able to take advantage of these opportunities and save time and money in the process. Even if you need to upgrade to meet your company's needs, many of the premium choices are affordable and customizable.
If you're just getting started with your email marketing, check out our guide for more information on how to get the most out of your tools. You can also Book a strategic call with us today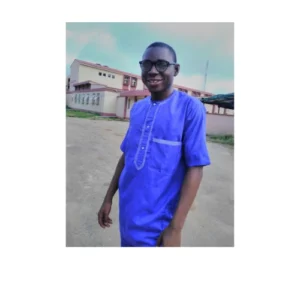 Abdulfatai is a Content Director at Olly-web, where he specializes in Search Engine Marketing (SEM) and Social Media Marketing (SMM). He has over a decade of experience working with businesses to promote their visibility through SEM, SEO, and social media. Abdulfatai believes that great content is the key to success on social media, and his goal is to help businesses grow their following by providing high-quality content that resonates. When it comes to online marketing, Abdulfatai knows how to work hands-on with clients and has a deep understanding of what works best for them.