A Complete Guide on How to Start Online Business at Home
Last Updated on October 29, 2022 by Abdulfatai A. Olamide
Hello everyone, today I'm going to talk about how to start Online Business at Home and how to make money online.
A lot of people have varieties of questions like;
How to start an online business from home for free
Online business ideas for beginners
Part-time business ideas for students
Online business for students without investment
And so on.
Let's dive into how to start an online business from home, as well as businesses that can be started from home.
Introduction

There are many businesses you can start online in 2022 if you are a student or someone who simply wants to start a business online.
First and foremost, allow me to tell you a brief story about myself. I began my online business in 2013.
In 2013, I opened my first major online account. I didn't take any steps until late 2017 when I began to see some results. That may change for you because, in my case, I didn't pay much attention to it when I first started. It was more like a part-time job where I didn't give it my full attention. As a result, not until late 2017.
I began my own online business by selling courses. I was selling courses made by course creators. That was one of the online businesses I started back then before branching out into other areas such as digital marketing during that year. I began in digital marketing after taking numerous courses before becoming a full-time online educator.

Before I began making money online full-time, I devoted my attention to online business in 2017, and it provided me with numerous benefits. I took some digital marketing courses, including Facebook ads, Google ads, web design, and other paid ad marketing. Those are important skills I learned in my early years. So I wrote this article so that you can choose any online business you want to pursue.
There are numerous businesses available online. There are numerous business ideas in which you can make a living. The world is changing, and most businesses are moving their operations online. During the 2020 challenges, we may discover that more businesses are now operating from home and that businesses will need to upgrade their workflow in order for people to work from home in the future.

So I'll give you some online business ideas that you can put into action in 2022. These online business ideas have been successful for over a decade and will continue to be successful. We'll go over the advantages and benefits of running an online business. What are the advantages of working from home and working online?
We'll go over some online business examples, and if you're a student, you'll get a lot out of it. If you're anything like me in my early days of trying to start an online business. I was less fortunate when I first started my online business because I didn't have a laptop.

I began roughly. Before I even knew what to do, I had to overcome a slew of obstacles. Nobody told me what to do or showed me how to do it. Maybe because I wasn't exposed to enough information at the time.
How to Start Online Business at Home
Now, let's look at some of the online businesses you can start.
The first online business you can start is blogging. We have some websites that will allow you to blog for free while also hosting your domain for free. So, when you blog, you are sharing your passion with people who will be interested in your topic.


You can choose to blog about a specific topic, such as entertainment, news, sports, fashion, or any other topic that interests you. You can blog on any of these, and weebly and blogger are two websites that allow for free blogging. You can make money while blogging. When you promote products on your website, you can earn money from affiliate products.

When people buy from you, you get a commission, and they can ask you to help them promote their businesses in your articles. The disadvantage of free blogging is that your traffic is limited, and there are restrictions on how you can scale your blogging.

As a result, we recommend investing in paid web hosting and a domain name to boost your credibility and growth stage. This gives you the freedom to constantly improve your blog.
We are the creators of online videos. You can create videos online using tools such as Invideo, Content Samurai, and Lumen5. This allows you to make videos out of stock images. You can have a script written on top of it.

You can also learn how to create mobile apps. If you want to make money online, you should be aware that there are some niches that require you to learn, and they are difficult to enter because you must learn these niches. The more difficult it is, the less competition there is and the more money you can make.

Mobile app development allows for in-depth learning, and there are courses available to help you get started. You can learn about these mobile app applications by taking courses from udemy, skillshare, and other websites. You can take some free courses on these platforms. What you must understand is that whatever you learn, you must get started with it.


You don't have to be an expert or know everything when you're just starting out; you'll continue to learn as you go. Whatever you learn, get started with it!
As previously discussed, we have affiliate marketing. Some affiliate marketing offers require you to have a website in order to promote them and avoid spamming. If you're just getting started, you can try blogger.com Some affiliate marketing platforms, such as Clickbank, Digistore, and others, do not require a website; instead, you can promote them through forums and link sharing. (PLEASE DO NOT SPAM.)



You can earn money by sharing the affiliate link in the forum where possible.
Clickbank is one of the affiliate sites you can visit. ShareAsale, Impact, CJ, and others are examples. These are just a few of the affiliate platforms available.

If you are having trouble getting into some, please leave a comment below and we will provide some in-house affiliate programs that you can join without much difficulty. The disadvantage of using an in-house affiliate is that you can't track all of the offers you're currently promoting on a single dashboard. These affiliate platforms have a plethora of products that you can promote in a variety of niches.
Digital marketing is another option. If you want to get involved in digital marketing, you must first learn about it. You must devote some time to learning. You can learn digital marketing skills that you can use to sell yourself or help other businesses sell their products and services online.

In today's world, both online and traditional business owners require the assistance of digital marketers. Promotion, business development skills, market and product research are all part of this.
Businesses can hire you to perform digital tasks to assist their businesses if you have a digital marketing skill, and they will pay you for it.

This could take the form of content creation, content marketing, lead generation, and so on. In a nutshell, businesses hire Digital Marketers to advise them on how to make their businesses survive online. You can also find digital marketing courses on Udemy. Udemy is a great place to start if you want to learn any digital skill. Make sure to look into the popularity and rating of the course you want to take. Is the Instructor available to answer questions? This will help you choose the best course for you.
Another place to start is with social media management. Celebrities and businesses are the most likely to require this. They hire you to manage their social media accounts and to post on their behalf using the social media accounts provided to you. Many people in positions of political power, for example, would not have the time to manage their social media.

They hire people to manage those accounts on their behalf. This also applies to businesses; they hire people to post as the brand, and these Social Media Managers are paid to do so on a set schedule and number of posts.

You can learn how to do social media marketing, and there are many tools available to help you automate these tasks and avoid feeling overwhelmed and stressed. You can also look for these courses on Udemy. On Udemy, you can find some free Social Media Marketing courses. This is also available on YouTube.

Here are some YouTube videos that discuss this. The disadvantage of YouTube videos is that the authors do not organize them in a course outline format or in a conceptualized manner.
Another way to start an online business is through search engine optimization (SEO). You can begin SEO with the goal of assisting businesses in increasing their visibility organically. Search Engine Optimization necessitates a thorough understanding of how the search engine works as well as staying up to date on the latest algorithm updates.

Technical SEO, On-Page SEO, and Off-Page SEO are the three most important aspects of SEO.
Technical SEO is the use of webmaster tools provided by search engines such as Google, Bing, Yandex, and others. This also includes optimizing your website to meet the needs of search engines. Page Speed, User Experience, Mobile Friendly, Tracking, and other factors are examples.

On-page SEO refers to tasks performed from the website dashboard in order to improve one's chances of ranking higher in the SERPs (Search Engine Ranking Pages).
Off-page SEO is what we do to increase domain authority and tell Google that our website is recognized and trustworthy. This includes activities such as link building, outreach, keyword research, and others.

Technical SEO and Off-Page SEO are terms that are sometimes used interchangeably.
You must understand how the webmaster tools work, which will take some time to learn.

How does this work?

In a nutshell, SEO allows you to optimize your website for search engine visibility. Many businesses require these; they hire people to perform SEO tasks in order to increase their visibility and organic visits. For example, when people conduct online searches for specific keywords. Those websites that appear in search results have been optimized or ranked for that keyword.

In-Demand Services are one of the services that many businesses require. In this niche, you can start an online business. The disadvantage is that you may need to spend money on most SEO tools in order to gain efficiency and a quick result. This also necessitates a thorough understanding of how search engines operate and must be kept up to date.
Article writing and content writing are two other freelancing businesses you can start right now. You can begin writing content and articles for people by charging a fee. This service is provided by a large number of people on Upwork and Fiverr. You can learn how to do this on websites such as Udemy and Skillshare.

This is a simple skill to learn because it does not require as much effort as some other skills. However, it would be preferable and give you a competitive advantage if you could write fluently in American or British English. The English language is the most widely used. You will have more opportunities in the global market if you can write in English. When you first start, you may require tools such as Grammarly, WordAi, Word Count, and others.

The majority of top-tier countries speak English, and if you expect companies or individuals to hire you, you will most likely want to write in English. That is not to say that other languages aren't selling well. Many people want to write in French, German, Italian, Dutch, and other languages.

As a result of this, you can learn to write like a pro and earn money online by offering your services to website owners or businesses. You can also provide them with product descriptions.
Graphic design is one of the most lucrative online professions. Consider how much money Facebook and Apple have spent to redesign and rebrand their logos. Don't get too excited because it won't happen overnight.

You must learn all hours of the day and night, have a creative mind, promote yourself, and have an enticing portfolio.
There are numerous areas to concentrate on. You can select from a variety of options such as Minimalist Logo, 3D Logo, User Interface, Flyers, Banner, and much more.

So, if you learn graphic design, you will be able to provide your services to a wide range of businesses. The disadvantage is that graphic design is extremely competitive. Fortunately, you should not be discouraged, and one of the things you can do to succeed is to have a Unique Selling Point (USP) through which you can sell yourself in graphic design. You simply need to spread the word and employ Unique Selling Points.

This could be something like, "I will design two logos for the price of one." This does not make you appear cheap, but it does allow you to create your Portfolio as soon as possible without wasting time building your portfolio and earning nothing in return. When you've established yourself, you can continue to charge standard rates and even higher rates because you've established yourself as an Authority.
Translation is the next business on our list of online businesses you can do from home. A lot of people are out there trying to find someone to translate things for them. For example, Documents, Audio, Video Substitle (Text) and so on.

you can offer services in aspect if you understand and can speak more than one language. If you speak French, for example, there are many people looking for someone to translate French-English and other languages. These services are available on Fiverr and Upwork.
Becoming an influencer is another way to get started with your online business. If you are interested in fashion or social media, you can build a fan base and offer your services. You can offer your services as an influencer to businesses in order to help them promote their products to your audiences and on various websites.

We've recently seen a surge in the number of Tiktok influencers with large followings. You can charge companies for your services as an influencer. Businesses approach Influencers for assistance in promoting existing and new products to their target audiences.

You'll charge for this, and it's also a way for you to make money online through business and product promotion.
There are courses available that teach you how to become an influencer and grow your social media account.

You can become an influencer and promote your product or other businesses on your social media pages if you have a large number of followers.
We can't finish this list without mentioning website design and creation. You will need to learn how to create a website, just like the majority of the businesses mentioned above. You can begin creating websites and offer this service to people who want to create and own their own website but do not have the time to learn how to do so or believe it is time consuming.

You can concentrate on a specific Content Management System. This could be Wordpress, Wix, Shopify, Weebly, or another platform. Courses are required for this Skill, and there is a need to begin updating due to the frequent release of new features.

There is no need to be an expert; you can begin offering your services and continue to learn as you work with various website design tools and Plugins. Once you've learned about it, you can start from anywhere. You continue to grow and broaden your horizon as you design websites for people.
Coding is another skill you can learn to help you start an online business. We have fewer people in the coding Niche than in other Skills, but it is one of the highest paying. We don't have many people in this niche, and if you can learn to code, you can make some money on your own and start your own online business by offering your services to people and businesses in need of Coding and Developer.

During this growing period for Blockchain Technology and its ecosystem, it is an even better time to get into Coding and get your hands dirty if you can afford it. Udemy allows you to begin some Coding courses for free, and we believe this is an excellent place to begin your Coding journey. You can also look for videos on YouTube to learn how to code. Fortunately, all of the videos on YouTube are free to watch.

However, we recommend that you learn in a step-by-step manner (via courses) in order to avoid getting lost and to make the Coding niche easier to understand. You are more likely to get lost if you do not learn in order. That is why we recommend taking courses and programs that include an outline so you know what to focus on and what to expect from a video session.

Because 99 percent of YouTubers do not teach courses in a step-by-step manner, it will become confusing along the way. As a result, we prefer to learn it in a step-by-step manner in order to grasp this concept. You can broaden your knowledge after completing these step-by-step courses by watching YouTube videos.
You could try to ask yourself, "What are the advantages of online business?"
The Advantages of Online Business

a) You decide when you want to work, with whom you want to work, and when you don't want to work. Unlike in traditional business, where you are told when to resume work, who to work with, and when to take a vacation or leave the office.

This made it difficult to scale and have the freedom to think creatively. If you have ambition, you may dislike the art of having someone determine your level of growth.

b) You are your own boss, and you can decide what to do and what not to do, allowing you to expand and grow your business. There are some businesses where, as an employee, you are unlikely to advance, and no matter how hard you work, you will not receive recognition, value, or fair compensation.

c) Another advantage of working online is the ability to work at any time of day or night. You can access your business 24 hours a day, 7 days a week, from anywhere in the world. You have the freedom to choose when to take a vacation while still having access to your business at all times.

There is the possibility of managing your business from anywhere in the world with no restrictions.
If you work online, you can take a vacation while still working.

So, what do you need to start an online business?

To begin an online business, you must first have a mobile phone or a computer. You have an internet connection if you have a mobile phone or a computer. This allows you to connect to the internet and the rest of the world.

Having said that, you must be knowledgeable about the niche into which you are venturing. You must be familiar with graphic design, digital marketing, and coding if we are to proceed. You can only run these businesses if you know what you're doing.

It is critical to learn these things before diving into them. Following this knowledge, you will require little or no investment in some areas. If you are starting some online businesses like Blogging, you might need some investment to buy Domains and Hosting as the case may be. You should check some of our articles on website hosting and Domain.
What is Hosting of Website? A Complete Guide to Choose the Right Web Hosting Company

Another thing you need when getting started is to have dedication and perseverance. This is so important if you want to be able to succeed online because you will not hit thousands of bucks overnight. You must have the stamina to keep moving forward and discovering what works and what does not. Regardless of the outcome, keeping a good record of your progress will be extremely beneficial.

You should be prepared to continue growing. This is critical for online business and scaling any online business. There are many people online who provide the same service that you do, and as you progress through the journey, you will meet more people in your niche. This is why you must continue to develop yourself and have a broad understanding of your niche.
One of the things to learn is to increase your knowledge about how to close your clients and increase your sales conversion for your online businesses. What is Sales Conversion Rate? How to Improve your Conversion Rate

So, if you found this post useful, please leave a comment below, and you can also share your experience with getting started with your online business.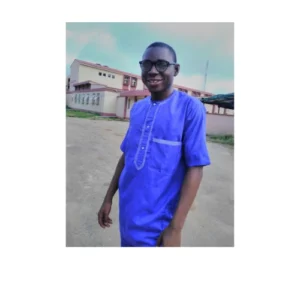 Abdulfatai is a Content Director at Olly-web, where he specializes in Search Engine Marketing (SEM) and Social Media Marketing (SMM). He has over a decade of experience working with businesses to promote their visibility through SEM, SEO, and social media. Abdulfatai believes that great content is the key to success on social media, and his goal is to help businesses grow their following by providing high-quality content that resonates. When it comes to online marketing, Abdulfatai knows how to work hands-on with clients and has a deep understanding of what works best for them.