Last Updated on October 29, 2022 by Abdulfatai A. Olamide
How Do Affiliate Marketers Get Sales?
Marketing with Influencers
Blogging
Referral Links
The use of Social Media
Email Lists
Use SEO to get more organic traffic
Websites that offer coupons
Affiliate marketing is a type of advertising in which a company pays others (such as bloggers) to promote and sell its products and services. Affiliates place ads or market products or services on their website, app, or blog.
In affiliate marketing, a company pays third-party publishers to send traffic or leads to their products and services. Affiliates are third-party publishers who are paid a commission for promoting the company's products or services.
Who doesn't want to increase their affiliate sales? However, not everyone has the necessary knowledge.
However, you don't have to be left out any longer because if you follow the techniques and hacks outlined in this guide, you should be able to increase your affiliate sales and become a pro affiliate marketer.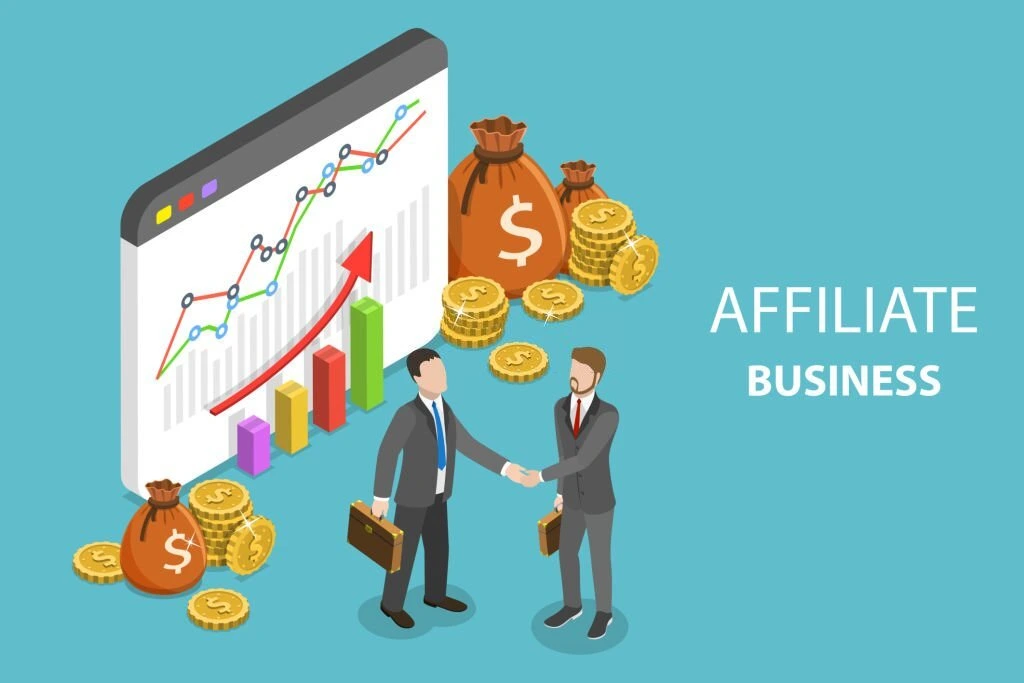 This guide will help you increase affiliate sales and money in your bank account in any niche. These methods have been tried and tested, and they don't take long to practice.
You can integrate it into your existing content and see an immediate increase in affiliate earnings.
However, affiliate marketing doesn't have to be limited to blogging. Affiliate income can be generated through microsites, email lists, and video marketing, to name a few.
Although not everyone makes a six-figure income from affiliate marketing, you can improve your site and increase your earnings by using tips and strategies. Aside from the more traditional methods of promoting affiliate marketing links, there have been some notable new developments in recent years.
1. Marketing with Influencers
Thanks to social media platforms like Facebook, Instagram, Twitter, Tiktok, and YouTube, influencers are the most visible faces of today's affiliate marketing.
Many ordinary people have become famous solely due to their influencer status and ability to create engaging content and engage with their audience.
While influencers are frequently compensated to promote products, it makes sense for them to share affiliate links with their followers in exchange for commissions.
Consider influencer marketing to promote affiliate products in your hobby if you have a significant or passionate audience.
2. Blogging
Affiliate marketing is a popular option for bloggers looking to monetize their content.
Bloggers usually focus on a single topic and promote products or services of interest to their target audience.
Examples include financial management systems, skincare, travel and tours, and personal development.
This type of affiliate program is ideal for niche businesses, and the more specific you can be, the better.
3. Referral Links
When you sign up for an affiliate platform, you'll be given a referral link that's unique to you.
When people who visit your blog, newsletter, or social media page click on the link and buy something, you get paid a commission.
This strategy is typically a good fit for businesses that regularly send out newsletters or write blogs/reviews.
However, referral links can be used in a variety of places, including:
• Reviews/Tutorials
• Resource Pages
• Some Forums, such as Quora or Reddit
• Banners and Video Content
• Blog Posts
Make sure your content is useful, and your referral links are contextual and visible, regardless of how you use referral links.
4. The use of Social Media
Advertise on Facebook and other social media sites as an affiliate marketer, but make sure your ads follow each channel's guidelines.
Affiliates with a large following or a very niche product may benefit from sharing their affiliate marketing links on Facebook or similar sites.
Facebook ads, personal pages, advertisements, and groups are all options for sharing your links.
5. Email Lists
Another popular method of distributing affiliate links to your audience is email lists.
Marketers use services such as GetResponse, AWeber, or a similar service to create email lists of their registered users. They usually offer a free training session, templates, or an ebook as an incentive for signing up.
When a subscriber clicks on an affiliate link and makes a purchase, the marketer earns money.
This affiliate link promotion is beneficial to marketers with an email list and engaged subscribers, regardless of their niche.
This method is ideal when you already have a list or want to share valuable content with your audience, like training and tips.
6. Use SEO to get more organic traffic
You'll have a better chance of selling more with your affiliates if you have more traffic on your site. If you want to make money online, you must target the right keyword and match the search intent.
You must design your website to attract your intended audience.
Ranking on search engines is accomplished by using keywords, high-quality content, and other similar methods. As a result, search engines will be able to find your website.
Even if you're new to affiliate marketing, you'll find that having more traffic makes making money with leads much easier.
7. Websites that offer coupons
Businesses with a new product or service that isn't yet well-known in the marketplace might consider reaching out to coupon sites and forming a limited-time affiliate partnership.
While you don't want to lose money by giving your product away for free, it might be a good way to get some new customers to check out your website and become brand advocates. As an affiliate marketer, this strategy will pay you a commission. You can create a coupon website for these shoppers to access various products and services at the discounted prices
Which Is the Best Affiliate Program?
You have one thing on your mind as an affiliate marketer: performance. It's worth experimenting with a few platforms to see what works best for you and your affiliate campaigns.
Here are some great affiliate marketing programs to check whether you're a beginner or a seasoned pro with some experience under your belt. Check out what offers are available on the most popular platforms to help you get the best conversions and even build a long-term income.
1. ShareASale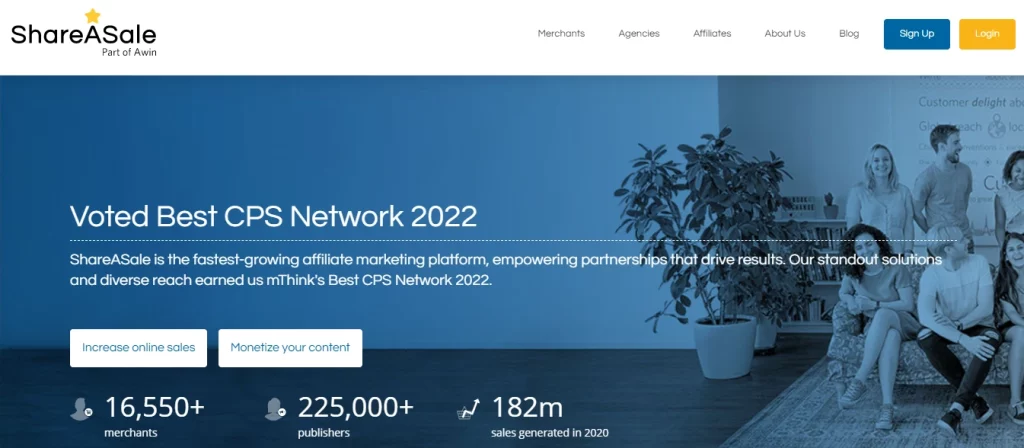 With nearly two decades of experience, ShareASale has earned a lot of trust in the affiliate industry. The network is popular among marketers and merchants because of its user-friendly interface, quick free signup, and support for affiliates with multiple websites. It offers over 40 categories of merchants to choose from, including some well-known brands.
2. ClickBank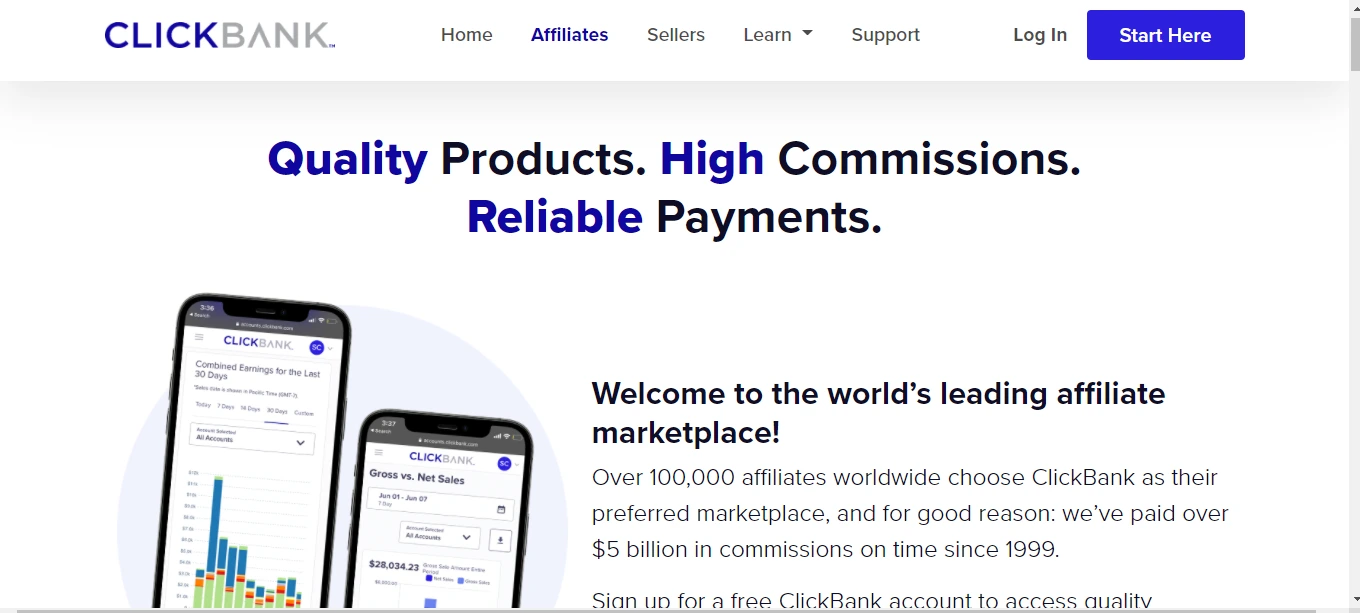 ClickBank is a popular affiliate marketing platform with 6 million digital products in more than 20 categories and a global reach of 200 million people. Furthermore, this program offers extremely high commissions, up to 75%, and ClickBank is well-known for its consistent and reliable payouts, which is a major plus. Many products are sold repeatedly, providing you with a steady stream of income and products that have up-sell options to help you increase your profits.
Clickbank has one disadvantage: some countries are not accepted. If your country is banned, you should look at the other affiliate programs on this list.
3. CJ Affiliate Program; also known as Commission Junction


With 300 brands, including many of the world's largest names, CJ Affiliate is an excellent program for more experienced marketers. The program's commissions have increased by 43 percent year over year, making it a viable choice. To get accepted, you must have a significant volume of website visits, and continuing as a publisher is subject to tight guidelines. The advanced toolbox takes a little getting accustomed to, but it contains a lot of useful tools for skilled affiliate marketers.
4. HubSpot
Commission: 15% recurring commission or 100% of the first month's revenue
90 days Cookies
The objective of HubSpot is to assist millions of businesses in becoming more successful. Thousands of businesses rely on HubSpot's award-winning CRM platform, including Marketing Hub, Sales Hub, Service Hub, CMS Hub, Operations Hub, and a strong free CRM, to manage the customer experience from awareness to advocacy.
You can choose between a 15% regular rate for up to a year as a HubSpot affiliate or a flat rate equal to 100% of the first month's revenue as a flat rate.
The monthly plans at HubSpot range from $50 to $3,000; customers frequently buy many items at once. As a result, these rewards may pile up rapidly.
When you join HubSpot's affiliate program, you receive access to a huge creative inventory, including sample videos, banners, and copy examples, all of which help you earn the highest revenue. Additionally, you can develop a one-on-one connection with the HubSpot affiliate team, which is committed to assisting you in your endeavors.
5. AWeber
Commission:30 percent recurring
Cookies last for 365 days
Since 1998, over one million businesses and entrepreneurs have used AWeber as their primary autoresponder. It's ideal for email drip campaigns and newsletters.
AWeber affiliates can make a lot of money in two ways:
• Their in-house program pays a 30% commission for life.
• Alternatively, you can earn up to $300 per account by joining through CJ Affiliate, which offers plans ranging from $20 to $150 each month. This option, however, has a 45-day cookie life rather than a year-long cookie life.
6. GetResponse
Commission: $100 per sale or 33% of recurring subscriptions.
120-day cookie lifecycle
GetResponse also provides landing pages, opt-in forms, webinar hosting, a CRM, and a variety of other marketing automation tools in addition to email marketing.
GetResponse, like AWeber, has two affiliate programs (or both!) to pick from:
• They offer a 33 percent recurring commission on their self-hosted program. The reward can be rather large, with options ranging from $15 to $1,200 each month.
• Every transaction you refer through CJ Affiliate earns you $135. However, instead of the 120 days available in the in-house program, the cookie life is just 30 days.
7. Systeme.io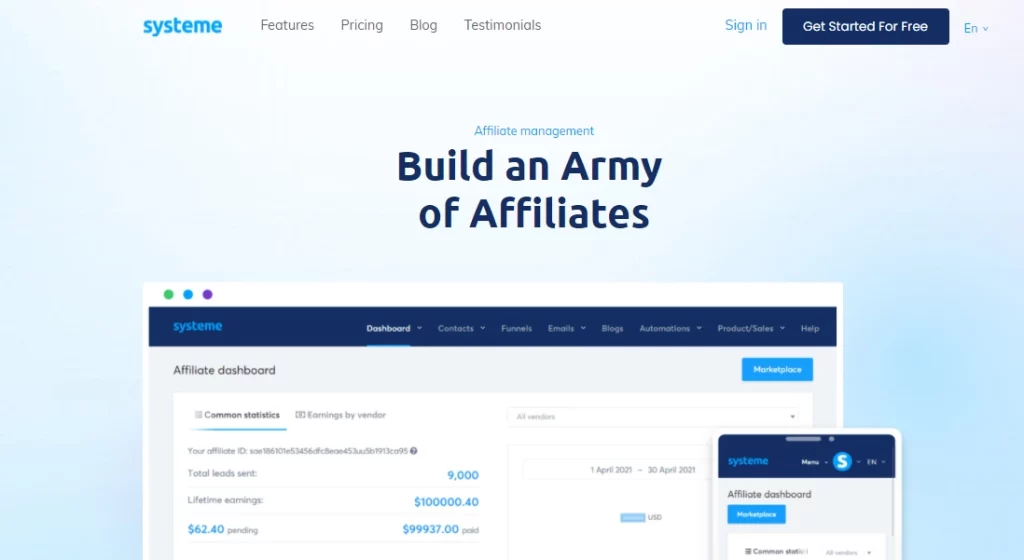 Commission: 40% recurring
180 days in the cookie
Systeme.io is a straightforward marketing platform that includes everything you'll need to start, grow, and scale your online business. Systeme.io has over 200,000 customers who use it to create sales funnels, send unlimited emails, administer online courses and blogs, run affiliate programs, build websites, and automate nearly every marketing element.
Systeme.io's price plans range from $27 per month to $828 per year. They feature a variety of lead magnets and online courses to help affiliates attract the most leads to their funnels and their wide pricing tiers. Affiliate marketers can use all six pricing options and onboarding materials to convert new customers.
Systeme.io affiliates receive a 40% lifetime commission on all subscriptions and course sales. Additionally, if their referrals effectively promote the platform, they will receive a 5% second-tier reward. With a monthly payout of over $100,000 to its affiliates and over $2,000,000 in total affiliate commissions received thus far, this affiliate program has the potential to earn money.
8. Bluehost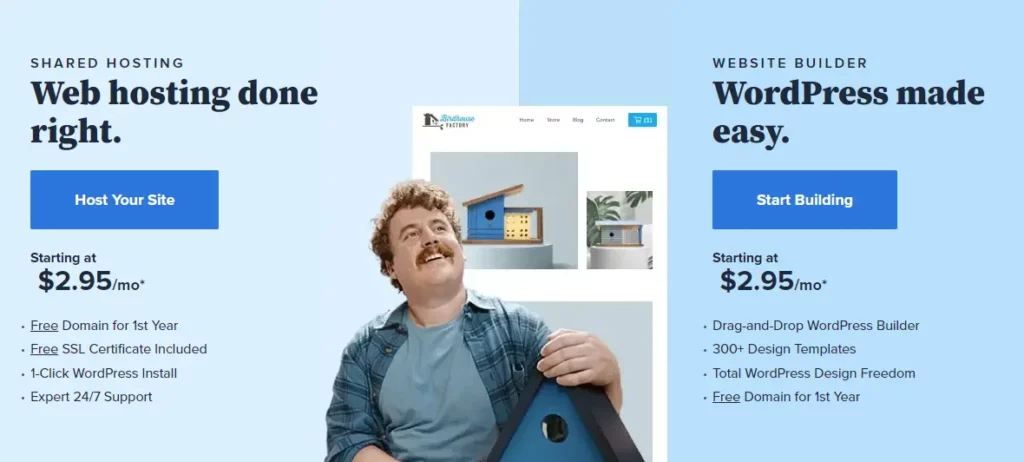 Commission: $65 per sale
45 days in the cookie
Bluehost, a web hosting platform that hosts over 2 million websites, has a fantastic affiliate program for any business or entrepreneur trying to make money off their blog or website. You can earn anywhere between $65 and $130 per sale generated from your website if you promote Bluehost's products or services on your blog or website (either through custom banners or links).
The best part is that joining their affiliate program is completely free, and Bluehost provides accurate tracking to ensure that you are credited for each lead you generate. In addition, Bluehost employs affiliate managers who can provide help and tailored recommendations.
9. Hostgator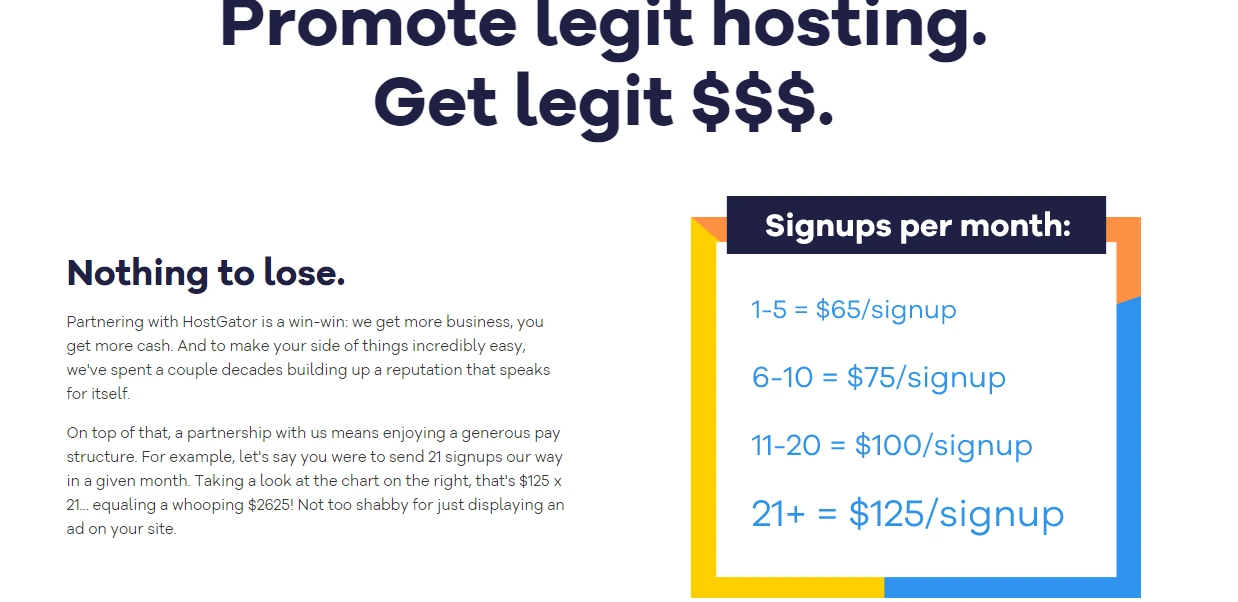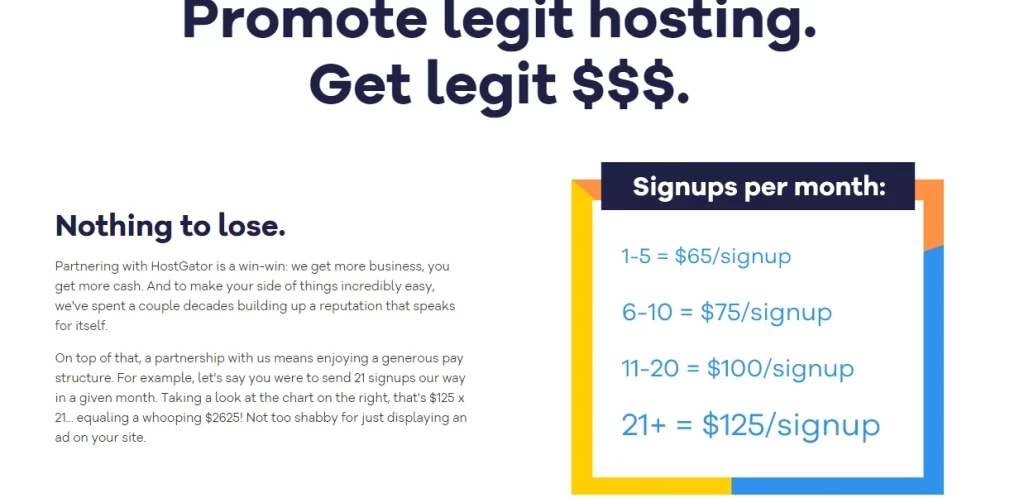 Hostgator's commission ranges from $65 to $125 for every new signup.
60 days in the cookie
Hostgator is a low-cost web hosting and development platform for startups and eCommerce enterprises on a tight budget – a basic plan is only $3.84 per month.
It's free to sign up as a Hostgator affiliate, and their tiered payments are generous: you can earn $65 per signup if you offer Hostgator 1-5 signups every month and up to $125 per signup if you provide Hostgator with more than 21 signups. You can design a personalized coupon code or put tracking links on your website. It's risk-free for your website visitors to try out Hostgator because they offer a 45-day money-back guarantee.
10. Amazon Associates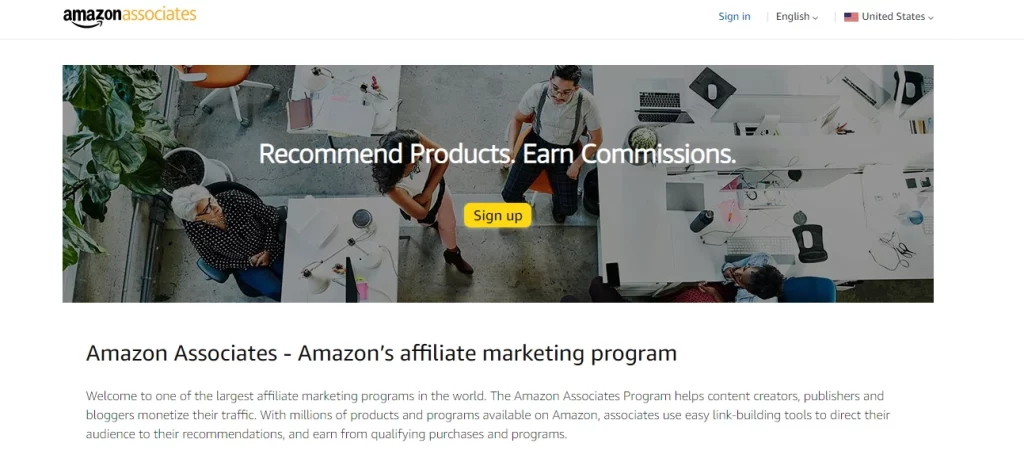 Commissions from Amazon Associates range from 1 to 10%. (depending on the product category)
24 hours of cookie life
If you're trying to buy something or anything, you'll likely discover it on Amazon, one of the most prominent online buying platforms.
Depending on the product's category, Amazon Associates receive commissions ranging from 1% to 10%. Clothing and high-end beauty goods are the most valued commodities to promote, as both can result in a 10% discount.
One of the biggest benefits of Amazon affiliate marketing is that consumers are already familiar with the company and enjoy shopping there, so it's not a hard sell. Conversion rates are extremely high at the company, particularly around the holidays. And, because of the wide range of products available, it is appropriate for a wide range of industries.
You can, for example, market cat snacks or dog toys if you write about animals. You can suggest jumper cables if your audience is interested in cars – you get the point.
Furthermore, if someone visits Amazon from your link and purchases something other than your content recommends, you will receive a commission on the full basket.
The only drawback is that certain categories, such as video games and electronics, have low commissions.
Amazon's new Influencer Program, an extension of the Associate's program for social media influencers, was just launched for businesses with a substantial following. You get the same rewards as the online Associate's program, plus you get your own Amazon page with a unique URL to highlight the things you recommend to your followers.
To be considered, you must currently have a YouTube, Instagram, Twitter, or Facebook account. Amazon looks at how many followers you have on social media and other engagement indicators to see if you're eligible for the program.
Amazon is a tremendous place to start if you're just getting started with affiliate marketing. Most of the sales process is handled by Amazon, which warms up your prospects for you. It's your responsibility to introduce new customers to the Amazon website from outside sources. You can pitch millions of things, and more are introduced every day. It's an excellent approach to earning money without having a solid foundation in affiliate marketing.
How Do I Promote Affiliate Links?
If you've read this far, you're probably aware that you have various options for promoting your affiliate links. Go back and read the article from the beginning if you missed that piece.
In conclusion, selecting the appropriate affiliate items to advertise is critical to your success. Choosing the correct promotional methods, on the other hand, is important. We've discussed the many types of affiliate partners and the various traffic sources available to everyone.
Here's what you should do if you're a blogger looking to monetize your site using affiliate links:
• Include affiliate links in product reviews and tutorials.
• Include affiliate links on your resources page.
• Embed affiliate links into your video content
• Promote affiliate links on social media and forums
• Link to your affiliate offers directly on other article-oriented websites
• Include affiliate links to your profile and frequently post on social media (Do not Spam).
To do so, you'll require shortenings of the URL.
Is Affiliate Marketing Worth It
Affiliate marketing is only worthwhile if you find the correct product to sell to your target market. While it's best to pick a niche that you're passionate about, it's equally crucial to consider the demand for items in that area.
Affiliate marketing is worthwhile since it can provide immediate results and monetary benefits. Rather than spending weeks or months inventing and producing your items, you can achieve your financial goals by sending an email, starting a conversation in a Facebook group, uploading a video to YouTube, Facebook, or Instagram, or writing a blog post, among other things.
You sit back and wait for the sale announcements to arrive in your inbox after your promotions are finished and planned.
After explaining how to make affiliate marketing worthwhile, it should be evident that it is not for everyone. You must be willing to devote sufficient time to complete all of the prerequisites. You can monetize your efforts through affiliate marketing. However, if you want to make quick money, you should avoid it entirely. Choose affiliate programs that give steady recurring income to maximize your overall profits.
A tiny percentage of affiliate partners drives most sales in most programs. You'll need a long-term plan you can stick to if you want to be one of them.
Conclusion
Affiliate marketing, on the other hand, isn't confined to blogging. Microsites, email lists, and video marketing, to mention a few, can all be used to generate affiliate revenue.
With greater traffic on your site, you'll better sell more to your audiences. If you want to generate money online, you need to find suitable people that enjoy the niche.
Whether you're a beginner just getting started or a seasoned pro with some experience, we have gone over some interesting affiliate marketing programs.
On the other hand, picking the right promotional strategies is critical. We've talked about the various types of affiliate partners and the various traffic sources available to everyone.
Do you have another way you use to get affiliate sales? You can share it in the comment section. Please share this with friends who have shown interest in affiliate marketing and find it hard to get their first or consistent sales.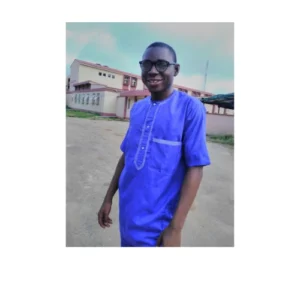 Abdulfatai is a Content Director at Olly-web, where he specializes in Search Engine Marketing (SEM) and Social Media Marketing (SMM). He has over a decade of experience working with businesses to promote their visibility through SEM, SEO, and social media. Abdulfatai believes that great content is the key to success on social media, and his goal is to help businesses grow their following by providing high-quality content that resonates. When it comes to online marketing, Abdulfatai knows how to work hands-on with clients and has a deep understanding of what works best for them.