Last Updated on July 23, 2023 by Abdulfatai A. Olamide
Hey there, hustlers! Are you tired of the same old 9-to-5 grind? Well, I've got some exciting news for you. It's time to dive into the world of dropshipping and start making some serious moolah! Now, I know what you're thinking – "What the heck is dropshipping?" Don't worry, my friend, I've got your back. In this article, we're going to break it down for you in the simplest terms possible. We'll show you how to kickstart your own online business, without the hassle of stocking inventory or dealing with shipping headaches. So, grab a cup of joe, sit back, and get ready to learn how to turn your passion into profit with dropshipping. Let's get this money-making party started!
Finding a Profitable Niche
Alright, let's talk about finding a profitable niche. Now, when it comes to starting a business or launching a new product, finding the right niche is crucial. You want to find a market that is not only profitable but also has a demand for what you're offering. So, how do you go about finding that sweet spot?
First things first, you need to do your research. Look at the current market trends and identify any gaps or underserved areas. This could be a specific demographic that is not being targeted or a product that is in high demand but has limited options available. By identifying these gaps, you can position yourself as the go-to solution and tap into a profitable niche.
Next, consider your own interests and expertise. It's important to choose a niche that you are passionate about and have knowledge in. This will not only make the process more enjoyable for you but also give you a competitive edge. When you have a deep understanding of the niche, you can better cater to the needs of your target audience and provide them with valuable solutions.
Lastly, don't be afraid to think outside the box. Sometimes, the most profitable niches are the ones that are not obvious at first glance. Look for emerging trends or untapped markets that have the potential for growth. By being innovative and willing to take risks, you can carve out a profitable niche that sets you apart from the competition.
So, to sum it up, finding a profitable niche requires thorough research, a passion for the subject, and a willingness to think outside the box. By following these steps, you can identify a niche that not only aligns with your interests but also has the potential for long-term profitability. So go ahead, dive into the world of niche hunting and find your own little corner of success!
Researching and Selecting Suppliers
When it comes to researching and selecting suppliers, it's all about finding the perfect match for your needs. You want to make sure you're working with reliable and trustworthy partners who can deliver the goods and services you require. It's like finding the right dance partner – you need someone who can keep up with your moves and won't step on your toes.
First things first, you gotta do your homework. Research is key, my friend. You need to dig deep and find out everything you can about potential suppliers. Check out their websites, read reviews, and ask around. You want to know if they have a good reputation, if they've got the experience, and if they can handle the volume you need. It's like checking out someone's social media before you go on a date – you want to make sure they're not a total disaster.
Once you've done your research, it's time to narrow down your options. Make a list of the top contenders and start comparing them. Look at their prices, their quality, and their delivery times. You want to find the sweet spot where you're getting the best bang for your buck. It's like shopping for a new pair of kicks – you want something that looks good, feels good, and won't break the bank.
Finally, it's time to make your selection. Trust your gut, my friend. If something feels off, don't ignore it. You want to work with suppliers who you can trust and who will have your back. It's like choosing a squad for a basketball game – you want teammates who will hustle, play fair, and help you win. So take your time, do your research, and choose wisely. Your business depends on it.
Setting Up an Ecommerce Website
So, you want to set up an ecommerce website, huh? Well, buckle up, my friend, because I'm about to take you on a wild ride through the ins and outs of this online business venture. Trust me, it's not as daunting as it may seem at first. With a little bit of know-how and a whole lot of determination, you'll have your very own virtual storefront up and running in no time.
First things first, let's talk about the foundation of your ecommerce website: the platform. Now, there are plenty of options out there, but I'm gonna let you in on a little secret – Shopify. This bad boy is like the holy grail of ecommerce platforms. It's user-friendly, customizable, and has all the bells and whistles you need to create a killer online store. Plus, it's got a ton of apps and integrations to help you streamline your business operations. So, do yourself a favor and check out Shopify – you won't regret it.
Once you've got your platform sorted, it's time to start building your website. Now, I know what you're thinking – "I'm not a tech wizard, how the heck am I supposed to do this?" Well, fear not, my friend, because there are plenty of website builders out there that make the process a breeze. Wix, Squarespace, and Weebly are just a few examples of these user-friendly platforms. They offer drag-and-drop functionality, pre-designed templates, and all the tools you need to create a visually stunning and functional website. So, even if you're a total newbie, you'll be able to whip up a professional-looking site in no time.
Alright, now that you've got your platform and website builder sorted, it's time to start adding some pizzazz to your ecommerce website. And by pizzazz, I mean products, my friend. You need to decide what you're gonna sell and how you're gonna present it to your customers. Are you gonna focus on a specific niche or offer a wide range of products? Are you gonna have high-quality product photos or maybe even videos? These are all things you need to consider when setting up your online store. Remember, the more enticing and visually appealing your products are, the more likely people are gonna whip out their wallets and make a purchase.
So, there you have it – a crash course in setting up an ecommerce website. From choosing the right platform to building a killer website and showcasing your products, you've got all the tools you need to get started. Now, go forth and conquer the online business world, my friend. Good luck!
Optimizing Product Listings
When it comes to optimizing product listings, there's a whole lot more to it than just slapping a few words on a page and calling it a day. You've gotta dive deep into the world of SEO, keywords, and consumer psychology to really make those listings shine. So let's break it down and get into the nitty-gritty of how to make your product listings stand out from the crowd.
First things first, you gotta do your research. And I'm not just talking about a quick Google search here. You need to dig deep and find out what keywords your target audience is using when they're searching for products like yours. This is where SEO comes into play. You wanna make sure you're using those keywords strategically throughout your product listing, from the title to the description and even in the bullet points. But don't go overboard and stuff your listing with keywords just for the sake of it. You gotta find that sweet spot where the keywords flow naturally and make sense to the reader.
Next up, let's talk about the power of persuasion. When someone is browsing through product listings, they're not just looking for a description of the product. They wanna be convinced that this is the product they need in their life. So you gotta tap into their emotions and show them why your product is the best damn thing since sliced bread. Use descriptive language that paints a picture in their mind. Talk about the benefits and how it will improve their life. And don't forget to include social proof, like customer reviews or testimonials, to build trust and credibility.
Lastly, let's not forget about the importance of visuals. A picture is worth a thousand words, right? So make sure you're using high-quality images that showcase your product in the best possible light. Use different angles, close-ups, and even lifestyle shots to give potential customers a real sense of what they're getting. And don't skimp on the details either. Include images that show the product's features and any additional accessories or variations available. Remember, you want to make it as easy as possible for someone to imagine themselves using your product.
So there you have it, my friend. Optimizing product listings is all about doing your research, tapping into the power of persuasion, and making sure your visuals are on point. Now go out there and make those listings shine like a diamond in the rough!
Implementing Effective Marketing Strategies
Alright, let's dive into the world of marketing strategies! When it comes to implementing effective marketing strategies, there are a few key things to keep in mind. First and foremost, it's important to have a clear understanding of your target audience. Who are they? What are their needs and desires? By truly understanding your audience, you can tailor your marketing efforts to resonate with them on a deeper level.
Once you have a solid understanding of your target audience, it's time to get creative and think outside the box. In today's fast-paced and ever-evolving world, it's crucial to stand out from the crowd. Think about unique ways to capture your audience's attention and leave a lasting impression. This could be through captivating visuals, engaging storytelling, or even interactive experiences. The key is to find a way to connect with your audience in a way that feels authentic and memorable.
Now, let's talk about the importance of consistency. Consistency is key when it comes to implementing effective marketing strategies. Your brand should have a cohesive look and feel across all platforms and touchpoints. From your website to your social media channels, everything should align with your brand's values and messaging. This not only helps to build trust and credibility with your audience but also ensures that your brand is easily recognizable and memorable.
To summarize, implementing effective marketing strategies requires a deep understanding of your target audience, creativity to stand out from the crowd, and consistency in your brand messaging. By keeping these key elements in mind, you'll be well on your way to creating impactful marketing campaigns that resonate with your audience and drive results. So go ahead, get creative, and let your marketing strategies shine!
Managing Inventory and Fulfillment
Managing Inventory and Fulfillment is a crucial aspect of running a successful business. It involves keeping track of your stock, ensuring you have enough products to meet customer demand, and efficiently delivering those products to your customers. Let's dive deeper into this topic and explore the key steps involved in managing inventory and fulfillment.
Firstly, it's important to have a clear understanding of your inventory levels. This means regularly monitoring your stock and keeping track of what you have on hand. By implementing an inventory management system, you can easily track your products, their quantities, and their locations. This will help you avoid stockouts and ensure you always have enough inventory to fulfill customer orders.
Once you have a handle on your inventory, the next step is to optimize your fulfillment process. This involves streamlining the steps from receiving an order to delivering it to the customer's doorstep. One way to do this is by implementing a warehouse management system that can automate tasks such as picking, packing, and shipping. By reducing manual labor and increasing efficiency, you can fulfill orders faster and improve customer satisfaction.
Lastly, it's crucial to have a reliable fulfillment partner or shipping carrier. This is especially important if you're selling products online and need to ship them to customers across different locations. Research different shipping options and choose a partner that offers competitive rates, reliable delivery times, and excellent customer service. By partnering with the right fulfillment provider, you can ensure that your products reach your customers in a timely manner and in good condition.
In conclusion, managing inventory and fulfillment is a multi-step process that requires careful monitoring of stock levels, optimization of the fulfillment process, and partnering with reliable shipping carriers. By implementing effective inventory management systems, streamlining your fulfillment process, and choosing the right partners, you can ensure that your business runs smoothly and your customers receive their orders on time.
Providing Excellent Customer Service
When it comes to providing excellent customer service, it's all about going above and beyond to make sure your customers feel valued and satisfied. It's not just about answering their questions or resolving their issues; it's about creating a memorable experience that leaves them wanting to come back for more. So, how can you achieve this level of service? Let's dive in and explore three key strategies.
First and foremost, it's crucial to listen actively to your customers. This means giving them your undivided attention, whether it's in person, over the phone, or through online channels. Take the time to understand their needs, concerns, and preferences. By doing so, you can tailor your approach and provide personalized solutions that truly address their specific situation. Remember, every customer is unique, and treating them as such will make a world of difference.
Secondly, empathy is a game-changer in customer service. Put yourself in your customers' shoes and try to understand their emotions and frustrations. Show genuine care and concern, and let them know that you're there to support them. Empathy can be conveyed through both verbal and non-verbal cues, such as using a soothing tone of voice, offering reassurance, or even a simple smile. By showing empathy, you build trust and rapport, which are essential for creating a positive customer experience.
Lastly, always strive to exceed expectations. Surprise and delight your customers by going the extra mile. This could be as simple as offering a personalized recommendation, providing a small token of appreciation, or even remembering their preferences for future interactions. By exceeding expectations, you not only leave a lasting impression but also foster loyalty and advocacy. Your customers will become your biggest promoters, spreading the word about your exceptional service to others.
In conclusion, providing excellent customer service is about actively listening, showing empathy, and exceeding expectations. By implementing these strategies, you can create a customer experience that stands out from the crowd. Remember, it's not just about the transaction; it's about building relationships and making your customers feel valued. So, go ahead and take your customer service to the next level – your customers will thank you for it!
Analyzing and Adjusting Pricing Strategies
Alright, let's dive into the world of pricing strategies! Now, when it comes to analyzing and adjusting pricing strategies, we're talking about taking a deep dive into the numbers and making some smart moves to maximize profits. It's like being a detective, but instead of solving crimes, you're solving the mystery of how to make more money.
First things first, let's talk about analyzing pricing strategies. This is where you roll up your sleeves and get down to the nitty-gritty of your business. You want to take a close look at your costs, your competitors' prices, and most importantly, your customers' willingness to pay. It's all about finding that sweet spot where you can charge a price that's fair to both you and your customers.
Now, adjusting pricing strategies is where the real fun begins. This is where you get to put your detective skills to the test and make some strategic moves. Maybe you've noticed that your competitors are charging way too much for a similar product, so you decide to lower your prices to attract more customers. Or perhaps you've discovered that your costs have gone up, so you need to increase your prices to maintain your profit margins. It's all about finding the right balance and making those adjustments that will keep your business thriving.
So, my friend, analyzing and adjusting pricing strategies is like a dance. You need to be nimble, adaptable, and always ready to make a move. It's about understanding your business inside and out, and using that knowledge to make smart decisions. So, grab your detective hat and get ready to crack the case of the perfect pricing strategy!
Expanding Product Range and Scaling the Business
So, let's talk about expanding your product range and scaling your business. This is a big step, my friend, and it's all about taking your business to the next level. You've got a great product, and now it's time to spread your wings and offer even more to your customers.
First things first, let's dive into expanding your product range. This is where you get to flex your creative muscles and think about what else you can bring to the table. Take a look at your current offerings and think about what complements them. Is there a natural extension to your product line that would make sense for your brand? Maybe it's a different flavor, a new size, or even a completely different product that aligns with your target audience's needs and desires.
Once you've identified some potential new products, it's time to do some market research. Talk to your customers, conduct surveys, and analyze trends in your industry. This will give you valuable insights into what your customers are looking for and help you make informed decisions about which products to add to your range.
Now, let's talk about scaling your business. This is all about taking what you've built and making it bigger and better. It's like leveling up in a video game – you're expanding your reach, increasing your sales, and growing your team.
To scale your business, you need to have a solid foundation in place. This means having efficient processes, a strong team, and the right technology to support your growth. You'll also need to think about your marketing and sales strategies. How can you reach more customers and increase your sales? Are there any partnerships or collaborations that could help you expand your reach?
Scaling your business also requires careful planning and financial management. You'll need to think about how much money you'll need to invest in your expansion, whether that's hiring new employees, upgrading your equipment, or increasing your marketing budget. It's important to have a clear plan in place and to regularly review your progress to ensure you're on track.
So, my friend, expanding your product range and scaling your business is an exciting journey. It's all about taking calculated risks, being open to new opportunities, and staying true to your brand. With the right strategy and a lot of hard work, you'll be well on your way to achieving your goals and taking your business to new heights.
Staying Updated with Industry Trends and Best Practices
So, you wanna stay in the loop and be on top of your game, huh? Well, my friend, you've come to the right place. In this fast-paced world we live in, it's crucial to stay updated with industry trends and best practices. Trust me, you don't wanna be left in the dust while everyone else is zooming ahead.
First things first, let's talk about industry trends. These are like the waves of the ocean, constantly changing and evolving. To stay ahead, you gotta ride those waves, my friend. Keep your eyes peeled for any new technologies, emerging markets, or innovative strategies that are making waves in your industry. It's like being a detective, always on the lookout for clues and hints about what's coming next. And when you spot a trend, don't just sit there twiddling your thumbs. Dive right in, learn all you can about it, and figure out how you can apply it to your own work. That's how you stay ahead of the game, my friend.
Now, let's talk about best practices. These are like the secret recipes of success. They're tried and tested methods that have been proven to work. So, why reinvent the wheel when you can just follow the recipe, right? Best practices can be found in all aspects of your industry, from marketing strategies to project management techniques. The key is to keep an open mind and be willing to learn from others. Don't be afraid to ask questions, attend workshops, or join online communities where you can connect with like-minded professionals. By staying connected and learning from others, you'll be able to adopt the best practices that will take your work to the next level.
Lastly, let's talk about the importance of staying updated. In this ever-changing world, what worked yesterday might not work today. Technology is advancing at lightning speed, markets are shifting, and consumer preferences are constantly evolving. If you want to stay relevant and competitive, you gotta keep up with the times, my friend. By staying updated with industry trends and best practices, you'll be able to adapt to changes, seize new opportunities, and stay ahead of the curve. It's like having a superpower, my friend. So, don't be a dinosaur stuck in the past. Embrace the power of knowledge and stay updated. Trust me, your future self will thank you for it.
Another post you might find useful is, How To Start Making Money With 100 Dollars.
I've also written about How To Start Making Money With 1000 Dollars, so feel free to check that out, or bookmark it for later!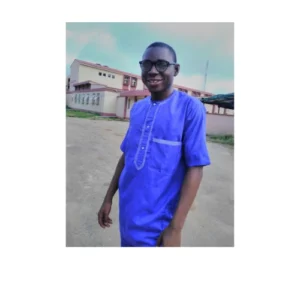 Abdulfatai is a Content Director at Olly-web, where he specializes in Search Engine Marketing (SEM) and Social Media Marketing (SMM). He has over a decade of experience working with businesses to promote their visibility through SEM, SEO, and social media. Abdulfatai believes that great content is the key to success on social media, and his goal is to help businesses grow their following by providing high-quality content that resonates. When it comes to online marketing, Abdulfatai knows how to work hands-on with clients and has a deep understanding of what works best for them.