Last Updated on August 29, 2023 by Abdulfatai A. Olamide
Hey there, fellow hustlers! Are you ready to dive into the exciting world of making money from a website? Well, you've come to the right place because today we're going to take you on a wild ride through the complete guide on how to turn your website into a cash-generating machine. Now, I know what you're thinking – "Is this even possible? Can I really make money from my own little corner of the internet?" The answer, my friend, is a resounding YES! And we're about to show you exactly how to do it. So buckle up, grab a cup of joe, and get ready to unlock the secrets of website monetization like a boss!
Website Monetization
So, let's talk about website monetization, my friend. This is all about making some serious cash from your website, turning it into a money-making machine. You see, having a website is great and all, but if you're not making any money from it, what's the point, right? That's where website monetization comes in, helping you turn your online presence into a profitable venture.
Now, there are a few different ways you can go about monetizing your website. One popular option is through display advertising. You know those ads you see on websites? Well, you can get a piece of that action by partnering with ad networks like Google AdSense. They'll place ads on your site, and every time someone clicks on one, you get a little moolah. It's like having your own personal billboard, but on the internet.
Another way to monetize your website is through affiliate marketing. This is when you promote other people's products or services on your site, and if someone makes a purchase through your unique affiliate link, you earn a commission. It's like being a virtual salesperson, but without the pushy tactics. You can choose products or services that align with your website's niche, making it a win-win for both you and your audience.
Lastly, you can also consider creating and selling your own products or services. This could be anything from e-books and online courses to physical merchandise or consulting services. By leveraging your expertise and the trust you've built with your audience, you can create something valuable that people are willing to pay for. It's like turning your website into a one-stop shop for all things awesome.
So, my friend, website monetization is all about turning your website into a money-making machine. Whether it's through display advertising, affiliate marketing, or selling your own products, there are plenty of ways to make some serious cash. Just remember, it takes time, effort, and a little bit of trial and error to find what works best for you. But once you do, the sky's the limit. So, get out there and start monetizing that website of yours!
Different Ways to Make Money from a Website
So, you wanna know how to make some cash from your website, huh? Well, you've come to the right place, my friend! There are actually a bunch of different ways you can turn that little corner of the internet into a money-making machine. Let me break it down for you.
First up, we've got good old-fashioned advertising. You know those annoying little banners and pop-ups that seem to follow you around the web? Well, they can actually be a goldmine for website owners. You can sign up with an ad network like Google AdSense and they'll place ads on your site. Every time someone clicks on one of those ads, cha-ching! You get a little slice of the advertising pie. Just make sure the ads are relevant to your audience, or else they'll bounce faster than a kangaroo on a trampoline.
Next, we've got affiliate marketing. This is where you team up with a company and promote their products or services on your website. You'll get a special link that tracks any sales made through your site, and you'll earn a commission for each one. It's like being a virtual salesperson, but without the pushy tactics. Just make sure you're promoting stuff that you actually believe in, otherwise your readers will see right through you.
And finally, we've got the holy grail of website monetization: creating your own products or services. This could be anything from an e-book to an online course to a subscription box of artisanal pickles (hey, don't knock it 'til you've tried it). The beauty of this method is that you have complete control over your profits. Plus, you can really showcase your expertise and build a loyal following. Just be prepared to put in some serious hustle to get your product out there and make those sales.
So there you have it, my friend. Three different ways to make some moolah from your website. Whether you choose advertising, affiliate marketing, or creating your own products, just remember to stay true to yourself and your audience. Oh, and don't forget to have fun along the way!
Advertising Revenue
Advertising revenue is the moolah that businesses rake in from their ads. It's like the cash cow of the marketing world, bringing in the big bucks for companies. You know those annoying pop-up ads that invade your screen when you're trying to watch a video or read an article? Well, those pesky little things are actually a major source of revenue for websites and apps.
Let's break it down. When a company wants to promote their product or service, they pay to have their ads displayed on various platforms. These platforms could be websites, social media platforms, or even mobile apps. The more eyeballs that see the ad, the more the company has to pay. So, if you're scrolling through your favorite social media app and you see an ad for a new pair of sneakers, just know that the company behind those kicks is shelling out some serious dough to get their ad in front of your eyes.
But it's not just about the number of people who see the ad, it's also about the actions they take after seeing it. This is where things get interesting. Companies track the effectiveness of their ads by measuring how many people click on them or make a purchase after seeing them. This data helps them determine if their advertising strategy is working or if they need to make some tweaks. So, the next time you find yourself clicking on an ad and buying something, just know that you're contributing to the advertising revenue of that company.
Affiliate Marketing
Affiliate Marketing: The Secret Sauce to Earning Cash While You Chillax
Alright, my friend, let me break it down for you. Affiliate marketing is like having your own personal money-making machine that runs on autopilot. It's all about promoting other people's products or services and getting a sweet commission every time someone makes a purchase through your unique affiliate link. And the best part? You don't have to worry about creating your own product, dealing with customer service, or shipping out orders. It's like being the middleman, but in the coolest way possible.
So, how does it work? Well, let's say you're a fitness enthusiast and you stumble upon this awesome protein powder that gives you Hulk-like gains. You sign up as an affiliate for the company that sells it, and they give you a special link that tracks all the sales you generate. Now, you start spreading the word about this magical powder on your blog, social media, or even through good old-fashioned word of mouth. Every time someone clicks on your link and buys the protein powder, cha-ching! You earn a percentage of the sale. It's like getting paid for being a smooth talker and sharing your favorite things with the world.
But here's the real beauty of affiliate marketing: you can do it from anywhere, at any time. Picture this: you're sipping on a piña colada on a tropical beach, feeling the warm sand between your toes. Meanwhile, your affiliate links are working their magic, generating passive income while you soak up the sun. It's like having a money-making side hustle that doesn't require you to be tied down to a desk or a 9-to-5 job. You have the freedom to choose the products you want to promote, the platforms you want to use, and the schedule that suits your lifestyle. It's the ultimate digital nomad dream come true.
So, my friend, if you're looking for a way to make some extra cash without the hassle of creating your own product or dealing with the nitty-gritty of running a business, affiliate marketing is your golden ticket. It's a low-risk, high-reward game that allows you to earn money while doing what you love and living life on your own terms. So why not give it a shot? Who knows, you might just become the next affiliate marketing superstar, raking in the dough while you chillax like a boss.
Sponsored Content
Let's talk about sponsored content, my friend. You know, those sneaky little articles or videos that pop up on your favorite websites, disguised as genuine content but actually paid for by a company or brand. It's like a wolf in sheep's clothing, trying to sell you something without you even realizing it. But hey, don't be too quick to dismiss it. Sponsored content can actually be pretty useful if you know how to navigate through the sea of advertisements.
First things first, let's understand why companies invest in sponsored content. It's all about getting their brand out there, reaching a wider audience, and ultimately, making more sales. Traditional advertising methods like banner ads or TV commercials can be easily ignored or skipped, but sponsored content blends seamlessly with the website's regular content, making it harder to ignore. It's like a stealthy ninja, sneaking into your consciousness without you even realizing it.
Now, you might be wondering, how can you spot sponsored content? Well, my friend, it's not always easy. Sometimes, it's clearly labeled as "sponsored" or "advertisement," but other times, it's not so obvious. You'll have to keep your detective hat on and look for subtle clues. Maybe the article is overly positive about a certain product or brand, or maybe it includes a link to buy that product. These are all signs that you might be dealing with sponsored content.
So, how do you navigate through this tricky world of sponsored content? Well, the key is to approach it with a critical eye. Don't just blindly trust everything you read or watch. Take a moment to think about the source and the motives behind the content. Is it genuinely helpful and informative, or is it just trying to sell you something? Look for multiple sources and different perspectives to get a well-rounded view. And most importantly, trust your gut. If something feels too good to be true, it probably is.
In conclusion, sponsored content is like a double-edged sword. On one hand, it can provide valuable information and entertainment. On the other hand, it can be a sneaky way for companies to push their products onto unsuspecting consumers. The key is to be aware, stay skeptical, and always question the motives behind the content. So next time you come across a sponsored article or video, take a moment to pause and think before diving in. Your wallet will thank you.
Selling Products or Services
So, let's talk about selling products or services. It's a pretty broad topic, but I'll do my best to dive into it and give you some juicy details. Selling is all about convincing people that what you have to offer is worth their time and money. Whether you're selling a physical product or a service, the goal is the same: to make a sale and satisfy your customers.
First things first, you need to know your audience. Who are you selling to? What are their needs and desires? Understanding your target market is crucial because it allows you to tailor your sales pitch to their specific wants and needs. For example, if you're selling a fitness app, you'll want to focus on the benefits of staying healthy and fit, rather than the technical details of the app itself. Knowing your audience helps you speak their language and connect with them on a deeper level.
Next, you need to create a compelling offer. What sets your product or service apart from the competition? What value does it bring to the table? Highlighting the unique features and benefits of what you're selling is key to capturing your audience's attention. Maybe your product is eco-friendly, or your service offers a money-back guarantee. Whatever it is, make sure to emphasize it in your sales pitch.
Finally, you need to close the deal. This is where your persuasion skills come into play. You want to create a sense of urgency and make your audience feel like they need to act now. Offering limited-time discounts or bonuses can help push them over the edge and make the purchase. And don't forget to provide excellent customer service even after the sale is made. Building a strong relationship with your customers will not only lead to repeat business but also positive word-of-mouth referrals.
So, there you have it. Selling products or services is all about knowing your audience, creating a compelling offer, and closing the deal. It's a delicate dance of persuasion and customer satisfaction. But with the right approach, you can turn potential customers into loyal fans. Good luck!
Membership or Subscription Fees
Membership or Subscription Fees: The Gateway to Exclusive Perks and Endless Possibilities
Alright, let's talk about membership or subscription fees. Now, I know what you're thinking – why should I shell out my hard-earned cash for something that's supposed to be free? Well, my friend, let me tell you, these fees can be the gateway to a whole world of exclusive perks and endless possibilities.
Think about it this way: when you become a member or subscribe to a service, you're not just paying for access, you're investing in an experience. Whether it's a gym membership, a streaming service, or even a magazine subscription, these fees open up a whole new world of opportunities. You gain access to top-notch facilities, a vast library of content, or a wealth of knowledge that can enrich your life in ways you never imagined.
Let's take a gym membership, for example. Yeah, you could work out at home or go for a jog in the park, but with a membership, you get access to state-of-the-art equipment, expert trainers, and a community of like-minded individuals who can motivate and inspire you. It's not just about getting fit, it's about immersing yourself in an environment that encourages personal growth and self-improvement.
Now, let's talk about streaming services. Sure, you can watch a few shows here and there for free, but with a subscription, you unlock a treasure trove of entertainment. From binge-worthy TV series to blockbuster movies, you have a world of content at your fingertips. Plus, many services offer exclusive originals that you won't find anywhere else. It's like having a VIP pass to the hottest shows in town.
So, my friend, don't dismiss membership or subscription fees as just another expense. See them as an investment in yourself, your interests, and your passions. They can open doors you never knew existed and provide you with experiences that will enrich your life. So go ahead, take the plunge, and unlock a world of exclusive perks and endless possibilities.
Donations or Crowdfunding
Alright, let's talk about donations or crowdfunding. Now, when it comes to raising funds for a cause or project, these two options are like the dynamic duo of fundraising. They both involve people giving money, but they have their own unique flavors.
First up, we have donations. Picture this: you're passionate about a cause, let's say saving the turtles, and you want to make a difference. So, you set up a donation page, spread the word, and hope that people will open their hearts and wallets to support your cause. Donations can come in all shapes and sizes, from a few bucks to a hefty sum. It's like a virtual tip jar, where people can contribute whatever they can afford. It's a beautiful way to rally a community around a common goal and make a positive impact.
Now, let's dive into crowdfunding. This is like donations on steroids, my friend. With crowdfunding, you're not just asking for donations, you're asking for people to invest in your idea or project. It's like a virtual dragon's den, where you pitch your concept and hope that people will see its potential and back you up financially. Crowdfunding platforms provide a space for you to showcase your idea, set a funding goal, and offer rewards to those who contribute. It's a bit like a pre-order system, where people can get exclusive perks or early access to your product or service. It's a fantastic way to turn your dreams into reality and get the support you need to bring your vision to life.
So, whether you choose donations or crowdfunding, both options have their own charm. Donations are like a gentle stream of support, where every little bit counts. Crowdfunding, on the other hand, is like a roaring river of excitement, where people can invest in your idea and be a part of something bigger. It all depends on what you're looking for and what kind of impact you want to make. So, go ahead and choose the path that resonates with you, my friend, and let the generosity flow!
Sponsored Reviews or Endorsements
Alright, let's talk about sponsored reviews or endorsements. You know, those sneaky little promotions that seem like genuine recommendations but are actually paid for by companies. It's like when your favorite YouTuber suddenly starts raving about a product out of the blue, and you can't help but wonder if they're being genuine or just cashing in on a fat paycheck.
Now, I'm not saying all sponsored reviews or endorsements are bad. Some influencers genuinely believe in the products they promote and provide honest feedback. But let's be real here, there are plenty of cases where the lines get blurred. Companies are smart, they know that consumers trust recommendations from people they admire, so they throw money at influencers to get their products in front of a wider audience.
The problem is, when money is involved, objectivity can go out the window. It's hard to trust a review when you know the person behind it is getting paid to say nice things. And that's where things get tricky. As consumers, we rely on reviews and endorsements to make informed decisions about what to buy. But if those reviews are tainted by sponsorship deals, how can we be sure we're getting honest opinions? It's like trying to navigate a minefield of hidden agendas and ulterior motives. So, the next time you come across a sponsored review or endorsement, take it with a grain of salt. Do your own research, read multiple reviews, and make up your own mind. Don't let slick marketing tactics sway you into buying something that might not live up to the hype.
Sponsored Events or Webinars
So, let's talk about sponsored events or webinars. You know, those fancy gatherings or online sessions where companies put their money where their mouth is and show off their products or services. It's like a party, but with a purpose. And boy, can they be a game-changer for businesses.
First off, let's dive into sponsored events. Picture this: a swanky venue, dimmed lights, and a crowd of people mingling with glasses of champagne in hand. It's all about creating a buzz and getting people excited about what you have to offer. Companies go all out to make sure their event stands out from the rest. They bring in top-notch speakers, set up interactive booths, and even throw in some entertainment to keep the energy high. It's a chance for them to showcase their brand, connect with potential customers, and leave a lasting impression.
Now, let's shift gears to webinars. In this digital age, online events have become the go-to option for many businesses. And why not? They're convenient, cost-effective, and can reach a global audience with just a few clicks. Picture yourself sitting at home, in your comfiest pajamas, sipping on a cup of coffee while tuning in to a webinar. It's like attending a conference without the hassle of travel or the need to wear uncomfortable shoes. Companies use webinars to educate their audience, demonstrate their expertise, and generate leads. They can be interactive too, with live Q&A sessions and polls to keep participants engaged. It's a win-win situation for both the company and the attendees.
So, whether it's a glitzy sponsored event or a virtual webinar, these marketing tactics are all about making a splash. They give companies a chance to shine, connect with their target audience, and ultimately drive business growth. So, next time you receive an invitation to a sponsored event or webinar, don't pass it up. You never know what opportunities might be waiting for you on the other side.
Selling Digital Products or Ebooks
So, you're thinking about selling digital products or ebooks? That's awesome! It's a great way to share your knowledge, creativity, or expertise with the world while also making some money. But let me tell you, it's not as simple as just slapping a price tag on your digital goods and calling it a day. There are a few things you need to consider and steps you should take to ensure your success in this digital marketplace.
First things first, you need to have a clear understanding of what you're selling. Are you offering an ebook on a specific topic? Or maybe you've created a digital course that teaches a particular skill. Whatever it is, make sure it's something you're passionate about and have expertise in. This will not only make the creation process more enjoyable for you, but it will also shine through in the quality of your product.
Once you have your digital product or ebook ready to go, it's time to think about how you're going to market and sell it. One popular option is to set up your own website or online store. This gives you complete control over the design, branding, and pricing of your product. You can also use various marketing strategies like social media, email marketing, and content creation to drive traffic to your site and generate sales.
Another option is to sell your digital products or ebooks on existing platforms like Amazon Kindle or Etsy. These platforms already have a large customer base, so you can tap into their audience and potentially reach more people. However, keep in mind that you'll have less control over the branding and pricing of your product on these platforms.
No matter which route you choose, it's important to have a solid marketing plan in place. This includes creating compelling product descriptions, eye-catching graphics or covers, and engaging promotional materials. You want to make sure your potential customers understand the value and benefits of your digital product or ebook, and why they should choose yours over others in the market.
In conclusion, selling digital products or ebooks can be a rewarding and profitable venture. Just remember to have a clear understanding of what you're selling, choose the right platform or create your own website, and have a solid marketing plan in place. With a little bit of effort and creativity, you can successfully share your knowledge and make a living doing what you love. Good luck!
Licensing or Selling Intellectual Property
So, let's talk about licensing or selling intellectual property. Now, I know this might sound a bit technical, but trust me, it's not as complicated as it seems. Basically, when we talk about intellectual property, we're referring to things like inventions, designs, trademarks, and even creative works like music or books. These are all valuable assets that can be protected and monetized.
Now, when it comes to licensing, it's like giving someone permission to use your intellectual property in exchange for a fee or royalty. It's kind of like renting out your property, but instead of a physical space, it's your ideas and creations. This can be a great option if you want to retain ownership of your intellectual property but still want to make some money from it. Plus, licensing allows you to reach a wider audience and tap into new markets without having to do all the legwork yourself.
On the other hand, selling intellectual property means transferring ownership of your creations to someone else in exchange for a lump sum payment. It's like selling a house or a car, but instead, you're selling your ideas. This can be a good option if you're looking for a quick cash infusion or if you simply don't want to deal with the hassle of managing and protecting your intellectual property. However, it's important to carefully consider the terms of the sale and ensure that you're getting a fair deal.
So, whether you choose to license or sell your intellectual property, it's crucial to protect your rights and ensure that you're getting the best possible deal. This might involve consulting with a lawyer who specializes in intellectual property law to help you navigate the legal complexities. Remember, your ideas and creations are valuable, so don't be afraid to explore your options and make the most of your intellectual property.
Another post you might find useful is, Making Money From A Recession.
I've also written about Making Money From Blogging, so feel free to check that out, or bookmark it for later!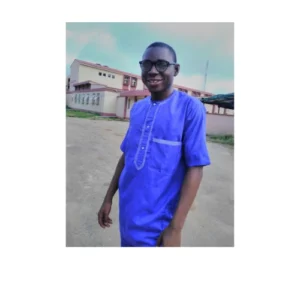 Abdulfatai is a Content Director at Olly-web, where he specializes in Search Engine Marketing (SEM) and Social Media Marketing (SMM). He has over a decade of experience working with businesses to promote their visibility through SEM, SEO, and social media. Abdulfatai believes that great content is the key to success on social media, and his goal is to help businesses grow their following by providing high-quality content that resonates. When it comes to online marketing, Abdulfatai knows how to work hands-on with clients and has a deep understanding of what works best for them.