Last Updated on August 25, 2023 by Abdulfatai A. Olamide
Hey there, fellow hustlers! Are you ready to dive into the world of making money from Facebook videos? Well, buckle up because I've got the complete guide right here for you. We all know that Facebook is more than just a platform for sharing cute cat videos and stalking our exes. It's a goldmine waiting to be tapped into, and I'm here to show you how to strike it rich. So, grab your phone, get comfy, and let's get this money-making party started!
Monetizing Facebook Videos
So, let's talk about monetizing Facebook videos, my friend. You know, it's all about turning those videos into cold, hard cash. And who doesn't want that, right? Well, buckle up because I'm about to spill the beans on how you can make some serious moolah from your Facebook videos.
First things first, you gotta get those views, baby! The more eyeballs you have on your videos, the more money you can rake in. So, how do you do that? Well, my friend, it's all about creating content that people can't resist. Think outside the box, be unique, and give your audience something they can't find anywhere else. Whether it's funny cat videos or mind-blowing DIY hacks, find your niche and own it.
Once you've got the views pouring in, it's time to start thinking about those sweet, sweet ad dollars. Facebook offers a couple of different ways to monetize your videos. One option is to join the Facebook Partner Program, where you can earn money from in-stream ads that play during your videos. These ads can be skippable or non-skippable, so make sure you're creating content that keeps your audience engaged and wanting more. Another option is to strike up brand partnerships and collaborations. If you've got a loyal following, brands might be willing to pay you to feature their products or services in your videos. Cha-ching!
So, my friend, there you have it. Monetizing Facebook videos is all about creating killer content, getting those views, and cashing in on ads and brand partnerships. It's not always easy, but with a little creativity and hustle, you can turn your passion for video creation into a lucrative business. So, go out there, make some awesome videos, and start making that money!
Different Ways to Make Money from Facebook Videos
So, you wanna know how to make some cash from your Facebook videos, huh? Well, my friend, you've come to the right place! Let me break it down for you and give you the lowdown on all the different ways you can turn those videos into dollar bills.
First up, we got the good ol' ad revenue. You know those annoying little ads that pop up before or during videos? Well, those can actually be your ticket to some serious moolah. Facebook has a program called "Ad Breaks" where you can monetize your videos by inserting these ads. The more views and engagement your videos get, the more cha-ching you'll see in your bank account. Just make sure your content is top-notch and keeps your audience hooked, or else they'll be clicking that skip button faster than you can say "show me the money!"
Next on the list is brand partnerships and sponsorships. If you've built up a solid following on Facebook, companies might be itching to collaborate with you. They'll pay you to feature their products or promote their services in your videos. It's like being a walking billboard, but way cooler. Just make sure the brands align with your content and values, so it feels authentic to your audience. Nobody likes a sellout, my friend.
Last but not least, we got the good old-fashioned hustle. You can use your Facebook videos as a platform to promote your own products or services. Whether you're selling handmade crafts, offering online courses, or showcasing your mad skills as a personal trainer, your videos can be the perfect way to attract customers and make some serious dough. Just make sure you're providing value to your audience and not just pushing sales. People can smell a sales pitch from a mile away, so keep it genuine and helpful.
So there you have it, my friend. Three different ways to make money from your Facebook videos. Whether you're raking in the ad revenue, partnering up with brands, or hustling your own products, the key is to create engaging content that keeps your audience coming back for more. So go out there, get creative, and start turning those videos into some serious cash!
Ad Breaks
Ad Breaks: The Necessary Evil of Television
Alright, let's talk about ad breaks. You know, those pesky interruptions that pop up right in the middle of your favorite TV show or movie. They're like that annoying friend who always interrupts your stories with their own. But hey, love 'em or hate 'em, ad breaks are a necessary evil in the world of television.
First things first, let's address the elephant in the room: money. Ad breaks are the lifeblood of television networks. They're how they make their dough, pay the bills, and keep the lights on. Without those ad breaks, we wouldn't have the wide range of programming that we enjoy today. So, while they may be a bit of a nuisance, they're also what allows us to have access to all this entertainment in the first place.
But it's not just about the money, my friend. Ad breaks also serve a purpose for us viewers. They give us a chance to take a breather, grab a snack, or use the bathroom without missing any crucial plot points. Imagine watching a gripping crime drama and not being able to hit pause when nature calls. Ad breaks give us those precious moments to catch our breath and attend to our bodily needs.
Now, I get it. Sometimes those ad breaks can feel like they go on forever. You're on the edge of your seat, waiting to find out who the killer is, and suddenly, bam! A commercial for laundry detergent pops up. It's frustrating, I know. But think about it this way: those ad breaks also give us an opportunity to discover new products, services, and even entertainment. Who knows, maybe that laundry detergent commercial will introduce you to a brand that makes your clothes smell like a tropical paradise. Or perhaps that car ad will spark your interest in a sleek new ride. Ad breaks can be a gateway to new experiences and discoveries.
So, while ad breaks may not be the most exciting part of watching television, they play a vital role in keeping the industry afloat and providing us with the diverse range of programming we love. So, next time you find yourself groaning at the sight of a commercial break, take a moment to appreciate the bigger picture. And hey, maybe use that time to grab a snack or two.
Sponsored Content
Alright, let's talk about sponsored content, my friend. You know, it's that sneaky little devil that pops up on your favorite websites, pretending to be just another article or video. But don't be fooled, my friend, because behind that innocent facade lies a hidden agenda. Sponsored content is essentially a form of advertising disguised as editorial content. It's like a wolf in sheep's clothing, trying to sell you something without you even realizing it.
Now, let's dig a little deeper into this shady world of sponsored content. You see, companies pay big bucks to have their products or services featured in these articles or videos. They want to get their brand in front of as many eyeballs as possible, and what better way to do that than by piggybacking on the popularity of your favorite websites? It's a clever strategy, I'll give them that. But it's also a bit sneaky, don't you think?
But here's the thing, my friend. Sponsored content isn't all bad. Sure, it can be deceptive and manipulative, but it can also provide valuable information and entertainment. Think about it, sometimes these sponsored articles or videos actually offer useful tips or insights. And hey, if a company wants to pay for my favorite website to keep churning out great content, who am I to complain? As long as I can still trust the source and they're transparent about the sponsorship, I'm willing to give it a chance.
So, next time you come across a piece of sponsored content, my friend, approach it with caution. Don't let yourself be swayed by slick marketing tactics or hidden agendas. Take a moment to consider the source and the intentions behind the content. And remember, just because something is sponsored doesn't mean it's automatically bad. It's all about finding that balance between entertainment, information, and transparency.
Affiliate Marketing
Affiliate Marketing: A Lucrative Path to Passive Income
Alright, let's dive into the world of affiliate marketing! Picture this: you're scrolling through your favorite blog or watching a YouTube video, and suddenly, you come across a product recommendation that catches your eye. You click on the link, make a purchase, and voila! The person who recommended the product just earned a commission. That's the beauty of affiliate marketing – it's a win-win situation for both the affiliate marketer and the consumer.
So, how does it all work? Well, it's pretty straightforward. As an affiliate marketer, you partner with a company or brand to promote their products or services. You're given a unique affiliate link that tracks any sales made through it. Whenever someone clicks on your link and makes a purchase, you earn a commission. It's like being a virtual salesperson, but without the hassle of inventory management or customer service.
Now, let's talk about the benefits of affiliate marketing. First and foremost, it's a fantastic way to generate passive income. Once you've set up your affiliate links and created content that drives traffic, you can sit back and watch the money roll in. It's like having a money-making machine that works for you 24/7. Plus, you have the flexibility to choose products or services that align with your interests and values, making it a more enjoyable and authentic experience for both you and your audience.
But hold on, there's more! Affiliate marketing also allows you to tap into a vast network of potential customers. By leveraging the reach of established brands, you can expose your content to a wider audience and increase your chances of earning commissions. Additionally, it's a low-risk venture. You don't need to invest a significant amount of money to get started, and there's no need to create your own products or services. All you need is a platform to share your recommendations and a genuine desire to help others find valuable products or solutions.
So, whether you're a budding entrepreneur looking to monetize your online presence or simply someone who wants to make some extra cash, affiliate marketing is definitely worth exploring. It's a lucrative path to passive income that offers flexibility, scalability, and the opportunity to turn your passion into profit. So why not give it a shot? Start researching affiliate programs, create engaging content, and watch your bank account grow. Happy affiliate marketing!
Selling Products or Services
So, let's talk about selling products or services. It's a pretty broad topic, but I'll do my best to dive into it and give you some juicy details. Selling is all about convincing people that what you have to offer is worth their time and money. Whether you're selling a physical product or a service, the goal is the same: to make a sale and satisfy your customers.
First things first, you need to know your audience. Who are you selling to? What are their needs and desires? Understanding your target market is crucial because it allows you to tailor your sales pitch to their specific wants and needs. For example, if you're selling a fitness app, you'll want to focus on the benefits of staying healthy and fit, rather than the technical details of the app itself. Knowing your audience helps you speak their language and connect with them on a deeper level.
Next, you need to create a compelling offer. What sets your product or service apart from the competition? What value does it bring to the table? Highlighting the unique features and benefits of what you're selling is key to capturing your audience's attention. Maybe your product is eco-friendly, or your service offers a money-back guarantee. Whatever it is, make sure to emphasize it in your sales pitch.
Finally, you need to close the deal. This is where your persuasion skills come into play. You want to create a sense of urgency and make your audience feel like they need to act now. Offering limited-time discounts or bonuses can help push them over the edge and make the purchase. And don't forget to provide excellent customer service even after the sale is made. Building a strong relationship with your customers will not only lead to repeat business but also positive word-of-mouth referrals.
So, there you have it. Selling products or services is all about knowing your audience, creating a compelling offer, and closing the deal. It's a delicate dance of persuasion and customer satisfaction. But with the right approach, you can turn potential customers into loyal fans. Good luck!
Crowdfunding
Alright, let's talk about crowdfunding, my friend! Now, picture this: you've got a brilliant idea, a passion project that's been burning in your soul for ages. But here's the thing, you need some serious cash to bring it to life. That's where crowdfunding comes in, and let me tell you, it's a game-changer!
Crowdfunding is like a digital hat being passed around a virtual crowd, where people from all walks of life can chip in and support your project financially. It's a way to rally the troops, gather a community of backers who believe in your vision, and help you turn dreams into reality. And the best part? You don't have to rely on traditional sources of funding like banks or investors.
Now, let's break it down. There are different types of crowdfunding, each with its own flavor. You've got reward-based crowdfunding, where you offer cool perks or exclusive goodies to your backers as a way to say "thanks for believing in me!" It's like a win-win situation, where your supporters get something awesome, and you get the funds you need. Then there's equity crowdfunding, where people actually invest in your project in exchange for a stake in your business. It's like Shark Tank, but on a digital platform!
So, how does it all work? Well, you start by creating a killer campaign page that showcases your project, tells your story, and captures the hearts and wallets of potential backers. You set a funding goal, a target amount you need to reach, and a deadline to create a sense of urgency. Then, you spread the word like wildfire through social media, email blasts, and good old-fashioned word of mouth. You engage with your community, answer questions, and keep the momentum going. And if all goes well, you hit that funding goal, celebrate like there's no tomorrow, and get to work on bringing your dream to life!
In a nutshell, crowdfunding is a revolutionary way for creative minds, entrepreneurs, and visionaries to fund their projects without jumping through hoops or selling their souls to the corporate world. It's about connecting with people who believe in your idea, building a tribe of supporters, and making magic happen. So, if you've got a dream that's begging to be realized, why not give crowdfunding a shot? Who knows, you might just change the world, one backer at a time!
Brand Partnerships
Brand Partnerships: The Power of Collaboration in the Business World
Alright, let's talk about brand partnerships, my friend! This is all about the magic that happens when two brands come together and join forces. It's like a superhero team-up, but in the business world. When two brands decide to collaborate, they bring their unique strengths and resources to the table, creating a powerful synergy that can take their businesses to new heights.
Imagine this: you've got a clothing brand known for its trendy designs, and you team up with a popular sneaker brand. Boom! Suddenly, you've got the perfect outfit combo that fashionistas everywhere are dying to get their hands on. By partnering up, you're able to tap into each other's customer base, expand your reach, and create a buzz that's hard to ignore.
But it's not just about the immediate boost in sales and exposure. Brand partnerships can also help you build credibility and trust with your audience. When you align yourself with another reputable brand, you're essentially borrowing some of their credibility. It's like having a cool friend vouch for you at a party. People are more likely to trust and buy from you because they trust and buy from your partner brand. It's a win-win situation, my friend!
So, whether it's a limited-edition collaboration, a joint marketing campaign, or a co-branded product, brand partnerships can be a game-changer for businesses. It's all about finding the right fit, the yin to your yang, and creating something that's greater than the sum of its parts. So, go out there, explore potential partnerships, and unleash the power of collaboration in the business world!
Licensing Videos
So, let's talk about licensing videos, my friend. Now, you might be wondering what the heck that even means. Well, let me break it down for you. When we say "licensing videos," we're talking about the legal process of obtaining permission to use someone else's video content for your own purposes. It's like getting the green light to use that awesome cat video you found on the internet in your own YouTube channel or commercial project.
Now, why would you need to license a video, you ask? Well, imagine this scenario: you're a budding filmmaker and you stumble upon a breathtaking drone footage of a stunning sunset over the Grand Canyon. You think to yourself, "Wow, this would be perfect for my upcoming documentary!" But hold your horses, my friend. You can't just snatch that video and use it without permission. That's where licensing comes in. By obtaining a license, you're ensuring that you have the legal right to use that video in your project, without facing any copyright issues or legal troubles.
But here's the thing, licensing videos isn't just about avoiding legal problems. It's also about supporting and respecting the hard work of the creators. Think about it, my friend. These videos are someone's creative expression, their art. By licensing their videos, you're acknowledging their talent and giving credit where credit is due. Plus, it's a win-win situation. You get to use amazing video content for your own projects, and the creators get compensated for their hard work. It's all about fostering a community of collaboration and creativity, my friend.
Creating and Selling Courses
So, let's talk about creating and selling courses. Now, I know what you're thinking – "Courses? Who needs 'em?" Well, my friend, let me tell you, courses are all the rage these days. People are hungry for knowledge, and they're willing to pay good money to learn something new. And that's where you come in.
Creating a course is like being a master chef in the kitchen. You gather all your knowledge and expertise, mix it with a dash of creativity, and whip up a delicious learning experience. But here's the secret sauce – you gotta make it unique. There are tons of courses out there, so you need to find your niche, your special flavor that sets you apart from the rest.
Once you've cooked up your course, it's time to serve it to the world. And boy, do we have some tasty options for you. You can go the traditional route and sell your course on a platform like Udemy or Coursera. These platforms have a massive audience, ready and waiting to devour your knowledge. Plus, they handle all the technical stuff, like hosting and payment processing, so you can focus on what you do best – teaching.
But if you're feeling a bit more adventurous, you can take matters into your own hands. Set up your own website, sprinkle it with some eye-catching design, and start promoting your course like a boss. Use social media to spread the word, create engaging content that leaves people drooling for more. And don't forget to offer some sweet incentives, like a money-back guarantee or exclusive bonuses. People love a good deal, and they'll be lining up to get a taste of what you're serving.
So, my friend, whether you choose to go the traditional route or blaze your own trail, creating and selling courses can be a recipe for success. Just remember to bring your unique flavor to the table, and watch as your knowledge becomes a hot commodity. Bon appétit!
Donations and Fan Support
Donations and Fan Support: The Lifeblood of Artists and Creators
Alright, let's talk about donations and fan support. Now, I know what you're thinking – money, money, money. But trust me, it's so much more than that. Donations and fan support are like the lifeblood for artists and creators. They're the fuel that keeps the creative engine running, allowing artists to continue doing what they love and sharing their work with the world.
First off, let's dive into donations. When someone donates to an artist or creator, it's not just about the dollar signs. It's a way for fans to show their appreciation and support for the hard work and dedication that goes into creating something meaningful. It's like a virtual high-five, a pat on the back that says, "Hey, I see you and I value what you're doing."
Now, fan support takes it to a whole new level. It's like having a cheerleading squad on your side, rooting for you every step of the way. Fans are the ones who spread the word about your work, share it with their friends, and become your biggest advocates. They're the ones who attend your shows, buy your merchandise, and create a sense of community around your art. Without fan support, it's like performing to an empty room – there's no energy, no connection, and it's just not the same.
So, how can artists and creators cultivate donations and fan support? Well, it starts with building a genuine connection with your audience. Engage with them on social media, respond to their comments and messages, and let them know that you appreciate their support. Offer exclusive perks or behind-the-scenes content to those who donate or support you in other ways. And most importantly, never underestimate the power of a heartfelt thank you. Gratitude goes a long way in building a loyal fanbase.
In conclusion, donations and fan support are the lifeblood of artists and creators. It's not just about the money, but the emotional connection and sense of community that comes with it. So, whether you're a musician, a painter, a writer, or any other type of creative soul, remember to nurture those relationships with your fans and show them just how much their support means to you.
Selling Merchandise
So, let's talk about selling merchandise. You know, it's not just about putting a price tag on something and hoping someone will buy it. There's a whole process to it, and it's all about creating an experience for your customers.
First things first, you need to know your target audience. Who are you selling to? What are their interests and preferences? Understanding your customers is key to selling merchandise successfully. Once you have a clear picture of who you're targeting, you can tailor your merchandise to their tastes and needs. For example, if you're selling to a younger crowd, you might want to focus on trendy and fashionable items. If your target audience is more mature, you might want to offer more classic and timeless pieces.
Next, you need to create a visually appealing display. People are drawn to things that catch their eye, so make sure your merchandise is displayed in an attractive and organized manner. Use bold colors, interesting textures, and eye-catching signage to grab attention. You can also use HTML bullet lists to highlight the key features or benefits of your merchandise. Make it easy for customers to browse and find what they're looking for.
Finally, don't forget about the power of storytelling. People love a good story, and it can make your merchandise more memorable and meaningful. Use descriptive language to create a narrative around your products. Tell the story of how they were made, the inspiration behind them, or the impact they can have on someone's life. This will not only engage your customers but also create a connection between them and your merchandise. And hey, if you're feeling extra creative, you can even use HTML bold tags to emphasize certain words or phrases in your storytelling.
So, selling merchandise is more than just a transaction. It's about understanding your customers, creating an appealing display, and telling a compelling story. By following these steps, you'll be well on your way to selling your merchandise like a pro.
Another post you might find useful is, When Do You Start Making Money From Youtube.
I've also written about When Do You Start Making Money From Tiktok, so feel free to check that out, or bookmark it for later!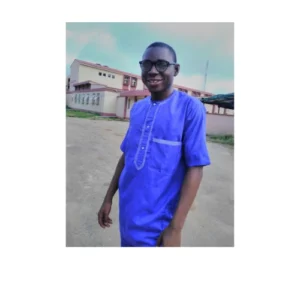 Abdulfatai is a Content Director at Olly-web, where he specializes in Search Engine Marketing (SEM) and Social Media Marketing (SMM). He has over a decade of experience working with businesses to promote their visibility through SEM, SEO, and social media. Abdulfatai believes that great content is the key to success on social media, and his goal is to help businesses grow their following by providing high-quality content that resonates. When it comes to online marketing, Abdulfatai knows how to work hands-on with clients and has a deep understanding of what works best for them.