Hey there, jewelry enthusiasts! Have you ever wondered if you can turn your passion for making jewelry into a profitable venture? Well, guess what? Today, we're diving headfirst into the glittering world of jewelry making and exploring whether it's possible to make some serious moolah from your creative endeavors. So, grab your crafting tools and get ready to uncover the secrets of turning your love for jewelry making into a lucrative business. Let's get this bling-tastic journey started!
Types of Jewelry Making Techniques
Alright, let's dive into the fascinating world of jewelry making techniques! There are so many ways to create stunning pieces of jewelry, each with its own unique style and flair. From traditional methods passed down through generations to innovative techniques that push the boundaries of design, the world of jewelry making is a treasure trove of creativity.
One popular technique is called wire wrapping. This involves using thin wires, often made of precious metals like silver or gold, to create intricate designs. The wire is carefully manipulated and shaped around gemstones or beads, creating a beautiful framework that holds everything together. It's like sculpting with wire, and the possibilities are endless. You can create delicate pendants, statement earrings, or even intricate bracelets using this technique.
Another technique that has gained popularity in recent years is resin jewelry making. This involves using a special type of resin that hardens when exposed to air or heat. The resin can be mixed with various pigments, glitters, or even small objects like flowers or shells to create unique and eye-catching designs. The resin is poured into molds or onto surfaces, and once it hardens, it can be shaped, sanded, and polished to perfection. The result is a glossy, translucent piece of jewelry that is sure to turn heads.
Lastly, let's talk about bead weaving. This technique involves using tiny beads, often made of glass or gemstones, to create intricate patterns and designs. The beads are threaded onto a thin string or wire and woven together using various stitches and techniques. The end result is a stunning piece of jewelry that looks like a work of art. Bead weaving allows for endless creativity, as you can mix and match different colors, sizes, and shapes of beads to create your own unique designs.
So, whether you're into wire wrapping, resin jewelry making, or bead weaving, there's a jewelry making technique out there that will suit your style and allow you to express your creativity. The world of jewelry making is vast and exciting, and the best part is that you can create beautiful pieces that reflect your own personal taste and style. So go ahead, dive in, and let your imagination run wild!
Popular Materials Used in Jewelry Making
Alright, let's talk bling! When it comes to jewelry making, there are some materials that have stood the test of time and remain popular choices for crafting those eye-catching pieces that make us go "wow!" So, what are these materials that jewelry makers love to work with? Well, let me spill the beans and give you the lowdown on three of the most popular ones.
First up, we have gold, baby! This precious metal has been adorning bodies for centuries and continues to be a top choice for jewelry makers. Its lustrous shine and timeless appeal make it a go-to material for creating stunning pieces that exude elegance and luxury. Whether it's yellow gold, white gold, or rose gold, this metal adds a touch of sophistication to any design. From delicate necklaces to intricate rings, gold jewelry is a classic that never goes out of style.
Next on the list is silver, the cool cousin of gold. Known for its sleek and shiny appearance, silver is a versatile material that can be molded into various shapes and styles. It's often used in contemporary and minimalist designs, giving jewelry a modern and edgy vibe. From dainty earrings to chunky bracelets, silver jewelry can be both understated and bold, making it a favorite among fashion-forward individuals who want to make a statement.
Last but not least, we have gemstones, the dazzling stars of the jewelry world. These precious and semi-precious stones come in a rainbow of colors, each with its own unique beauty. From the fiery red of rubies to the deep blue of sapphires, gemstones add a pop of color and sparkle to any piece of jewelry. Whether they're used as the centerpiece of a ring or as accents in a necklace, gemstones bring a touch of glamour and individuality to every design.
So, there you have it, my friend! Gold, silver, and gemstones are just a few of the popular materials used in jewelry making. Each one brings its own charm and allure to the table, allowing jewelry makers to create pieces that are as unique as the individuals who wear them. Whether you're a fan of classic elegance or modern flair, there's a material out there that's perfect for you. So go ahead, rock that bling and let your personality shine through!
Essential Tools for Making Jewelry
Alright, let's talk about the essential tools you need to make some killer jewelry! Now, I know you're probably thinking, "What do I need? Can't I just use any old pliers and wire cutters?" Well, my friend, let me tell you, having the right tools can make all the difference in the world when it comes to creating beautiful pieces.
First up, we have the trusty round nose pliers. These babies are a must-have for any jewelry maker. With their tapered, round tips, they're perfect for creating loops and curves in wire. Whether you're making earrings, necklaces, or bracelets, these pliers will be your go-to for shaping and bending wire with precision.
Next on the list is the wire cutters. Now, you might be tempted to use any old pair of scissors, but trust me, investing in a good pair of wire cutters is worth it. These specialized cutters are designed to cleanly and easily cut through different gauges of wire, ensuring a clean and professional finish to your jewelry. Plus, they're much easier on your hands than struggling with scissors!
Last but not least, we have the bead reamer. This handy tool is a game-changer when it comes to working with beads. Sometimes, the holes in beads can be a bit rough or uneven, making it difficult to string them onto wire or thread. That's where the bead reamer comes in. With its pointed tip, you can gently file and smooth out the holes, making it a breeze to thread your beads onto your jewelry.
So there you have it, my friend, the essential tools for making jewelry. With these three tools in your arsenal, you'll be well-equipped to create stunning pieces that will turn heads and make a statement. So go ahead, get your hands on these tools, and let your creativity shine!
Steps to Start a Jewelry Making Business
So, you're thinking about starting your own jewelry making business, huh? That's awesome! Let me tell you, the world of jewelry is a dazzling one, filled with endless possibilities and opportunities to showcase your creativity. But before you dive headfirst into this glittering adventure, there are a few important steps you need to take to ensure your business sparkles and shines.
First things first, you need to have a clear vision of what kind of jewelry you want to create. Are you into delicate and dainty pieces, or do you prefer bold and statement-making designs? Do you want to focus on using precious gemstones or experiment with unconventional materials? Take some time to explore different styles and techniques, and find your own unique voice in the world of jewelry making.
Once you've honed in on your style, it's time to gather your tools and materials. Jewelry making requires a specific set of tools, such as pliers, wire cutters, and a variety of beads and findings. Depending on your chosen style, you may also need specialized equipment like a soldering torch or a kiln. Don't forget to stock up on essential supplies like jewelry wire, clasps, and jump rings. It's important to invest in quality tools and materials, as they will directly impact the quality of your finished pieces.
Now that you have your vision and tools in place, it's time to start creating! Set up a dedicated workspace where you can let your creativity flow. Make sure you have good lighting and ample storage for your materials. Experiment with different designs and techniques, and don't be afraid to make mistakes. Remember, every piece you create is a stepping stone towards perfection. Once you have a collection of jewelry ready, consider hosting a small launch party or setting up an online store to showcase and sell your creations. And don't forget to promote your business through social media and word of mouth. With passion, perseverance, and a touch of sparkle, your jewelry making business is sure to shine bright!
Pricing Strategies for Handmade Jewelry
So, let's talk about pricing strategies for handmade jewelry. Now, when it comes to selling your beautiful creations, it's important to find the right balance between making a profit and attracting customers. You want to make sure your prices are fair and competitive, while also reflecting the time, effort, and skill that goes into crafting each piece.
First things first, you need to consider the cost of materials. Take into account the price of the beads, gemstones, metals, and any other materials you use. Don't forget to factor in the cost of packaging, such as boxes or bags, as well as any additional expenses like shipping or marketing. It's important to have a clear understanding of your costs so that you can set a price that covers them and leaves room for profit.
Next, think about the value of your time and expertise. Handmade jewelry is a labor of love, and your time is valuable. Consider how long it takes you to create each piece, from designing to assembling to finishing touches. Don't underestimate the skill and craftsmanship that goes into your work. Your unique style and attention to detail are what set your jewelry apart, so make sure to factor that into your pricing.
Finally, take a look at the market and your competition. Research what similar handmade jewelry is selling for and try to position yourself accordingly. Are you targeting a high-end market with intricate designs and precious gemstones? Or are you aiming for a more affordable range with trendy, everyday pieces? Understanding your target audience and their willingness to pay will help you determine the right price point for your jewelry.
Remember, pricing is not set in stone. It's okay to experiment and adjust your prices as you gain more experience and feedback from customers. The key is to find a balance that allows you to cover your costs, make a profit, and keep your customers coming back for more. So, go ahead and shine bright with your handmade jewelry, and let your pricing strategy be as unique as your creations.
Marketing and Selling Handmade Jewelry Online
So, you're interested in marketing and selling handmade jewelry online? Well, let me tell you, it's a fantastic venture that allows you to showcase your creativity and reach a wide audience. In this digital age, the internet has become a bustling marketplace where you can connect with potential customers from all corners of the globe. But how do you go about it? Let's dive into the nitty-gritty of this exciting process.
First things first, you need to create a captivating online presence. This starts with building a visually stunning website or an online store. Think of it as your virtual storefront, where customers can browse through your unique pieces and make purchases. Make sure to use high-quality images that showcase the intricate details of your jewelry. You want your potential customers to be able to envision themselves wearing your creations.
Next, it's time to spread the word about your handmade jewelry. Social media platforms like Instagram, Facebook, and Pinterest are your best friends here. Create eye-catching posts and share them with your followers. Engage with your audience by responding to comments and messages promptly. You can also collaborate with influencers or bloggers in the fashion and jewelry niche to reach a wider audience. Remember, word-of-mouth is a powerful tool, so encourage your satisfied customers to share their experience with their friends and family.
Lastly, don't forget about the power of storytelling. People love to connect with the stories behind the products they buy. Share the inspiration behind each piece of jewelry, the materials used, and the craftsmanship involved. This personal touch will not only make your jewelry more appealing but also create a sense of trust and authenticity. Consider writing blog posts or creating videos that delve into the creative process and the stories behind your designs. This will help you build a loyal customer base who appreciate the artistry and effort that goes into your handmade jewelry.
So, there you have it! Marketing and selling handmade jewelry online may seem like a daunting task, but with the right approach, it can be a rewarding and fulfilling experience. Remember to create a captivating online presence, leverage the power of social media, and tell compelling stories about your jewelry. With these steps in place, you'll be well on your way to success in the online jewelry market. Good luck!
Building a Brand for Your Jewelry Business
So, you've got a jewelry business, huh? That's pretty cool! But let me tell you, in this day and age, it's not just about making pretty pieces anymore. You gotta build a brand, my friend. And I'm not talking about slapping your logo on everything and calling it a day. Nah, building a brand is all about creating a vibe, a feeling, a whole experience for your customers. It's about telling a story and connecting with people on a deeper level. So, let's dive into how you can build a brand that shines brighter than any diamond.
First things first, you gotta know who you are and what you stand for. What makes your jewelry business unique? Is it your attention to detail? Your use of sustainable materials? Your commitment to craftsmanship? Figure out what sets you apart from the rest and make that your brand's foundation. Once you've got that nailed down, it's time to think about your target audience. Who are the people that are gonna be drooling over your jewelry? Are they trendy millennials who love stacking rings? Or maybe they're sophisticated professionals who appreciate timeless elegance. Knowing your audience will help you tailor your brand's messaging and visuals to attract the right customers.
Now, let's talk about visuals. When it comes to building a brand for your jewelry business, aesthetics are everything. Your logo, your website, your social media posts – they all need to be visually cohesive and reflect the essence of your brand. Think about the colors, fonts, and imagery that best represent your jewelry. Are you all about bold and vibrant designs? Then maybe you want to go for a bright and eye-catching color palette. Or perhaps your jewelry is delicate and dainty, in which case a soft and elegant aesthetic would be more fitting. Whatever you choose, consistency is key. You want people to see your brand and instantly recognize it as yours.
Lastly, don't forget about the power of storytelling. People love a good story, and your jewelry business has one to tell. Maybe it's the story of how you discovered your passion for jewelry-making during a trip to a far-off land. Or maybe it's the story of how your family has been in the jewelry business for generations, and you're carrying on the legacy. Whatever it is, share it with your customers. Let them in on the journey and make them feel like they're a part of something special. This will create a deeper connection and make your brand more memorable.
So, there you have it, my friend. Building a brand for your jewelry business is all about knowing who you are, understanding your audience, creating visually stunning content, and telling a captivating story. It may take some time and effort, but trust me, it'll be worth it. Your brand will shine brighter than any diamond in the jewelry world.
Tips for Creating Unique and Marketable Jewelry Designs
Alright, let's talk about creating some killer jewelry designs that will make people go "wow!" and have them lining up to buy your pieces. First things first, you gotta think outside the box and come up with something unique. Don't just follow the trends, be a trendsetter! Look for inspiration in unexpected places, like nature, art, or even your own dreams. Let your imagination run wild and don't be afraid to take risks.
Once you've got a killer idea, it's time to bring it to life. Start by sketching out your design on paper or using a digital tool if that's more your style. This will help you visualize the final product and make any necessary adjustments before diving into the actual creation process. Remember, details matter, so pay attention to every little aspect of your design, from the shape and size to the materials and colors you'll use.
Now, let's talk about making your jewelry designs marketable. It's all about understanding your target audience and what they're looking for. Do some research and find out what's hot in the jewelry world right now. Is it minimalist pieces, bold statement jewelry, or maybe something with a vintage vibe? Once you have a good grasp on the current trends, find a way to incorporate them into your unique design. This way, you'll have a piece that stands out from the crowd but still appeals to the masses.
To sum it up, creating unique and marketable jewelry designs requires a combination of creativity, attention to detail, and understanding your audience. Don't be afraid to think outside the box and take risks with your designs. Sketch out your ideas and make sure every aspect is on point. And finally, stay up to date with the latest trends and find a way to incorporate them into your own unique style. With these tips in mind, you'll be well on your way to creating jewelry that's not only beautiful but also in high demand.
Challenges and Solutions in the Jewelry Making Industry
Alright, let's dive into the world of jewelry making! Now, you might think it's all glitz and glamour, but let me tell you, there are some serious challenges that come with this industry. From sourcing materials to staying ahead of trends, it's a constant juggling act. But fear not, my friend, because where there are challenges, there are always solutions.
First up, let's talk about sourcing materials. You see, jewelry making requires a wide range of materials, from precious metals like gold and silver to gemstones and beads. Now, finding reliable suppliers who can provide high-quality materials at a reasonable price can be quite the task. It's like searching for a needle in a haystack! But hey, that's where networking and building relationships come into play. Jewelers often attend trade shows and connect with other professionals in the industry to find the best sources for their materials. It's all about who you know, right?
Next on our list of challenges is staying ahead of trends. Fashion is a fickle beast, my friend, and what's hot today might be old news tomorrow. So, jewelry makers need to constantly keep their finger on the pulse of the industry. They attend fashion shows, follow influencers on social media, and keep an eye on what celebrities are wearing. It's like being a detective, always on the lookout for the next big thing. But hey, it's not all about following trends blindly. True artists in the jewelry making industry also know how to create timeless pieces that will never go out of style. It's all about finding that perfect balance between staying current and staying true to your own artistic vision.
Last but not least, let's talk about marketing and selling jewelry. In a world where online shopping is king, jewelry makers need to have a strong online presence to reach their customers. They need to create eye-catching websites, showcase their products on social media, and even collaborate with influencers to get their name out there. It's like running a small business, but with a touch of sparkle. And let's not forget about the competition! The jewelry market is saturated with talented artisans, so standing out from the crowd can be a real challenge. But hey, with a little creativity and a lot of hard work, anything is possible.
So, my friend, the jewelry making industry may have its fair share of challenges, but there are always solutions to be found. Whether it's sourcing materials, staying ahead of trends, or marketing and selling their creations, jewelry makers are a resilient bunch. They know how to adapt, innovate, and create stunning pieces that make us all feel a little more fabulous. So next time you put on that beautiful necklace or slip on those elegant earrings, remember the challenges that went into making them and appreciate the artistry behind it all.
Success Stories of Jewelry Makers
Alright, let's dive into the world of jewelry makers and their incredible success stories! These talented individuals have turned their passion for crafting beautiful pieces into thriving businesses that have captured the hearts of many. From humble beginnings to global recognition, their journeys are nothing short of inspiring.
One shining example is the story of Emma, a jewelry maker from a small town. With a keen eye for design and a knack for working with precious metals and gemstones, Emma started creating unique pieces in her garage. She poured her heart and soul into her craft, experimenting with different techniques and materials. Word of mouth spread, and soon enough, her creations were in high demand. Emma's dedication and talent caught the attention of a renowned fashion magazine, which featured her work in a special edition. This exposure catapulted her career, and she now runs a successful online store, shipping her exquisite jewelry to customers all over the world.
Another remarkable success story comes from James, a jewelry maker who specializes in custom engagement rings. James understood the importance of creating a personal connection with his clients, so he set up a cozy studio where couples could come and discuss their dream rings. He took the time to listen to their stories, understand their preferences, and translate their love stories into one-of-a-kind designs. James' attention to detail and commitment to customer satisfaction earned him a loyal following. Soon, his reputation spread like wildfire, and he became the go-to jeweler for couples seeking unique and meaningful engagement rings. Today, James is a sought-after name in the industry, and his creations continue to symbolize love and commitment for countless couples.
Lastly, let's talk about Sarah, a jewelry maker who found success by embracing sustainability and ethical practices. Sarah was deeply passionate about protecting the environment and ensuring fair treatment for workers in the industry. She made a conscious decision to source her materials from ethical suppliers and use recycled metals whenever possible. Sarah's commitment to sustainability resonated with a growing number of conscious consumers who were seeking jewelry that aligned with their values. Her brand quickly gained recognition for its eco-friendly approach, and she now collaborates with like-minded designers and organizations to promote ethical practices in the jewelry industry.
These success stories of jewelry makers remind us that with passion, dedication, and a unique vision, anyone can turn their craft into a thriving business. Whether it's through exceptional design, personalized experiences, or a commitment to sustainability, these individuals have carved their own paths and left a lasting impact on the world of jewelry. So, if you have a passion for creating beautiful things, don't be afraid to chase your dreams and let your creativity shine!
Another post you might find useful is, Making Money From Junk.
I've also written about Top Money Making Jobs From Home, so feel free to check that out, or bookmark it for later!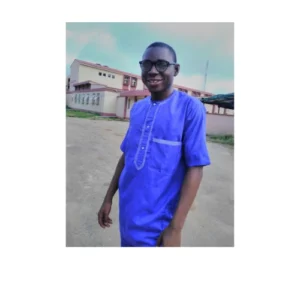 Abdulfatai is a Content Director at Olly-web, where he specializes in Search Engine Marketing (SEM) and Social Media Marketing (SMM). He has over a decade of experience working with businesses to promote their visibility through SEM, SEO, and social media. Abdulfatai believes that great content is the key to success on social media, and his goal is to help businesses grow their following by providing high-quality content that resonates. When it comes to online marketing, Abdulfatai knows how to work hands-on with clients and has a deep understanding of what works best for them.