Last Updated on July 26, 2023 by Abdulfatai A. Olamide
Hey there, hustlers! Are you tired of the daily grind, commuting to work, and being stuck in a never-ending cycle of office politics? Well, I've got some exciting news for you. It's time to ditch the traditional 9-to-5 and start earning from the comfort of your own home. Yep, you heard me right! No more rush hour traffic, no more annoying coworkers, and no more soul-sucking cubicles. With just a few simple steps, you can kickstart your journey to financial freedom and become your own boss. So, grab a cup of coffee, cozy up on your couch, and let's dive into the world of remote work. Trust me, this is the game-changer you've been waiting for!
Benefits of Earning from Home
Working from home has become the new norm for many people, and let me tell you, there are some major perks to earning your bread from the comfort of your own abode. First off, you can kiss that dreadful commute goodbye. No more rushing out the door, battling traffic, or squeezing into a packed train like a sardine. Instead, you can roll out of bed, grab a cup of joe, and start your workday in your PJs if you please. Talk about a game-changer!
Another sweet benefit of working from home is the flexibility it offers. You're not tied to a rigid 9-to-5 schedule anymore. Need to run some errands in the middle of the day? No problemo! Want to take a longer lunch break to catch up on your favorite TV show? Go for it! As long as you meet your deadlines and deliver quality work, you have the freedom to structure your day in a way that suits you best. It's like having your own personal time wizard.
And let's not forget about the money you'll save. Working from home means you can kiss those expensive lunches and daily coffee shop runs goodbye. You can whip up your own delicious meals and brew your own java, saving you a ton of cash in the long run. Plus, you'll also save on transportation costs, work attire, and even childcare expenses if you have little ones. It's like getting a raise without actually getting a raise. Who wouldn't want that?
So, my friend, if you're looking for a way to escape the daily grind and embrace a more flexible and cost-effective lifestyle, working from home is the way to go. Say goodbye to the commute, hello to flexibility, and watch your bank account grow. It's a win-win situation, my friend.
Different Ways to Earn from Home
So, you're looking for ways to make some extra cash without leaving the comfort of your own home? Well, you're in luck, my friend! There are actually a ton of different ways you can earn money right from your living room, and I'm about to spill the beans on three of the best ones. Get ready to kick back, relax, and start raking in the dough!
First up, we've got online surveys. Now, I know what you're thinking – surveys? Boring, right? But hear me out. There are actually some pretty cool websites out there that will pay you to share your opinions on everything from new products to TV shows. All you have to do is sign up, answer a few questions, and boom – you're earning cash. Plus, it's a great way to kill some time when you're binge-watching your favorite shows.
Next on the list is freelance writing. If you've got a way with words, this one's for you. There are tons of websites and companies that are constantly on the lookout for talented writers to create content for them. Whether it's blog posts, articles, or even social media updates, there's always someone out there willing to pay for your writing skills. And the best part? You can do it all from the comfort of your own home, in your pajamas if you want. Talk about living the dream!
Last but not least, we've got online tutoring. If you're a whiz at math, science, or any other subject, why not put your knowledge to good use and help others? There are plenty of websites that connect students with tutors, and they're always in need of people who can explain tricky concepts in a way that actually makes sense. Plus, you can set your own hours and work as much or as little as you want. It's a win-win situation – you get to share your expertise and make some extra cash at the same time.
So there you have it – three awesome ways to earn money from the comfort of your own home. Whether you're taking surveys, writing up a storm, or tutoring students, there's something out there for everyone. So why not give it a shot? Who knows, you might just find your new favorite side hustle.
Setting Up a Home Office
So, you've decided to set up a home office, huh? That's a smart move, my friend! Having a dedicated space where you can work from the comfort of your own home can be a game-changer. But let me tell you, it's not just about plonking a desk and chair in a corner and calling it a day. Oh no, my friend, there's a whole lot more to it than that.
First things first, you gotta find the perfect spot for your home office. It's gotta be a place where you can focus and get stuff done without any distractions. Maybe it's a spare room, a cozy nook under the stairs, or even a corner of your bedroom. Wherever it is, make sure it's a space that you can make your own. Clear out any clutter, give it a fresh coat of paint if needed, and make it a space that inspires you to do your best work.
Now, let's talk furniture. You're gonna need a desk that's big enough to hold all your gear – your laptop, monitor, keyboard, mouse, and whatever else you need to get your work done. And don't forget about a comfortable chair! Trust me, you don't want to be sitting on some rickety old thing that leaves your back feeling like it's been through a wrestling match. Invest in a chair that supports your posture and keeps you comfy during those long hours of work.
Next up, let's talk about lighting. Natural light is the bomb, my friend. It not only brightens up your space but also boosts your mood and productivity. So if possible, set up your home office near a window. But hey, I get it, not everyone has that luxury. In that case, make sure you have good artificial lighting. Get yourself a desk lamp that provides enough light without straining your eyes. And hey, while you're at it, why not add some plants to your office? They not only add a touch of greenery but also help purify the air and create a calming atmosphere.
So there you have it, my friend. Setting up a home office is all about finding the perfect spot, getting the right furniture, and creating a space that inspires you to do your best work. Now go forth and create the ultimate home office that'll make all your colleagues jealous!
Finding Remote Job Opportunities
So, you're on the hunt for remote job opportunities, huh? Well, you've come to the right place! In this day and age, with technology advancing at lightning speed, the world of work has undergone a major transformation. Gone are the days when you had to trudge into an office every day, battling rush hour traffic and enduring mind-numbing meetings. Now, you have the freedom to work from anywhere, whether it's your cozy home office, a trendy coffee shop, or even a tropical beach. The possibilities are endless!
Now, let's dive into the nitty-gritty of finding remote job opportunities. First things first, you need to know where to look. The internet is your best friend here. There are countless websites and platforms dedicated to connecting remote workers with employers who are looking for their skills. Some popular ones include FlexJobs, Remote.co, and We Work Remotely. These platforms offer a wide range of job listings across various industries, so you're bound to find something that suits your interests and expertise.
Once you've found a few potential job opportunities, it's time to polish up your application materials. Remember, competition can be fierce in the remote job market, so you want to make sure you stand out from the crowd. Tailor your resume and cover letter to highlight your remote work experience, if you have any, or emphasize your ability to work independently and manage your time effectively. It's also a good idea to showcase any relevant skills or certifications that make you a valuable asset in the remote work world. And don't forget to include a killer portfolio or samples of your work to really impress potential employers.
So, there you have it! With the right mindset, a little bit of research, and a killer application, you'll be well on your way to finding remote job opportunities that suit your lifestyle and career goals. Remember, remote work offers a world of possibilities, so don't be afraid to think outside the box and explore new industries or job roles. The future of work is here, and it's all about flexibility, freedom, and finding that perfect work-life balance. Good luck on your remote job search adventure!
Freelancing as a Source of Income
Freelancing as a Source of Income: Embrace the Freedom and Flexibility of the Gig Economy
So, you're thinking about diving into the world of freelancing, huh? Well, let me tell you, it's a whole new ball game out there. Gone are the days of the traditional 9-to-5 grind, where you're chained to a desk and at the mercy of a boss. Freelancing offers a refreshing alternative, where you can be your own boss, set your own hours, and work from anywhere in the world. It's like having the ultimate freedom and flexibility in your career.
But let's not get ahead of ourselves. Freelancing isn't all rainbows and unicorns. It requires a certain level of discipline and self-motivation. You see, when you're freelancing, you're essentially running your own business. You're responsible for finding clients, managing your workload, and ensuring you get paid on time. It's not always easy, but the rewards can be well worth it.
So, how do you get started? Well, the first step is to identify your skills and determine what services you can offer as a freelancer. Are you a talented writer? A skilled graphic designer? A social media guru? Once you know what you bring to the table, it's time to start building your portfolio. This is where you showcase your best work and demonstrate your expertise to potential clients. It's like your online resume, but way cooler.
Next, you'll want to start networking and marketing yourself. Join online communities and forums where your target clients hang out. Engage in conversations, offer valuable insights, and let people know what you do. You never know who might be in need of your services. And don't forget about social media! Create a professional presence on platforms like LinkedIn, Instagram, or Twitter, and use them to showcase your work and connect with potential clients.
Once you start landing clients, it's important to establish clear communication and set expectations from the get-go. Make sure you have a contract in place that outlines the scope of work, deadlines, and payment terms. This will protect both you and your client and ensure a smooth working relationship. And remember, freelancing is all about building relationships. Treat your clients with respect, deliver high-quality work, and go above and beyond to exceed their expectations. Word of mouth is a powerful tool in the freelancing world, and happy clients can lead to more referrals and repeat business.
So, there you have it. Freelancing can be a fantastic source of income if you're willing to put in the effort and embrace the freedom and flexibility it offers. Just remember, it's not all sunshine and rainbows. It takes hard work, discipline, and a bit of hustle. But if you're up for the challenge, the rewards can be truly fulfilling. So go ahead, take the leap, and start building your freelance empire. The world is waiting for your unique talents and skills.
Starting an Online Business
So you're thinking about starting an online business, huh? Well, let me tell you, it's an exciting and challenging journey you're about to embark on. But don't worry, I've got your back. In this little chat, I'll walk you through the ins and outs of starting your very own online business.
First things first, you need to have a clear idea of what you want to sell or offer online. It could be a product, a service, or even your expertise. Take some time to brainstorm and research the market to find your niche. What sets you apart from the competition? What problem can you solve for your potential customers? Once you have a solid idea, it's time to move on to the next step.
Now, it's time to build your online presence. This is where the magic happens. You'll need a website that not only looks good but also functions smoothly. Don't worry if you're not a tech whiz, there are plenty of user-friendly website builders out there that can help you create a professional-looking site without breaking a sweat. Make sure your website is easy to navigate, has clear and compelling content, and showcases your products or services in the best possible light.
Next up, you need to spread the word about your online business. It's time to put on your marketing hat and get creative. Social media is your best friend here. Set up accounts on platforms like Facebook, Instagram, and Twitter, and start engaging with your target audience. Share valuable content, run promotions, and interact with your followers. Don't be afraid to experiment with different marketing strategies to see what works best for your business. And remember, building a strong online presence takes time and effort, so be patient and persistent.
Starting an online business is no walk in the park, but with the right mindset and a solid plan, you can turn your dreams into reality. So go ahead, take that leap of faith, and get ready to make your mark in the digital world. Good luck!
Building a Passive Income Stream
So, you wanna talk about building a passive income stream, huh? Well, let me tell you, my friend, it's all about making that money while you sleep! Now, I know what you're thinking, "How the heck do I do that?" Don't worry, I got you covered. Let's dive into this topic and explore three detailed ways you can start building that sweet, sweet passive income.
First up, we got the classic rental property game. Now, this ain't no Monopoly, but it's just as lucrative if you play your cards right. Picture this: you buy a property, fix it up real nice, and then rent it out to some lucky tenants. Boom! You're making money every month without lifting a finger. Of course, there's some work involved, like finding good tenants and handling maintenance issues, but once you get the hang of it, it's smooth sailing.
Next on the list, we got the world of online courses. Now, this is where things get real interesting. If you got some expertise in a certain field, why not share that knowledge with the world and make some dough while you're at it? You can create an online course, package it up all nice and pretty, and sell it to eager learners. The best part? Once you've created the course, it's pretty much set it and forget it. People will keep buying it, and you'll keep making money. It's like having your own virtual ATM.
Last but not least, we got the world of affiliate marketing. Now, this one's a bit trickier, but it can be oh-so-rewarding. Here's the deal: you find a product or service that you love and believe in, and then you promote it to others. Every time someone buys through your unique affiliate link, you get a cut of the profits. It's like being a salesperson without all the hassle of actually selling. You just gotta find creative ways to get people to click on your links, like writing killer blog posts or creating engaging social media content. It takes some time and effort to build up a following, but once you do, the money will start rolling in.
So, there you have it, my friend. Three detailed ways to start building that passive income stream. Whether you're into real estate, teaching, or marketing, there's a path for you. Just remember, it's not gonna happen overnight. Building a passive income takes time, dedication, and a whole lot of hustle. But trust me, once you start seeing that money flow in while you're catching some Z's, it'll all be worth it.
Developing Marketable Skills
So, let's talk about developing marketable skills, my friend. In this fast-paced world we live in, it's crucial to have skills that not only make you stand out from the crowd but also make you attractive to potential employers or clients. You know what they say, "Jack of all trades, master of none." Well, it's time to become a master of something!
First things first, you gotta figure out what you're passionate about. What gets you excited? What makes you lose track of time? Once you've identified your passion, it's time to dive deep into it. Take courses, attend workshops, read books, and immerse yourself in everything related to your chosen field. The more you know, the more marketable you become.
Now, let's talk about networking. It's not just about who you know, but who knows you. Building a strong network is essential for developing marketable skills. Attend industry events, join professional organizations, and connect with like-minded individuals. You never know when an opportunity might come knocking on your door, and having a solid network can open up doors you never even knew existed.
Lastly, my friend, don't be afraid to put yourself out there. Showcasing your skills is just as important as developing them. Create a portfolio, start a blog, or even offer your services for free initially to gain experience and build a reputation. The more you showcase your skills, the more marketable you become. Remember, it's all about standing out from the crowd and showing the world what you're capable of.
So, my friend, developing marketable skills is all about finding your passion, building a strong network, and showcasing your abilities. It's not always an easy journey, but with dedication and perseverance, you can become a master in your chosen field. So go out there, chase your dreams, and let your marketable skills shine!
Managing Time and Productivity at Home
Alright, let's talk about managing time and productivity at home. Now, I know it can be a real struggle sometimes, especially when you're surrounded by all the comforts and distractions of your own space. But fear not, my friend, because I've got some tips and tricks up my sleeve to help you stay on top of your game.
First things first, let's talk about setting up a routine. Now, I know routines can sound boring and rigid, but trust me, they're a game-changer when it comes to managing your time effectively. Start by figuring out your most productive hours of the day. Are you a morning person or a night owl? Once you've got that sorted, structure your day around those peak hours. Set aside specific blocks of time for different tasks, whether it's work, chores, or even relaxation. And don't forget to include breaks in your schedule too, because let's face it, nobody can go full throttle all day long.
Next up, let's talk about creating a dedicated workspace. Now, I know it's tempting to work from your bed or the couch, but trust me, it's a productivity killer. Your brain needs a clear distinction between work and relaxation zones. So, find a spot in your home where you can set up a proper workstation. It could be a corner of your living room, a spare room, or even a cozy nook in your bedroom. Make sure it's well-lit, clutter-free, and has all the essentials you need to get your work done. And hey, if you're feeling fancy, you can even add some personal touches to make it feel more like your own little productivity haven.
Lastly, let's talk about minimizing distractions. Now, I know it's easier said than done, especially when your phone is constantly buzzing with notifications and Netflix is just a click away. But trust me, my friend, you've got to take control of those distractions if you want to stay productive. Put your phone on silent or even better, keep it in another room while you're working. Use website blockers or apps that limit your screen time if you find yourself getting sucked into the black hole of social media. And if you're easily distracted by noise, invest in a good pair of noise-canceling headphones or play some soothing background music to drown out the chaos.
So there you have it, my friend, some tips to help you manage your time and productivity at home. Remember, it's all about finding what works best for you and sticking to it. With a little bit of discipline and some smart strategies, you'll be acing the productivity game in no time. Now go out there and conquer the world, one productive day at a time!
Overcoming Challenges of Working from Home
Working from home can be a real game-changer, but let's not kid ourselves, it's not all rainbows and unicorns. There are some serious challenges that come with the territory. So, let's dive into the nitty-gritty and explore how to overcome these hurdles like a boss.
First up, let's talk about the struggle to stay focused. When you're working from the comfort of your own home, it's so easy to get distracted. I mean, who can resist the temptation of binge-watching your favorite TV show or taking a nap in your cozy bed? But hey, we're not here to slack off, right? One way to tackle this challenge is to create a designated workspace. Set up a little corner in your house where you can work without any distractions. Make it your own little sanctuary, complete with all the tools and gadgets you need to get the job done. And remember, discipline is key. Treat your work hours like you would if you were in an office. Stick to a schedule, take regular breaks, and stay focused on the task at hand.
Next on the list is the lack of social interaction. Let's face it, working from home can get pretty lonely. Gone are the days of water cooler chats and office banter. But fear not, my friend, there are ways to combat this isolation. Take advantage of technology and stay connected with your colleagues. Schedule regular video calls or virtual coffee breaks to catch up and share a laugh. And don't forget to reach out to your friends and family too. Plan virtual hangouts or even just a quick phone call to keep those social connections alive. Remember, human interaction is essential for our well-being, so don't let working from home be an excuse to become a hermit.
Last but not least, let's talk about the work-life balance struggle. When your office is just a few steps away from your bedroom, it can be hard to draw the line between work and personal life. It's all too easy to find yourself working late into the night or checking emails during your downtime. But here's the thing, my friend, you need to set boundaries. Create a schedule that allows for dedicated work hours and personal time. And stick to it like your life depends on it. Trust me, your mental health and overall well-being will thank you for it. Remember, work is important, but so is taking care of yourself and having a life outside of work.
So there you have it, my friend. Working from home may have its challenges, but with a little bit of discipline, connection, and balance, you can overcome them like a pro. Now go out there and conquer the work-from-home world!
Another post you might find useful is, How To Make Money From Home With No Startup Costs.
I've also written about Best Ways To Start Making Money From Home, so feel free to check that out, or bookmark it for later!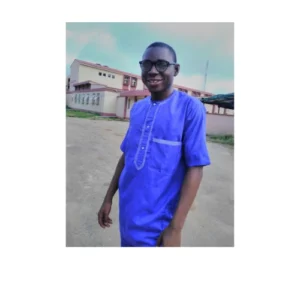 Abdulfatai is a Content Director at Olly-web, where he specializes in Search Engine Marketing (SEM) and Social Media Marketing (SMM). He has over a decade of experience working with businesses to promote their visibility through SEM, SEO, and social media. Abdulfatai believes that great content is the key to success on social media, and his goal is to help businesses grow their following by providing high-quality content that resonates. When it comes to online marketing, Abdulfatai knows how to work hands-on with clients and has a deep understanding of what works best for them.