Last Updated on July 26, 2023 by Abdulfatai A. Olamide
Hey there, fellow gamers! Are you ready to dive into the enchanting world of Stardew Valley and start raking in the dough? Well, you've come to the right place! Today, we're going to spill the beans on how to kickstart your money-making journey in this addictive virtual farming paradise. So grab your virtual pitchforks and let's get down and dirty in the world of Stardew Valley!
Understanding the Basics of Stardew Valley
Alright, let's dive into the basics of Stardew Valley! This game is all about escaping the hustle and bustle of city life and immersing yourself in the peaceful charm of a small town. You start off as a character who inherits an old farm from your grandfather, and it's up to you to turn it into a thriving agricultural paradise.
First things first, you'll need to get to know the locals. Stardew Valley is filled with colorful characters, each with their own unique personalities and stories. From the friendly mayor to the mysterious wizard, there's never a dull moment when it comes to interacting with the townsfolk. Building relationships with them is key, as they can offer valuable advice, help you unlock new areas, and even become your friends or even romantic interests.
Now, let's talk about farming. This is the heart and soul of Stardew Valley. You'll start with a few basic tools and a small patch of land, but with time and effort, you can transform it into a thriving farm. Planting crops, tending to animals, and harvesting your produce are all part of the daily routine. But it's not just about hard work; you'll also need to consider the seasons, weather, and even the quality of the soil to maximize your yields. And don't forget about the community center! By completing bundles of items, you can restore this dilapidated building and unlock some amazing rewards.
Lastly, let's touch on the exploration aspect of the game. Stardew Valley is not just about farming; there's a whole world to discover beyond your farm. From the mysterious mines filled with valuable resources to the picturesque fishing spots, there's always something new to explore. And if you're feeling adventurous, you can even venture into the dangerous Skull Cavern, where rare treasures and powerful enemies await.
So, there you have it, the basics of Stardew Valley. It's a game that offers a delightful mix of farming, relationships, and exploration. Whether you're a seasoned gamer or new to the world of video games, this charming indie title is sure to captivate you with its relaxing gameplay and charming pixel art. So grab your watering can, put on your favorite overalls, and get ready to embark on a journey of a lifetime in Stardew Valley!
Choosing the Right Farm and Crops for Profitability
So, you're thinking about getting into the farming game, huh? Well, let me tell you, it's not as easy as it looks. There's a lot to consider when it comes to choosing the right farm and crops for profitability. You can't just plant any old thing and expect to make a fortune. No sir, you've got to do your research and make some smart decisions if you want to see those dollar signs rolling in.
First things first, you need to think about the type of farm you want to run. Are you more interested in livestock or crops? Each has its own pros and cons, so it's important to weigh them carefully. If you're a city slicker like me, you might be more inclined to go for crops. After all, there's something satisfying about watching those little seeds grow into a bountiful harvest. Plus, you don't have to deal with all the, uh, "business" that comes with raising animals.
Once you've decided on the type of farm, it's time to think about the specific crops you want to grow. Now, this is where things can get a little tricky. You've got to consider things like climate, soil quality, and market demand. You don't want to waste your time and money growing something that won't sell, right? So, do your homework and find out what crops are in high demand in your area. Maybe there's a shortage of tomatoes or a booming market for organic lettuce. Whatever it is, make sure you're growing something that people actually want to buy.
Alright, now that you've got a better idea of what you're getting yourself into, it's time to start looking for that perfect farm. You'll want to consider factors like location, size, and infrastructure. Is the farm close to markets and suppliers? Is the soil fertile and suitable for your chosen crops? Does the farm have the necessary equipment and facilities? These are all important questions to ask yourself before making a decision. Remember, you want to set yourself up for success, so don't rush into anything.
So, there you have it. Choosing the right farm and crops for profitability is no easy task, but with a little research and some careful planning, you can make it happen. Just remember to think about the type of farm you want, consider the specific crops that will thrive in your area, and find a farm that meets your needs. Oh, and don't forget to roll up your sleeves and get ready to work hard. Farming ain't for the faint of heart, my friend. Good luck!
Efficient Time Management for Maximum Earnings
Alright, let's talk about efficient time management for maximum earnings. Now, I know what you're thinking – time management sounds boring and like something your parents would nag you about. But trust me, it's actually super important, especially when it comes to making that sweet moolah.
So, here's the deal. Time is a precious resource, my friend. We all have the same 24 hours in a day, but it's how we use those hours that can make all the difference. If you want to maximize your earnings, you gotta be smart about how you spend your time.
First things first, prioritize your tasks. You know that saying, "work smarter, not harder"? Well, it applies here. Take a good look at your to-do list and figure out what tasks are going to bring in the most money. Focus on those first and get them done efficiently. Don't waste time on things that aren't going to give you a good return on investment.
Next up, set goals and deadlines. This is where things can get a little tricky, but trust me, it's worth it. Break down your big goals into smaller, manageable tasks and give yourself deadlines for each one. This will help keep you on track and ensure that you're making progress towards your financial goals. Plus, checking off those tasks and hitting those deadlines will give you a sense of accomplishment and motivate you to keep going.
Lastly, eliminate distractions. We live in a world full of distractions – social media, Netflix, that cute cat video on YouTube. But if you want to make the big bucks, you gotta learn to tune out those distractions and focus on the task at hand. Put your phone on silent, close those unnecessary browser tabs, and create a dedicated workspace where you can really buckle down and get stuff done.
So, there you have it – efficient time management for maximum earnings. It may not be the most exciting topic, but trust me, it's a game-changer. Prioritize your tasks, set goals and deadlines, and eliminate distractions. With a little discipline and some smart time management, you'll be well on your way to making those dollar bills rain.
Building Relationships with Villagers for Financial Benefits
So, let's talk about building relationships with villagers for financial benefits. Now, I know what you're thinking – why would I want to be buddy-buddy with the folks in my neighborhood just for money? Well, my friend, let me tell you, there's more to it than just cold hard cash. Building relationships with the people around you can open up a whole world of opportunities, both personally and financially.
First off, when you have a good relationship with your neighbors, it creates a sense of community. You know, that warm and fuzzy feeling of belonging somewhere. And let me tell you, that feeling is priceless. When you're part of a tight-knit community, people are more likely to support you and your endeavors. They'll be there to lend a helping hand when you need it, and they'll be more inclined to do business with you.
Now, let's get down to the nitty-gritty of the financial benefits. When you have a strong relationship with your neighbors, you become a trusted source. People are more likely to buy from someone they know and trust, rather than a stranger. So, if you're running a small business or offering a service, having a good rapport with the villagers can really boost your sales. They'll recommend you to their friends and family, and word-of-mouth is a powerful marketing tool.
But wait, there's more! Building relationships with villagers can also lead to collaboration and partnerships. You never know who might have a skill or resource that could complement your own. By working together, you can create something bigger and better than what you could have done on your own. Plus, when you have a network of people who have your back, you'll have access to a wealth of knowledge and support. So, don't underestimate the power of building relationships with your neighbors – it's not just about the money, it's about creating a thriving community and unlocking endless possibilities.
Exploring Mining and Foraging for Valuable Resources
So, let's talk about exploring mining and foraging for valuable resources. Now, when it comes to mining, we're not talking about the old-fashioned pickaxe and shovel kind of mining. No, we're talking about the modern way of extracting valuable resources from the earth. Picture massive machines, drilling deep into the ground, extracting minerals and ores that are essential for our everyday lives.
Mining is a complex process that involves several steps. First, there's exploration, where geologists study the land to identify potential mineral deposits. Once a promising site is found, the next step is extraction. This is where those massive machines I mentioned earlier come into play. They dig deep into the earth, breaking up rocks and extracting the valuable resources.
But mining isn't the only way to find valuable resources. Foraging, on the other hand, is all about searching for natural resources in the wild. It's like a treasure hunt, but instead of gold and jewels, you're looking for things like edible plants, medicinal herbs, and even valuable fungi like truffles. Foraging is a skill that has been passed down through generations, and it requires a keen eye and knowledge of the local environment.
Now, you might be wondering why we go through all this trouble to explore mining and foraging for valuable resources. Well, the answer is simple – these resources are essential for our modern way of life. From the metals used in our smartphones and laptops to the ingredients in our medicines and cosmetics, these resources play a crucial role in our daily lives. So, the next time you pick up your phone or apply your favorite face cream, take a moment to appreciate the efforts that go into exploring mining and foraging for these valuable resources.
Fishing Techniques for Profitable Harvests
Alright, let's dive into the world of fishing techniques for profitable harvests! Now, when it comes to reeling in a bountiful catch, there are a few key strategies that can make all the difference. So, grab your fishing rod and let's explore the art of angling!
First off, let's talk about the importance of choosing the right fishing spot. Now, this isn't just about finding a picturesque location with calm waters and a stunning view (although that's always a bonus!). It's about understanding the behavior of the fish you're targeting. Different species have different preferences when it comes to water temperature, depth, and structure. So, do your research and find out where your desired catch likes to hang out. This could be near underwater structures like reefs or submerged logs, or in areas with a specific water temperature. By pinpointing the ideal fishing spot, you'll greatly increase your chances of a profitable harvest.
Next up, let's discuss the art of baiting. Now, this is where things get interesting! Choosing the right bait can be the difference between a lackluster day on the water and a successful fishing expedition. Again, it's all about understanding your target species. Some fish are attracted to live bait, such as worms or minnows, while others prefer artificial lures that mimic their natural prey. Experiment with different bait options and see what works best for you. And remember, presentation is key! Make sure your bait is enticingly displayed, whether it's on a hook or attached to a lure. This will increase your chances of enticing that big catch to take a bite.
Lastly, let's touch on the importance of patience and persistence. Fishing is not a sport for the faint of heart. It requires time, dedication, and a whole lot of patience. Sometimes, you may spend hours on the water without a single nibble. But don't lose hope! Fishing is all about perseverance. Keep trying different techniques, adjusting your bait, and exploring new fishing spots. The more time you spend on the water, the more you'll learn about the habits and patterns of the fish you're targeting. And trust me, when that moment finally comes and you feel that tug on your line, all the waiting and effort will be worth it.
So, there you have it! Fishing techniques for profitable harvests in a nutshell. Remember to choose the right fishing spot, bait strategically, and embrace the virtues of patience and persistence. With these tips in your tackle box, you'll be well on your way to reeling in a profitable catch. Happy fishing!
Maximizing Profit through Animal Husbandry
Alright, let's talk about maximizing profit through animal husbandry. Now, animal husbandry might sound like a fancy term, but it's basically just the art of raising and breeding animals for various purposes. And let me tell you, when it comes to making some serious cash, animal husbandry can be a goldmine if done right.
First things first, you gotta choose the right animals to raise. It's all about supply and demand, my friend. You wanna go for animals that are in high demand and fetch a good price in the market. Do your research, find out what's trending, and go for it. Whether it's chickens for their eggs, cows for their milk, or even exotic animals for their fur or meat, the choice is yours. Just make sure there's a market for it, or else you'll be stuck with a bunch of animals and no buyers.
Next up, you gotta take care of your animals like they're your own family. Happy and healthy animals mean better quality products, which means higher prices. So invest in good feed, provide them with a comfortable living environment, and make sure they have access to clean water. Regular check-ups with a veterinarian are also a must to catch any health issues early on. Remember, a healthy animal is a profitable animal.
Lastly, don't be afraid to think outside the box and explore different revenue streams. Animal husbandry isn't just about selling the end product, there are plenty of other ways to make money. For example, you could offer farm tours or workshops to educate people about your animals and their care. You could also consider selling manure or other by-products as organic fertilizers. The key is to be creative and find ways to maximize your profit potential.
So there you have it, my friend. Maximizing profit through animal husbandry is all about choosing the right animals, taking good care of them, and exploring different revenue streams. It's a game of supply and demand, and with a little bit of hustle, you can turn your passion for animals into a lucrative business. So go out there, do your research, and start making that money!
Utilizing the Community Center for Financial Rewards
So, let's talk about how we can make some serious cash by using the community center. Now, you might be thinking, "Wait, the community center? How can that possibly bring in any money?" Well, my friend, let me tell you, it's all about thinking outside the box and tapping into the resources that are right in front of us.
First things first, let's consider the space itself. The community center is usually a hub of activity, with different rooms and facilities that can be utilized for various purposes. We're talking about meeting rooms, event spaces, sports facilities, and even a kitchen. Now, imagine if we could rent out these spaces to individuals or organizations who are in need of a venue. Think about all the weddings, birthday parties, workshops, and conferences that could take place right here in our community center. By charging a reasonable fee for the use of these spaces, we can start raking in some serious dough.
But that's not all. The community center is also a great place to host classes and workshops. We all have skills and knowledge that others might be interested in learning. Whether it's cooking, painting, yoga, or even coding, there's always someone out there who wants to learn from us. By offering these classes at the community center, we not only get to share our expertise but also make some extra cash in the process. And hey, who knows, we might even discover a hidden talent for teaching!
Lastly, let's not forget about the power of collaboration. The community center is a melting pot of talents and ideas. By bringing together different individuals and organizations, we can create unique events and experiences that people would be willing to pay for. Maybe we can organize a local market where artisans and small businesses can showcase their products. Or perhaps we can host a music festival featuring local bands and artists. The possibilities are endless, my friend, and the financial rewards can be pretty sweet.
So, there you have it. The community center is not just a place for community gatherings and activities, but also a goldmine waiting to be tapped into. By renting out spaces, offering classes, and fostering collaboration, we can turn this humble center into a money-making machine. So, let's get creative, think big, and start cashing in on the potential of our community center.
Selling and Trading Strategies for Optimal Income
Alright, let's dive into the world of selling and trading strategies for optimal income! Now, when it comes to making money through selling and trading, it's all about finding the right approach that suits your style and goals. There are various strategies you can employ to maximize your income, and it's important to understand the ins and outs of each one.
First up, we have the buy-and-hold strategy. This approach involves purchasing assets, such as stocks or cryptocurrencies, and holding onto them for an extended period of time. The idea here is to ride out any short-term fluctuations in the market and capitalize on long-term growth. It requires patience and a belief in the potential of your chosen assets. With this strategy, you're aiming to make a profit when the value of your assets increases over time.
Next, we have the day trading strategy. This one is for the more active and risk-tolerant individuals out there. Day traders buy and sell assets within the same trading day, taking advantage of short-term price movements. It requires quick decision-making, a keen eye for market trends, and a solid understanding of technical analysis. Day trading can be highly profitable, but it also comes with its fair share of risks. It's important to set strict stop-loss orders to limit potential losses and to have a well-defined trading plan in place.
Lastly, let's talk about swing trading. This strategy falls somewhere between buy-and-hold and day trading. Swing traders aim to capture shorter-term price movements that occur over a few days to a few weeks. They look for opportunities where the market is likely to experience a significant move in one direction. Swing trading requires a good understanding of technical analysis and the ability to identify potential entry and exit points. It's a strategy that can be less time-consuming than day trading, but still requires active monitoring of the market.
So, there you have it! Three different strategies for selling and trading to optimize your income. Remember, each strategy has its own pros and cons, and what works for one person may not work for another. It's important to do your research, understand your risk tolerance, and develop a plan that aligns with your goals. Happy trading!
Expanding Your Farm and Diversifying Income Streams
So, you're thinking about expanding your farm and diversifying your income streams, huh? Well, let me tell you, that's a smart move, my friend. In this day and age, it's all about staying ahead of the game and finding new ways to make that cash flow. And what better way to do that than by expanding your farm and exploring different avenues to bring in some extra dough?
Now, when it comes to expanding your farm, there are a few things you need to consider. First off, you gotta think about the space you have available. Do you have enough land to accommodate the growth you're envisioning? If not, you might need to start looking into acquiring more land or even renting some from neighboring farmers. It's all about making the most of what you've got, my friend.
Once you've sorted out the space situation, it's time to think about what you want to grow or raise on your expanded farm. Are you gonna stick with what you know, or are you open to trying something new? Maybe you've been growing corn for years, but now you're thinking about adding some livestock to the mix. Or perhaps you've always had a passion for organic vegetables and want to dive into that market. The possibilities are endless, my friend, so take some time to really think about what you're passionate about and what will bring in the most profit.
Another post you might find useful is, How To Start Making Money In Stocks.
I've also written about How To Start Making Money Without A Job, so feel free to check that out, or bookmark it for later!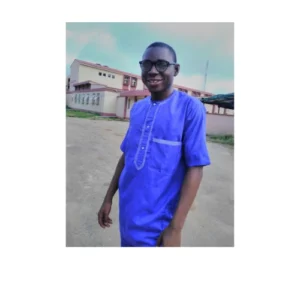 Abdulfatai is a Content Director at Olly-web, where he specializes in Search Engine Marketing (SEM) and Social Media Marketing (SMM). He has over a decade of experience working with businesses to promote their visibility through SEM, SEO, and social media. Abdulfatai believes that great content is the key to success on social media, and his goal is to help businesses grow their following by providing high-quality content that resonates. When it comes to online marketing, Abdulfatai knows how to work hands-on with clients and has a deep understanding of what works best for them.