WHAT IS HOSTING OF WEBSITE? A COMPLETE GUIDE
Last Updated on June 24, 2022 by Abdulfatai A. Olamide
What exactly is hosting in the context of a website?
If you're looking up "what is web hosting," you're probably looking for information on how to get your website up and running. Web hosting is essential for getting your website up and operating. This article was created to help you understand, What is hosting of a website, what web hosting is, why you need it, and how hosting businesses can help you get started.
What is Hosting of Website?
What exactly does having a website imply?
Web hosting is a service that allows you to upload the files for your website to the internet. As a result, your website is now accessible to everyone with an internet connection. In reality, it usually refers to a web hosting provider such as Namecheap, Bluehost, Hostinger, and others.
While you could potentially host your website on your own server, there are various benefits to choosing a web hosting service provider.
Different Types of Web Hosting
What are some web hosting examples?
We shall explain each web hosting bundle using a real-world example. This will help you better understand the concept of web hosting.
Shared Hosting
Shared hosting refers to a dedicated server that is shared by several clients. The server's resources are shared by many customers. In terms of price, this makes it reasonable.
An example is shown below.
Every single one of us takes a vacation. Isn't that correct?
A public bus is an excellent metaphor for shared hosting. Taking the bus instead of a private automobile can save money while also being better for the environment. The bus may, however, make additional stops, extending the journey and increasing the probability of crowding. The concept of shared hosting is to share resources with others who have similar needs.
Pro
-Include a low cost,
-Simple setup
-Possibility to create several accounts.
Cons
-Resources are limited,
-Lack of flexibility.
-It is not feasible to utilize customized software.
2. Reseller Hosting
Reseller hosting is a type of shared hosting in which customers can resell hosting under their own brand. IT professionals who wish to make money by reselling web hosting plans usually choose the reseller package. He can assign resources to his clients from his whole resource bundle. He also assists his own customers with technical and post-sale problems. The hosting business just receives the cost of the reseller plan. He keeps any profit that exceeds the cost of the plan.
An example is shown below.
For people who enjoy buying a large stock of products from a manufacturer, wholesalers and retail shops are equivalent to reseller hosting. Purchasing goods in bulk from wholesalers or manufacturers might help a retailer save money. The commodities are subsequently sold to clients in limited quantities, resulting in a profit.
Pro
-It is cheaper than the cost of VPS and dedicated servers.
-There is no need for server maintenance.
-In comparison to shared hosting, you have more control
-You can offer hosting under your own brand.
Cons
-The reseller's customer is unable to connect with the hosting firm directly
-They must contact the reseller first, who must then contact the hosting provider.

3. VPS Hosting
VPS Hosting is a type of web hosting in which a dedicated server is divided into several Virtual Servers. CPU, RAM, HDD, and other resources are allocated in a predictable manner to each user. Customers who require dedicated resources but cannot afford a dedicated server can consider a virtual private server (VPS).
An example is shown below.
VPS is similar to a large slice of cake. It's a cake with the same components and flavor as the remainder of the cake. Individuals can enjoy a slice of the cake for a fraction of the cost of the complete dessert.
Pro
-Customizable
-Fast and quick Upgrade
-Root and Terminal access
Cons
-It is more expensive than shared hosting.
-it is a bit technical for a Beginner

4. Dedicated Server
A dedicated server is managed and used by a single client. The client has complete access to the server's resources. It is most beneficial to large firms, banks, eCommerce, businesses, government agencies, and other organizations.
An example is shown below.
A dedicated server is analogous to owning your own private jet. You can fly to any destination at your leisure using the jet. Only the high costs would be considered a drawback.
Pro
-You have complete control over the server and its resources.


Cons
-Dedicated servers are more expensive than other types of hosting
-They require knowledge to manage.

5. Cloud hosting
Cloud hosting is the newest type of hosting to gain popularity in recent years. Cloud hosting refers to a virtual network made up of a large number of dedicated servers. The foundation of cloud computing is pay-per-use. The resources of cloud hosting are typically auto-scalable, making it an excellent choice for almost anyone. For seasonal websites, it's a blessing in disguise.
An example is shown below.
Everyone makes use of electricity. Our electricity consumption varies from day to day. We may consume a few units of power on some days, such as weekends or special events, while on others, such as weekends or special occasions, we may use twice or even triple the amount. It's pointless to acquire larger limits only in case they're needed on weekends if we have to buy them in advance every month.
In this context, the phrase "auto-scalability" is employed. We can consume as many electrical units as we want and pay at the end of the month. The term "cloud hosting" refers to the same thing. The user just pays for the services he uses.
Pro
-Auto-scaling resources
-Cost-effectiveness
-Pay-per-use
-Speedy deployment

Cons
-Because all cloud data is housed on a SAN, privacy may be a concern managed.





Which Web Hosting Package Is Best For You?
There is no one-size-fits-all solution for everyone's hosting requirements. Each person must select the hosting plan that best matches his or her demands. The greatest web hosting bundle is one that meets your need and is also cost-effective and efficient.
Web Hosting Companies
The hosting service you select will determine the success of your website. A trustworthy supplier will keep your site operational and assist you in avoiding downtime.
This post explains the best types of web hosting for various situations. Using these Web hosting Pros and Cons, you can select the best web hosting service for your website while staying within your budget.
Now Let's Compare The Best Web Hosting Companies
1. Hostinger
Hostinger is the greatest alternative if you want to save money.
In fact, their most affordable monthly plan is $1.39. That is the absolute bottom of the scale.
And, if you examine what each plan has to offer, I believe you'll see that practically everything a new website wants is included.
It is difficult to locate a reputable web hosting service. There are several alternatives, and your choice will decide where your brand will be found online for years to come. Hostinger is a superb choice for your website because it offers high uptime and premium services at a low cost. However, some of the support you'd expect from a top-tier web host, such as dedicated hosting and phone assistance, are not included in Hostinger's plans.
Hostinger, like many other web hosting companies, offers shared web hosting. If you select this hosting tier, your website will be shared on a server with other websites. In other words, the sites share the cost and resources of a single server. As a result, shared web hosting is generally seen as a cost-effective alternative. What's the snag? Because shared hosting isn't very powerful, if your content (or the material of one of your roommates) receives a lot of social media attention, your site may slow down or go down. Two-year and four-year subscriptions are also available from Hostinger, with significant reductions. Those are acceptable strategies for a small firm wishing to list its inventory on the internet.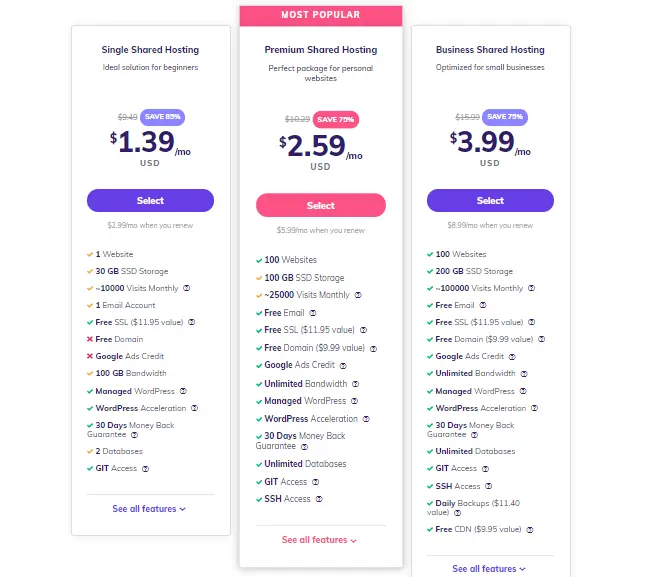 Hostinger Virtual Private Server Web Hosting (VPS)
If you're serious about giving your company an online presence, virtual private server (VPS) hosting is a must. VPS hosting provides your website with more server resources than shared hosting because there are fewer websites on the server.
Hostinger provides four distinct WordPress plans. The four categories are a single, starter, business, and professional. Although the names of Hostinger's WordPress and Shared hosting plans are similar, they differ in terms of features.
PRO
• Low-cost plans with adequate coverage
• High uptime in testing
• Optional Minecraft servers
• Contains the company's own Zyro website builder
• Offers Linux server cloud





CONS
• There is no dedicated hosting
• Not all plans have a Windows option;
• Phone assistance is unavailable
• The basic shared hosting plan includes only one email account
• VPS data transfer is not unlimited on a monthly basis.





2. BlueHost
Bluehost, which was created in 1996, is one of the oldest web hostings. Since then, it has become the most well-known brand name in the WordPress hosting sector. The 'WordPress' community recommends them as a hosting company. Bluehost guarantees that your website will never be slow, even if it receives a lot of traffic. Their skilled help is available 24 hours a day, seven days a week via phone, email, or live chat. They are the top source of small business web hosting.
There is also a free domain, free SSL, and a free Site Builder with templates. Bluehost is one of the world's leading web hosting businesses and an official WordPress recommended hosting provider. Bluehost offers a choice of hosting plans for both beginners and medium to large organizations, all of which include 24/7 customer assistance.
Bluehost Hosting Plans and Features
Bluehost offers a variety of hosting plans to meet all budgets and needs. There are options for shared hosting, VPS, dedicated server, cloud hosting, WooCommerce hosting, managed WordPress hosting, and more services.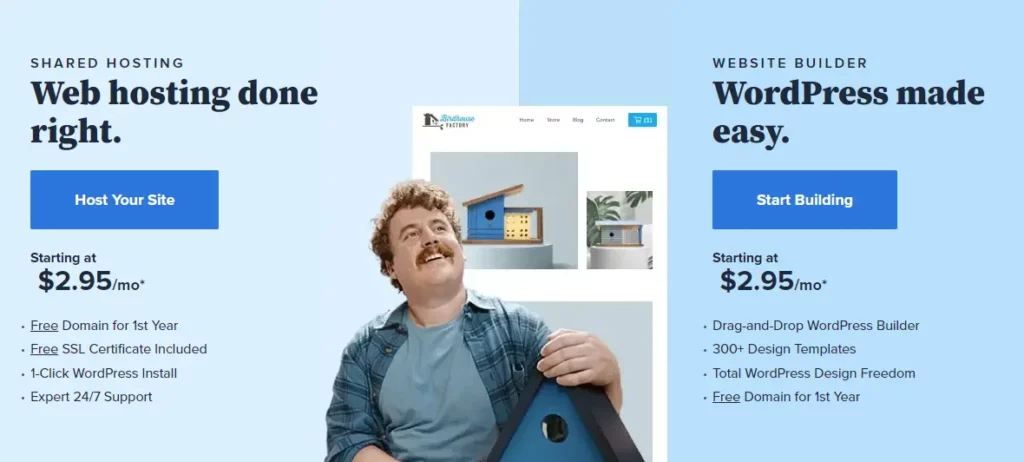 Let's take a look at Bluehost's hosting options and see what they have to offer.
• Shared hosting: If you're beginning a new website with a low traffic volume, shared hosting is an excellent choice. In a shared hosting environment, your website's server resources are shared with other websites.
• Cloud hosting: A more stable upgrade to shared hosting. It enables the usage of numerous cloud servers, allowing your website to immediately transition to a new server in the event of a hardware breakdown or significant demand.
• WordPress hosting: Their WordPress plans are designed specifically for WordPress-powered websites. It is WordPress-optimized and can even defend your site against typical threats.
• WooCommerce hosting: WooCommerce is the most popular eCommerce plugin for WordPress, allowing you to effortlessly establish an online store on the platform. All of the capabilities you'll need to get your online store up and running are included with WooCommerce hosting.
• VPS (Virtual Private Server) hosting: VPS hosting is a step up from shared WordPress hosting, allowing you to have virtual dedicated resources in a shared environment.
• Dedicated hosting server: With a dedicated hosting server, you will have complete control over the server's resources. You will be responsible for managing the server on your own, which is a disadvantage.
Each of the finest web hosting providers has pros and downsides. Some things are bearable, but others must be endured.
Bluehost has the following advantages and disadvantages, which we identified.
PRO
• Pricing: The majority of customers, particularly those who are just beginning to start, will find their hosting plans to be reasonably priced.
• Dependability: They can support a big number of websites with minimal downtime.
• There are no unanticipated expenses: There are no hidden fees when you sign up for your account.
• One-year free domain name: When you sign up, you will receive a one-year free domain name.
• CDN + SSL for free: Each website receives a free SSL certificate as well as a free Cloudflare CDN to help prevent malware and increase security.
• Money-Back Guarantee: All plans are backed by a 30-day money-back guarantee.
• Long-term uptime: Bluehost has always performed admirably in uptime tests. In contrast to other providers, they do not give a Service Level Agreement (SLA) that guarantees a minimum uptime.
• Ample storage: Their shared hosting plans include a lot of storage space.
• Unmetered bandwidth: Bluehost will not limit the amount of traffic to your website(s).





CONS
• An increase in the cost of domain renewal Their free domain renewal fee is more than the industry usual.
• Add-ons for Upselling: They utilize a forceful upsell strategy during signup. If you don't need SiteLock or any of the other addons, you may just uncheck them.
• Only US-based servers are permitted: Unlike other providers, you can only host your website on servers located in the United States. Your site may be (very) slow if your readers are from other regions of the world.
• Entry-level plan limitations: The number of sites, databases, and email addresses you can establish are limited on the less expensive plan.















Vultr
Vultr is a cloud hosting firm noted for its scalability and high-performance edge services. Among other things, it offers cloud computing, block storage, bare metal, and dedicated servers. There are 16 server locations to pick from around the world.
Vultr, which was launched in 2014, has expanded rapidly over the last few years. The company has expanded to a workforce of over 50 engineers and developers, with over 22 million cloud server instances and 100,000+ clients from 150 countries. The website is simpler to use, the vocabulary is less complex, and the hosting options are much simpler to set up.
Vultr's loading times were fast across the board. This is due to Vultr's ability to disperse load throughout its network of servers and automatically route users to the server nearest to them for the best performance.
Vultr may have certain shortcomings in terms of uptime, but it's hard to surpass in terms of speed, according to several online customer evaluations.
You should be aware that Vultr has a stringent no-returns policy. If you decide to quit, you must remove any active instances and create a support ticket.


In terms of functionality, Vultr has you covered. Everything from rapid worldwide deployment to a feature-rich control panel and sophisticated APIs. It has also made hardware investments, including the most recent Intel CPUs and all-SSD storage.
PRO
• It is appropriate for developers and has a one-click installation
• It is simple to connect a domain and install WordPress
• It has a user-friendly interface
• DDoS protection that is easy to apply (distributed denial of service attacks)


CONS
• Vultr's customer service is far from best, with long wait times.
• If you wish to quit, you must remove all active instances and create a support ticket; if you cancel, you will not be eligible for a refund or any leftover balances.





4. Nexcess
If you want top-tier speed, performance, dependability, and uptime, Nexcess is your go-to managed WordPress web host.
Nexcess was established in 2000 and has since evolved to become a well-known and trustworthy web hosting service. It offers Hosting for WordPress, WooCommerce, Magento, Drupal, BigCommerce, and other e-commerce platforms across its packages.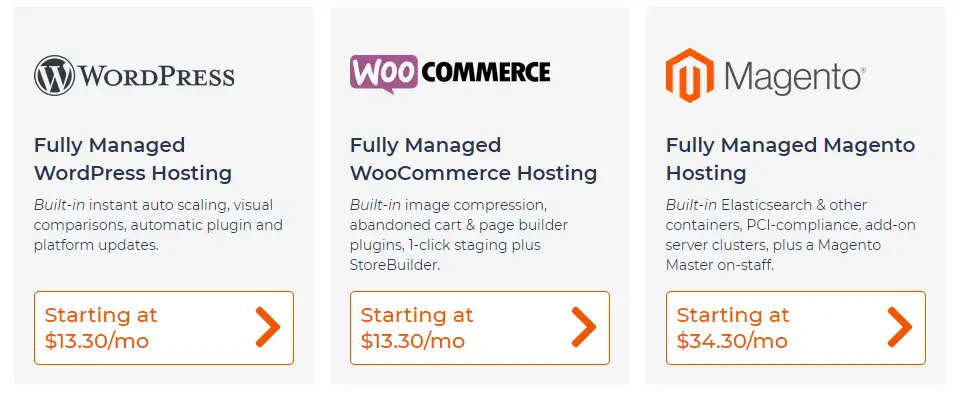 Nexcess is one of the few web hosting businesses that refuse to compete for the cheapest web hosting plan. Instead, it attempts to deliver just the highest-quality web hosting services at a reasonable price. As a result, it's a great option for small enterprises, popular blogs, and online retailers. Nexcess offers a variety of hosting plans from which to choose.
PRO
• An easy-to-use dashboard provides access to all of the tools you'll need to administer your website.
• strong features that improve your website's speed and performance.
• 100% Uptime Guarantee: Nexcess will reimburse all affected hosting customers ten times the amount of downtime. For instance, if your website is unavailable for one hour, your account will be charged with a 10-hour hosting credit.
• No-Cost Site Migrations
• Free content delivery network (CDN) services are available (CDN).
• Image compression and server-side caching are built-in features.
• Auto-scaling for high-traffic areas.
• You will get access to all of the standard managed WordPress hosting services, such as staging sites and daily backups.
• There are dedicated managed WooCommerce hosting plans available if you run an eCommerce store.
• Unlike many other managed WordPress hosting providers, there are no arbitrary visit limits — simply bandwidth limitations.


CONS
• Support is slow. If you value premium support, you might need to reconsider your choice
• Nexcess only offers email hosting on its most basic plan; if you upgrade beyond the Spark plan, you'll have to source your own email hosting, which is a little strange.















5. Liquid Web
Liquid Web is trusted by many large corporations. With adequate wiggle room and muscle, the company provides a range of cloud, dedicated, reseller, virtual private server (VPS), and WordPress server options. Because Liquid Web does not have a low-cost shared hosting tier, you can expect to pay a premium for this fantastic, managed, enterprise-class service.
Liquid Web excels at managed hosting. When adopting managed hosting, a company is not required to have its servers on-site. Instead, the servers are located in a data center managed by a web host. That may seem like a standard description of what every web hosting service does, but Liquid Web goes much further. The company can handle all administrative and support tasks, regardless of the site's complexity or size. As you might think, this type of service is oriented toward huge corporations. Managed hosting from Liquid Web is also on the pricey side, but it comes with a slew of features.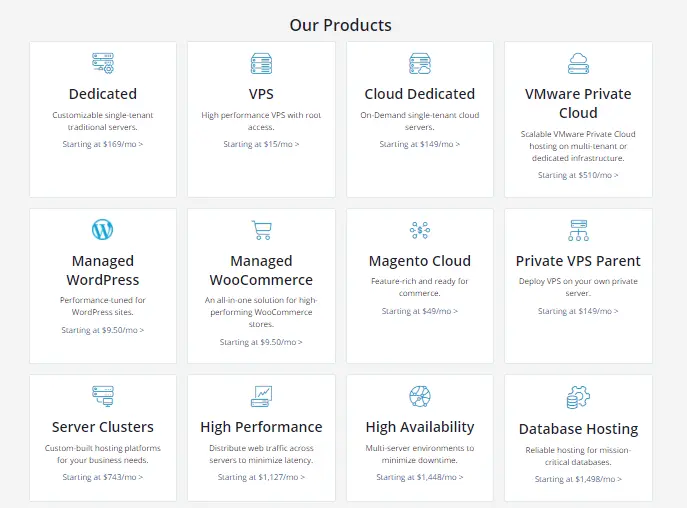 If you need a powerful server but don't want to spend a lot of money on a dedicated server, look into Liquid Web's VPS servers. VPS hosting is a more powerful (and more reliable) form of shared hosting. Liquid Web's RAM and storage totals are among the best we've seen for the pricing. Liquid Web only charges you for the number of days you utilize the service each month, which is useful if you decide to terminate your account. Liquid Web offers seven tiers of managed WordPress web hosting under the Nexcess brand. Like other managed WordPress hosting, Liquid Web provides one-click installations, automated updates, and access to hundreds of apps and WordPress plugins.
PRO
• VPS plans with prorated usage
• Strong dedicated, VPS, cloud, and reseller packages
• Excellent customer service
• High testing uptime

CONS
•Expensive, with few refund options
• There are no shared hosting plans available.



6. Linode
Linode is a cloud hosting firm that specializes in solutions for developers and those who know a lot about Linux. Over 800,000 clients use the company's high-performance hosting infrastructure, which includes cloud servers, native SSDs on a speedy 40GB/s network, and premium technology like E5 processors.
Linode also offers infrastructure management, "NodeBalancers," or load balancers as a service (as the name implies), a DNS manager, block and object storage, professional consultations, and other services. Despite the fact that Linode was founded as a company "built by developers for developers," they have continued to follow technical breakthroughs and grow alongside them in order to serve a bigger customer base.
While hosting with Linode, you will be charged by the hour, so you will only pay for what you use. Furthermore, all plans are easily upgradeable and downgradable, providing you with the freedom that most suppliers do not provide.
Shared or dedicated CPUs, "High Memory" plans (built for memory-intensive applications), GPU-optimized plans, fully-managed Kubernetes clusters, or bare-metal solutions (which combine non-virtualized hardware with the flexibility of a virtual machine) are all options. Overall, there are several possibilities, which, when combined with the inexpensive rates, should make any techie feel like a kid in a candy store.
If you're on a tight budget, the lowest shared CPU plan with 1GB RAM, 1 CPU core, 25GB SSD storage, 1TB network transfer, 40 GB/s Network In (received traffic), and 1 GB/s Network Out for $5.00 per month (or $.0075 per hour) is your best bet (sent traffic). There are ten various sorts of plans available, and the more you pay, the more services you get.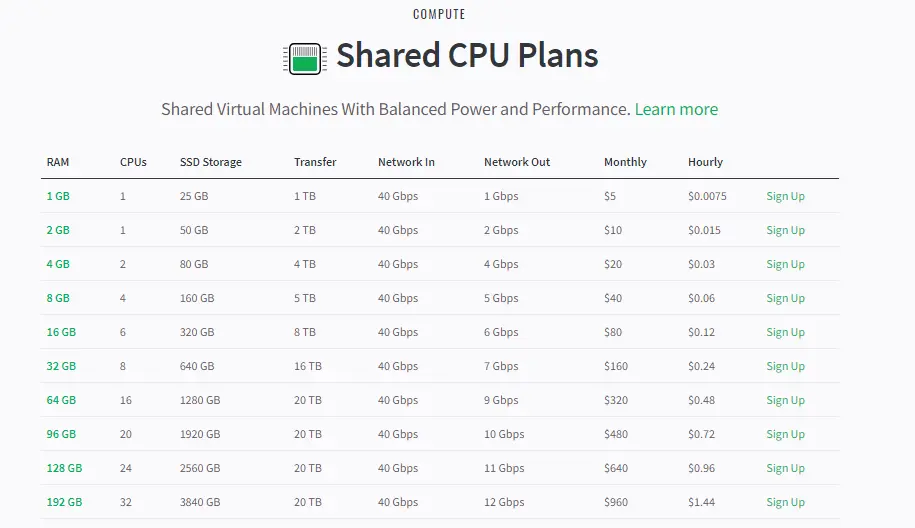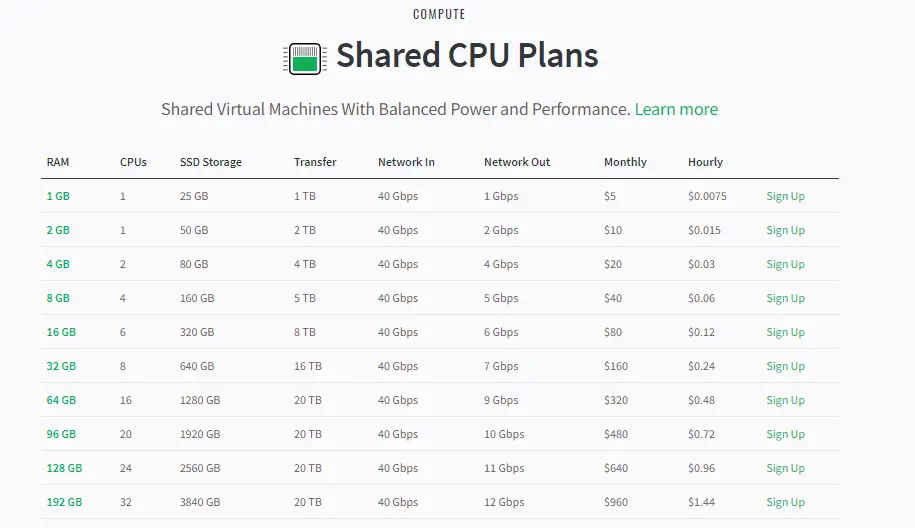 Linode provides a 7-day money-back guarantee (which we believe is a little too short) as well as a $100 promotional credit that you may use within 60 days before the service starts charging. The Linode server is an excellent choice for WordPress hosting. Linode one-click WordPress, on the other hand, requires technical knowledge.
PRO
• Use Your Smartphone to Manage Your Web Hosting (a downloaded App is included)
• Simple Control Panel
• Quick Launch and API Access
• Pricing and hardware are competitive with VPS and dedicated CPU options.
• Reasonably priced VPS and dedicated server plans
• Gain near-infinite power for your servers Ideal for Linux professionals who require SSH and root access as well as virtually unlimited power.

CONS
• Managed plans are more expensive
• Customer service is substandard
• Backups are more expensive.


7. Inmotion Hosting
The web hosting industry is busy, therefore standing out from the crowd requires a unique offering. That's where InMotion Hosting comes in, with its diverse set of services. With its moderately priced and well-rounded shared, dedicated, reseller, virtual private server (VPS), and WordPress plans, the web hosting service offers a robust feature set that meets various personal and business-related web hosting needs.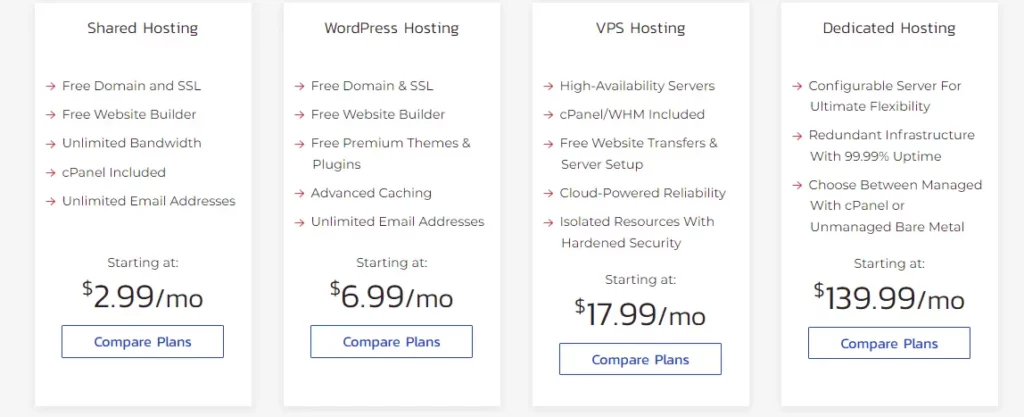 It has a very good uptime and outstanding customer service. InMotion Hosting has four Linux-based shared web hosting packages to choose from. The content management system is preloaded on InMotion Hosting's Linux-based, WordPress-optimized servers, and website staging and automatic software updates are included. InMotion Hosting even updates your third-party WordPress plug-ins for you, which is a lovely touch. With a custom-configured NGINX stack and an in-house caching system, it also strengthens your WordPress installation. InMotion Hosting is a web hosting service that can handle your personal or business hosting needs—as long as you don't require a Windows-based server or short-term hosting.
PRO
• High Availability and Uptime
• A variety of hosting options
• All Shared and WordPress plans include unlimited email
• All Shared and WordPress plans include unlimited data transfers
• Long money-back guarantee
• Simple website-building software

CONS
• Windows servers are in short supply
• Month-to-month payments aren't available on all plans.




8. Namecheap
Richard Kirkendall, the founder of Namecheap, founded it in the year 2000. They have three million customers, according to reports, in the last 18 years. With a free domain name, speed, uptime, migrations, and extra plan features like backups, Namecheap makes a good first impression.
Namecheap is best known for being a domain name registrar, but it also provides low-cost web hosting. Namecheap got its start by selling low-cost domains and providing excellent customer service. They now serve over 3 million customers and administer over 11 million domains.
Namecheap offers SSL certificates, privacy protection services, and more in addition to domains and full web hosting packages. Because Namecheap believes that everyone should have an online presence, they make everything you need to run a website accessible at a low cost. The hosting plans from Namecheap provide fast, dependable service with a guaranteed uptime of 100 percent.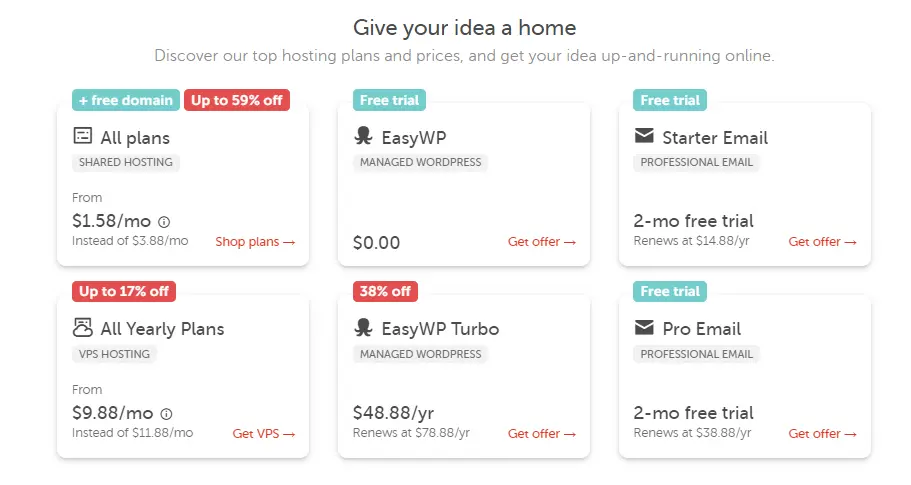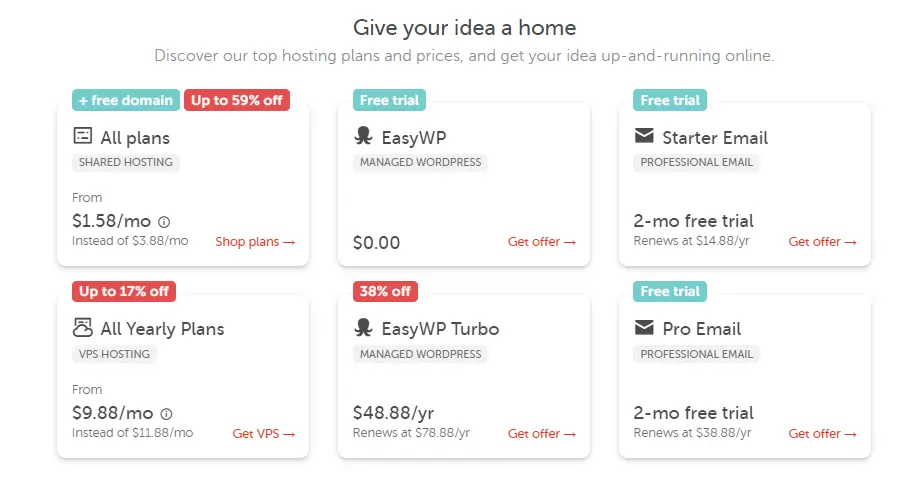 Namecheap provides a wide range of hosting options and plans, including shared hosting, virtual private servers, dedicated servers, and reseller plans.
Softaculous, a tool that lets you easily install software to extend the features and functionality of your website, is one of the benefits of a Namecheap shared plan. The Softaculous tool is accessible from your control panel's administrative area.
PRO
• A 20-year-old well-known brand.
• Domain names that are reasonably priced.
• High-quality support.
• Services that are dependable in terms of hosting.
• It has a very user-friendly design and interface.
• Migrate from other hosting providers for free and quickly.
• Daily backups are Integrated
• Selecting the most extensive shared plan, with the availability of daily and weekly backups.
• Easy to register and set up.
• There are a lot of TLDs with different extensions available.
• When you sign up, there are no upsells.

CONS
• Installing SSL certificates is challenging and frequently necessitates assistance.
• Some dashboard features are difficult to locate.
• There is no telephone assistance available.








Ben Gabler and Aaron Dewell Phillips founded Rocket.net, a privately held company, in 2020. Both have many years of experience in the hosting industry.
Rocket.net is a great managed WordPress hosting option for you if you're looking for a faster website with an easy-to-use control panel.
Their servers are lightning-fast and well-suited to WordPress. Improved security, automatic updates, and knowledgeable support all add to your peace of mind.
This is why one of our top recommendations for managed WordPress hosting is Rocket.net.
Rocket.net is a managed WordPress hosting company that provides a quick and dependable platform on which to build your website. Rocket.net will give your website an immediate performance boost thanks to an easier control panel, built-in security, and cutting-edge WordPress optimization. Rocket.net is an excellent choice for your business if you want a premium service with ease of use and great customer support.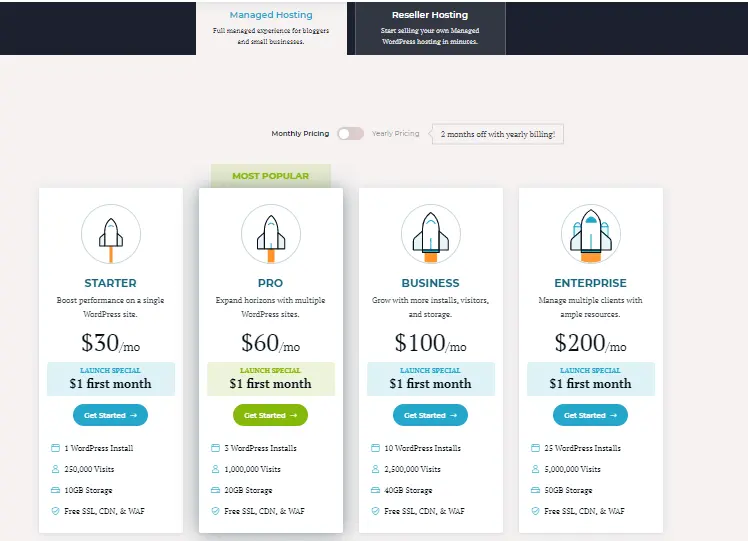 When it comes to choosing a hosting provider for your WordPress site, Rocket Hosting is a fantastic option. When selecting a host for non-WordPress websites, however, it is not available.
This is an option to consider if you're looking for WordPress hosting.
PRO
• Performance and speed: Their servers are well-suited to WordPress. Your website will definitely load faster for all users, regardless of where they are in the world.
• User-friendliness: They have a user-friendly control panel that is suitable for both advanced and novice users.
• Security: As a managed WordPress hosting provider, they handle updates, tighten security with a website firewall, malware protection, and backups on a regular basis.
• SSD Servers with Lightning-Quick Response Times
• 200+ PoPs on a FREE CDN
• Telephone, live chat, and email support for customers
• Professional WordPress optimizations and tweaks; you won't have to worry about a single technical detail because the Rocket.net support team will take care of it all.
• Guaranteed resources on enterprise servers
• There are more than 200 CDN locations around the world.

CONS
• Databank: Self-help resources, such as knowledge base articles, how-to guides, videos, and more, are currently in short supply. They do, however, offer live chat and phone support around the clock.
• If you pay on a month-to-month basis, it can be quite costly. For a beginner, this may be a disadvantage.
















10. Interserver
It's easy to be suspicious when looking at InterServer's inexpensive shared hosting plans. Can you get unlimited resources, useful extra features, and powerful security tools for a low monthly fee of $2.50? Is there a catch?
Everything appears to be positive on paper. InterServer has 19 years of web hosting experience and offers a wide range of plans, including shared hosting, reseller plans, virtual private server (VPS) machines, and dedicated servers. Furthermore, because InterServer's four data centers are all in the United States, users in North America can expect fast speeds.
InterServer offers a fantastic service that you may find useful.
InterServer offers two types of shared hosting: Linux hosting, also known as Standard Web Hosting, and Windows hosting, also known as ASP.NET hosting. WordPress and other popular CMS (content management systems) work best on Linux hosting, which uses the well-known cPanel control panel.
On the other hand, Windows hosting is almost exclusively used for web projects that use Microsoft technologies such as ASP.NET or MSSQL. What else is there for us from InterServer? SSL certificates are security certificates that encrypt information. One is given to everyone. Each shared account comes with a Let's Encrypt SSL certificate, ensuring that your information is secure.

Running an e-commerce store, protecting your visitors' privacy, and improving your Google rankings all require SSL. You must manually install the certificate because it does not come pre-installed. InterServer really shines in this situation. Outside attackers are blocked by the company's InterShield Security firewall, which uses machine learning to stay ahead of threats.
Every plan includes this defense by default. You'll also have access to the ModSecurity tool, which adds a second layer of firewall protection, as well as Imunify360, which scans your hosting drive for malicious files on a regular basis.
PRO
• There is no limit to the amount of data that can be stored or the amount of data that can
• On each server, there are fewer websites.
• There are 461 scripts that can be installed with a single click.
• New customers get free website migration.
• cPanel interface in its original form
• Money-back guarantee for a period of 30 days.
• A guarantee of 99.5% uptime.

CONS
• Services are limited.
• No domain name is available for free
• Increased load times
• Intersever only has servers in the United States.


11. eUKhost
It can be difficult to find web hosting that is both dependable and affordable. To begin, you must first locate a hosting provider that offers the features and storage capacity that your site requires now and in the future.
Then you must weigh the total cost of your subscription over the course of its lifetime, as well as any upfront fees for website migration or other services.
It's a tall order to keep track of everything. So, when a hosting company like eUKhost offers free website migration with any of its plans, you know you have to take a look, right?
eUKhost is a well-known hosting company in the United Kingdom, owing to the fact that all of their servers are located there. For any UK visitors to your site, this should mean lightning-quick response times. WordPress blog hosting plans are also available. Unmetered bandwidth is a welcome return, but you also get unlimited blog and email hosting. Currently, the platform serves over 35,000 customers and powers over 150,000 domains around the world.
It has offices in Leeds, Nottingham, Maidenhead, and Wakefield, as well as data centers in those cities.
Subscriptions can be paid biennially, yearly, semi-annually, quarterly, or monthly through the platform.
• Install WooCommerce, Drupal, Joomla, WordPress, and other software and templates through the eUKhost cPanel after registering your account.
• Use a simple drag-and-drop procedure to upload any of your websites. In this case, an FTP server is not required.
The company's mission, however, is to provide its customers with a comprehensive, worry-free web hosting experience. As a result, each of its packages is customized to meet the specific requirements of each customer.
Because of its low prices, eUKhost is one of the finest web hosting providers for small enterprises.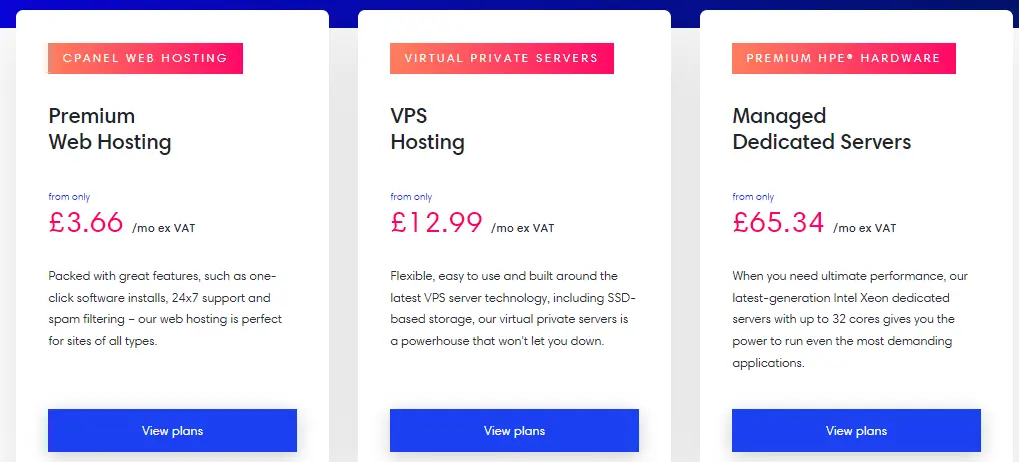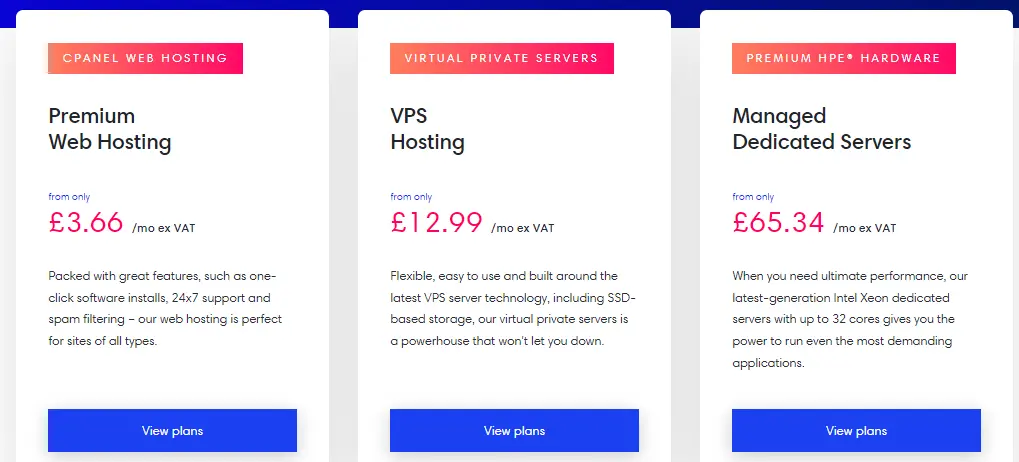 eUKhost provides three different types of web hosting services to its customers:
1. Managed web hosting service
2. cPanel-based web hosting
3. Hosting for resellers
PRO
• Backups are done every day.
• Unlimited Domains
• Customer service that is outstanding
• Free Migration at a High Speed

CONS
• Additional cost on Security Package
• Restriction to some features in Basic Plan



12. OVHCloud
OVH Groupe SAS is a cloud computing company based in France that provides dedicated and VPS OVH servers, as well as other web hosting services. OVH is a French cloud computing company whose largest web hosting provider offers dedicated servers and virtual private servers. It was legally founded by OVH Groupe SAS. OVHcloud became the public brand of OVH in 2019. OVHcloud is a global cloud hosting company that offers VPS, bare metal servers, hosted private cloud, hybrid, and public cloud solutions.
To achieve maximum efficiency, the company manages 30 data centers in 12 locations across four continents, manufactures its own servers, constructs its own data centers, and deploys its own fiber-optic global network. The company brings freedom, security, and innovation to solve data challenges thanks to the OVHcloud spirit of challenging the status quo.
OVHcloud has a 20-year history of developing responsible technology and aspires to be the driving force behind the next cloud evolution.
In the year 1999, OVHcloud was established. France is the company's headquarters. It sells virtual private servers (VPS) and dedicated servers. Australia, Canada, France, Germany, Poland, Singapore, the United Kingdom, and the United States all have datacenters.
OVH Hosting is a company that provides cloud hosting services. Like Namecheap and some other hosting companies, Dedicated Server has a WordPress website builder. It was simple to use and even a non-website designer could navigate it. You can reserve a domain, then recommend domain names, order summary, configuration, validation, and finally the link to the client payment system. The OVH Website Builder includes a CMS (Content Management System) that makes it simple to create a dynamic, responsive website. WordPress, Prestashop, Joomla!, and other content management systems are examples of this.
With every web hosting plan, a free certificate is included. You can get an Extended Validation SSL Certificate so that your company name appears in any browser with a green padlock. OVH's proprietary anti-DDoS technology will keep your website up and running even if there is a DDoS attack. , You can create as many databases as you want while maintaining high performance, scalability, and configuration flexibility.
You can use a single web hosting account to host multiple websites. 500Mbps is standard on all public bandwidth servers and dedicated OVHcloud servers. Additional options up to 10Gbps (gigabits/second) can be added to increase the bandwidth. All servers in the OVHcloud hosting company have unmetered internet access. Some digital projects, such as VOD (video-on-demand) and live streaming, may necessitate a greater amount of data transmission to transmit media.
PRO
• Numerous instance types to choose from, ranging from the most basic to the most advanced.
• There are a lot of data centers in different places.
• In 2020, the management user interface has significantly improved, and it is now modern, reasonably fast, but still a little complicated.
• DDOS protection is required for all websites and game servers, and it is provided for free.
• Issues a free domain



CONS
• Instances of "Virtual Private Servers" take a long time to create after an order is placed.
• The support team and technical support at OVH Hosting are both terrible.
• According to customer feedback, the wait time for refund requests is long.
• Customer reviews allege that their support ticket management is abysmal.
• To file an appeal or a complaint, you must be a customer;
• Refunds and posts are slow.

13. iPage
iPage is a full-service domain and web hosting company aimed at small businesses looking to enter the e-commerce market. iPage has a number of features that help you develop your website quickly and easily, including unlimited disk space, a free domain name, and an unlimited number of email addresses. Hundreds of website templates and themes are available to choose from.
You can build a mobile-friendly website with their builder. The ability to quickly implement e-commerce add-ons like shopping carts and PayPal integration is another feature that small business owners like. WordPress, Drupal, and Magento are just a few of the popular Content Management Systems (CMS) that iPage integrates with.
The major goal of iPage is to provide you with the web hosting services you require to get your website online. If you don't have a website yet, the iPage Website Builder may help you get one up and running quickly.
The free version of the iPage Website Builder is included when you purchase an iPage web hosting plan. This edition allows you to create a website with up to six pages. Extra features are available if you upgrade to the Professional or Business editions.
Shared hosting, VPS and dedicated servers, as well as WordPress hosting, are all available with iPage. The uptime guarantee at iPage is 99.9%, and it covers ALL plans, whereas some businesses just cover certain plans. If they don't meet this commitment, the site doesn't say what kind of credits you'll get, if any. When it comes to uptime, they have a stellar record. Only once in the previous 11 years has the level been classified as "bad," with a percentage of 90%. There is no or very little downtime for the majority of the months.
PRO
• The pricing is quite low.
• You can use your single account to host an unlimited number of websites.
• Money-back guarantee for a period of 30 days.
• Once you've paid and registered, your account will be instantly activated.
• MySQL databases, as well as unlimited storage and bandwidth.
• Domains are unlimited and unrestricted
• Site-building tools that are free to use for even the most inexperienced members.
• A guarantee of 99.9% uptime.

CONS
• The renewal price is higher than many rivals' once the original term has ended.
• The statistics aren't broken down per site.
• Upselling occurs occasionally when you log in.
• After the first year, the price of a domain is more than usual.
• Unless you subscribe to one of the more expensive plans, site building functionality is restricted.





14. Turnkey Internet
Many people acknowledge that they have never heard of Turnkey Internet. On the other hand, just a few geeks have heard of Turnkey, let alone utilized it.
Turnkey receives mixed reviews in terms of popularity.
It began in 1999 as a consulting firm for ISPs and ETPs, before evolving into one of the various hosting options.
Green hosting is provided by Turnkey, which is situated in Latham, New York.
TurnKey Internet provides shared Linux and Windows hosting, SEO hosting, reseller hosting, and dedicated server renting, among other services. The following essential features are included in all of their shared hosting plans:
• All services are guaranteed to have 100% network uptime.
• Domain registration at an extra cost
• From five to infinite add-on domains
• Free SSL certificates
• Unlimited RAID 10 SSD storage
• Unlimited bandwidth
They have a one-click installer and a free website builder for beginners, as well as the Softaculous one-click installer. PHP 5.6 and 7, Perl, CGI, Ruby, RoR, and Python are all supported for professionals. They also have an unlimited package that includes unlimited disk space, bandwidth, subdomains, add-on domains, parked domains, MySQL databases, and other features. Although the term "unlimited" can never genuinely imply "unlimited," I doubt you'll find a more comprehensive package.
The Linux shared hosting plans are inexpensive, however, the Windows versions are a touch more costly (as is common). A free SSL certificate is included with all of their options, but domain registration is extra. The plans are available in three different lengths: one, twelve, and twenty-four months, with the longer terms offering significant discounts. A 30-day money-back guarantee is also available. TurnKey Internet is a small, under-the-radar hosting provider. A small hosting firm has an advantage in that you, as a customer, are valued more.
PRO
• Affordability
• 30-day money-back guarantee
• Month-to-month plans
• 100 percent network availability and uptime

CONS
• Turnkey, like most hosting platforms, has a higher renewal rate for its hosting plans when compared to the first-time pricing.
• Domain registration is an extra expense.
• You can't have access to the support 24/7 because they are only available on weekdays and working hours


Conclusion
By now, you should be able to know what it means to host a website and differentiate between Shared Hosting, Cloud Hosting, Reseller Hosting, VPS Hosting and Dedicated Server Hosting. There is no hosting company that does not have its downside, it is advisable to choose the one you can deal with its downside and also fits your budget. If you have any previous experience with any of these Hosting Companies, you can leave it in the comment section.
Subscribe to our newsletters to stay updated with our latest content or turn on the notification to receive updates when we post new content and don't forget to check out our web stories page.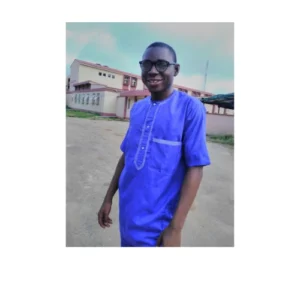 Abdulfatai is a Content Director at Olly-web, where he specializes in Search Engine Marketing (SEM) and Social Media Marketing (SMM). He has over a decade of experience working with businesses to promote their visibility through SEM, SEO, and social media. Abdulfatai believes that great content is the key to success on social media, and his goal is to help businesses grow their following by providing high-quality content that resonates. When it comes to online marketing, Abdulfatai knows how to work hands-on with clients and has a deep understanding of what works best for them.